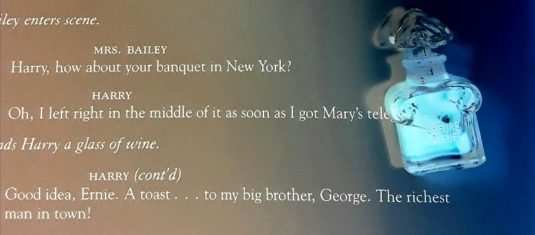 Script excerpt from It's A Wonderful Life (1946), and vintage Guerlain L'Heure Bleue (Photo: Despina Veneti)
Organizing our own home film festival is one of my most enjoyable Christmas "duties". Every year I choose from a list of 60 films, with daily rotation between dramas, comedies, films noirs and musicals. One thing never changes though: Christmas Eve is always reserved for Frank Capra's unsurpassed, moving masterpiece, It's a Wonderful Life (1946).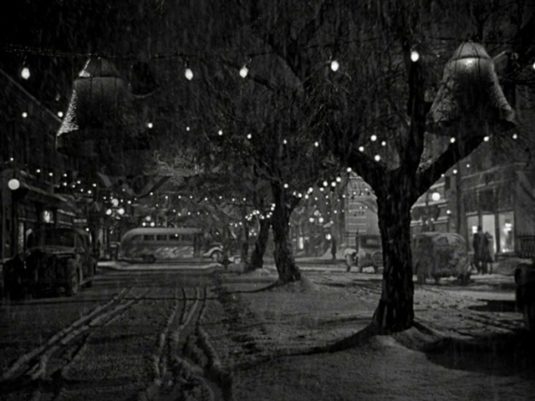 Christmas Eve in Bedford Falls (Copyright: Paramount Home Entertainment)
It's Christmas Eve in the small town of Bedford Falls, and Guardian Angel Clarence (Henry Travers) is there to help George Bailey (James Stewart). George chose to give up his dreams of a higher education and travelling for the benefit of not only his family, but of the community, too. After his father's death, he kept helping people build their own house, so as not to get exploited by the ruthless banker, Potter (Lionel Barrymore).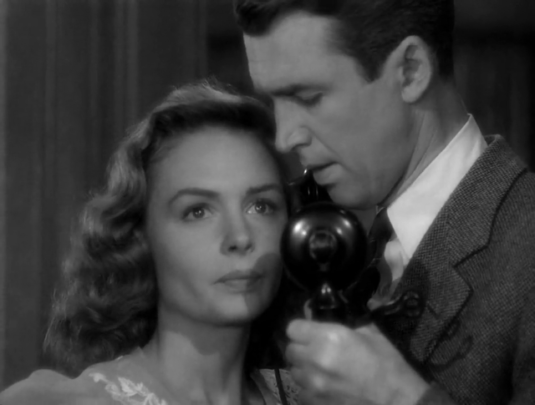 George (James Stewart) falling in love with Mary (Donna Reed) (Copyright: Paramount Home Entertainment)
George found happiness in the family he created with his lovely wife, Mary (Donna Reed). What seems to finally break him is the misplacement of an $8000 loan by his uncle, Billy (Thomas Mitchell). George is desperate enough to ponder suicide – until Clarence gives him a chance to see how life would have been, if he had never existed…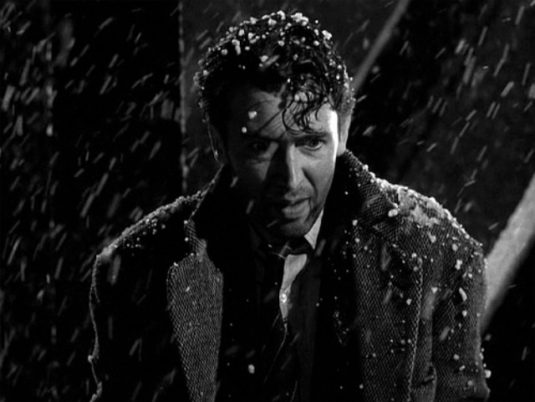 George in his darkest hour (Copyright: Paramount Home Entertainment)
It's no wonder that this undisputed classic of admirable understanding and humanity appeals to viewers universally, and timelessly. For the children it's an engrossing, Dickensian tale, which stays with them as they grow up. And when they do, re-watching the movie reveals other dimensions to them. For even though its conclusion is one of the most uplifting, joyous ones in film history, It's a Wonderful Life is a rather dark film; George's sense of responsibility keeps clashing with his dreams, and luck hasn't favorited him much. Furthermore, we enter real film noir territory when Clarence shows George a glimpse of life if he had never been born, with his hometown turned into seedy "Pottersville".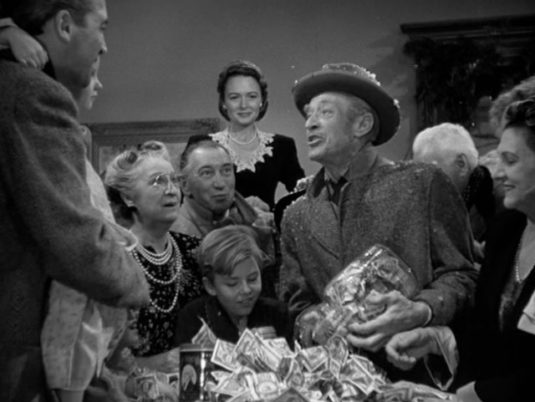 Friends and family gathering their forces to help George (Copyright: Paramount Home Entertainment)
It's a Wonderful Life does not resort to superficial sentimentality or naively didactic conclusions; it acknowledges and respects George's shattered dreams, as well as his frustration. But at the same time it declares that love and contentment can heal many sorrows, as well as that a useful, conscious person is an asset that no society can spare. It took me years to fully comprehend those – seemingly simple – truths, and to wholeheartedly believe that a person who has true friends is never poor. Life has blessed me to see the proof of that.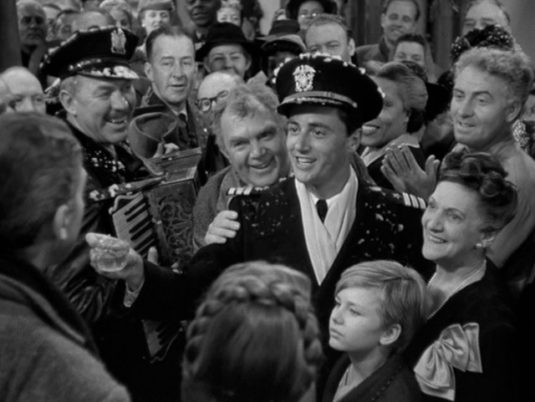 "To my big brother George, the richest man in town!" (Todd Karns as Harry Bailey) (Copyright: Paramount Home Entertainment)
My tears every time I hear George's brother toasting him as "the richest man in town" are now also tears of personal gratitude. Only a truly great film can live inside us, and grow with us, taking new and further meanings as we walk through life…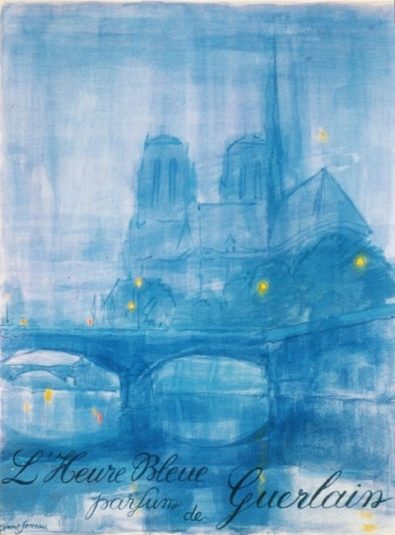 Vintage ad for Guerlain L'Heure Bleue
As with many of my beloved movies, I take pleasure in watching It's a Wonderful Life creating a certain atmosphere, which includes wearing a fragrance that enhances the viewing experience. Although I do enjoy many wintery, cosy scents featuring amber accords, boozy notes, or spices, my preferred – most meaningful and emotionally powerful – perfume choice for this film is an equally soulful, poignant masterpiece by Jacques Guerlain, L'Heure Bleue. On Christmas Eve I take out my little vintage parfum, and I indulge myself in wearing the precious juice.
Despina's Vintage Guerlain L'Heure Bleue©
The melancholic, contemplative beauty of Guerlain L'Heure Bleue is an ideal companion to Capra's film; the pairing of the two is as fulfilling as combining a wonderful dish with the perfect wine.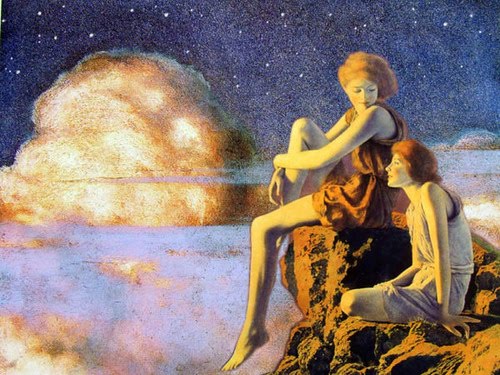 Contentment Maxfield Parrish 1922
Guerlain L'Heure Bleue (a composition of bergamot, anise, rose, carnation, iris, tuberose, orange blossom, heliotrope, vanilla, and musk) was created in 1912, and Guerlain was inspired by the beauty of the blue twilight, just before darkness sets in. On another level, the scent anticipated the end of the Belle Epoque, and the wake of WWI. Masterfully balancing between coolness and warmth, fragility and strength, shyness and boldness, melancholy and hopefulness, Guerlain L'Heure Bleue is a fragrance that embraces life's bluer moments, revealing their sublimity – thus providing solace.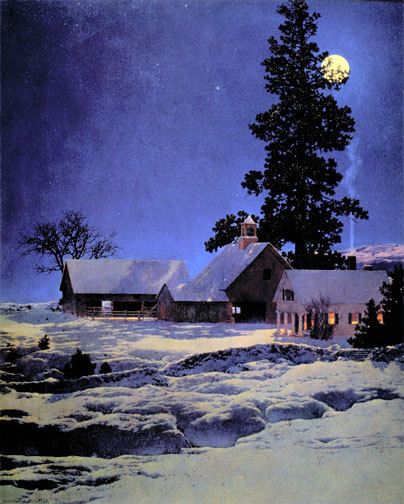 Christmas Eve Maxfield Parrish
In the words of Jacques Guerlain himself: "The sun has set, yet light has not fallen. It is the uncertain hour. In a light of deepest blue, everything – the rustling leaves, the lapping waves – seems to express a love, a caress, an infinite tenderness. Suddenly, man is in harmony with the world of things, within a moment of time, the time of a perfume."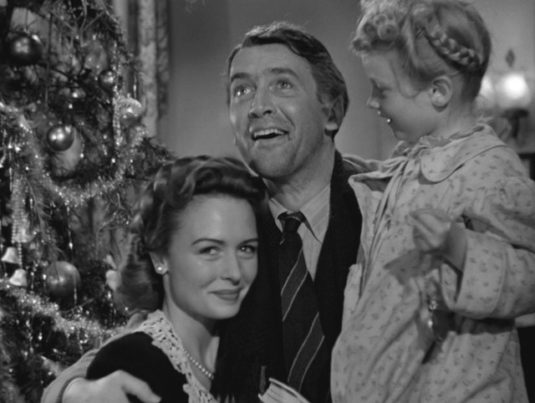 The Baileys united again for Christmas (Copyright: Paramount Home Entertainment)
Guerlain L'Heure Bleue is worthy to accompany a film that never fails to bring the deepest, and most cleansing, tears to my eyes. A scent able to express the complexity, and the wonderfulness, of being alive.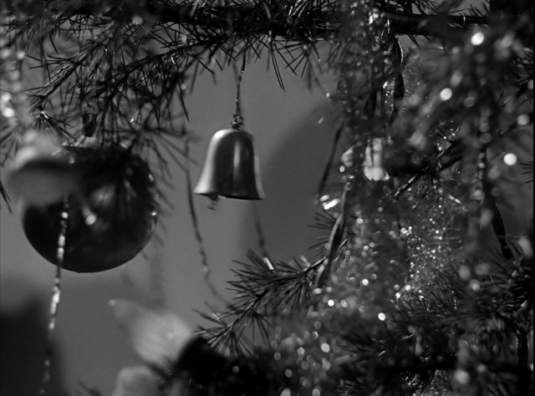 The Bailey family Christmas tree (Copyright: Paramount Home Entertainment)
From all of us at ÇaFleureBon a Merry Christmas to each and every one of you!
– Despina Veneti, Sr. Contributor