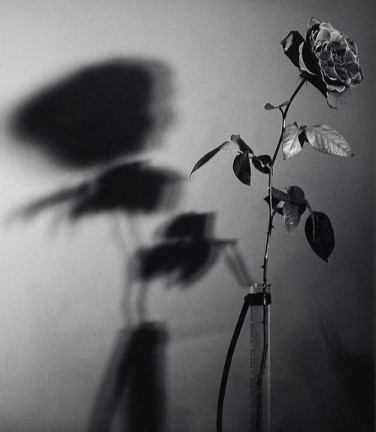 Rose, N.Y.C, 1977 by Robert Mapplethorpe
Contrast is a powerful tool that gives definition to things both similar and opposite. Black versus white, day versus night, they confer very different things, and yet one pales in impact and emphasis without the other to juxtapose it. What does day become without night, or joy without sadness? With her new release of this duo of scents, natural perfumer Jane Cate of A Wing & A Prayer Perfumes offers us two perfumes that are starkly different and yet complement each other beautifully.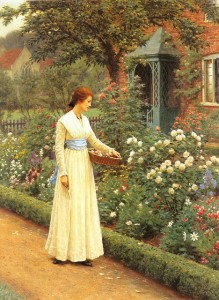 Summer Roses – Edmund Blair Leighton
In Summer Afternoon, a limited edition perfume, Jane Cate bottles the perfect cheerful sunny day that begs you to spray away with abandon and get lost in the moment. The perfume was inspired by a quote from author Henry James that reads: "Summer afternoon – summer afternoon; to me those have always been the two most beautiful words in the English language." Conjuring for her visions of soft, sensuous roses drifting in and out, Jane created this exceptional perfume that won the gold award in Lyn Ayre's 2015 Summer Challenge. Summer Afternoon opens with a transparent light citrus and cool green leaves having a minty edge. It sweetens with a ripe fruity rose warmed in the sun, almost edible in scent. A cooling refreshing breeze swishes in by way of a stunning rose geranium. This offers welcome shade from the heat of the sun and helps transition us into bit of a forest walk, conifers intermingling with damp earth, the air still scented by the memories of the rose. Projection and longevity are both wonderful with this scent. Notes: Rosewood, Bergamot, Peach Isolate, Clove Bud Absolute, Lavender Absolute, Geranium Rose, Rose de Mai, Fir Absolute, Vanilla, and Patchouli in a base of Floral Alcohol.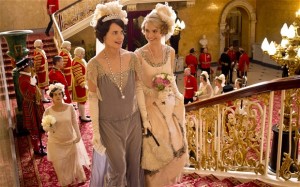 Elizabeth McGovern as Cora, Countess of Grantham and Lily James as Lady Rose
Moonlight Serenade, drew its inspiration from the 1920's and Downton Abbey. For me, it brings me back to burying my nose into the graceful white trumpet of enticing but deadly Datura flower. The history of the datura plant is as captivating as this fragrance.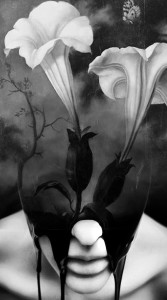 Datura photo from Designstack.com
The plant is indigenous to the New World and the flowers – which are used in this perfume – exude a beautiful, narcotic scent, especially at night. Spiritual master Carlos Castaneda learned about Datura from his mentor Don Juan. The wise old brujo was never too fond of the 'devil's weed', claiming its power as like that of a woman. "She is powerful, She distorts men… She makes them weak in the middle of their great power."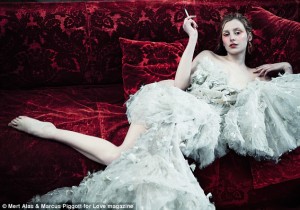 Laura Carmichael, who plays Lady Edith in Love magazine (Mert Alas, Marcus Pigott)
.A sheer powdery floral announces Moonlight Serenade's opening, lifted by hints of spice. It hovers on the skin, tendrils reaching out to draw others into her clutches. The flowers swirl, one moment gardenia, the next lilac, another is rose, then heliotrope, shifting and blending always just outside the reach of recognition, taunting us to go nearer. Like moonlight illuminating the datura's ghostly white flowers, the florals are brightened and reflective. It settles into a creamy, powdery wood that is romantic and comforting, yet a bit dangerous. The longevity is good and the projection is fair, staying appropriately close to the skin. Notes: Mimosa, Cardamom, Nutmeg, Rose, Heliotrope, handcrafted Tonka Bean, and Sandalwood.
Michael Singels, Sr. Contributor and Natural Perfumery Editor
Disclosure: Samples were provided to me by Jane Cate for review on ÇaFleureBon.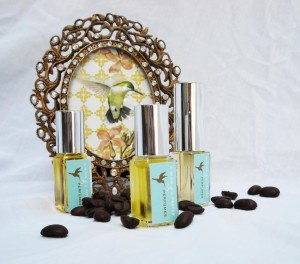 Thanks to the generosity of Jane Cate of A Wing & A Prayer, we have a draw for two USA registered of a reader's choice a ¼ oz perfume purse spray of either Summer Afternoon or Moonlight Serenade, To be eligible, please tell us which of the new perfumes intrigues you most and which you would like to win. Draw closes 10/12/15.
We announce the winners on our site and on our Facebook page, so Like Cafleurebon and use our RSS option…or your dream prize will be just spilled perfume.