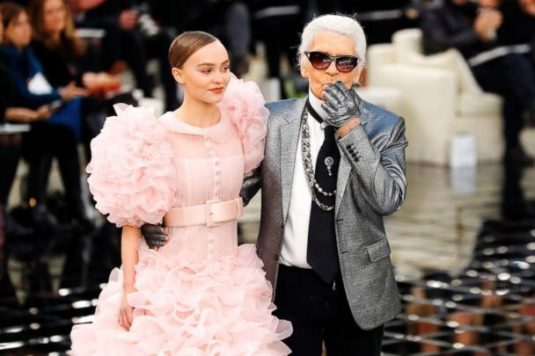 Karl Lagerfeld, Chanel fashion show 2017
The Chanel window on Madison Avenue was a landmark of my teenage strolls past the daunting haute couture boutiques and jewelers, glittering and inaccessible. Ralph Lauren's place was getting all the love at the time, with its faux English clubbiness, but my temple was Chanel. In their supreme elegance and handcrafted details, Chanel clothes conjured little daydreams of unreachable elegance, of Cannes in the 20s, of Rococo ballrooms and Cecil Beaton photographs, of Jackie Kennedy and time without time. And always, there was a small touch of humour – an oblique reference to Alice in Wonderland in the collar, perhaps, or an immaculate suit jacket paired with rakish leather biker jeans. This ethos, which combined charm, breathtaking detail, and pared down beauty, also epitomized the perfumes created under the aegis of Chanel's magister ludi.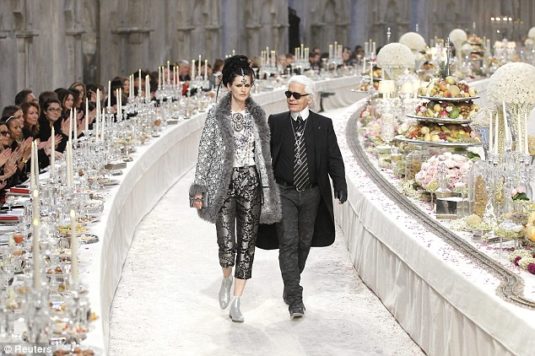 Karl Lagerfeld and Stella Tennant at Metiers des Arts Show, 2017
Lagerfeld, who died this week at 85, was a true Renaissance man, an exceptionally skilled photographer, a filmmaker, impresario (look at Chanel's extraordinary Les Metiers show in 2017 for an idea), journalist, and walking theatrical event. With his sharp tongue and trademark black leather gloves, silver ponytail and black sunglasses, he was instantly recognizable. When he took the helm of Chanel in 1987, the venerable house was flagging. Like Janus, he looked forward while glancing back, bringing Chanel to a new, younger audience with ready-to-wear and new, more egalitarian fragrances that nonetheless always used Coco Chanel as guide. Boxy boucle jackets were remade in denim, the classic quilted handbag reworked in unconventional colours.
Karl Lagerfeld Chloe ad, 1975
Before he arrived at Chanel, Karl Lagerfeld had made his name heading up both Fendi and Chloe. For the latter, he and Director Betty Busse created the ever-youthful and phenomenally successful Chloe in 1975. Chloe was the first perfume I wore regularly in my early 20s, a gift from my father. Its heady, powdery bouquet of flowers and oakmoss is indelibly tied to that time in my life, a fragrance of sadness and eagerness. During this time, Lagerfeld also oversaw creations from an illustrious roster of perfumers that included Olivier Cresp, Mark Buxton, Sophia Grojsman, Bruno Jovanovic, Cristine Nagel, Emilie Coppermann and Michel Almairac.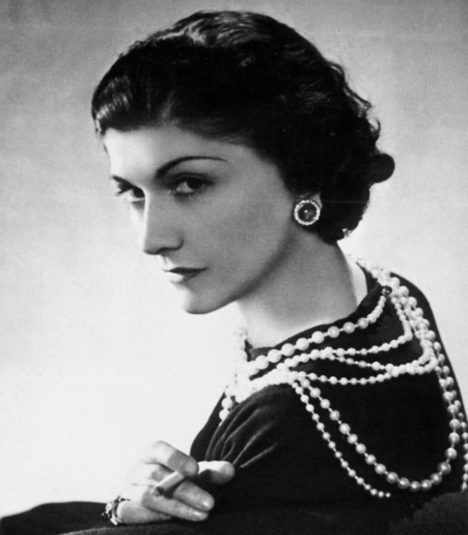 Coco Chanel, stock photo
But it was working with head perfumer Jacques Polge (who had already created the classic green-eyed, angular beauties such as Cristalle and No. 19 that captured the 1970s' you've-come-a-long-way-baby-menswear look), that many of the Lagerfeld era's greatest perfumes were brought to life. Gabrielle "Coco" Chanel – her life, her creations, her tastes – was the DNA of the reinvigorated Chanel. And she was the namesake of Kaiser Karl's first perfume for the house: Coco, which was a runaway hit. But while Karl Lagerfeld and Polge took the house's fragrances in a more egalitarian direction, they also ensured that the brand's haute perfumery tradition continued and expanded.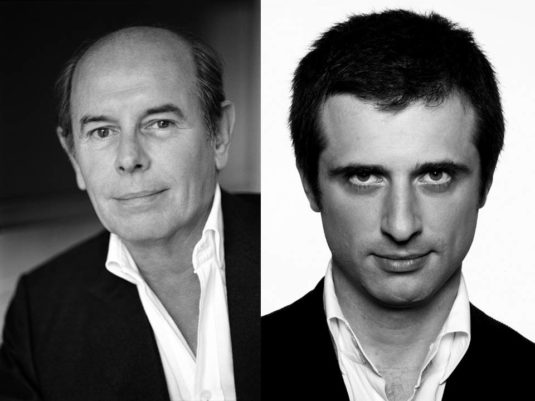 Jacques and Olivier Polge
The Les Exclusifs line, launched in 2007, made many a perfumista heart flutter. Initially released in extrait (now in EDP), these were luxurious fragrances of ineffable elegance, from the elongated, spring-like iris of La Pausa to the ambery opulence of my favourite, Coromandel, the Exclusifs returned to the kind of bold, high-quality fragrances Chanel has been known for since the arrival of No. 5 in 1921 (Ernest Beaux. Les Exclusifs also dusted off venerable beauties such as Cuir de Russie and Bois des Iles (both Ernest Beaux), ensuring that the quality and ingredients of of the original fragrances was maintained. This remained true even while Polge and Lagerfeld riffed on Cristalle, Chanel 19, No. 5 and even Coco with flankers that were often lighter, brighter and younger in feel. When Jacques Polge retired from Chanel in 2015, the reins were passed to his son, Olivier, who continues Lagerfeld's legacy of using the life and persona of Coco Chanel as the brand template. This was evident in Polge Jr's first fragrance, Misia, inspired by Chanel's best friend, Misia Sert, and Boy, based on Coco's lover Arthur "Boy" Capel, Chanel's first "genderless" perfume.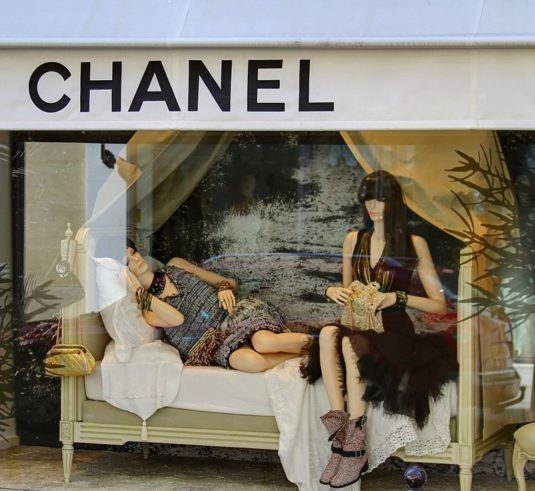 Chanel store display, Rue Cambon, Paris
Karl Lagerfeld was always looking forward, anticipating the zeitgeist by "continuing to embrace the present and invent the future." With his absence, passing by that Chanel window on Madison Avenue now belongs to another time.
— Lauryn Beer, Senior Editor