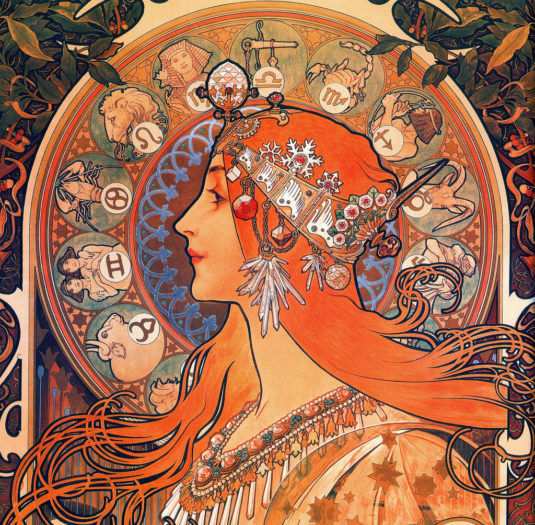 Zodiac, Alphonse Mucha, 1896©
Morning breaks with the pepper-paper smell of geraniums that pour onto a warm stone terrace. As the day rises, a garden heavy with ripe peach, iris, and the dreamy langour of ylang ylang beckons lazily beneath a veiled midday sun. Later, the hot heartbeat of the tango patters against the night. A girl with slow-lidded eyes turns for a backward glance and a fragrance reaches around the carnelian jewel in her heavy hair: warm, sinuous as the dance step, glowing like embers.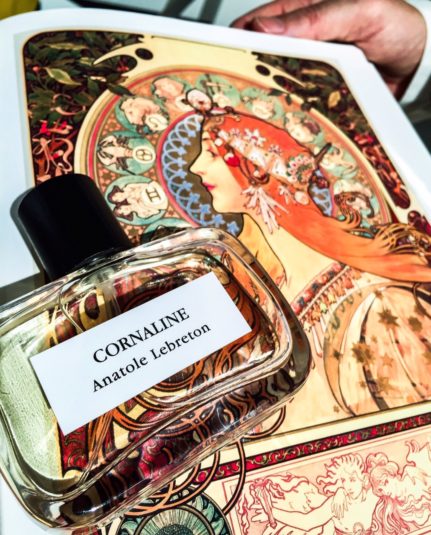 Photo by Ermano Picco©
Inspired by the carnelian comb of a young woman in Art Nouveau master Alphonse Mucha's poster, Anatole Lebreton Cornaline is a sinuous, sloe-eyed fragrance that defies categorization: a modern floral wrapped around a vintage oriental, sparked with geranium, peach juice and a just a dash of red hots.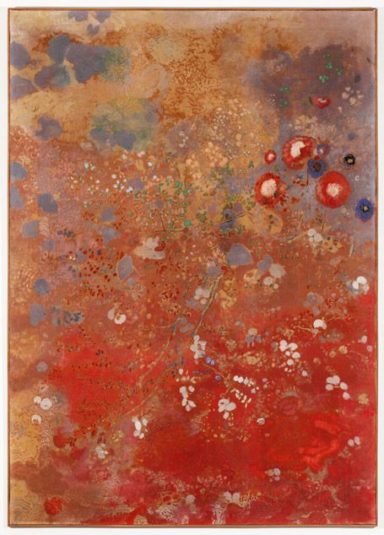 Panneau Rouge, Odilon Redon, 1905©
Anatole Lebreton is the Odilon Redon of modern perfumery. His Parfums de Liberte show an unfettered but disciplined creativity: daring but not edgy, thoughtfully crafted, quirky and achingly beautiful. Eau Scandaleuse is a fabulously raunchy floral that manages also to be devastatingly pretty. Last year's Grimoire was one of my favourite releases; a strange, smoky, chartreuse-lavender stunner that is what the modern evil queen is wearing. With its heated geranium opening, bold florals and playful sensuality, Cornaline fits right in. If Mucha's flower-tressed ingenue stepped from her canvas and headed to the dance hall on a warm evening, this would be her fragrance.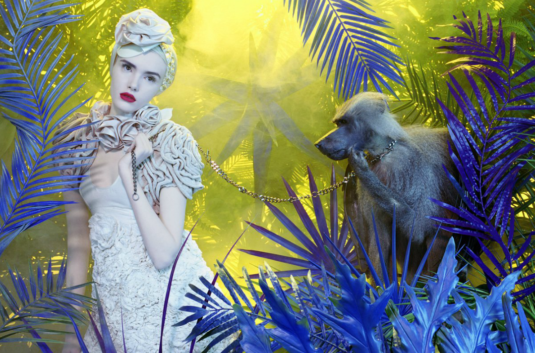 Enchanted Garden fashion editorial, photo by Miles Aldridge, Vogue Italia, April 2007©
The first few moments of Anatole Lebreton Cornaline are mesmerizing: a velvety, warm geranium rises like heat ripples from my wrist and hangs in the air. A teasing sweet carrot emerges, closely followed by foggy orris. The juxtaposition of velvet pepper geranium and the misty, rooty smells is confusing and entrancing, like a sun shower. In the backdrop, bittersweet citrus sparkles quietly. For the next few minutes, Cornaline trips between warm and cool floral notes. I start becoming just aware of vanilla in the background, waiting for its place in the dusky dry-down.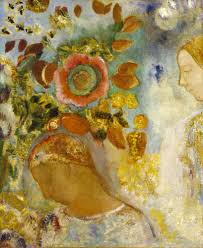 Two Young Girls among Flowers, Odilon Redon, 1912©
But first, it's time to tango with some peach. A big squeeze of nectar hits the floral heart, brightening up those heady Mediterranean flowers and adding a great big smile into the center of the perfume. Then, ylang comes forward and fills out the composition with its fleshy, banana cream pie richness. Pulling back slightly from the perfume on my wrist, I smell the orris, geranium, ylang and peach swirling around me like one of Redon's flower visions.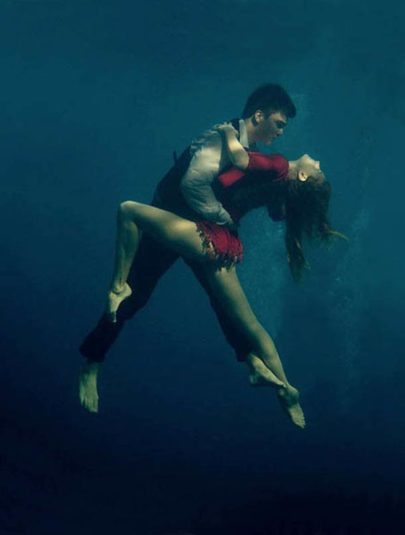 Underwater Tango, photo by Katerina Bodrunova©
As it dries down, Anatole Breton Cornaline gets quietly sultry. Benzoin nestles into the vanilla, and the ylang cuddles right up with the orris and geranium. I never would have thought that interweaving flowers with such completely difference fragrance profiles – spicy-leafy, anisic-powdery, fleshy-sweet – could have worked, but Lebreton laces them together with such charm and lightness that this strange bouquet becomes harmonious and quite wonderful. One of the best premieres of Esxence 2018.
Notes: Bergamot, carrot, geranium, peach, hyacinth, orris, ylang ylang, "Belle de jour" mirabilis, benzoin, musks, vanilla.
Disclaimer: Sample kindly provided to me by Anatole Lebreton at Esxence. My opinions are my own.
Lauryn Beer, Senior, Editor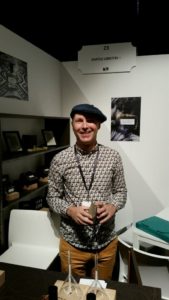 Photo of Anatole Lebreton at Esxence 2017 by Michelyn
Thanks to the generosity of Anatole Lebreton, we have a 5 ml bottle of Cornaline plus an additional 5 ml bottle of either Bois Lumiere, L'Eau Scandaleuse, Grimoire, Incarnata or L'Eau de Merzhin for one registered reader in the U.S. or Europe. Be sure to register here. To be eligible, please leave a comment saying what appeals to you about Anatole Lebreton Cornaline based on Lauryn's review and whether you have tried any of Anatole Lebreton's perfumes and where you live as well as let us know which of the five fragrances you want in addition to Anatole Lebreton Cornaline . Draw closes 4/28/2018
We announce the winners only on site and on our Facebook page, so Like Cafleurebon and use our Blog feed … or your dream prize will be just spilled perfume.