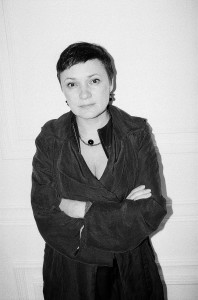 Alexandra de Montfort Creative Director of Rouge Bunny Rouge
I am more of a woman without a town than a woman about town. I grew up in a country that doesn't exist anymore, Yugoslavia. This fact has inherent nostalgia and wistfulness that I weave into my work. Exposure to the countryside, sea and mountains from early childhood created a life-long pact with nature and its changes, which is reflected in our Rouge Bunny Rouge beauty and fragrances. My life travels have taken me from Osijek, where I was born, to Belgrade where I studied to London, Warsaw, Brussels, New York, Milan. I live in Moscow although my husband hails from Antwerp; perhaps that beautiful city will be my next home.
My earliest scent memory was in my grandmother's summer kitchen, she was baking bread; I must have been around 3 years old. To this date, it is one of the most comforting and home defining smells for me. When I was 14, our family went on a skiing trip to Dolomites in Italy. I spent all my pocket money the very first day buying one fragrance. I remember my first bottle of Joy by Patou. It was an attraction to something I didn't understand but felt compelled to posess and be able to smell again and again.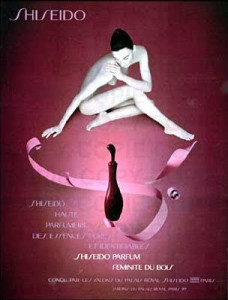 I fell deeply and hard for perfume when I moved to London where I began my love affair with Shiseido Feminite Du Bois in1992. More than a fragrance, I knew I was embracing something much bigger, with a story to tell, a singular scent that asked questions, challenged and inspired. Feminite du Bois revealed to me that conceptual idea can be delivered in a liquid form. I lament its passing, IFRA is unforgivable with its oppression and slow steady destruction of olfactory art.
As I am not only a creative director but also a founder of the company, there is no job, big or small, that I wasn't a part of over the course of last nine years. I work on collections, packaging, furniture design, marketing, PR, management, sales, retail operations, investment and on occasion warehouse chores. Luckily as the time passes and our team grows we can concentrate on what we are good at rather than what needs to be done. We are a strange bunch and I am blessed with a team with diverse backgrounds including a professional singer, a genetic engineer, a former retail operations manager; it is a dawn of a new work environment. I concentrate on creative leadership these days, which involves strategic business decisions as much as creative work.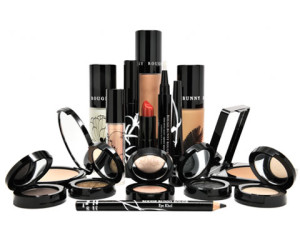 Rouge Bunny Rouge Beauty
When I founded Rouge Bunny Rouge in 2005 it was a beauty brand. I am interested in beauty and cosmetics as vehicle for play, to allow women to create a persona to present to the world. Make-up is intimate, make -up is emotive; I believe it is not about a trend or new hue or shade, it is not about imposing a look or even dictating a style. It is about a signature and ultimately create elegance, a level of confidence and a way to express yourself.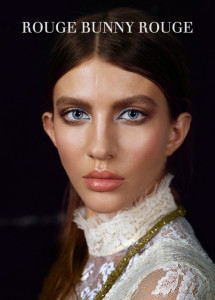 Rouge Bunny Rouge Chance Summer 2014
Rouge Bunny Rouge is more than a luxury niche cosmetic and perfumery brand as we have a very distinct point of view. There is always a whimsical twist, we try to have fun, we want to give women artisanal, impeccably made products they can put their trust in; knowing their needs without dictating. Our economy in color and streamlined product choice, simplicity of form, emphasis on quality and textures differentiates us. Rouge Bunny Rouge beauty collection refuses to follow trends for the sake of getting attention or jumping on a new fad. I don't want to make products that are connected to an infantile need to be entertain or an adolescent's desire to be fashionably correct. The whole seasonal colour collection thing is not compatible with our philosophy as a brand, in our view it's either beautiful or it isn't, there are plenty of other companies in the market that can fulfill 'on trend' craving. Finally, it is important to make people think and dream so you have to introduce fantasy. Partially that fantasy also comes from product; it should feel like a little wonder. I bring all this to our fragrances which we began in 2007; a natural, organic development of multi sensorial pleasure. Not all fantasy; attention to detail, to authenticity is very much our DNA.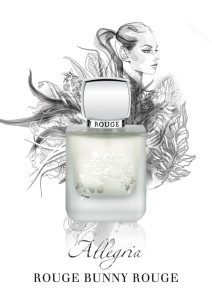 Rouge Bunny Rouge Allegria (2014) Sonia Constant
When working on fragrances we start with mood boards and briefs based on the stories inspired by the Enchanted Garden. Painting pictures in our clients mind eye is a defining characteristic of Rouge Bunny Rouge and perfumers are treated like clients. I put a lot of work into elements that make it possible to lead the perfumer to a precisely set stage where they should be able to interpret who we are in an olfactory way. This could be an emotion or a place or a person. From there the story is taken out of my hands and written by them, I serve as a curator and editor of results.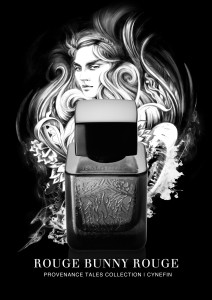 Rouge Bunny Rouge Cynefin (2013) composed by Shyamala Maisondieu of Givaudan
I listen to their interpretation of the story that they communicate back to me and I either guide it into a different direction or I let myself to be taken in by their new story, finding some of their detours and scenic routes better than my original idea. It is a mercurial process built on respect. In final analysis we are sitting in judgment of what we will bring to the word; aromatic breaths that give pleasure, establish harmony, excites curiosity and kindles reflection. Each bestows a blessing, a gift, a power or a treasure; first upon its new owner, then through them, to the world. It might appear to be one of the superfluous jobs in the world we live in today, but what a difference fragrance can make.
I am not terribly interested in constantly tweaking perfumes, which I think makes us unusual as clients. There is enough interaction between myself and the perfumer that the fragrance that is delivered to me is fully formed. It is about the process and that is why the brief is crucial; paint the colours, paint the emotions, take historical reference, character reference and if the perfumer on the other side is the right one for that setting, they will get it from the start. We did try otherwise but we would always come back to the beginning, I would rather discard than overly tweak. I am not sure if that is a perfumer's heaven or hell.
(L) Shyamala Maisondieu at Givaudan, Sonia Constant of Givaudan and Nathalie Lorson of Firmenich
When we were unknown, we had to pitch fragrance companies to take us and our briefs seriously. We were successful with both Firmenich and Givaudan. Our briefs were initially blind, meaning any perfumer can create and we didn't know who they were. After the first three fragrances launched, we found olfactory threads in what we liked, we found our soul mates. With Sonia Constant and Shyamala Maisondieu at Givaudan and Nathalie Lorson of Firmenich, deeper bonds have been created, we communicate on a different plane now and it is such an exciting improvised dance.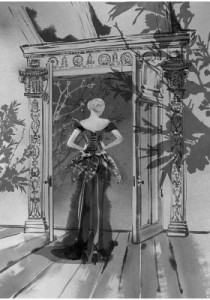 Rouge Bunny Rouge Chatoyant EDP composed by Francis Deleamont (2012)
We are growing and learning all the time and look forward to work with independent perfumers in the future; Mark Buxton being next. it is Interesting that from the eleven fragrances in our current line, ( three more in the pipeline), only two are made by a man. On the other hand the first fragrance that we signed off on was composed by Francis Deleamont - Chatoyant. It was love at first sniff, and an augur of wonderful things to come. In terms of relationships, sometimes it is difficult, working with such big companies, to get close to the perfumers; there is always this arms length distance from management, predominantly to protect perfumers. But as you continue as a client, beautiful relationships emerge.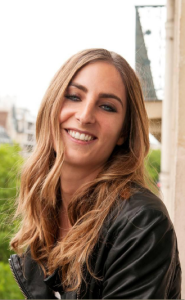 Sonia Constant of Givaudan
Sonia Constant is a tiny lady with a big approach to fragrances; I mean BIG, like overripe cheeses you need only in small quantities. She has such a gift for what can be mind-boggling innovation that allows her to breathe contemporary life into traditional structures. In her own words, "My creative process is rather abstract. It's like the work of Calder: the world of smell resembles a sculpture made of moving elements, coming together on a whim and a moment of inspiration". From the range she has done for us Vespers and Allegria which are our bestsellers; another one of her creations will be launched in October 2014.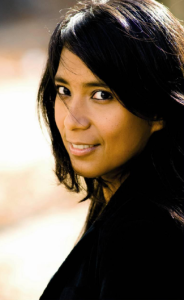 Shyamala Maisondieu of Givaudan
Shyamala creates fragrances with strong signature. I believe creation comes easy for some and for some it is a product of pain, struggle and soul searching. In this respect Shyamala is my kindred. At one point while explaining to her the depth of emotion I wanted to achieve I became teary and I could see this mirror effect in her. These are the moments I relish, when work transcends into life and becomes alive. The power of nature and of dense landscapes as well as her native Malaysia are driving forces behind here inspirations. She has done Embers, (2012), Lilt, Cynafin.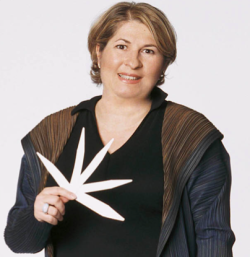 Nathalie Lorson of Firmenich
Working with Nathalie Lorson feels like drinking water, life giving, open minded and in search of harmony. I remember sending out this huge brief on life on a tundra, mentioning smells of Arctic wolf fur, molt of raven feathers; great expanses covered in velvety black raven feather, lichen, moss, cloudberries and the scent of wildfires.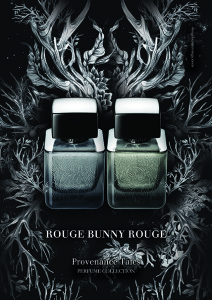 Rouge Bunny Rouge Tundra and Silhouette just launched for Summer 2014
I got back a bottle with a label name Tundra. Again not a single thing was changed. Nathalie describes her olfactory style as harmonious and generous. It is evident in her choice of raw materials and reveals itself in the writing of her formulas… round, smooth and sensual. She blends fragrances with her soul and with mind, as well as with her nose. She is the magician behind Muse, Tundra and Silhouette from the Provenence Tales.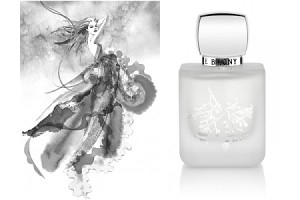 Rouge Bunny Rouge Lilt (2012) from the Fragrant Confections Collection
Naming a perfume is a 'painful' process and is based on auditory and linguistic choices, and above all semantics; I love to get into deeper meaning of words and try to get as close as possible to their connotation. Lilt refers to a siren lilt, song so beautiful you cannot resist even though it is leading you into temptation you know might end up in personal ruin. It is about ultimate and uncomfortable seduction where your mind succumbs to carnal and beautiful. Chatoyant refers to a cat like character of an orchid, which is one of the strongest notes in this fragrance. It is a study about deliberate behaviour and texture with comfort and whimsy present in equal parts. The descriptive language in relating our scents to others is important to me; I have been told we write purple prose on occasion and I can see why some may think this. If you do not know our fragrances and cannot find a shop to smell them, words are important. I write the copy along with our lovely copywriters Fran and Nath.
Rouge Bunny Rouge Fragrant Confections and Provenence Tales
Our bottles are remarked on by many and it is the Rouge Bunny Rouge team that delivers the creative work to the remarkable people I work with from around the world. We have two collections, each with a different story, thus a different flacon. Fragrant Confections are presented in frosted bottles with etched floral patterns that are nostalgic for times passed. ProvenanceTales is where the bottles mirror our desire to deliver the deeper, darker side of the Enchanted Garden.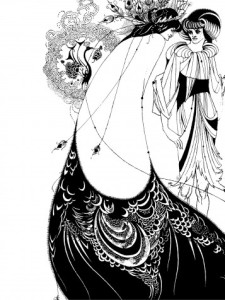 Aubrey Beardsley The Peacock Skirt
At its inception Rouge Bunny Rouge incorporated an eclectic mix of origins and stories inspired by the Victorian era and we move this into a neo-Victorian world (which Michelyn told me is called Steam Punk). It explores whimsical avenues based on the exotic, intoxicating and sensual fairy tale of the Enchanted Garden and its protagonists. In particular we have been sourcing our inspiration from this period which was not prudish as you would think but a breeding ground for counter-culture aesthetes', decadents and hedonists. Romanticism inspires us because it is linked heavily with the supernatural, Symbolism which flourished around the turn of the century, and was epitomized in Victorian England by Aubrey Beardsley. It is significant of all of these movements that they were "counter-movements" to the established art of the day.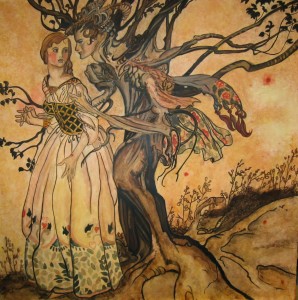 Arthur Rackman Victorian Fairy Tale Illustrator
The tremendous breadth of Victorian fairy tales and their illustrations influenced the format of Rouge Bunny Rouge design and deep stories in several ways. Like the narratives they illustrate, Victorian fairy-tales tend to fall in one of two general categories: the sentimental and the fantastic. There is a grace and fluidity of line in all the illustrations of that time, often with a tremendous eye for detail. It is this dreamland that we are taking our customers to, with the barest whispers of dark intentions lurking at the edges.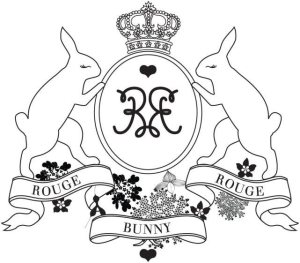 As to why we choose a rabbit as our main protagonist I would like to quote. "The Rabbit may seem a strange subject for a wide variety of legend and lore from all over the world. After all, he is timid, frail and nervous; forever hunted and preyed upon by beasts of both land and air. Rabbit has no sharp fangs or ferocious roar, and yet he survives, endures, and prospers; by virtue of his swiftness and alertness, adaptability and resourcefulness. Perhaps it is this, our human tendency to root for the underdog, which has given rise to so many stories, beliefs, and legends about this otherwise rather unassuming and ubiquitous animal." (©) Heather Riesen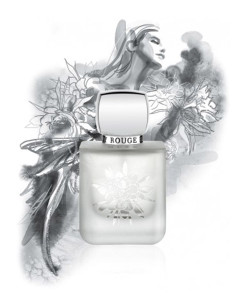 Rouge Bunny Rouge Muse composed by Nathalie Lorson of Firmenich (2014)
In regards to inspiration and muses it has always been very clear to me I wanted to have my own path, life is my muse. Beauty in imperfection and transience of things inspire me, prose and poetry, paintings and music, nature and dwelling deeper within ourselves. As Leonard Cohen says: "…forget your perfect offering. There is a crack in everything; that's how the light gets in."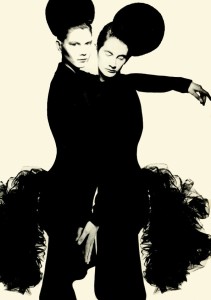 Photo: Yohji Yamamoto 1986 Nick Knight
My stepfather is the man that made biggest influence in my life as a mentor because he made me believe in myself. The second person that 'mentored' me is Yohji Yamamoto. I was surrounded by intellectual playfulness, trend-phobic attitude to collections, love of the female body of all shapes, merging disparate worlds, poetry in cut and fabrics, mental stamina, tremendous work discipline, ahh I can go on for a while.
Linda Pilkington Creative Director of of Ormonde Jayne was featured in our series
In perfumery I admire many, but here I refer to a few; notably the idiosyncratic approach to fragrance of Andy Tauer of Tauer perfumes and Linda Pilkington of Ormonde Jayne; I have a thing for ex Soviet Union perfume creators of unabashed femininity which leads to two women- Calice Becker and Sophia Grojsman. Finally there is the decadent transparency of Mark Buxton. Each of these artists is unwittingly my mentors.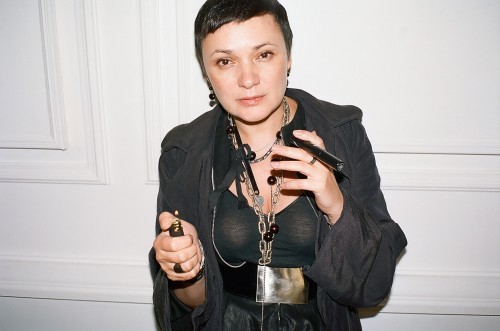 Copywright: Alexandra de Montfort
Finally, what I always send as a part of my initial brief to people that do not know us yet, as a kind of a quick map about what we stand for: No to: ignorance, stupidity, indifference, arrogance, boredom, aggressiveness, uselessness, impassivity. Yes to: bon-vivant spirit, a sense of humor, a quick wit, optimism, humility, good appetite, intuition, intelligence, honesty, creativity, fearlessness, enthusiasm, conviction, eccentricity, eloquence justice, a taste for adventure, openness, and confidence.
-Alexandra de Montfort, Founder and Creative Director of Rouge Bunny Rouge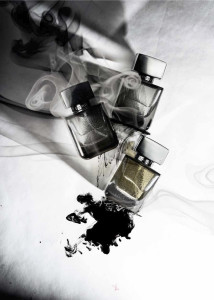 Thanks to the wonderful Alexandra we have a WORLDWIDE DRAW: One reader will win their choice of 50 ml of the following Rouge Bunny Rouge Perfumes: Allegria, Vespers, Chatoyant, Lilt, Embers Tundra, or Silhouette
To be eligible, please leave a comment about what moved you, you learned or a memorable quote from this article about Alexandra de Montfort as a Creative Director, your choice of the fragrance from the above that you would like to win and where you live. If you have a favorite Rouge Bunny Rouge perfumewe would love for you to share that too!! Alex will be reading your comments, so show her some love. Draw closes August 2, 2013
Increase your chances of winning by LIKING CaFleureBon Creative Directors in Perfumery; your comment will count twice.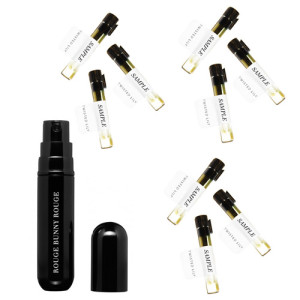 Editor's Note: As a special tribute to Alexandra de Montfort and Rouge Bunny Rouge, Stamatis and Eric of Twisted Lily are offering a ÇaFleureBon special promotion for ALL readers: With your Purchase of $50 of any Rouge Bunny Rouge Perfume or Cosmetic online (keep checking online for beauty) or instore you will receive a discovery kit of all 11 Rouge Bunny Rouge Perfumes: Chatoyant, Allegria, Cynefin, Lilt, Embers, Incantation, Muse, Silvan, Vespers, Silhouette and Tundra (these are .7ml size) AND a Rouge Bunny Rouge Atomizer that can be filled with any fragrance. The Code at checkout is RBRCAFLEUREBON. Cannot be combined with any other offers. $50 minimum is before tax and/or shipping. Good through August 8, 2014. -Michelyn Camen, Editor in Chief
We announce the winners only onsite and on our Facebook page, so Like CaFleureBon and use our RSS option…..or your dream prize will be just spilled perfume.