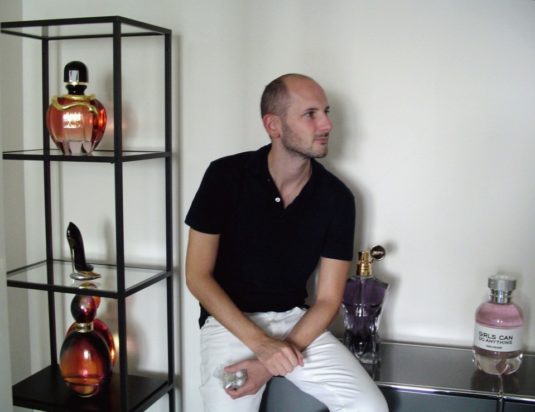 Quentin Bisch of Givaudan in his office at Givaudan by Despina©
Two and a half years after his autobiographical piece for our EIC Michelyn Camen for our Young Perfumer Series on ÇaFleureBon, Quentin Bisch has fully justified the title of the "rising star of perfumery" with an impressive body of work for designer brands like Mugler, YSL, Van Cleef & Arpels, Azzaro, Paco Rabanne and Chloé, as well as for niche houses like État Libre d'Orange, Ex Nihilo. Liquides Imaginaires, Orlov and Parfums de Marly to name a few. I had the pleasure to interview Quentin at his Givaudan office in Paris, and I was delighted by his genuinely warm welcome, refreshing sincerity, and disarming enthusiasm.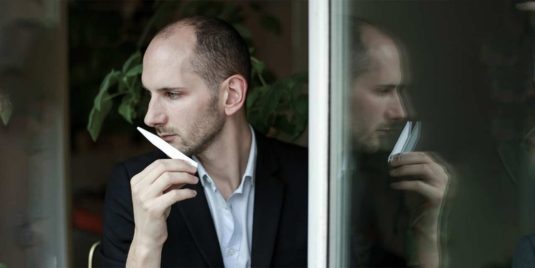 Quentin Bisch of Givaudan
Bonjour Quentin. Were these last 2 1/2 years what you hoped they'd be?
Quentin Bisch: And even more, Despina! I feel blessed to be able to do my dream job; and whenever I win a project, it's like an extra cherry on top.
Tell me about your inspiration process.
Quentin Bisch: I receive all sorts of briefs – sometimes only words or images, other times just a concept. I constantly take down ideas on my phone, which I consult before immersing myself in a brief. Then I spend some days thinking… and then not thinking. The ideas usually come to me all of a sudden; at night, when I take a shower, when I'm running…
What kind of briefs do you prefer working with?
Quentin Bisch: I adapt well to both abstract and specific ones. But mostly I love freedom, expressing myself without any constraints.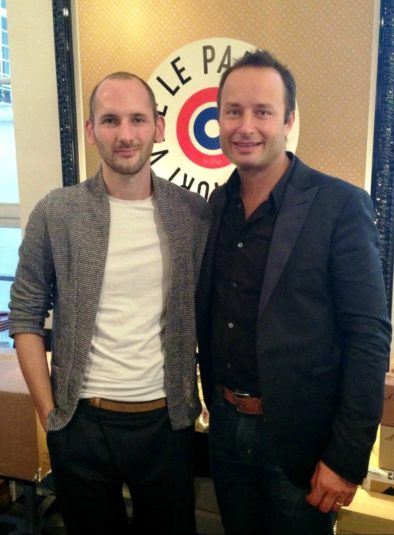 Quentin Bisch of Givaudan with Etienne de Swardt of Etat Libre D'Orange, (his first perfume solo 2013 was La Fin du Monde)
What was the most abstract brief given to you?
Quentin Bisch: The one for État Libre d'Orange Attaquer le Soleil Marquis de Sade. Etienne de Swardt was going to propose to several perfumers to work absolutely freely on the project. I stepped in and said: "Don't ask any others, I'm doing this!". Etienne has always given me great creative freedom.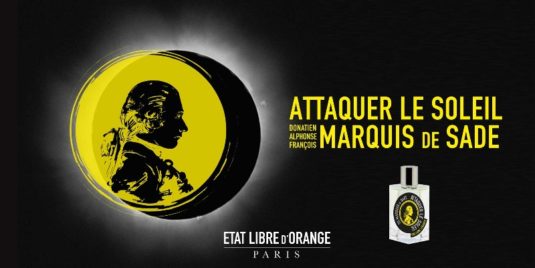 photo: Etat Libre D'Orange
And you chose cistus (labdanum), one of your least favorite ingredients, as your main one.
Quentin Bisch: Yes, I loved the double challenge! For 2 months I read a lot of de Sade, and then the idea came to work with something visceral to me, just like his writings are: they appeal to the body first. That was exactly what I wanted for the scent.
Do you ever take a trip just for the sake of inspiration?
Quentin Bisch: Right now I have to be in Paris all the time. But I'm sure I'll do that at some point. I have designed with Givaudan an orgue nomad (portable perfume organ), big as a suitcase, with which I could work while travelling!
If a company asked you to create a combination of the "top notes of bestseller X, heart notes of bestseller Y, and drydown of bestseller Z", would you make it for them?
Quentin Bisch: I'd do only it if I felt there'd be room for me to create, by following the general direction while twisting it.
Are you free to turn down projects?
Quentin Bisch: At Givaudan I'm free to express whether I feel comfortable taking up a project, or not. It's essential that we remain true and honest to ourselves. Otherwise it will show in our work.
Have you ever had to put up a "fight" to convince about your proposed creation?
Quentin Bisch: It often happens. The company has an idea, I have another. But to me that tension is interesting, dynamic – like a tonic! The vibrations are stimulating creativity, and the disagreements usually end with a compromise. But if the client wants an ingredient no matter what, and I refuse completely, they will simply take the project to another perfumer who will do it their way. But I never stop trying to convince them about my proposal.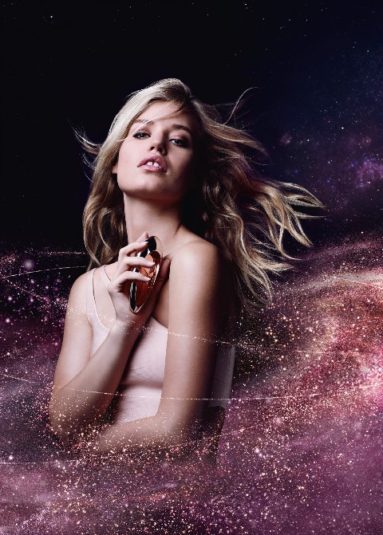 photo MUGLER
During the making of which perfume did you experience the biggest "creative tension"?
Quentin Bisch: While making Angel Muse EDP. A difficult 2-year procedure, during which the Mugler team sought the perfect balance between making – and not making – Angel. I had to touch a mythical scent with a new approach. My initial proposal was less Angel, and more vetiver/hazelnut, in an oriental manner. The 2017 EDT is actually closer to my original idea than the 2016 EDP.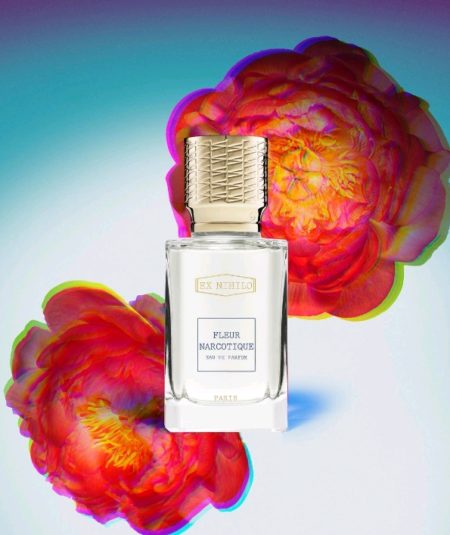 Photo courtesy of Ex Nihilo
And which of your perfumes took the shortest to finish?
Quentin Bisch: Ex Nihilo Fleur Narcotique. After 3-4 trials on my own, I presented the one version I had chosen. And it was at once approved. There's great trust between me and the brand, all our collaborations went smoothly. Our latest one, Cuir Celeste, was also very satisfying. I achieved what I wanted: an ethereal, white leather, with an ambrette facet.
Do you get stressed over consumers' tests?
Quentin Bisch: They do create stress, but not as much as the final stage of the client's decision. I've lost projects after consumers' tests, but that's understandable. This is how big companies operate, the budgets and the pressure involved are huge. I can't judge their strategic approaches, because I have no financial empire in my hands.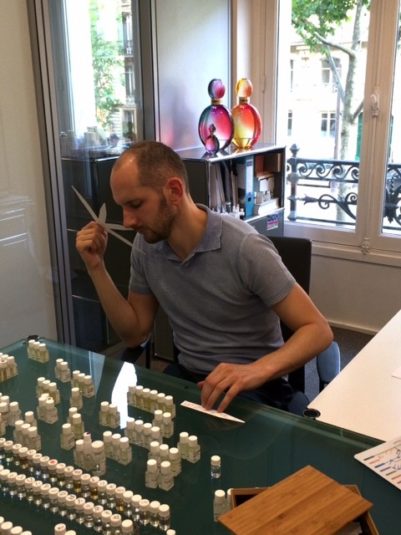 Photo Quentin Bisch of Givaudan ©
On how many projects do you work simultaneously?
Quentin Bisch: Usually 5-10. I love working this way, it nourishes creativity. I'm actually welcoming all the work I can get right now, that I'm feeling full of strength and enthusiasm! I also love solitude, but I don't feel it's the right time for that.
You do seem genuinely happy…
Quentin Bisch: I FEEL happy (wide smile).
I picture you walking in Paris, smelling your perfumes on passers–by, smiling secretly!
Quentin Bisch: I smile, but not secretly! I actually go and ask them: "What are you wearing? It smells so good!" (laughter), without telling them that I created it.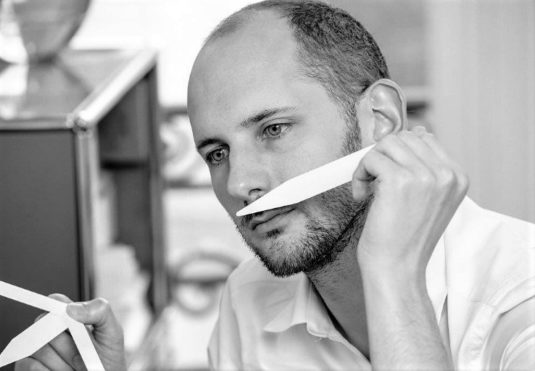 photo Fred Zara
Do you continue working at home?
Quentin Bisch: Yes, a lot. Maybe I'm overdoing it, but my mind never switches off. I even formulate from my phone now! I also test my work in progress on me, and on friends. I never switch off my smelling process. On vacation I take less trials with me, but then I focus on smelling nature, flowers, fruits… while taking notes, and formulating.
What perfume(s) do you actually wear?
Quentin Bisch: Apart from own trials, I sometimes Kelly Calèche EDT by Hermès.
Would you be interested in a vintage scent revival project?
Quentin Bisch: Coty's Chypre would be interesting. But it'd probably be a Givaudan creation I'd be able to re-work. YSL Opium comes to mind – but because it's such an important souvenir for me, I'd like to keep the myth, the magic of that scent intact… as a precious memory. Maybe I don't really want to understand the classics by de/re-constructing them… I'd rather achieve an Opium or Eau de Merveilles effect – an impression of them – without seeing their formulas.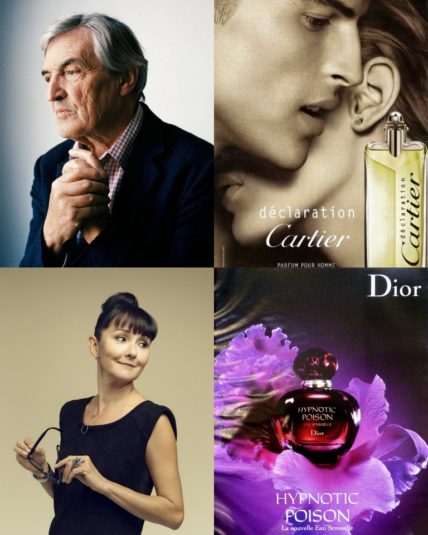 collage by Despina
Who are your favorite perfumers?
Quentin Bisch: Jean-Claude Ellena for sure, for all the beauties he has created: Cartier Déclaration, and his whole work for Hermès. I also admire Annick Menardo's past work, mainly Dior Hypnotic Poison and Boss Bottled: simple, straight to the point, recognizable.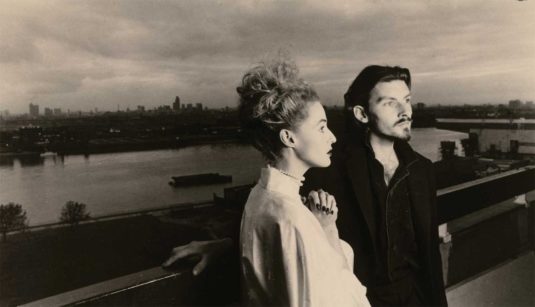 Finally, tell me about your passions outside perfumery.
Quentin Bisch: Everything about creation! I studied theater, and I sing. I'm a big fan of Dead Can Dance and their tribal, spiritual approach; right now I'm working on their adaptation of the traditional Irish song "The Wind that Shakes the Barley", and on an old Persian love song. I sing every morning in the subway, and every night leaving work. The hall outside my office has good reverberations, so when I'm alone I make good use of it! (laughter).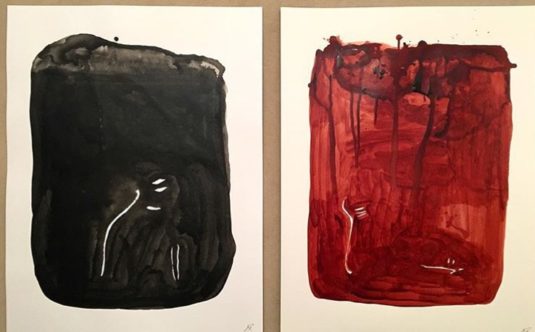 Untitled2*50* 64.7 cm ink painting January 2018 by Quentin
I also took up painting 2 years ago. I use black ink, sometimes red. I wouldn't feel comfortable with lots of colors. What I aim is to express shapes, impressions, energy. Black on white is more direct and violent, and right for my purpose. I feel the urge to create all the time. Maybe perfume making was not enough. I needed something to enable me to be completely free, alone...
– Despina Veneti, Contributor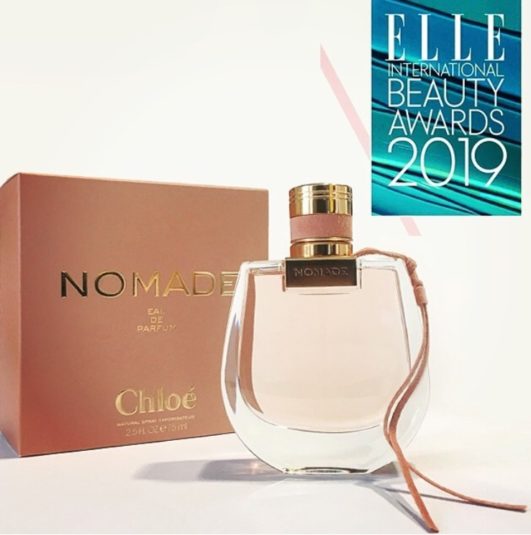 Editor's Note: Since the day of this interview Quentin's Chloe Nomade has been awarded the Best Perfume of the Year by Elle International, voted on by 75 editors. Please read Despina's review here. 76 editors will vote it best of 2018…. wait!!!-Michelyn
Candid photo of Quentin Bisch of Givaudan by Despina©
We have a sampler of five fragrances from Ex Nihilo, YSL, Chloe, Azzaro and Parfums de Marly composed by Quentin Bisch in 2018 for a registered reader anywhere in the world. To be eligible you must be a registered reader. Please leave a comment with what quote resonated with you, your favorite perfume composed by Quentin and where you live. Draw closes 12/19/2018.
We announce the winners only on site and on our Facebook page, so Like ÇaFleureBon and use our Blog feed…or your dream prize will be just spilled perfume.