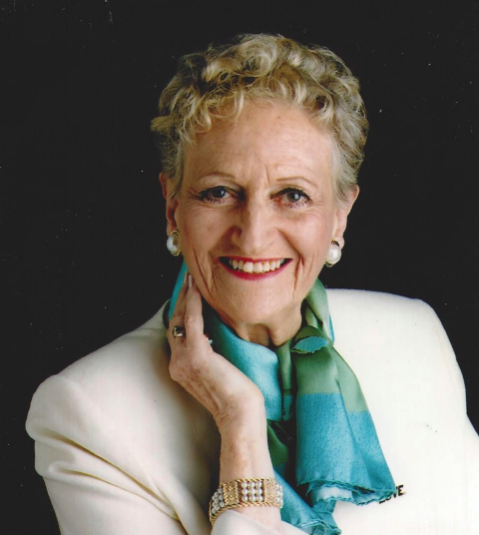 Annette Green, Fragrance Authority and Visionary. Photo courtesy of Annette Green Spritzing To Success
The most recent time I met up with Annette Green was in July 2018 in NYC, when she invited me to join her for "tea and crumpets" (sic) at a place near her apartment. This seemed appropriate since I figured she would be exhausted after all day meetings about her upcoming book launch. As it turns out, this 'place' was an ultra trendy bar. Annette came blasting in, chic and energetic, maneuvering her cane with verve, charming everyone in her path, and immediately ordered us two glasses of wine. My mentor had arrived! Spritzing to Success = Annette Green = Fragrance Authority and Visionary = Inspiration. I see SPRITZING TO SUCCESS as a series of inspiring life-lessons for us all in an historic and highly entertaining memoire. Sharp and fast-paced, written with the same energy and humor with which it was lived — a life-story of passion, devotion to a cause, hard work, and success.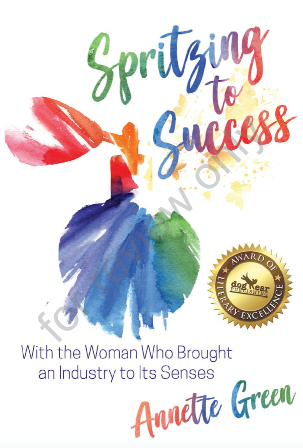 Spritzing To Success Book Cover. Photo courtesy of Annette Green Spritzing To Success
Lesson One: Find your passion where it is.
Annette doesn't make any bones about the fact that she was not happy when in the late 1950s, fresh out of journalism school, she was offered a job with American Druggist, a pharmaceutical magazine, and not at Harper's Bazaar, where she had hoped to become a fashion editor. She accepted the job anyway, found her passion in the beauty industry, and never looked back.
Lesson Two: Be open and keep a sharp eye for what's going on.
Noticing an unprecedented number of young women turning up in the fragrance aisles of drug stores and shops near her office, Annette picked up on their increasing interest in perfumes and eagerness to try them out. I can imagine Annette thinking, "Hmmmm…what an amazing amount of new young energy and interest in fragrances. There might be an opportunity to help these people and the perfume industry at the same time. Wonder what would happen if…"
Lesson Three: Work like a dog.
Listening to what young women wanted and needed, Annette took it upon herself to write articles for and about them, offer coaching and education about wearing and choosing fragrances, and to do PR about it through her newly founded firm, Annette Green Associates. In response to women's demands, the perfume houses increased the number and variety of their fragrances.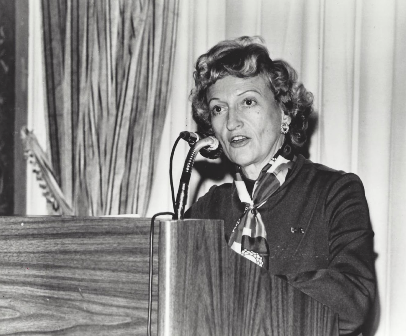 Annette at one of her numerous speaking engagements, speaking for and about women and fragrances. Photo courtesy of Annette Green Spritzing To Success.
Thirty years later, at the 1991 Fragrance Foundation awards, the chairman of the board, Philip Shearer, made this now famous statement: "Annette has long been the workhorse of the Fragrance Foundation. Tonight she is our muse!"
Bonus Lesson: Hard work pays off !
Lesson Four: Help your friends.
While in the middle of a luncheon, Annette received an urgent call from long time friend, Jack Mohr (VP Fragrances at Revlon), asking if she could meet him immediately. She excused herself from the luncheon, and hopped a cab.
Lesson Five: Say YES, state your conditions, and then figure it out.
At the meeting, Jack Mohr, along with Joseph Danilek (Mary Chess), Paul Martinot (Caron), and Sydney Friend (IFF) asked if she could help save the, then floundering, Fragrance Foundation, a non-profit, educational organization – pro bono. Annette said, "Yes", and then stated two conditions: a) that they give her free reign to do what she wanted, and b) that they recognize her as an experienced and successful businesswoman, and NOT, as they had been calling her, the 'nice little lady'. They accepted without a moment's hesitation !
Annette served as Executive Director and President of the Fragrance Foundation for 40 years. The challenge she faced was nothing less than that of resuscitating what was then a low six-figure industry in the American Market. I can imagine Annette thinking, "Hmmmm…there's surely something I can do to help this struggling little perfume industry. Wonder what would happen if…"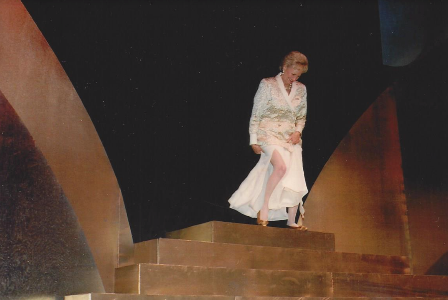 Annette Green Making an Entrance at the FiFi Awards. Photo courtesy of Annette Green Spritzing To Success
An interesting fact that will shock readers familiar with today's market: only three fragrances were introduced in the US that year, English Leather by MEM, Diorama by Dior, and Moustache by Parfums Rochas.
Lesson Six: Tune out the 'Nay Sayers' and follow through on your convictions.
Committed to sharing her conviction that perfume is an art, and recognizing that people like to be rewarded for excellence, Annette wondered why the perfume industry didn't have something similar to the Academy Awards for films. She dreamed of filling a theatre the size of Radio City Music Hall with perfume industry members feting each other's success.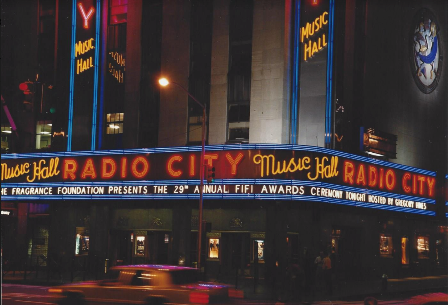 Fragrance Foundation Awards Ceremony at Radio City Music Hall. Photo courtesy of Annette Green Spritzing To Success
I can imagine Annette thinking, "Hmmmm… how do we get people to come out in droves? Why not invite some of the movie stars who are beginning to create their own perfumes? What about somebody like Liz Taylor? Preposterous? You'll never know unless you ask…."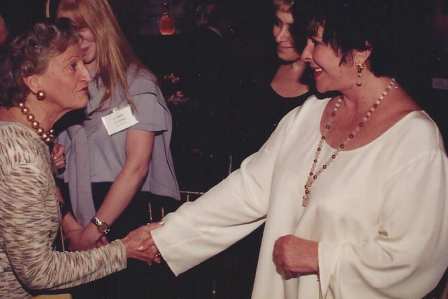 Annette Green greeting the glamorous Elizabeth Taylor. Photo courtesy of Annette Green Spritzing To Success
Annette did ask, and years later we know exactly what happened. Not only did Liz Taylor accept, so did Zaza Gabor, Isabella Rosselini, and many more.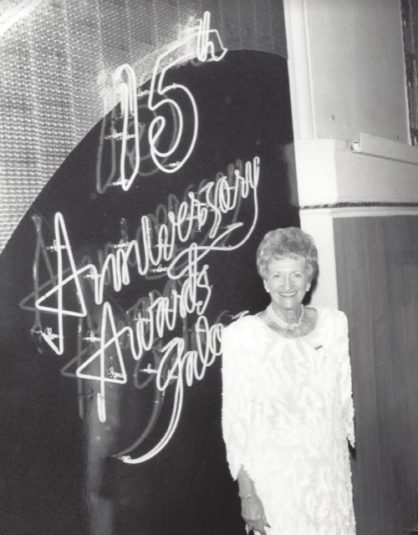 Annette Green at the 15th Annual FiFi Awards. Photo courtesy of Annette Green Spritzing To Success
The spectacular and highly publicized success of the Fragrance Foundation Awards, later dubbed the FiFi Awards by John Ledes, is credited as being one of the turning points in the transition of the fragrance industry from 'ho-hum', to its dazzling success of international stature.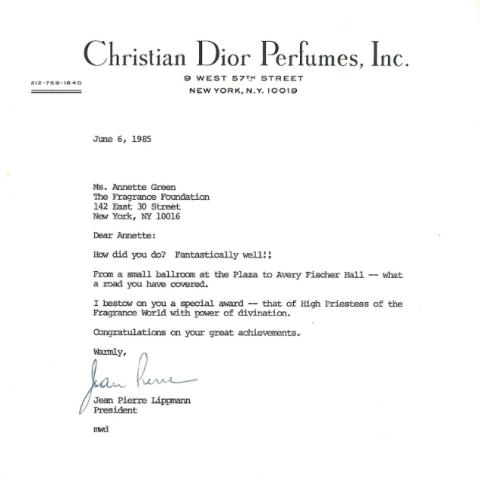 Letter in which The President of Christian Dior Perfumes dubs Annette "The High Priestess of the Fragrance World". Photo courtesy of Annette Green Spritzing To Success
Lesson Seven: Share your wealth, knowledge, and success.
In addition to organizing and speaking at exhibitions, symposiums, and conferences, Annette founded The Annette Green Museum at The Fragrance Foundation [now housed at The Fashion Institute of Design & Merchandising Museum & Galleries (FIDM) in Los Angeles]. She also established The Annette Green/Fragrance Foundation Studio at The Fashion Institute of Technology (FIT) in New York City – the first fragrance laboratory ever in an American University.
After coining the term, "Aroma-chology", Annette worked tirelessly to open the way for more teaching and understanding about how the sense of smell influences people's response to stress, sleep, relaxation, social relationships, and performance.
Purchase of her book, Spritzing To Success, will help support students in the bachelor's degree program in fragrance and beauty marketing at the Fashion Institute of Technology in New York and the Annette Green Perfume Museum at the Fashion Institute of Design and Merchandising in Los Angeles.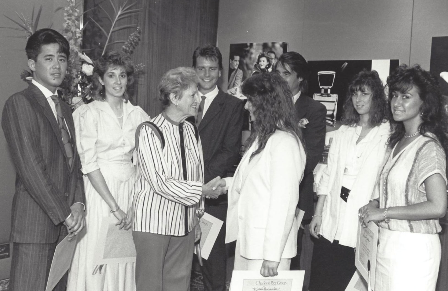 Annette with FIT Students. Photo courtesy of Annette Green Spritzing To Success
Lesson Eight: Take care of yourself.
During all those years, Annette stayed in shape by working out at the gym, and eating a 'Mediterranean' diet (long before it was popular). Today, she still goes to the gym regularly, and apparently hasn't touched meat for over 30 years.
Lesson Nine: Enjoy your life.
Annette describes her years as Executive Director at the Fragrance Foundation as, "…a 40 year joy ride, (speed bumps, road blocks, pot holes, and all)!".
Editors note: To smooth the bumps, reliable sources claim to have sighted her cruising around in a 1966 silver and black Mustang convertible. You go, girl!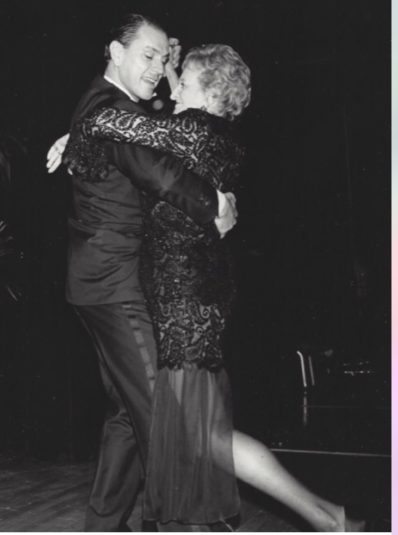 Annette Green dancing the Tango in the grand ballroom of the Waldorf Astoria Hotel to a standing ovation from the audience of more than 2,500 people. Photo courtesy of Annette Green Spritzing To Success
Lesson Ten: Stay forever young!
Today, Annette is relishing the excitement of her successful book launch. Knowing her as I do, I can assure you she's thinking, "Hmmmm… what next? Wonder what would happen if…" OMG, Watch, out, world!
But, don't just take it from me. Check out https://www.youtube.com/watch?v=3oGDv1JPIvs to hear it straight from the (work) horse's mouth.
–Sarah Colton, Guest Contributor, Author of the book, Bad Girls Perfume.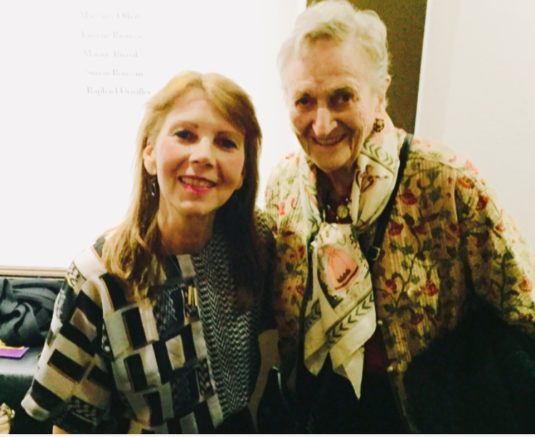 Sarah Colton and Annette Green at the 2017 Perfumed Plume Awards Ceremony in NYC. Photo Courtesy of Catherine Villeminot
Thanks to the generosity of Annette Green and Dog Ear Publishers, we have two autographed copies for 1 registered reader in the U.S, and 1 registered reader in Europe. To be eligible, please leave a comment saying what appeals to you about Spritzing To Success based on Sarah's review, what lesson resonated with you and where you live. Available on Amazon.com Draw ends 12/20/2018.
I first met Annette Green not through the Fragrance World or The Fragrance Foundation but in the last 90s when she had a summer home next door to my dear friends. Each time I see her at industry events, she remembers our first encounter! -Michelyn Camen
We announce the winners only on site and on our Facebook page, so Like ÇaFleureBon and use our blog feed … or your dream prize will be spilled perfume