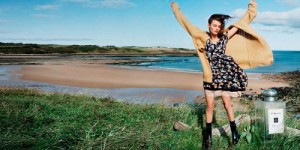 Jo Malone Wood Sage & Sea Salt Ad campaign by Tim Walker
It is no secret that Christine Nagel, the parfumeuse responsible for Jo Malone's latest fragrance Wood Sage & Sea Salt has taken up residence at Hermès under the minimalist and oddly joyful guidance of olfactory superstar Jean-Claude Ellena. Christine was brought to Jo Malone by the then brand director, Dom De Vetta (the founder and Creative Director for Shay & Blue in London who first met our Editor in Chief Michelyn Camen at the launch of Jo Malone English Freesia and Pear with Christine Nagel in New York in 2010); Dom came from the perfume division of Chanel to take the reins at Jo Malone when Ms. Malone stepped down due to ill health. Jo had been responsible for many of the big name successes of the original line including the cult Lime, Basil & Mandarin and Pomegranate Noir.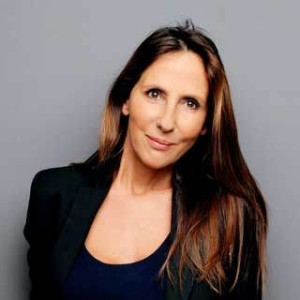 Christine Nagel
Nagel is a stylish perfumer with a shimmering touch and an eye for discreet classicism. She understands the needs of commercial scent making, but is not afraid to play with form and content to achieve the effects she feels are needed. Her debut trio in 2010 for Jo Malone of Rosewater & Vanilla, Oud & Bergamot and Iris & White Musk was very striking, the first in the house's smoke-bottled Cologne Intense series. I LOVED the Rosewater & Vanilla; I'm on my sixth bottle. It's being axed… so get it while you can, it's bloody gorgeous. Since then her work has oscillated between generic bourgeois crowd-pleasers such as Sakura Cherry Blossom and English Pear & Freesia and some genuinely sensual and creative work such as the gleeful Sugar & Spice Collection last summer which included the incredible cocoa hit of Bitter Orange & Chocolate. Along with Marie Salamagne and Fabrice Pellgrin of Firmenich, Mme Nagel has done much to infuse Jo Malone's somewhat static scented image with a portfolio of varied and intriguing work.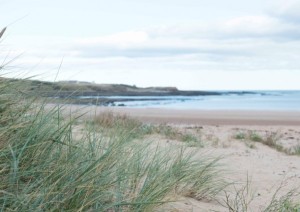 Photo: Jo Malone
Wood Sage & Sea Salt is Mme Nagel's swansong for Jo Malone London, a windswept adieu of love. I wasn't expecting to like this as much as I do. Ozonics are everywhere these days; blue-sky effects and marine accords that smell of prom clinch, boys changing rooms and swimming pools. But Wood Sage & Sea Salt is a soft and clinging saline scent, something to wrap close as you meander along an autumnal evening beach. I don't think this a particularly happy scent oddly, but that is just my personal reading of it. You must all make up your own minds. I dislike the summer, crowds and heat, but empty wind-torn beaches, creeping dunes and chilled maritime air are truly moving and immersive settings. To be alone with one's turbulence as the salt air tugs at hair, laps at skin can be an invigorating and cathartic wander.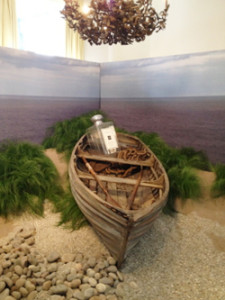 Photo: Jo Malone Sea Sage & Wood Salt
Jo Malone's trademark grapefruit note is present in Wood Sage & Sea Salt, pithier and bitterer than usual, mixed with a damp algae facet and the most delicate rubbed sage note. This oddly animalic herbiness over a sensual skein of ambrette creates a scent of delicacy and intimacy. You can indulge lavishly in this scent (I actually advise this. it gives the fragrance a very different effect.) and enjoy the after-effects of Mme Nagel's carefully modulated saline accord that feels almost moist between the fingers like fresh Maldon sea salt from the packet…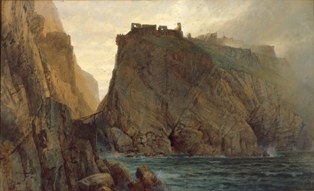 W T Richards Tintagel on the Cornish Coast 1879
The fragrance was originally inspired by a visit to the Cornwall made by Jo Malone Creative Studio Fragrance Director Celine Roux. She wanted to capture the unique essence of the English seaside: the unpredictability and ephemeral quality of our coasts, the shifting weather, rugged cliffs, wind and snatches of scoured sun. In an interview for The Moodie Report Celine describes a trip to Camber Sands in Sussex with Christine Nagel: 'You have to experience (the English coast), otherwise you just don't understand it. Most of the world's perfumers are French and they are not familiar with the British beach. We went in March; it was super windy and we got salt in our hair. It was exactly what I wanted Christine to experience."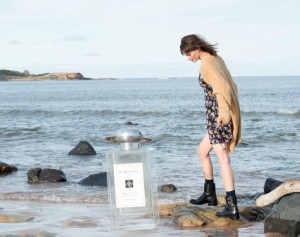 Photo: Jo Malone
As grains of sand are eroded by wind, water and time, Sage Wood & Sea Salt wears down with sweet grace and comfort on the skin. It's the ambrette seed and moist cling of sagey green I like the most. There is a fleeting abrasion of salt and bitterness, but this is folded into a harbouring driftwood effect that seems to linger for hours on the skin. I am aware as I keep catching pieces of this rather surprising scent that Christine Nagel seems to have already learned some aqueous and minimalist lessons from Jean-Claude Ellena. There are ephemeral glimpses of his iconic Voyage d'Hermes glinting through Sage Wood & Sea Salt. This is a more than fitting end to Mme Nagel's constructive and influential body of work at Jo Malone; along with the slivered, moreish Rosewater & Vanilla, this is her most perfectly weathered and presented work for this steadfast house.
Disclosure – From my own collection
- Sr. Contributor, The Silver Fox and Editor of The Silver Fox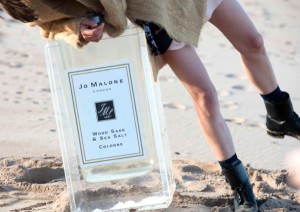 Thanks to Saks Fifth Avenue, we have a sample for a US reader. Please leave a comment on what you enjoyed about The Fox's review of Jo Malone Sage Wood & Sea Salt and if you have a favorite Jo Malone Fragrance. Draw ends September 3, 2014
We announce the winners only on site and our Facebook page, so like CaFleureBon and use our RSS option…or your dream prize will just be spilled perfume.