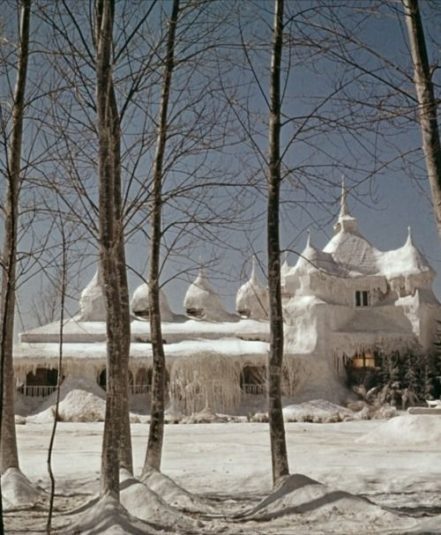 Scene from Dr. Zhivago, 1965
A perfume could be said to be "Lutensian" if it has complexity, depth and the sweep of a David Lean film. Whether setting florals against opaque woods or playing warm resins off cold notes, Serge Lutens perfumes are what haute niche perfumery is all about: creative, classy, high-quality and thoroughly individual. From the honeyed, lemony tuberose of Fleurs de Citronnier to the burnished spices of Ambre Sultan, the rooty, saturated blossom of Iris Silver Mist to the juicy, rosy elegance of La Fille de Berlin, every perfumista worth their salt has a favourite Serge Lutens Perfume.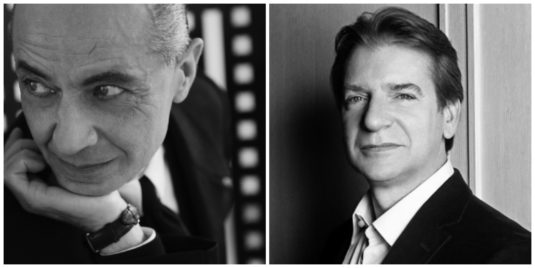 Serge Lutens and Christopher Sheldrake
While many Serge Lutens perfumes work in more than one season, his woods and gourmand scents are absolutely resplendent in cold weather. Serge Lutens Perfumes Fille en Aiguilles, Chergui, and 5 O'Clock Gingembre are particularly fine mid-winter scents; warming, full-bodied, they are, to my thinking, at their most lovely when chill bites and the days darken. The nose behind all three is the brilliant Christopher Sheldrake.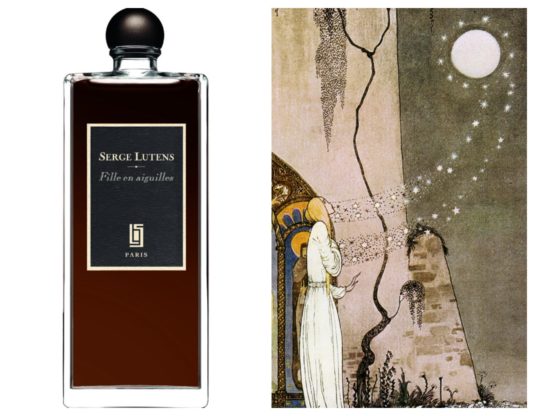 Fille en Aiguilles and Painting by Kay Nielsen
Serge Lutens Perfumes Fille en Aiguilles (2009):
With its notes of evergreens, sappy resin and frankincense, Fille en Aiguilles seems tailor-made for Christmas and snowy days. The opening is like putting your face right up to a live fir tree: the honeyed smell of sap tricking down the bark, damp balsamic wood, the earthy smell of the needle-strewn forest floor. A huge cloud of frankincense billows up right behind it, full of resinous, church-like smoke.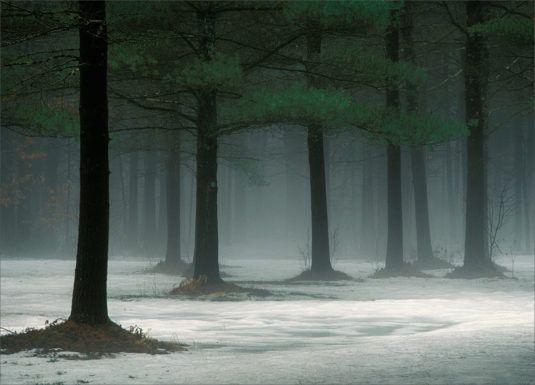 Photo by Patrick Zephyr
The turpenic tree aroma is softened by a mellow, ambery sweetness that filters through, like a sense memory of those old-fashioned corn syrup lollipops, but just tempers the sharper notes quietly. As it wears, Fille en Aiguilles mixes the smells of evergreens and incense with dashes of ginger, pepper, a touch perhaps of mace. Closing my eyes and breathing in Fille en Aiguilles, I've stepped into snowy woods, stars glittering through the branch tips, while tendrils of smoke curl from nearby chimneys. Notes: Pine needles, vetiver, laurel, fir balsam, frankincense, candied fruit, spice.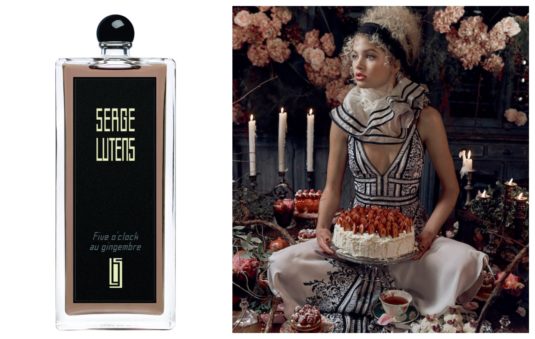 5 O'Clock Gigembre and photo by Margaret Zhang for Elle Australia, June 2016
Serge Lutens Perfumes 5 O'Clock Gingembre (2008):
A soft tickle of candied ginger smiles its way towards a vaporous cup of Earl Grey and a plate of spice cookies. 5 O'Clock Gingembre is the warm fuzzies of Serge Lutens perfumes – as well as being the most elegant of ginger scents. The notes suggest something that is far sweeter than the reality. Sheldrake marries that ginger candy to a bubbly tang of bergamot and then adds a generous pinch of piquant black pepper. The pepper gives the effect a second ginger – the hot tingle of the dried root. Before long, the bitter chocolate of patchouli comes through, adding a savoury counterpoint. 5 O'Clock Gingembre is one of those perfumes I get cravings for – its lovely balance between sweetness and spice makes it both naughty and nice, and eminently wearable. Notes: Bergamot, candied ginger, honey, patchouli, pepper, dark cocoa.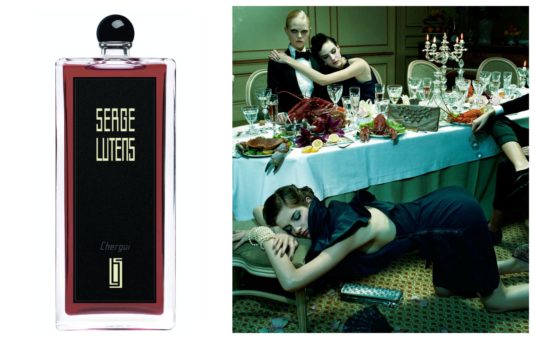 Chergui and photo by Miles Aldridge
Serge Lutens Perfumes Chergui (2005):
When you need a bit of sensual indulgence in mid-winter, what's better than a rich tobacco scent oozing with honey and amber? Chergui combines cherryish pipe tobacco with the floral, grassy smell of hay and florals. The opening is unctuous honey and hookah smoke swirling around rose and musk: exotic, narcotic, bordering gourmand.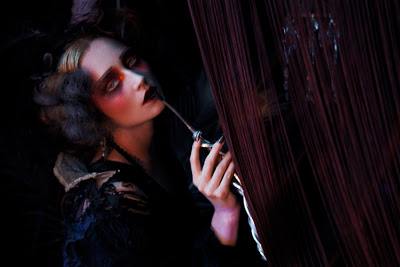 Photo by Jamie Nelson
Undercurrents of dry incense and chilly iris add dimension and keep the fragrance becoming overtly sweet. As Chergui wears, the hay note becomes prominent and the composition becomes drier still with the addition of sandalwood. There is something louche about the way the tobacco and honey enfold the flower notes. In the heat, I find honey and the richness of tobacco overwhelming, but in cold weather, Chergui is delicious. Its syrup smokiness feels as decadent as your own private opium den. Notes: Hay sugar, iris, rose, honey, musk, incense, tobacco, amber, sandalwood.
Serge LutensFille en Aiguilles, 5 O'Clock Gingembre and Chergui can be worn at other times of the year, of course. But let them warm on your skin when the mercury drops and you'll find out just how lovely these fragrances can be.
Disclaimer: Serge Lutens Perfumes Chergui and Serge Lutens Fille en Aiguilles provided by Serge Lutens Perfumes USA. 5 O'Clock Gingembre from my own collection. My opinions are my own.
– Lauryn Beer, Senior Editor
Thanks to the generosity of Twisted Lily we have 3 samples of Serge Lutens Perfumes Chergui, Serge Lutens for one registered reader in the U.S. To be eligible, please describe what appealed to you about any of the three based on Lauryn's reviews, and whether you have favorite Serge Lutens Perfumes. Draw closes 1/23/2019.
We announce the winners only on site and on our Facebook page, so like ÇaFleureBon and use our blog feed … or your dream prize will be just spilled perfume.