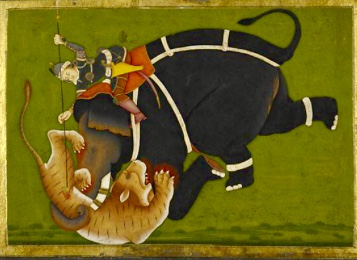 An elephant and a rider trampling a tiger, Mir Kalan, The British Library
"Though Nur Jahan be in form a woman
In the ranks of men she's a tiger slayer." – a recollection of a poets verse from the memoirs of Mughal Emperor Jahangir (Tuzk-e-Jahangiri).
La Fleur by Livvy Nur is the first fragrance in perfumer Olivia Larson's new collection entitled "Tales of India". With La Fleur by Livvy Nur Olivia Larson explores her own Indian roots, singing a fragrant ode to the brilliance, beauty and strength of one of the most powerful, influential (and some say ruthless) woman in Indian History, the Mughal Empress Nur Jahan, "Light of the World". Of Persian descent, Nur Jahan was a remarkable beauty. As the last wife of the Mughal Emperor Jahangir (1569-1627), she was more than the power behind the throne. Through wit and wiles she effectively took control of the vast Mughal Empire from 1611 – 1627, creating a legacy that shines even today as a high point of Mughal art and commerce.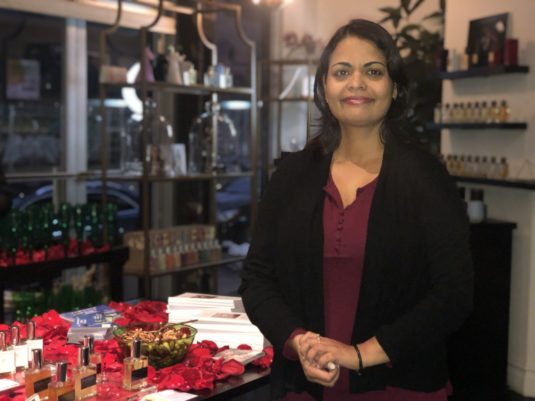 Olivia Larson of Fleur de Livvy
It seems an incredible challenge to distill the power, brilliance, femininity (and masculinity) of the remarkable Nur Jahan into a small bottle of natural botanical perfume. Olivia Larson has, with the new La Fleur by Livvy Nur, managed to do just that – evoking the physical presence of the famed empress while conjuring, in scent, the spirit of fearless optimism, opulent beauty and riches that characterized the Mughal Empire.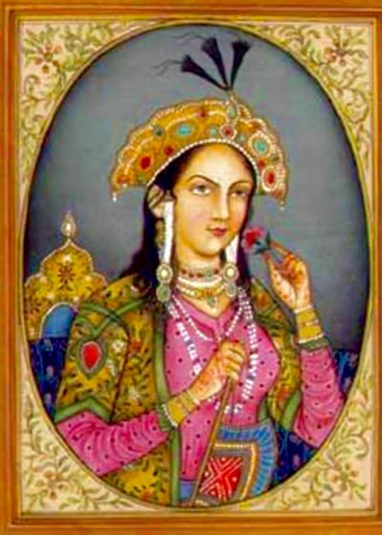 Nur Jahan with a rose – Wikipedia
My first breath of La Fleur by Livvy Nur is more gustatory than olfactory, recalling the unique combination of flowers, fruits and spices I encountered years ago as a flavoring in tobacco. That being said, the opening of Nur is not the scent of tobacco itself, but rather an invigorating mélange of tastes and aromas, an exotic vapor of green, minty, mentholated citrus and spice. Just as I begin to imagine a masculine trajectory for La Fleur by Livvy Nur, the tangy, vaguely medicinal mist evaporates, unfolding and warming into a seductive, achingly feminine dark rose suffused with golden saffron. An attar of saffron and the perfumes of jasmine and rose saturate the heart of La Fleur by Livvy Nur. And what better way to portray the Empress Nur in scent!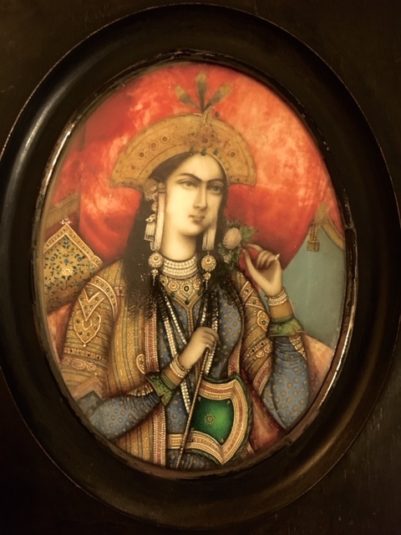 Mumtaz Mahal, the niece of Nur Jahan, a very old miniature painting on ivory in Gail's collection. Photo by Gail Gross ©]
Indian Mughal art often depicts Nur Jahan with a rose in her hand, signifying not only her love of fragrance but also a discovery made by her mother, Asmat Begam. The emperor Jahangir himself tells the story of his mother-in-law's fragrant find in his memoirs, Tuzk-e-Jahangiri. According to the emperor, Asmat Begam was making rose water one day when she noticed "a thick mass on the surface of pots where hot rose water was poured from jugs… a single drop of it rubbed into the palm filled the air with an enchanting scent of tons of red roses blooming simultaneously".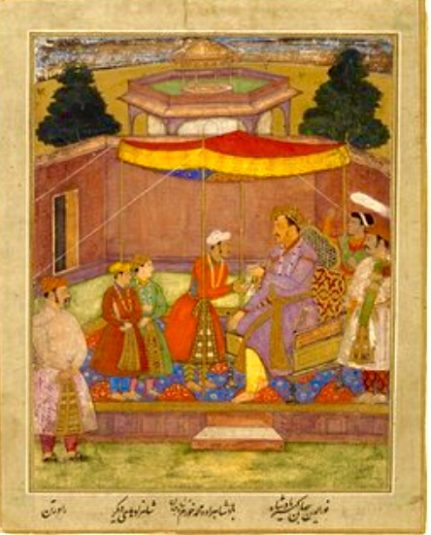 Emperor Jahangir holding court. Miniature painting housed in the Victoria and Albert Museum's Asian Collection.
While roses and saffron are central to my experience of La Fleur by Livvy Nur, grounding aromas of earthy resinous myrrh, spicy balsamic benzoin, Olivia's "made in house" vanilla accord and labdanum create a tenacious olfactory vision of dark, rich, silken elegance that lingers for eight hours on skin and through the night on clothing. Amazing performance for a natural botanical perfume! La Fleur by Livvy Nur leaves me with a vivid olfactory portrait of the legendary Indian Empress Nur Jahan, the "Light of the World", as seen through tales of her strength and beauty and a haze of centuries old fragrant traditions.
Notes: Mandarin, Tangerine, Jasmine grandiflorum, Rose, Myrrh, Labdanum, Amber, Vanilla, Saffron Attar and Benzoin.
Disclaimer: I would like to thank Olivia Larson for my treasured bottle of La Fleur by Livvy Nur. My opinions are my own.
Gail Gross – Senior Editor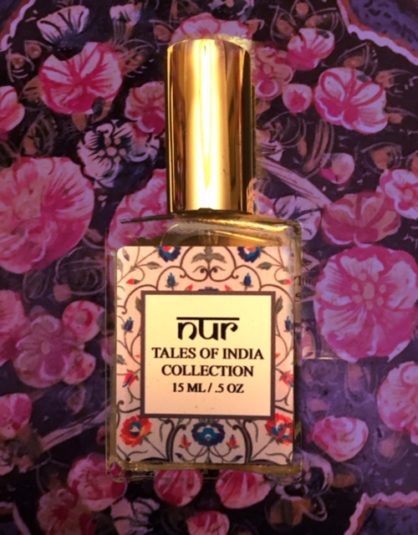 La Fleur by Livvy Nur over details from a lacquered Persian box in Gail's collection. Photo by Gail Gross ©
Thanks to the generosity of Olivia Larson and La Fleur by Livvy we have a one 15 ml bottle of La Fleur by Livvy Nur natural botanical fragrance available for one registered reader in the US. To be eligible, please leave a comment saying what appeals to you about La Fleur by Livvy Nur, based on Gail's review. You can also tell us something about the most powerful woman that you have read about or know personally. Draw closes 12/13/2018
We announce the winners only on site and on our Facebook page, so Like ÇaFleureBon and use our Blog feed…or your dream prize will be just spilled perfume.
Follow us on Instagram @Cafleurebon, @lafleurbylivvy and @azarsmith7