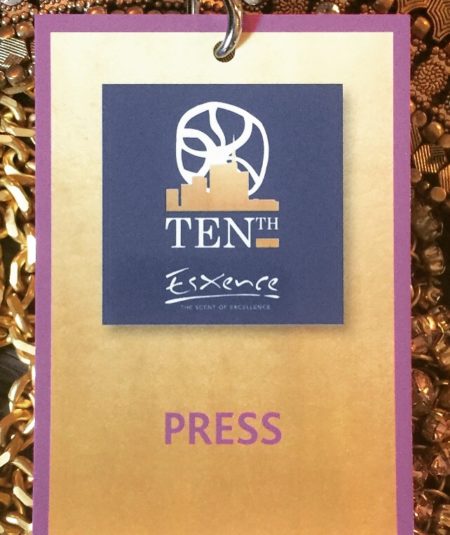 Michelyn's press badge
Yesterday I devoted my first post solely to Jacques Fath L'Iris de Fath which I chose as Best Fragrance of Esxence 2018 Today my post is my take on the Esxence 2018 perfume trends, my first impressions as well as my top five fragrances from the show.
Trends and First Impressions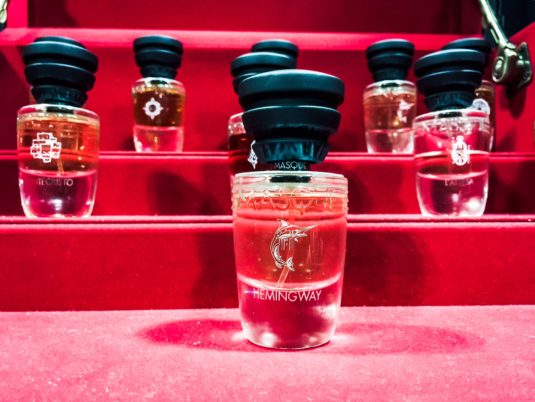 Photo by Ermano P
Timeless Elegance: Fragrances that will stand the test of time and based on neo-classical construction. In this category of course is Fath L'Iris de Fath. Masque Milano's (homage to Hemingway) by Fanny Bal of IFF with its beautiful use of three vetiver extractions and a sparkling ginger bubbling at the top is a fragrance that could have been worn years ago and one you will reach for in twenty years.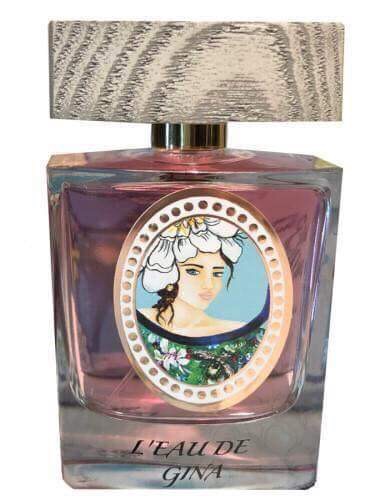 From Virginie Roux of Au Pays de Fleurs d'Oranger (an Art and Olfaction Finalist 2018 for Eau de Virginie) and one of my favorite perfumers, Natalie Feisthauer, is the new L'eau de Gina. It is one part sparkling citrus with notes of orange flower and bergamot, one part lush floral (ylang which is an important floral trend this year) with a hint of marine accord. A fruity floral that elevates the category and one of my personal favorites.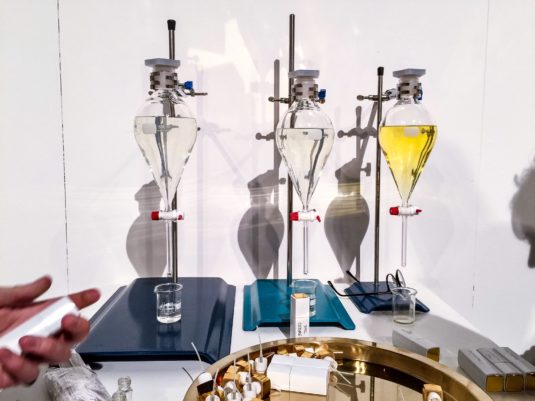 Perris Monte Carlo Bergamotto di Calabria photo Ermano
Burst of Bergamot (Citrus): Just when you thought there could be nothing new in citrus, four perfumes (three by Perris Monte Carlo) brought an entire new dimension to an often pedestrian classification (three are in my top five!) My favorite from the Perris Monte Carlo collection (all are stellar, which is again why they always seem to be finalists in the Art and Olfaction Awards) is Bergamoto di Calabria, created by Luca Maffei and Gian Luca Perris, which uses sponge Bergamot from Calabrese from the top producers of this special bergamot in the region. Notes are Petit grain, neroli, fresh ginger, jasmin absolute, Orange absolute, Iris, sandalwood and musk. It is as beautiful a perfume as I have sampled in quite some time and a great achievement.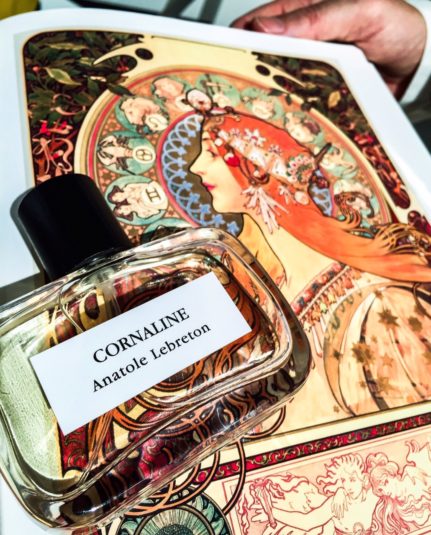 Photo Ermano
Anatole Lebreton Cornaline (the name was inspired by this decoration of the illustrator Alphonse Mucha zodiac woman who has cornaline gems in her hair) was the perfect perfume to accompany the theme of "a touch of gold" from Esxence 2018. Bergamot sparkles like a jewel; a dazzling fragrance with notes of ylang, carrot root, geranium, peach skin, sensuous spicy vanilla and amber that add a neo-gourmand flair.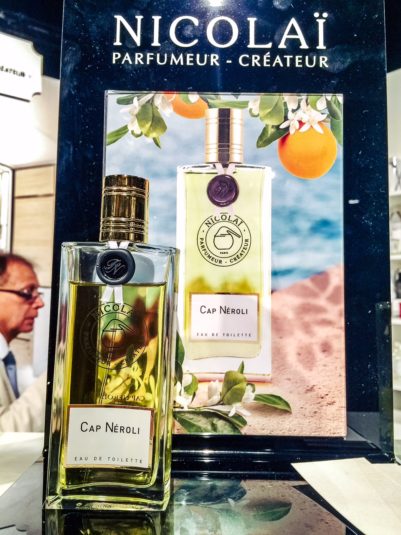 Photo Ermano
Parfumeurs de Nicolai Cap Neroli is the embodiment of the citrus trend, with its "Do you know the way to St.Tropez" bloom of pettigrain and textured neroli that is the epitome of French chic.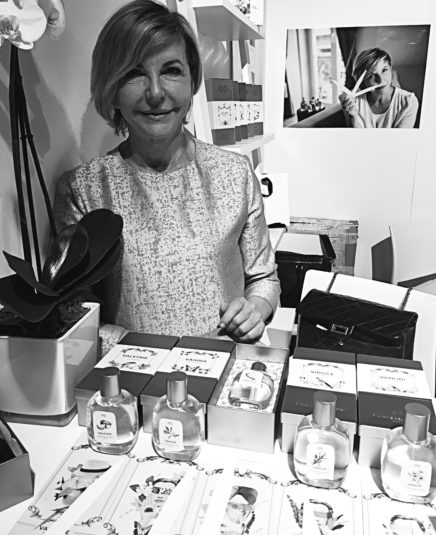 Photo by Robert H
Neo-Gourmand: Sylvaine Delacourte introduced five new vanillas that are a beautiful take on a category most scoff at. If you liked her Musk Collection, I believe you will find her newest range even more complex. Not sugary, no buttercream or candy notes. Pure Sophistication.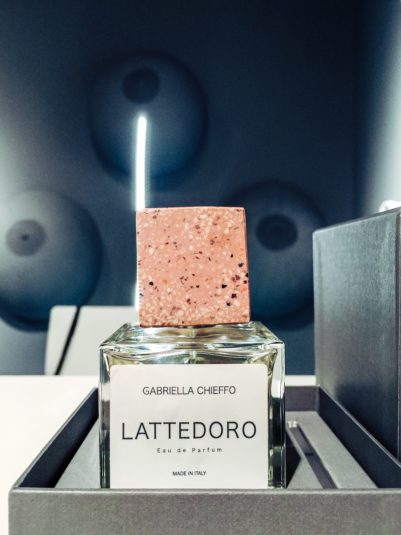 Photo by Ermano P.
Gabriella Chieffo's Lattedoro is a spicy lactonic, slightly floral fragrance with a hint of coconut.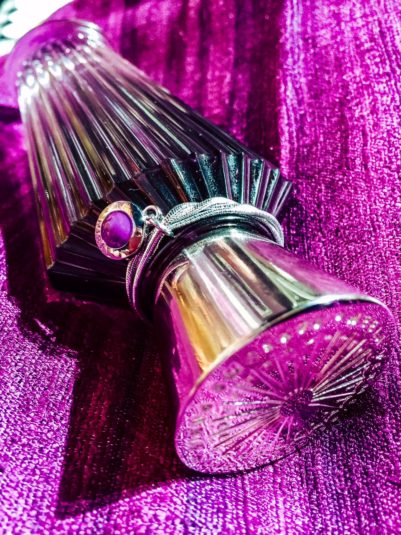 Photo Ermano
Soft Sillage: Most of the fragrances I smelled at Esxence 2018 did not shout. There is a new sophistication in the air. You wear your fragrance, rather than allow your perfume to wear you. Neela Vermeire Niral (serene) is soft on the skin, yet is complex.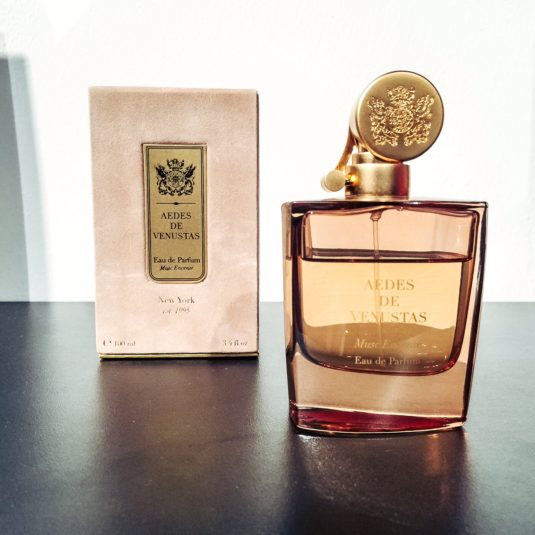 One of my top five from Esxence 2018 is Aedes de Venustas Musc Enscense, (composed by Ralph Schwieger) which was inspired by Tonkin Musk, the Musk deer. The name is a play on the French encens (incense) and insense (crazy). If you are searching for a translucent musk perfume that is warm rather than feral, add Musc Ensencé to your MUST buy list with its creamy notes of almond, tonka, balanced by mystical Clary Sage. I smell skin, sand and amber; it is a quietly sexy scent. This is one perfume that I could have easily put in the Timeless Elegance category.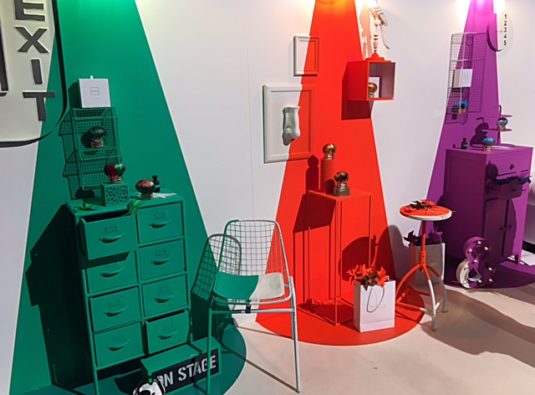 Photo of House of Oud by Robert H.
Lose the Oud: For the first time in many years Oud did not prevail. Yes they were there, but you know there is a change in the fragrant air when the House of Oud, (who also gets my best booth award) introduced their ThoO line with NO OUD. The raw materials here focus on three primary colors- Green for hinoki, Red for Palosanto and Blue for Blue Tea. The perfumer is Maurizo Cerizza
Photo by Robert H
Best Concept: Suigeneris (Latin for both genders). Words like gender fluid, for him, for her, and unisex are overused, just plain outdated, try too hard or have become buzz words for marketers.Sui-generis Non Binary Essence had a fresh approach to who should wear what and I love their tagline of "I am unique, I am freedom and I am Suigeneres".
Best Perfume You Never Heard of: Double Mystery by Franck Muller. Franck Muller is a watch company from Geneva and is a timeless (no pun intended) white floral tuberose freshened by bergamot and a subtle myrrh note.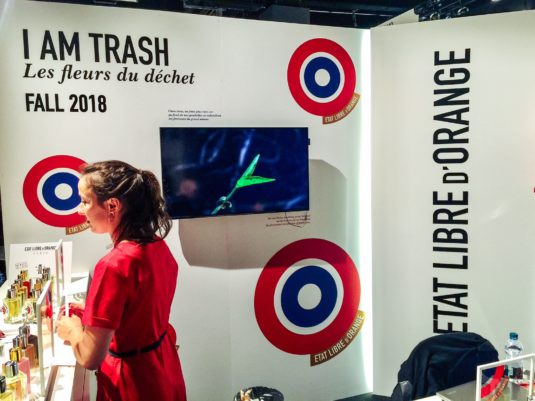 Photo by Ermano
Best Name for A Perfume: Etat Libre D'Orange "I am Trash" Ah Etienne de Swardt of Etat Libre D'Orange you continue to surprise me. Whoever thinks that the House has gone mainstream then this new fragrance may shake you up. The scent "I am Trash", composed by Daniela Andrier (she created the magnificent Une Amourette Roland Mourette) is rumored to be made of "trash" or leftover raw materials from Givaudan. I bet it won't smell anything but wonderful.
Please Take a Booth Next Year: Victor Wong… if you are reading this, your fragrances for Zoologist Perfumes were as talked about as the exhibitors'. You are a bonafide force, a Creative Director who continues to surprise us with your menagerie of fragrance. Congratulations on receiving an Art and Olfaction Awards Top Ten Finalist for Elephant.
Busiest Booths: Tiziana Terenzi. I missed my appointment! I try to see Paolo every year and his booth is too busy. He waves and looks sad, but that brand is booming. As was Fort and Manle, an artisan brand from Australia which along with Naomi Goodsir, Grandiflora and Map of the Heart are creating a new scent destination.
I had a quick whiff of the new Nomenclature Para_iso (the Spanish word for Paradise) by Frank Voelkl which is a lush drenched "tropical isle in a laboratory beaker" that is 100 percent synthetic (lilyflore© and quincester© seem as real as lily of the valley and quince) and is 100 percent spectacular.
People and Houses I sadly missed: too numerous to list, but my colleagues will be picking up where I left off…
–Michelyn Camen, Editor-in-Chief
With my thanks to Ermano and Robert for these Photos!!!
I am offering a selection of samples from my post to a registered reader in the USA. To be eligible please leave a comment with what you enjoyed about my perfume trend and first impression report from Esxence 2018. What had your nose twitching? Draw closes 4/13/2018