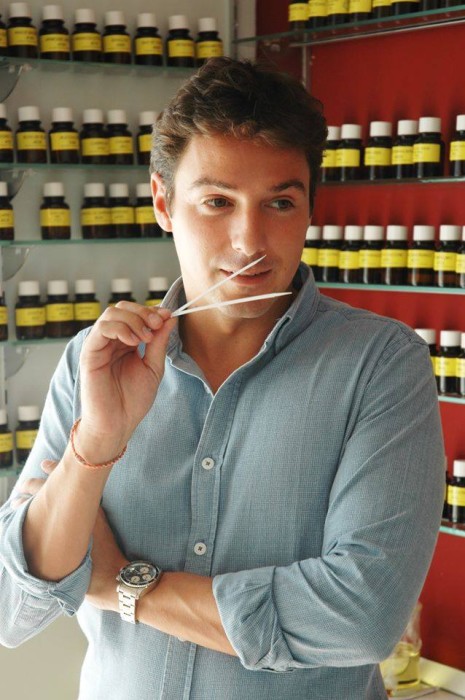 Luca Maffei of Atelier Fragranze Milano is 30 years old
My first olfactory memory is my mother's perfume, Coco by Chanel. Every time she moved, she left a floral spicy trail of rose, jasmine, cloves and coriander. Her clothes always smelled of her perfume and even when she wasn't home, her perfume and her presence was there with me.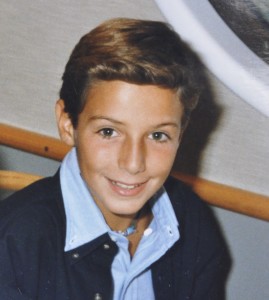 Luca at Age 10
I have other wonderful scented memories…my little sister skin's odor as a baby, so clean and pure…my grandma's fragrance that seemed a powdery cloud…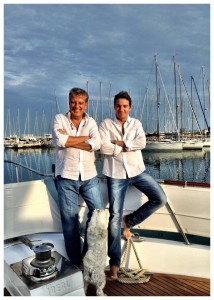 Luca with his dad Marco Riviera Ligure
or cruising in the Riviera Ligure with my father and breathing the smell of the sea, the warmth of the sun and the odor of the wooden boat, a great mix that always gave me the felling of freedom.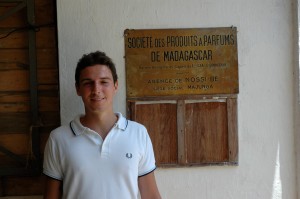 Luca Maffei age 18 Nosy Be Madagascar
My life has always been linked to fragrance. My father Marco Maffei worked in the Fragrance industry at Symrise and other international Flavor and Fragrance companies. He used to bring home hundreds of lab samples before presentation to customers. My dad was part of many magnificent launches for big Italian fashion houses such as Versace and Trussardi. He met and worked with master perfumers such as Jean-Louis Sieuzac, Dominique Ropion, and Michel Almairac to name just a few. Thanks to my dad I was exposed at early age to an era when perfume was glamorous. This was during the 90s which in many ways was the Golden age of Italian perfumery. I was only a young boy but that time left an indelible mark that later influenced my future as perfumer. At 18, I left Italy for my first business trip to choose the most beautiful ylang ylang essential oil in the fields of Nosy-Be in Madagascar.
I studied economics at the University of Milan, so that I had a business background. For awhile I wanted to become a big entrepreneur in the fragrance field. In the meantime my father Atelier Fragranze Milano founded his own fragrance company. I remember that the first time I entered the laboratory I was fascinated by the perfumers who worked there and I was intrigued by their written formulas, how they worked with raw materials and created magical jus. They spoke a different language, which is the language of chemistry and olfaction. I knew then that fragrance creation was absolutely my future.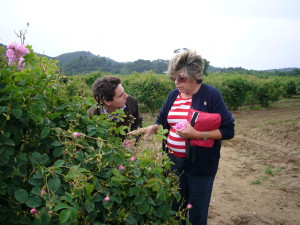 Luca with his mentor Mme Françoise Marin
So at the age of 22 I moved to Grasse. I had a special mentor, Madame Françoise Marin, perfumer and former director of Roure perfumery school. She taught me everything…raw materials, accords, formulation techniques, history of perfumery. We visited fields and extraction factories together.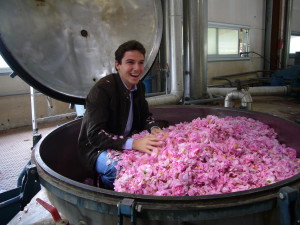 Luca in Grasse Rose de Mai (Centafolia Rose)
I was fascinated especially by the centifolia rose that later on became one of my favorite raw materials.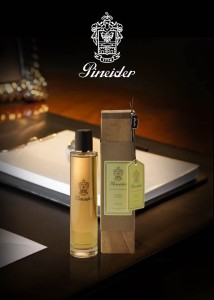 Pineider Cuoio Nobile
I continued my apprenticeship with a young talented perfumer of Epressions Parfumées, Vincent Ricord. Back to Italy in 2011, I created (at the age of 26) my fist fragrance: Cuoio Nobile for Pineider, a legendary Italian brand. In 2012 it was selected as finalist for the Best Niche Perfume Category of Accademia del Profumo in Milan.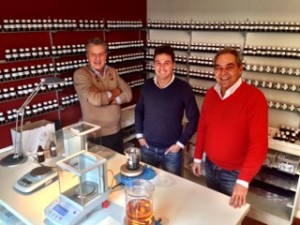 Luca with his dad Marco and Maurizio Cerizza at Atelier Fragranze Milano
Late 2012 I start working closely with Master perfumer Maurizio Cerizza, reinforcing my creation background and discovering new raw materials (White Tea resinoid, Rhum CO2…).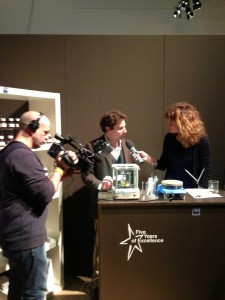 Luca at Esxence 2013
Encouraged by him, I applied in 2013 for the Esxence The Scent of Excellence Contest dedicated to perfumers under 30 years old. My creation Iris Magnifica, a tribute to Italian fine perfumery was a top five finalist.
Perris Montecarlo
From then on, I began my career in earnest. I had the opportunity to work for a fabulous brand, Perris Monte Carlo, with extraordinary people, so in love with perfumes and raw materials. I created with Gian Luca Perris (creative director of the brand) two fragrances: Rose de Taif and Oud Imperial – using precious ingredients like Arabian Taif Rose and Natural Oud oil. They ranked finalist in the Niche Category of Academia del Perfume in Madrid in 2014. (Note: Tama Blough was very impressed with Luca's work, her review February 14, 2014 here)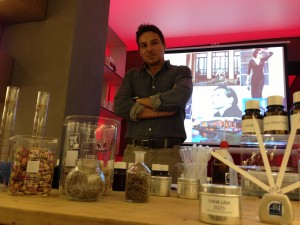 I am also interested in olfactory installations and air scenting. The most incredible project I was asked to work on till now was creating an olfactory itinerary for Ferrari Museum in Maranello focusing on evocative odors typical to F1 as the burned rubber, hot engine and green grass at sidelines. Recently I had the honor to be accepted as a member of SFP – Société Française des Parfumeurs and I look forward to getting in touch with many colleagues and share our perfumed emotions.

I would like to share my latest experience and I am very proud and honored to announce my collaboration with Jul et Mad Paris for their new high-luxury extraits de parfum Les WHITE collection. I loved working with the brand founders, Julien Blanchard and Madalina Stoica Blanchard. Their briefs for the Les WHITE line made me dream and they gave me total freedom to create perfumes that told their passionate stories. And they are so open-minded and non conformist to choose an Italian young perfumer in such a big French industry! Looking forward to seeing them for the pre-launch event at Esxence The Scent of Excellence in Milan at Booth 24!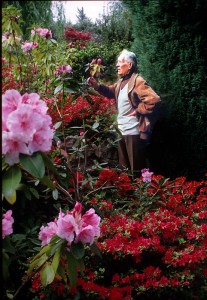 Edmond Roudnitska in his garden (courtesy of Michel Roudnitska)
There are so many perfumers whom I admire. One above all is Edmond Roudnitska with his legendary creations and his life dedicated to perfume. He said "a beautiful perfume is the one that leads to a shock". This is also what I believe in. This is the advice I would give to someone who wants to become a perfumer, take chances and don't be afraid to shock with your beautiful perfume.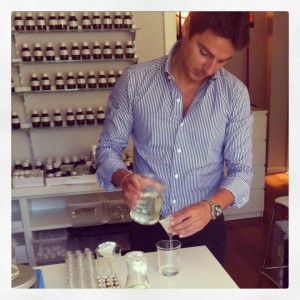 Luca in his Labo
How do I find inspiration? Every moment and everywhere. Everything around us could be inspirational. Of course, I love travelling, music and art as they are inspirational above all. And I am proud to live in Italy with its beauty and cultural heritage.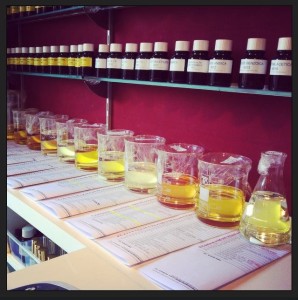 Regarding IFRA, as I belong to the new generation of perfumers, I've been used from the beginning to respect all the constant changes of regulations. Often during the training course I was asked to recreate a formula by replacing products cannnot be used for IFRA. Even computer tools for formulation help me to check IFRA contraints in real time.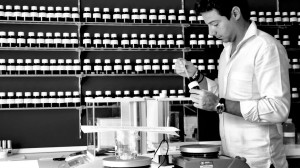 My dreams? They are big and I am only 30 years old. I would love the opportunity to create fragrances for Trussardi and Versace as they have such a powerful, connection to my childhood. Someday I would love to work with the luxury brands and By Kilian or Jovoy Paris. If I dream it, maybe it will make it so!
-Luca Maffei, Perfumer for Atelier Fragraze Milano
Perfumes by Luca Maffei
Nea (Les White), Jul et Mad Paris (2015)
Garuda (Les White), Jul et Mad Paris (2015)
Rossa Boheme, Onyrico (2015)
Unguentum, Onyrico (2015)
Empireo, Onyrico (2015)
Enygma, Onyrico (2015)
Essence of Central Park, Carthusia (2015)
Infinity Oud, Carthusia for Harrods (2014)
Secret Oud, Carthusia (2014)
Tintura Spiritosa, Peccato Originale (2014)
Vaniglia Fior di Mandorlo, Acca Kappa (2014)
Black Pepper & Sandalwood, Acca Kappa (2014)
Tilia Cordata, Acca Kappa (2014)
Virginia Rose, Acca Kappa (2013)
Rose de Taif, Perris Monte Carlo (2013)
Oud Imperial, Perris Monte Carlo (2012)
Cuoio Nobile, Pineider (2011)
Celsea Garden, Washington Tremlett (2009)
CONGRATULATIONS TO LUCA MAFEII!!! Acca Kappa Black & Sandalwood is a 2015 Institute of Art and Olfaction Finalist in the Independent category
Thanks to Jules et Mad we have an exciting draw. One CaFleureBon reader anywhere in the world can win the 5 ml Love Dose of Nea or Garuda (you will need to be patient as they would not be shipped until May and are premiering Thursday at Esxence) OR Thanks to Luca we have an autographed bottle of Pineider Cuoio Nobile for any reader worlwide. To be eligible please leave a comment with what you found fascinating about Luca Maffei as a perfumer, if you have tried any of his perfumes before, where you live and your choice of fragrance, Draw closes March 28, 2015
We announce the winners only on site and our Facebook page, so like CaFleureBon and use our RSS option…or your dream prize will just be spilled perfume.