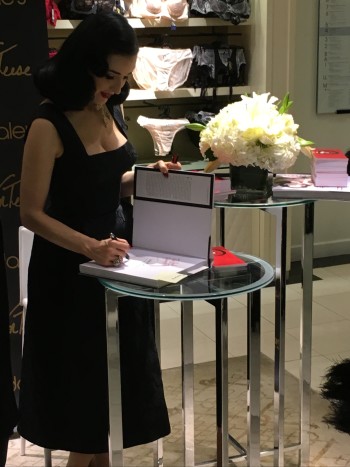 Dita Von Teese at Bloomingdale's New York
"I advocate glamour. Every day. Every minute." –Dita Von Teese
One of the perks of my role as NYC Event Contributor and CaFleureBon Ambassador, is that I meet the most fascinating people. And one of the most dazzling I have met is none other than the Queen of Glamour, Dita Von Teese.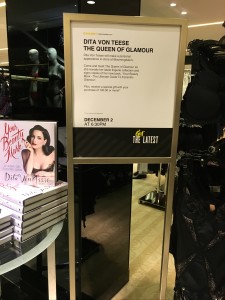 Dita Von Teese Book Signing December 2, 2015
While New York was abuzz with the lighting of the Christmas tree at Rockefeller Center, the brightest star was at Bloomingdale's on December 2, 2015 launching The Dita Von Teese Lingerie Line.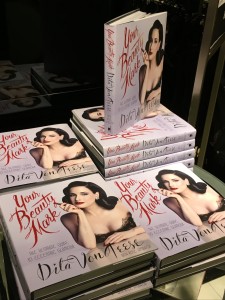 On the 4th Floor, Ms. Von Teese revealed the latest in how to get your sexy on and fans patiently waited for an autographed copy of her new book , 'Your Beauty Mark: The Ultimate Guide to Eccentric Glamour.'.
Dita VonTeese celebrates and promotes glamour in all she does. Her burgeoning business empire now includes partnerships with MAC, Christian Louboutin, lingerie and of course perfume. As gracious as she is beautiful and smart, Ms. Von Teese spent 15 minutes speaking with me in the press lounge for a brief Q &A.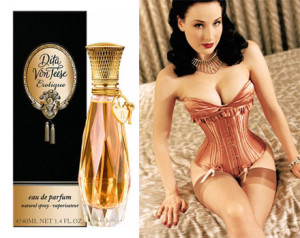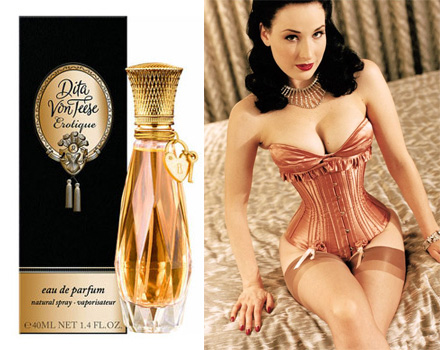 Will you be launching a new fragrance?
Dita Von Teese: I have no immediate plans. I am really proud of Dita, Rouge, FleurTeese and especially of Erotique, which for me was my best scent to date. If I decide in the future to revisit the idea and create a new perfume, of course David Little, my friend will be involved. In my new book, Beauty Mark: The Ultimate Guide to Eccentric Glamour.' Chapter 6 is devoted to fragrance. It is that important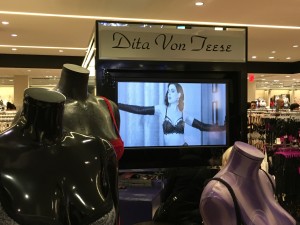 How important is fragrance in a modern woman arensal of seduction?
Dita Von Teese: Until about 20 years ago, savvy women knew the power of their signature scent. It spoke to others without a word. In a way a woman's perfume was one's themes song; these days, sadly that is no longer the case.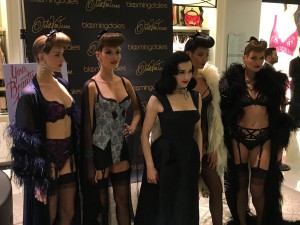 Is there a connection between lingerie and Fragrance?
Dita Von Teese: Oh yes, they are closely intertwined. Whether you wear it for yourself or for others, there is always an element of seduction. Scent like lingerie is close to one's body. A great scent like lingerie is the foundation of glamour.
Is there a current fragrance other than your own, that impresses you?
Dita Von Teese: None comes to my mind right now.
What scent did your mother wear?
Dita Von Teese: Halston by Halston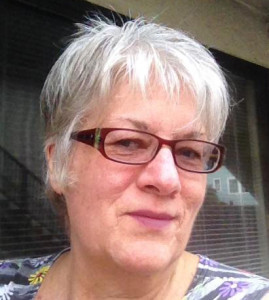 Michelyn and Tama Blough interviewed Dita Von Teese in 2013 and Tama met Ms. Von Teese in 2014
Not only is Ms. Von Teese an icon of beauty and glamour, she is an amazingly compassionate woman. I brought up the CaFleureBon 2013 interview with Dita Von Teese by former Managing Editor Tama Blough) and sadly told her of Tama' s passing earlier this year. She expressed sincere condolences and had fond memories of meeting Tama in San Francisco.
–Hernando Courtright, NYC Event Contributor and Michelyn Camen Editor in Chief