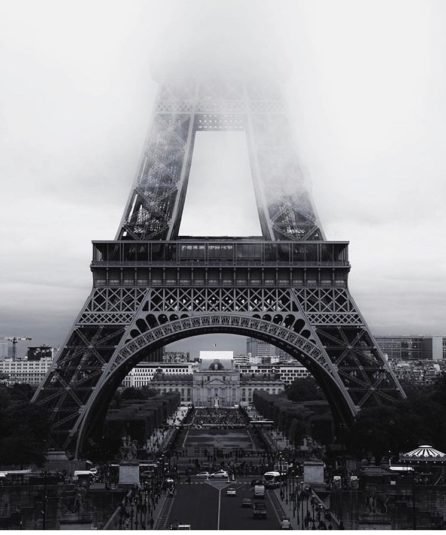 via @worldofchriscollins Intsagram
"J'ai deux amours, Mon pays et Paris…" ~ Josephine Baker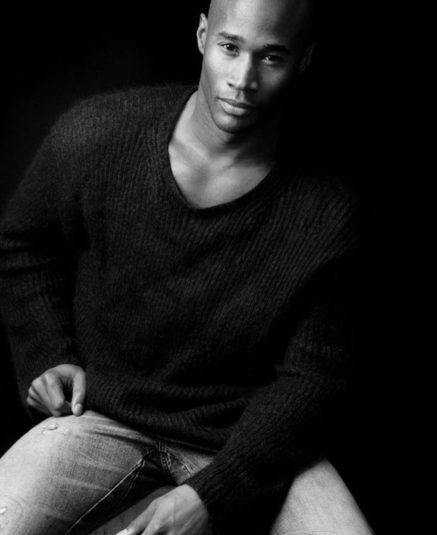 Chris Collins of World of Chris Collins Fragrances via Instagram
Chris Collins' striking, suave presence has graced the pages of GQ, Fortune, Gotham Magazine, WWD – you name it: he is perhaps best-known as one of the iconic embodiments of Ralph Lauren's brand of effortless elegance. In March 2018 he launched his own line of fragrance at Manhattan's Bergdorf Goodman's – The World of Chris Collins, a trio of luxe fragrances paying tribute to the 1920's, a time of global cultural and political transformation both here and abroad.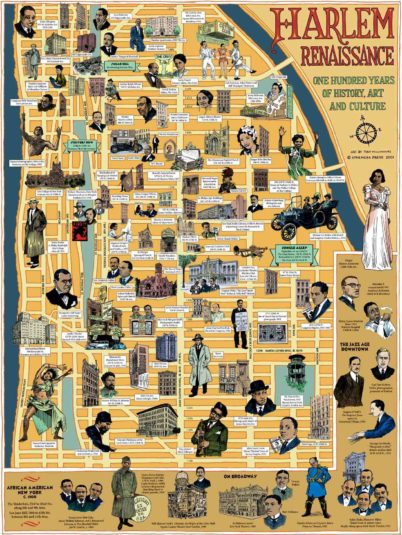 news.nationalgeographic.com
In the U.S the Roaring Twenties coincided with Prohibition, sparking rebelliousness and a devil-may-care insouciance, the subterranean burgeoning of illegal watering holes where code words were required for entry and one didn't inquire about the bootleg liquor's origin or ingredients.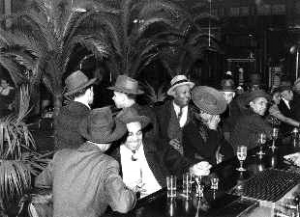 Cotton Club via flicker late 1920s
In Harlem the arts were flourishing with a new-found vitality which became known as The Harlem Renaissance / New Negro Movement – the brilliance of poet/storytellers Langston Hughes, Countee Cullen, Claude McKay and Zora Neale Hurston (Their Eyes Were Watching God); painter Aaron Douglas (he immortalized Harriet Tubman); and the fabulous Duke Ellington, Louis Armstrong, Billie Holiday and Josephine Baker among them. Jazz was king in Paris as well as Harlem, and Europe was generally more welcoming to African-American artists.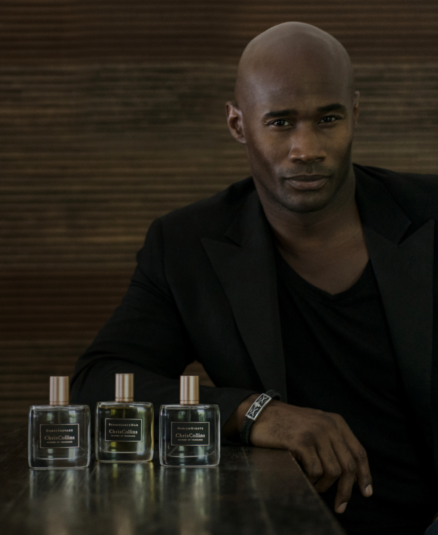 Chris Collins with his three fragrances Danse Sauvage, Harlem Nights and Renaissance ​Man
Chris, as creative director of his new brand – was influenced by his encounter with Killian Hennessy and subsequently spent time in France learning more about the fine art of perfumery. A passion evolved between his Parisian 'immersion' and brownstone home in Harlem which translated organically into Danse Sauvage (inspired by Baker's infamous dance in her faux- banana skirt), Harlem Nights, and Renaissance Man. Of the three I found World of Chris Collins Harlem Nights to be my personal favorite– an inviting feral floriental tailor-made for a night on the town in any '20s speakeasy – or the Cotton Club in its heyday.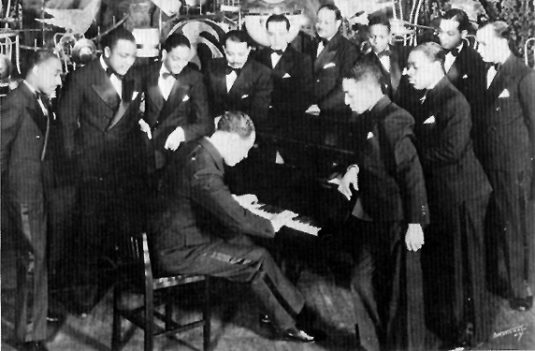 Duke Ellington at the Cotton Club 1927
World of Chris Collins Harlem Nights is a hot night of cool jazz and the Mood is Indigo as The Duke tickles the ivories at the Cotton Club. Everyone knows you; they nod discreetly as they slip that copper-topped hip flask from either garter or pocket and cop a stealthy slug before passing it around the table. It may taste like bilgewater, but it's got a kick to it.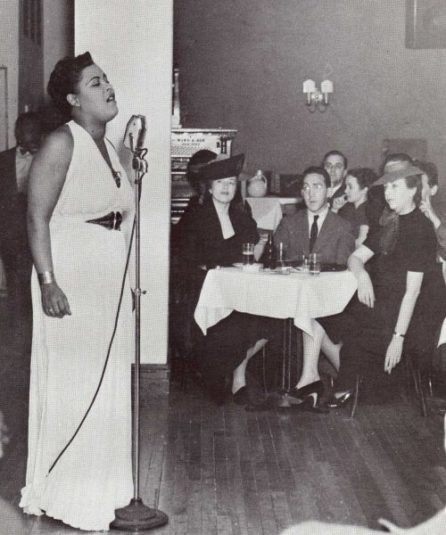 Billie Holliday at Cafe Society Sheridan Square in 1938 (the first integrated night club in NYC) via Ephemeralpress.com
Our singer sports that gardenia to cover the burn from her curling iron but it's jasmine which fills the air, dense and spicy with murmurs of clove and nutmeg. Her skin is coffee-hued and smooth and it smells like sandalwood as brunettes do (if you believe Burgundian writer Colette); the natural musk of her body emanating from every pore. The joint is packed back to back and belly to belly; you can feel the drizzle of perspiration run in rivulets down your arms as you sway rhythmically to Ellington's mellow tones. Your partner's cautiously slicked back hair is an earthy paradise of patchouli and amber and you bury your nose in his neck. Each of you is lost in the fog of the moment. Until the alarm sounds and all vestiges of alcohol suddenly disappear as if by magic. Notes: rum, clove, nutmeg, jasmine, orris, patchouli, sandalwood, amber,musk
Discovery sample set kindly provided by Maison Duquesne, the distributor – many thanks! My nose is my own…
~ Ida Meister, Senior Editor and Natural Perfumery Editor
~ Art Direction: Michelyn Camen, Editor-in-Chief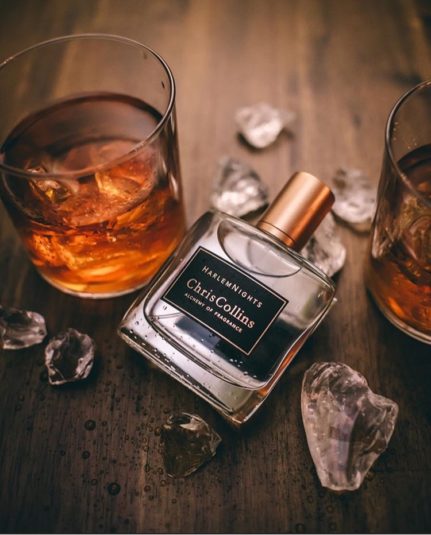 World of Chris Collins Harlem Nights via Instagram
We have a 50 ml bottle of World of Chris Collins Harlem Nights for a registered reader in the USA and two discovery set of Harlem Nights, and Renaissance Man for two readers anywhere in the world. To be eligible please leave a comment about what you enjoyed about Ida's review of World of Chris Collins Harlem Nights, where you live and if you would like the discovery set (country restrictions). What do you know about the Harlem Renaissance? Draw closes 10/25/2018
Available exclusively at Bergdorf Goodman and Ron Robinson in the USA and worldwide at World of Chris Collins and other select stockists,
Please follow us on Instagram @cafleurebon and @worldofchriscollins
We announce the winners only on our website so like Cafleurebon and use our blog feed… or your dream prize will be just spilled perfume.