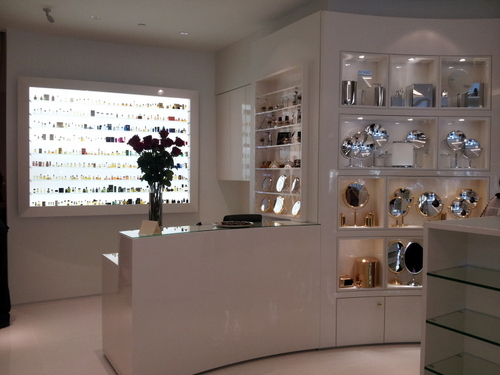 Photo: Didier Cholay
New York City is creating a new place for those who love perfume to check out when visiting. Managing Editor Mark Behnke dubbed Downtown New York City "The Fragrance District". It starts on the east at Elizabeth St. just south of Houston continues through Lafayette St. and Crosby St. to W. Broadway at the west end of Lower Manhattan. The newest store in the best smelling part of New York City is Osswald NYC which had its grand opening on August 23, 2012. I attended the event and the best news is among the niche brands that Osswald NYC is carrying? Pierre Guillaume's Parfumerie Generale line of fragrances, Parfums M.Micallef, Profumum Roma and Parfums MDCI have finally found a New York City home.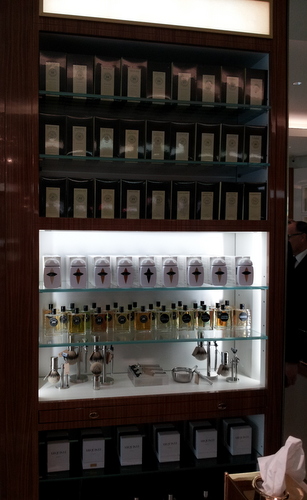 Photo: Didier Cholay- Parfumerie Generale, Huitieme arts and Arquiste
CEO Tanja Dreiding Wallace ceremoniously cut the ribbon on the company's brand-new location in the heart of SoHo, across the street from the Soho Grand Hotel at 311 West Broadway. Family owned and operated for over 90 years in Zürich, Osswald is highly regarded in Europe for its carefully curated portfolio of niche perfumes, luxury skincare and exceptional customer service. Store manager Clem Pinard is one of the most knowledgeable people we know about perfume and he is now the manager of Osswald NYC. The chic minimalist space has a decidedly Euro-luxe style.
Tanja Dreidling Wallace with her beautiful daughter Georgia (the next generation)
Other brands on hand for the Grand Opening at Osswald NYC include Maison Francis Kurkdjian, Pierre PPGuilla ume's H uitième Art , Clive Christian, Amouage, Six Scents, Maitre Parfumeur and Gantier and Arquiste. Additional offerings include By Terry Make Up, Fornasetti's scented candles created by Olivier Polge, exquisite bathroom accessories and mirrors, manicure etuis, shaving kits,toiletry bags and other beautiful items in the luxury lifestyle sector.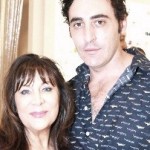 Michelyn Camen and Levi Pharoah of Levi PR
According to Tanja, special events and concierge services are in the works, including in store appearances by star perfumers such as Francis Kurkdjian. Although I was only able to stay for an hour, (I managed to make one of the store's first sales- Arquiste's Fleur de Louis and somehow managed to miss seeing Perfumer Ralf Schwieger), I know I will be back really soon…and for our New York readers, take a trip downtown, you won't be dissapointed. Mail and phone orders are welcome.
Hours: Monday + Wednesday – Saturday 11 – 7, Sunday 12 – 6, Closed Tuesday
Phone: 212.625.3111
–Michelyn Camen, Editor in Chief