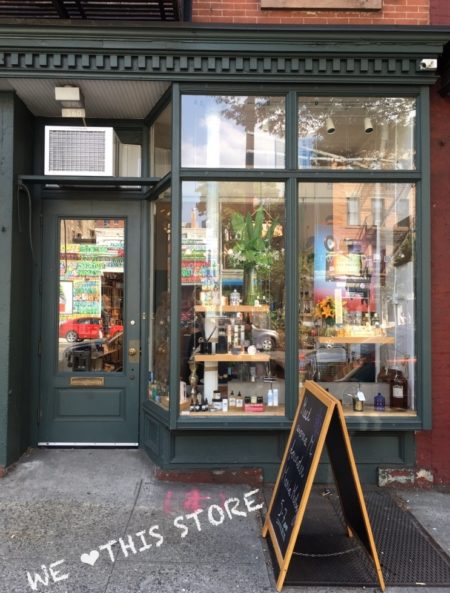 Twisted Lily Store window Photo Hernando with chalk script digital Mc
Shopping for artistic and hard to find fragrances in Manhattan has always offered New Yorkers more options then most cities. Now add in Brooklyn as a fragrance destination,(Michelyn once quipped it is the New Fragrance District) and we have a perfumer lover's paradise. As a NYC fragrance blogger, I have access to the City, an advantage most don't have. So, with all the independent boutiques in the five boroughs, I chose Twisted Lily Fragrance Boutique & Apothecary for this edition of WE LOVE THIS STORE.
Easily accessible by subway from Manhattan I set a date to stop by and visit with Eric Weiser, who along with his partner in business and life, Stamatis Birsimijoglou, are the proprietors and founders. Born in Brooklyn, raised in Long Island, Eric returned to Brooklyn to open Twisted Lily on Atlantic Avenue. The address was an auspicious omen; 360 Atlantic Avenue. 360 degrees.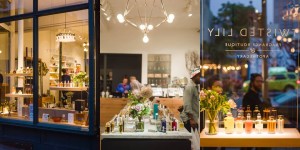 Photo by Hernando for Fall Ball 2013
My first visit to Twisted Lily was via Sniffapaoloza's Fall Ball 2013. A cocktail party was arranged for us to attend Brooklyn's new fragrance boutique to top off the first day's events. Twisted Lily had just opened a month prior in the Boerum Hill section of Brooklyn and this evenings event was a wonderful way to introduce the shoppe to the fragrance community. That night I discovered Josh Lobb of Portland Ore, a rich boozy gourmand and knew this was my kind of perfumerie.
Conveniently located near the Barclay Center (there is no excuse not to attend a sport or music event and not smell fabulous) the area is a melting pot of people of all ages and backgrounds which was important to Eric.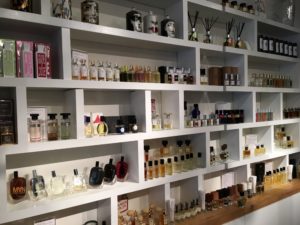 On the shelves at Twisted Lily Photo: Hernando
Since its September 2013 opening Twisted Lily quickly became a must visit destination for all fragrance aficionados. This special perfume boutique curates hard to find artisanal, indie and natural fragrance collections. From supporting the growing Brooklyn fragrance community, sourcing regional treasures and spanning the globe for worldly fragrant treasures, Twisted Lily also carries a selection of home fragrance, apothecary, skincare, grooming and beauty lines.
Eric Weiser considers Twisted Lily an incubator for artistic perfumery. He has no interest in the "niche" moniker. "What does that represent anymore?" I asked if there were any deal breakers in curation. "Yes, for now we will shy away from are bottles in the $300+ range, he told me. Is everything on the website available on premise? His answer, "Yes, 95%". My next question was how do you cut through the clutter of so many new releases. His answer was "Contacts, attending trade shows (he was our EIC Michelyn Camen's traveling companion to Milan The Scent of Excellence Esxence 2015) and yes, our customers."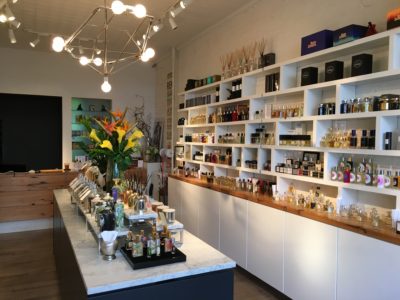 Twisted Lily and the Fragrance Island
The custom, modern but comfy interior, furniture and light fixture creates an innovative and welcoming environment for discovering the wonderful world of scent. At just under 700 square feet, the store's fluid design which includes a "Fragrance Island" that showcases current releases as well as acting as a scented stage for their in-store events. The layout of the shelves is not organized by scent category but by how the brands fit the custom made shelves. They are changed up regularly to give customer a fresh look at collections that might have been over looked and by constant evaluation of what is in demand. Ultimately Eric remarked, the customers decide.
Never one to enjoy a crowded event to make a fragrance purchase today gave me a chance to enjoy the tranquil environment to contemplate the wonderful collections on hand. On hand is their signature citrus infused water, tea and nibbles so one can stay awhile.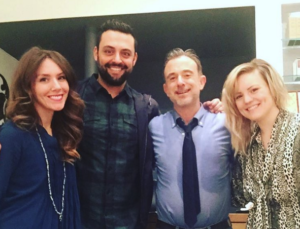 Krista Miller, Stamatis Birsmijoglu, Eric Weiser and Carla Seipp -The Twisted Lily Team (photo Stamatis)
I asked Eric Weiser to walk me through how he and the store's knowledgeable staff…Stamatis Birsimijoglou, Carla Seipp, and Krista Miller, work with a new customer. He asked me what I liked and what I did not like in a fragrance. He brought me five choices to start with, based on the descriptions I gave.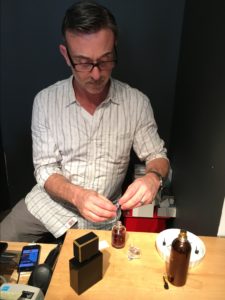 Eric Weiser Co Owner of Twisted Lily making samples Can you name the fragrances???
Eric asked me to smell them from the perfume blotters in order to eliminate the ones I did not care for. Then he showed my three more. Finally he asked me spray the three favorites on my skin to evaluate. Samples of my final choices were made up to take home and live with. No pressure to buy. The staff develops relationships not a quick sale. While most of our readers know Twisted Lily from their online store, the boutique itself welcomes many of the neighborhood's residents who are new to artistic perfume.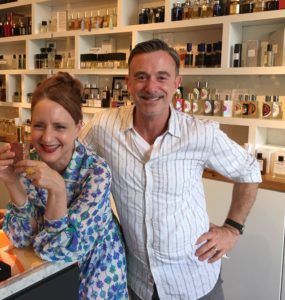 Maria McElroy and Eric Weiser on July 14 Meet the Maker
As my first introduction to Twisted Lily was through an event it is only fitting that this day concludes with a Twisted Lily special event held on July 14, 2016. "Meet the Maker, Aroma M Perfumes". The fabulous Maria McElroy, founder and owner of Aroma M Perfumes, the Japanese-inspired cult parfumerie, who had just released Geisha Vanilla Hinoki, the first addition to the Geisha collection since 2011. On hand were light bites with wine and bubbles which complimented her fragrance collection and made it all the more festive!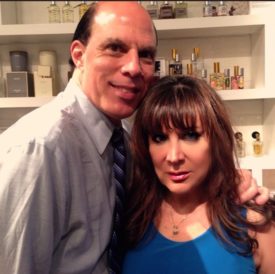 Hernando and Michelyn at a Twisted Lily Event 2015 (photo Carlos Powell of Brooklyn Fragrance Lover)
This year I have had the pleasure of attending events such as Andy Tauer, Euphorium Brooklyn and Sniffapalooza's Spring Fling cocktail party featuring Alessandro Brun and Riccardo Tedeschi of Masque Milano.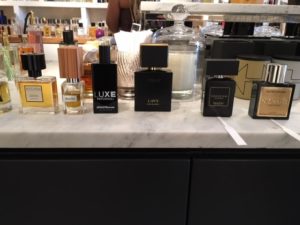 Fragrances Local and Global at Twisted Lily
Twisted Lily carries approximately 85 fragrance houses of which eight as of this date are Brooklyn based. Impressive sampling of current brands with new releases were showcased the day I interviewed Eric and include: Brooklyn artisan David Seth Molz of D.S.& Durga, Menditterosa Odori D'Anima from Italy (our review of Le Mat here), Hiram Green from The Netherlands (our review of Dilettante here), Leo Crabtree of Great Britian Beaufort London, (our review of Vi et Armis), Fulton Roark (North Carolina), Carlen Parfums (NY), Masque Milano (Italy our review of L'attesa here) and Nishane Istanbul our review of Fan Your Flames here. In addition Parfums Quartana was in the back room getting ready to launch and is available both online and in store (our review of Wolfsbane) here.
Of course I did not leave empty handed. I purchased my seventh fragrance from the store, Berlin's Tanja Bochnig April Aromatics Discovery Set.
–Hernando Courtright, New York City Event Contributor and Brand Ambassador (with added info and contributions from Michelyn)
All photos Hernando for Cafleurebon unless otherwise specified
Twisted Lily- 360 Atlantic Ave, Brooklyn, NY 11217 347-529-4681
Website: Twisted Lily info@twistedlily.com
Tuesday – Sunday: 12pm – 7pm
Free Shipping On-All-Orders Over $75 (U.S. only)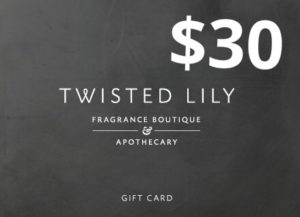 Thanks to Twisted Lily, we have a $30 Gift Card for a registered US reader. To be eligible, please leave a comment with what you enjoyed about your virtual visit to Twisted Lily and what fragrance you might buy should you win. Also is there a brand you would like to see at the store. Now is your chance to voice your favorites, (make sure they don't carry it first :). Draw closes August 2, 2016
We announce the winners on our site and on our Facebook page, so Like Cafleurebon and use our RSS option…or your dream prize will be just spilled perfume