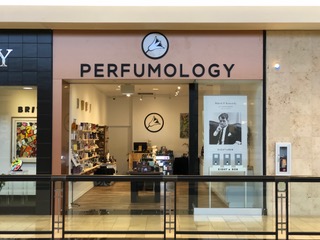 The finished exterior of Perfumology in King Of Prussia mall: image of Robert F Kennedy for the RFK Special Edition Eight & Bob
Philadelphia is known for many things such as the birth place of America, the Liberty Bell, Cheesesteaks (the real thing only available in Philly), and its own unique culture. One thing Philadelphia has never been known for however is having a high fashion district lined with numerous boutiques. The local culture centers on the underdog attitude. An attitude that keeps the city and its people thriving in the face of adversity. Humbly accepting losses, getting back up stronger and rising to the occasion of the next challenge, surprising those who don't have faith in the city or her people. The underdog is the attitude that Perfumology in King of Prussia evokes. Among high-end department stores and designer clothing shops at the King of Prussia Mall lives Perfumology. It is not just another store, but an oasis. An oasis among the endless stores who all sell the same perfumes with overlapping scents. Perfumology is an oasis for those who search for something different, and to those who unknowingly begin their new fragrance journey that delves into the world of niche and artistic perfumes. Most importantly, it is a small, local family owned and operated business among giant brands.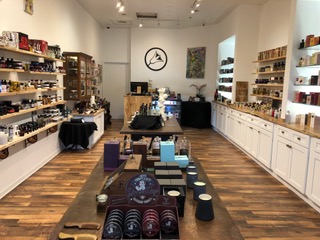 Perfumology in King of Prussia
I first heard about Perfumology in King of Prussia a few years back on social media and was excited that it was located near to my house. At the time the shop was just a kiosk and I wasn't sure what I would expect from that type of store. My excitement built up quickly when I saw that the kiosk held so many perfume brands I had never had the chance to get my nose on anywhere else. I was also pleasantly surprised by the staff member, Brian, who was there to help me. He was not there to push me to buy any specific fragrance but to be there to "show me around" and introduce me to the smaller brands, like Imaginary Authors and Zoologist Perfumes. I left that day with my wallet empty after buying two fragrances (Flashback and Still Life in Rio from Olfactive Studio).
A few months after my first visit, Perfumology moved into an actual store within the mall when I met the owner, Nir Guy. My breath was taken away from the first steps in the new store. Long wooden shelves on both sides of the walls, two tables in the center of the room, a few lit up glass shelves, displaying many different fragrances from houses that I had only read about. The set-up of the store felt real, as if it was carefully designed by hand and thoughtfully put together. This did not feel like a new store or one that had newly moved into a new space, but a store that had been established for many years. The most amazing aspect of all was how accessible it was to test all these fragrances.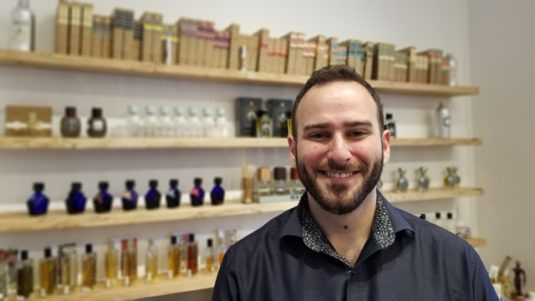 Nir Guy, owner of Perfumology in King of Prussia
Perfumology was the brain child of Nir and his mom, Tali, originating from her love of perfume. Her passion pushed the decision to open a perfumery, which slowly to the boutique in its current form. Anyone one who walks into this store is not just a potential customer, but is treated as a friend and part of the Perfumology family. "Our store is the only place in their area where you have the chance to wear and eventually buy fragrances from Independent Brands. You either have to settle for mass market fragrances or go to New York City for anything else."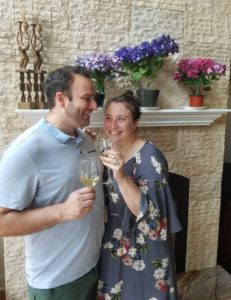 Nir Guy with his wife Lyssa who inspired Blyss
Another amazing aspect to this store is that they sell their own creations. Nir joined up with a local perfumer, Justin Frederico, and they both have been able to develop and release two amazing fragrances. The first fragrances released called Blyss, a perfume created as a love letter to Nir's wife. The second fragrance is called Grange, inspired by Nir's childhood playing at the historic Grange Estate in Havertown, Pennsyvania. Both of these fragrances are what perfume is all about. They capture a story and transport you to that time and place where it occurs. "I want people to enjoy fragrances that are not only rare, but have a soul. They have a story to tell." Nir also goes on to continue to say: "I want to shrink the size of the perfume world so that our customers can interact with brand directors and perfumers. This benefits our customers dramatically, and they feel more connected to the people who produce the fragrances they wear."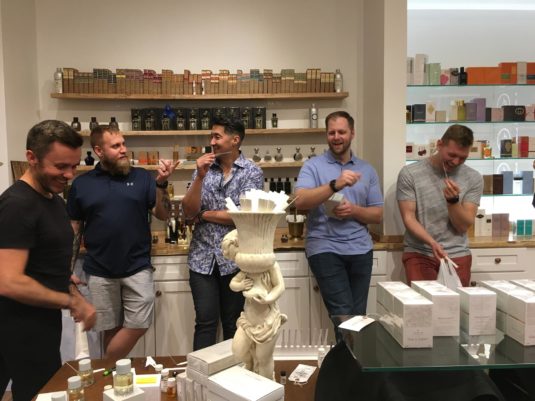 Nick Steward.of Gallivant, Jonathan Bittner, Chris Giorgio aka Mr. Sillage ( RIP), Mike Lubinsky. Rob Moores at in King of Prussia earlier this summer
Perfumology in King of Prussia has been the center of many events in the local fragrance community recently. The first one that I was able to attend was a meet up between a few fragrance collectors and reviewers. I found this to be an amazing networking opportunity and to also be able to talk with others who share the same passion as I do. The second event that I was able to attend was when the creative director behind Gallivant Perfumes, Nick Steward.
Our friend, RIP Chris Giorgio filming a video for his Mr. Sillage YouTube Channel. He was a fan of Gallivant London and Instanbul
Nick spent a few hours with us that night going over his creations, his process, and answering all of our questions. This was my first time being around someone of that stature and it left a lasting impression on me.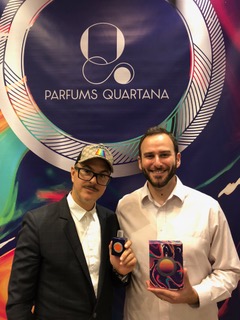 Nir with Joseph Quartana at Perfumology in King of Prussia
On September 22 Joseph Quartana from Parfums Quartana made an appearance for an exciting event. Joseph showcased his whole line to a few people at a private event only open to those who had made a reservation.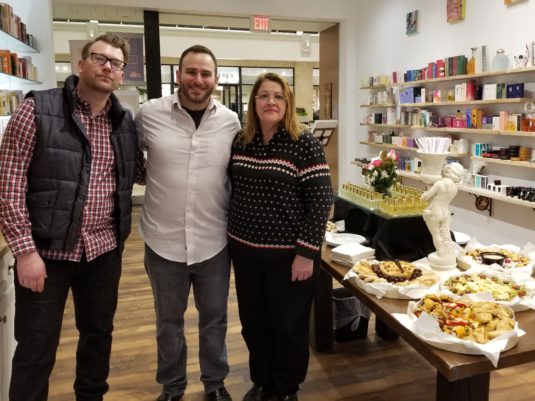 Brian Warner, Nir Guy and Tali Guy (Nir's mom and co-owner)
Perfumology has done several smaller gatherings in which fragrance reviewers and bloggers from all around the area have gathered with their favorite scents. Nir instructed us all to bring a bottle of our favorite Perfume for us to allow the others to smell and to test. We had a fantastic time being getting our noses on other people's favorite scents, allowing me to discover more perfumes that I had never tried before. All these events that Perfumology holds feels like a family affair rather than a generic get together. Nir's mom, Tali, uses her baking and cooking skills to make generous amount of food for their guests. The tables and counters are lined with cookies, pastries, fresh fruits and vegetables, and also small finger sandwiches. One of the bonuses for attending these various events is that you never can go home hungry.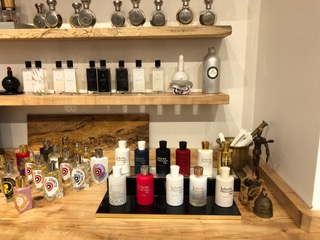 Juliette Has A Gun, Etat Libre D'Orange, Agonist and Boadicea The Victorious
Perfumology was also the perfect place for me to buy a wedding fragrance for my wife. Tali was such an amazing help and patiently helped me narrow my decision on what to purchase (MMMM…Juliette Has a Gun). Never did I once feel rushed as I carefully browsed the selection, searching for that perfect scent. It was a wonderful experience and now a memory that I think about very fondly. Perfumology will not remain just a store but also cornerstone for the perfume culture in Philadelphia and to the tri-state region (NJ, PA, DE). I am excited to see how Perfumologys' influence will spread and influence how other stores that open in the area begin to do business. I have been pleased many times when I am at the shop sniffing away at the fragrances when I see customers enter the store for their first time. It doesn't matter if it's Tali, Nir, or Brian at the counter, they always make sure to treat that customer as if they are the only ones in the store. The customer service that they display sets the bar for when I visit other stores.
Please be on the lookout for new events that are coming up in the future (October 14th!!!). There is typically an event every few months whether it's a meet and greet with a Perfumer or a get together for fragrance enthusiasts.
I would like to encourage everyone to stop by the store if you live in the Philadelphia region and if you don't, feel free to give them a call or visit their website. If you don't see what you are looking for then Nir does everything he can to get that product for you.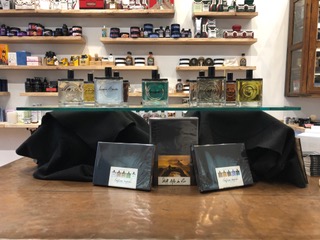 Olfactive Studio Display at Perfumology in King of Prussia​
Perfumology carries approximately 24 fragrance houses including: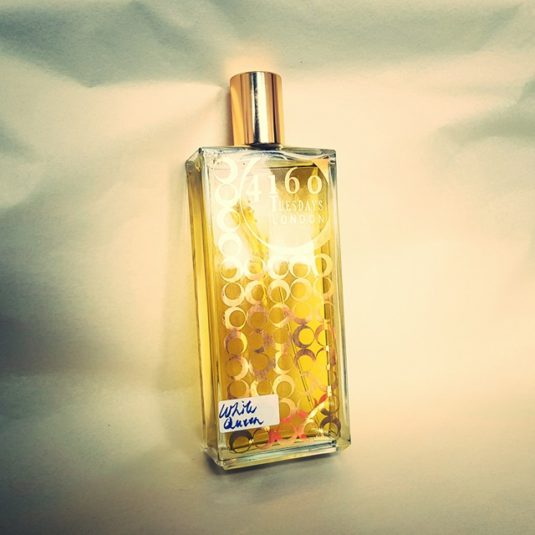 Perfumology in King of Prussia is the exclusive USA stockist for 4160Tuesdays x CaFleureBon White Queen
4160Tuesdays London
Agonist (Sweden)
Boadicea The Victorious (London, UK)
Dusita Paris (Paris, France)
Eight & Bob (Paris, France)
Eris Parfums (New York, USA)
Escentric Molecules (Germany)
Etat Libre d'Orange (Paris, France)
Fulton & Roark (Winston-Salem, NC, USA)
Gallivant Perfume (London, UK)
Imaginary Authors (Portland, USA)
Juliette Has A Gun (Paris, France)
House of Lubin (Paris, France)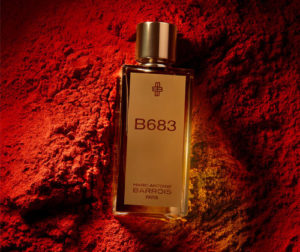 Marc Antoine Barrois B683 photo by Greco©
Marc-Antoine Barrois (Paris, France)
Nasomatto (Amsterdam, Holland)
Olfactive Studio (Paris, France)
Perfumology (Philadelphia PA, USA)
Tauer Perfumes (Switzerland)
TokyoMilk (Denver, USA)
YeYe Parfums (Santa Barbara, CA, USA)
Zoologist Perfumes (Toronto, Canda)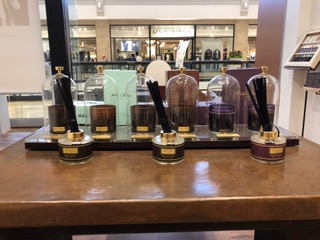 Belle Fleur display
Perfumology also showcases room scents and candles from Belle Fleur (created by Jerome Epinette!!!), traditional wet shaving products and beard care products from Proraso, Catie's Bubbles, Chiseled Face, and PiperWai natural deodorant.
Nir has also hinted at a few new perfume houses coming in the near future.
–Jonathan Bittner, Guest Contributor
Perfumology in King of Prussia– 690 West Dekalb Pike, Suite 2045, King of Prussia, PA 19406
Website: www.perfumology.com
Contact info: info@perfumologyshop.com 610-337-0555
Monday – Saturday: 10am – 9pm, Sunday 11am – 6pm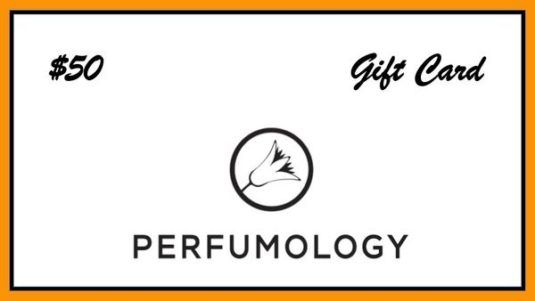 Thanks to Nir Guy of Perfumology we have a $50.00 GC/EC for a registered Cafleurebon reader in the USA (if you are not sure if you are registered click here or your entry will be invalid) to be used online or in store. Please leave a comment with what you thought of Jonathan's tour of Perfumology in King of Prussia and if you have ever ordered or visited Perfumology. What is your favorite brand that you think Nir might want to carry or currently carries? Draw closes 10/15/2018
Please follow us on Instagram @cafleurebon @perfumology
We announce the winners only on our site and on our Facebook page, so like Cafleurebon and use our blog feed … or your dream prize will be just spilled perfume.