The finished exterior of Fumerie, custom sign and window art designed by Mathieu Schmutzler of TBIB Creative and hand-painted by local artist Craig Brown (André Gooren)
Portland is not the sort of city commonly associated with exquisite perfumery. More known for beer, bicycles, and putting birds on things, Portland is even infamously home to government buildings where perfume has been "voluntarily" banned. However, Portland is also a hotbed of alternative art created by independent artisans, and that's the inspirational spirit behind Portland's first niche perfume shop, Fumerie Parfumerie.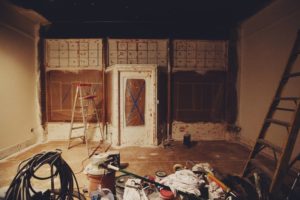 An early photo of the space that would become Fumerie Parfumerie (Katherine Butler)
The recent revival of Southeast Division street ushered in a higher class of shops, and Fumerie is a perfect example of Division's transformation. The brick building space was formerly the site of sandwich shop Eugenio's, but a radical rebuild turned it from a greasy spoon eatery into an elegant and modern arena for some of the world's most exclusive, hard-to-find fragrance lines.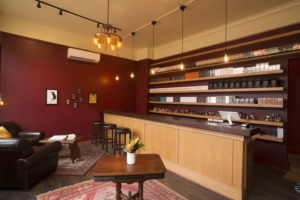 Fumerie Interior Finished and fully stocked. (Katherine Butler)
My first visit was a walk-in on a Saturday in April mere weeks after Fumerie's February 2016 opening. Scanning the thick wood shelves, my eyes lit up at the sight of Neela Vermiere's columned bottles. I've been aching to try fig-based Ashoka since reading the internet's glowing reviews and a trip to Seattle's finest perfumeries couldn't scratch that itch. Proprietress Tracy Tsefalas took me through all the Neela Vermiere perfumes and I truly adored each and every one of them. Magical olfactive discoveries like these remind me why I spend so much time, energy, and money welcoming rare potions into my life.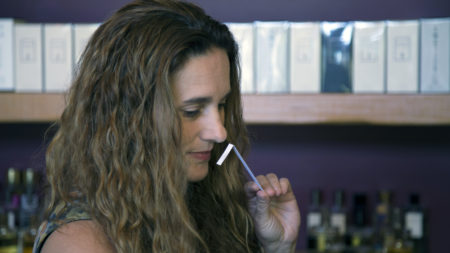 Tracy Tsefalas, owner of Fumerie Parfumerie (André Gooren)
Tracy used to be the manager/buyer at The Perfume House in Portland's trendy Hawthorne district a few blocks north of Division Street, and I had the good fortune to meet her there a few times over the years. The Perfume House is a well-established labyrinth stuffed from top to bottom with French classics and forgotten perfumes from the past, however that specific business model left room for Fumerie to curate a tight collection of modern masterpieces.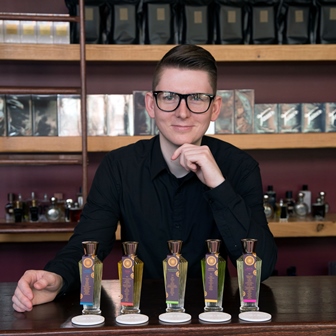 André Gooren of Fumerie Parfumerie with Neela Vermeire Perfumes
"We really tried to avoid carrying things that were easily available. We wanted to be the sort of place where customers could explore fragrances that they had never seen before," explained former Perfume House employee and current Fumerie parfumier and fragrance historian André Gooren. He added, "There's a difference in intent with a lot of these lines, they're marketed differently they're not meant for mainstream audiences. I think that appeals to the Portland aesthetic."
Despite Portland's granola-eating hippie reputation, there are several perfumers here whose creations are putting Portland on the fragrance map such as OLO, Slumberhouse, and perhaps most prolific and well-known, Imaginary Authors by Josh Meyer.
In addition to artisanal uniqueness, another noteworthy Portland attribute is community. Portland is a politically progressive city whose Scandinavian-influenced ethics have resulted in a neighborliness missing from many large American cities. André shared with me that Perfume House customers had been telling him for years that there was a desire to come together with local perfumistas, and Fumerie has taken up that challenge with aplomb.
On May 31, Fumerie hosted its first community fragrance swap, and you better believe I was there with a box of my less loved bottles.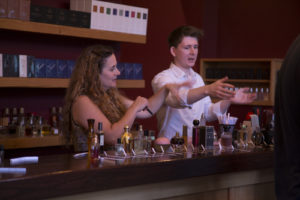 Tracy and André facilitating Fumerie's first perfume swapmeet (Katherine Butler)
I successfully swapped a bottle of Infusion Organique's Sands of Morocco for a bottle of Annick Goutal's Neroli, but more special than that was meeting and chatting with Portlanders who get their "aromatherapy" from niche perfumery like I do. What a relief to speak freely about my precious hobby without someone freaking out about allergies!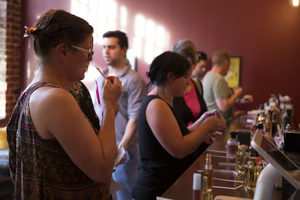 That's me in the center trying perfumes up for swap (Katherine Butler)
For the perfume swapmeet on September 20, I made sure to sign up early because I guessed, based on the crowd at the first gathering, that the spaces available would fill up quickly. André confirmed, "Every event we've done has filled up really quickly and attendance has been amazing."
Fumerie has been hosting events focused on showcasing certain lines and basic raw materials that go into making perfume. One evening was dedicated to the venerable perfumes of Lubin, a line not available elsewhere in Oregon. I would never have fallen in love with the nutmilk woodiness of Korrigan without Tracy and André making an intentional effort to put them in front of me. The sample packs provided by Lubin were insanely generous.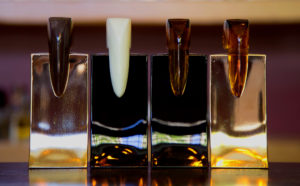 Lubin bottles
So far there have been two demonstrations centered on raw materials and Fumerie plans to continue the so-called "NOTES" series. Local perfume enthusiast Nicole Amzallag-Divine kicked things off in June with an exploration of commonly used synthetics. People had the opportunity to try several aroma molecules in their isolated form and in compositions that make use of these materials. The second raw material event in July was all about resins and balsams.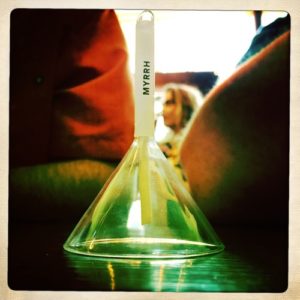 Smelling strips were dipped in diluted samples of raw materials and placed in homemade monclins, devices designed to provide the most accurate portrait of a scent. (André Gooren)
Fumerie Parfumerie carries approximately 26 fragrance houses:
Agonist (Sweden)
Atelier Cologne (France)
Berdoues: Collection Grands Crus (France)
Boadicea the Victorious (United Kingdom)
Bruno Fazzolari (United States)
Claus Porto (Portugal)
Eris Parfums (United States)
Escentric Molecules (Germany)
Imaginary Authors (United States)
Jeroboam (France)
Jovoy (France)
Knize (Austria)
Liquides Imaginaires (France)
Lubin (France)
Masque Milano (Italy)
MDCI (France)
Naomi Goodsir (France)
Nasomatto (The Netherlands)
Neela Vermeire (France)
Ortigia Sicilia (Italy)
Orto Parisi (The Netherlands)
Papillon (United Kingdom)
Parfum d'Empire (France)
Profumum Roma (Italy)
Serge Lutens (France)
Slumberhouse (United States)
Tauer (Switzerland)
Xerjoff (Italy)
Fumerie carries some items by Italian-based Ortigia Sicilia, producers of soaps and body products and fragrances, as well as Portuguese soap company Claus Porto. Although Tracy says they are not accepting new lines until 2017, she teases, "We have things in the wings we're considering for next year."
–Samantha Berg, Guest Contributor and ÇaFleureBon reader
Editor's Note: I invite all our readers worldwide to contact me about a niche brick and mortar store they love. That is what Samantha did when I put out the word. She is an excellent writer and we hope she will be a guest contributor in the future. -Michelyn Camen, Editor in Chief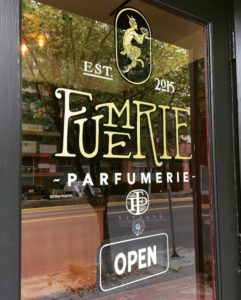 Fumerie Parfumerie instagram @fumeriepdx
Fumerie Parfumerie- 3584 Southeast Division St. Portland, OR 97202
Website: Fumerie Parfumerie
Contact info: info@fumerie.com 234-386-3743
Tuesday – Saturday: 11am – 7pm, Sunday 12pm – 4pm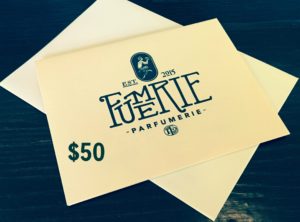 Thanks to the generosity Fumerie and Tracy Tsefalas, we have a $50 Gift Card for a registered US reader. To be eligible please leave a comment with what you enjoyed about Sam's virtual tour of Fumerie, your favorite brands, a line you would like Fumerie to carry and which perfume would you buy should you win. Draw closes September 29, 2016
Follow Fumerie on INSTAGRAM @fumeriepdx and our site @cafleurebon. SUPPORT SMALL BUSINESSES!!! Order samples or perfume SHOP SMALL!
We announce the winners only on site and on our Facebook page, so Like Cafleurebon and use our RSS option…or your dream prize will be just spilled perfume