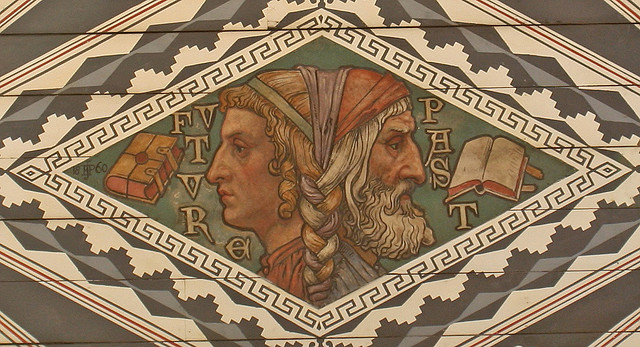 Detail of the painted ceiling in Waltham Abbey depicting the two faced god Janus
The two faced Roman god Janus appears everywhere at the New Year, his divided gaze peering from blogs, greeting cards and news articles. As he looks into the future and ponders the past, Janus reminds us that everything new will soon be old – and that the past will resurrect, renew and be born again in a fresh guise. This dual aspect of time moves the trendiest new perfumes into the past and brings once outmoded scents to life as fashionably fragrant revivals.The unavoidable nature of time is why the main reason why I gravitate towards vintage perfumes. Every year the new becomes old, but instead of selling or gifting my vintage perfumes, I never let them go. They are my treasured loves, no matter their age. Here are a few reasons why vintage perfumes mean so much to me.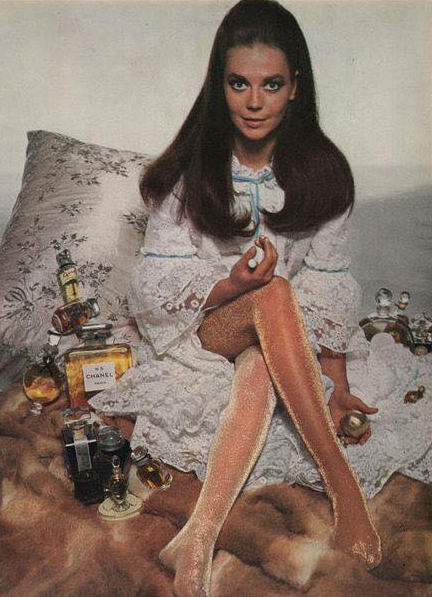 Natalie Wood with vintage perfumes photo tmblr
Memories! Every scent I own is attached to a specific memory. My vintage perfumes are part of a three dimensional, multi-sensory "photo" album that brings together, via olfaction, remembered sights, sounds and atmospheres.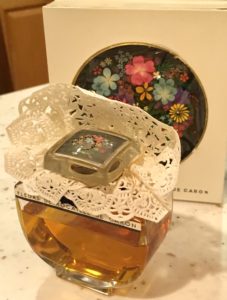 Vintage Fleure de Rocaille by Caron
When I want to visit my great grandmother I dab on a touch from the old Fleurs de Rocaille by Caron. As I open the bottle, decorated with a fragile paper doily, I am immediately transported to her Victorian home. I see antimacassars on the upholstered furniture and feel the touch of the lacy lavender fabrics of her dresses and the powdery violet bouquets she favored.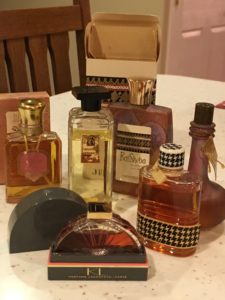 Vintage Perfumes: Lagerfeld KL parfum, Coty La Rose Jacqueminot EdT, Lanvin Spanish Geranium, Judith Muller Bat-Sheba two different bottle shapes, Dior Diorissimo.
Vintage perfumes can serve as time machines whisking the wearer to places and eras, near and far. Estee Lauder Youth Dew and Lanvin Spanish Geranium recall my mother's dressing table in 1950s Florida.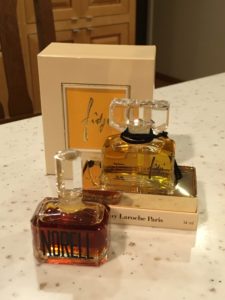 Vintage perfumes: Norell and Guy Laroche Fidji
Guy Laroche Fidji brings into focus a small boutique in an Italian ski resort many years ago. Mukhallats, top heavy with roses, jasmine and oud, never fail to remind me of the perfume sellers in the Meshed bazaar during the 1970s. Vintage perfumes can recreate moods, the effects of light, atmosphere and even air temperature, bringing every aspect of an experience to life in a rush of nostalgia.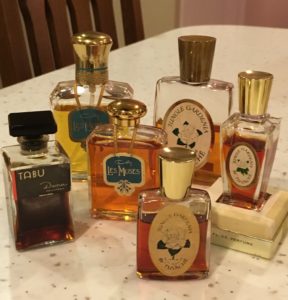 Gail's vintage perfumes: Dana Tabu parfum, Coty Les Muses EdT and EdP, Tuvache Jungle Gardenia skin parfum, bath parfum and parfum extrait.
I cherish every fragrance I own and wear several vintage perfumes on a regular basis. Dana Tabu, the aforesaid Fidji, Lucien Lelong Sirocco, Karl Lagerfeld KL, Judith Muller Bat-Sheba, Coty Les Muses (the 1980s version), Calandre by Paco Rabanne and the original Tuvache Jungle Gardenia are all included in my monthly rotation. There are, of course, the obligatory bottles of Chanel No5 and Guerlain Shalimar. And that brings to mind another important reason why I love vintage perfumes- The Bottles!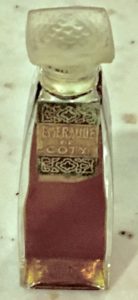 Vintage Coty Emeraude
Perfumes bottles are unique to collecting. They offer not only intangible experiences of scent and recollection but also serve as concrete collectable "things". Many vintage crystal and glass perfume flacons are so exquisite as to be almost impossible to resist. I covet the commercially produced bottles of Baccarat, Lalique, Verreres Pochet, Limoges, Steuben and others and am particularly fond of the early to mid-century offerings of Francois Coty (vintage Emeraude for one) and the creations of designer Lucien Lelong. Sometimes these gorgeous relics can be found for much less money than their newer equivalents, albeit harder to track down. The resulting "Treasure Hunt" is an indispensable part of the fun!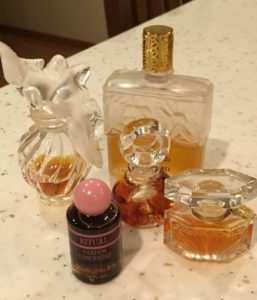 Charles of the Ritz Ritual, Nina Ricci L'Air du Temps, Molinard de Molinard, Bijan and Caesar's Woman parfums
Searching for the scarce and the discontinued is at the heart of the vintage perfumes obsession. "Scoring" a favorite scent memory, housed in an exquisite bottle – for a song – is the dream of many perfume collectors. The hunt can take us to flea markets, garage sales, auction sites, brick and mortar antique stores, on-line grey markets and swaps. One memorable purchase included three partial bottles: A pristine Nina Ricci L'Air du Temps double dove, a Caesar's Woman perfume and vintage Molinard de Molinard, all for pennies. Admittedly there are some unscrupulous dealers out there and imitations and fakes abound. But in all my years of vintage collecting I have only purchased three bottles of perfume that were misrepresented. One was a Coty La Rose Jaqueminot purportedly full of the original scent, but filled with colored water. Another was a fake bottle of Lancôme Climat and the third a vintage Rochas Femme that had completely turned. In this last case the seller kindly refunded my money and I kept the lovely bottle.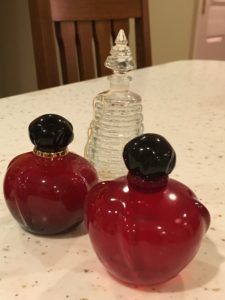 Vintage and contemporary Dior Hypnotic Poison plus empty Evyann bottle.
We can't stop the new from becoming old, but the old will be new again, whether we like it or not. Styles eventually come full circle and my outdated, vintage perfumes may find a fresh purpose. Admittedly, I will probably wear only the newer versions (Dior's Hypnotic Poison for example) as the old ones can be rife with banned and controlled substances. While it is true that vintage perfumes may have more depth and pack more punch than the reformulations, their replacements are usually cruelty free and safer, not only for the wearer, but for the entire planet. There are other reasons that I tend to wear the new – while continuing to collect the old. Not the least of which is, that despite careful storage, fragrances eventually deteriorate, losing their top notes first. As the years go by I imagine the perfumes in my collection, many created in the 1930s, will at some point succumb to the ravages of time. Until then I will enjoy them all, not only for their scent but also for the memories, beautiful bottles, for the challenges of acquisition and for the historic and olfactory education they offer with every sniff.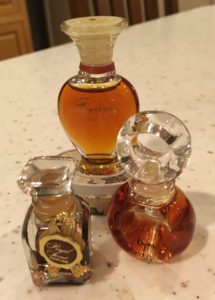 Vintage Perfumes: Royal Secret, Rochas Femme and Bijan Parfum
Thousands of new fragrances are introduced every year. No matter how stunning, many will fall by the wayside. Even though I do my best to keep up, I have to admit that I often feel overwhelmed and find it tempting to retreat to the peace and comfort of the well known and loved. Like the Roman god Janus I continue to look ahead, anticipating each new perfume while at the same time searching the past for the memories, comfort, and fragrant dreams that will shape my olfactory future.
Are vintage perfumes important to you? Do you collect memories and beautiful bottles or are you looking for totally new perfume experiences? Does scarcity entice? Does age repel? Let's talk about it! What are your favorites?
Gail Gross – Senior Editor
All photos are of Gail's vintage perfumes unless otherwise noted