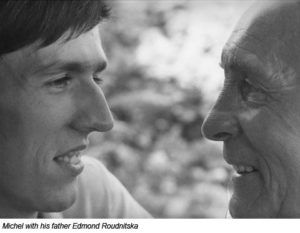 Michel with his father Edmond Roudnistka (photo property of Michel and shared with Michelyn in 2010)
There is no doubt in my mind that Rochas Femme, composed in 1944, is a stunning, classic beauty and that the creator, Edmond Roudnitska, was one of the most talented perfumers of the 20th century. Before I begin my review of this masterpiece, the remarkable perfumer, shaman and activist Michel Roudnistska, Edmond' Roudnitska's son, has been kind enough to share with our readers the true story of the creation of Femme.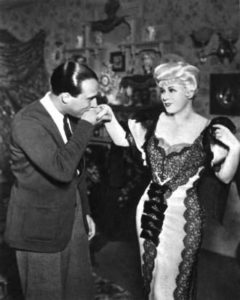 Marcel Rochas and Mae West 1934
Edmond Roudnitska met Marcel Rochas in 1943 during World War II. This "couturier" was at the top of the French Haute Couture and was looking for a very feminine fragrance. Edmond was at that time rather experienced in creating "bases" for De Laire Company in Paris, but still a beginner in fine fragrance composition. With a very limited choice of raw materials (due to the German occupation) he had just freely composed one fragrance with a new fruity (peach/plum) "accord" based on Prunol and "Fut 5". In November 1943 he presented this unique sample to Marcel Rochas who accepted it immediately, without any discussion, without any modification. This perfume has been launched by IPO (subscription) under the name of "Femme" after the liberation of Paris, during a collection at the end of 1944. The bottle of white and pink crystal, inspired by Mae West and designed by Lalique, was magnificent. This fragrance was immediately a success as it was the first fine fragrance launched after the war.
In 1989 Olivier Cresp was asked to retool this perfume, making Edmond Roudnitska sadly say: "They stole my "Femme". – Michel Roudnitska for ÇaFleureBon, 2017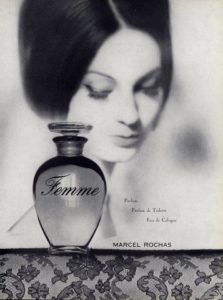 Vintage Ad Rochas Femme 1961
Rochas Femme has been part of my life for as long as I can remember. When I was a little girl a tiny bottle of Femme perfume was one of the many fragrances displayed on my mother's dressing table. I loved the black lace patterned box but dared not open it. As a young teenager I would sneak a dab of Femme on occasion and to this day remember the succulent peaches and ripe plums replete with an odd dustiness and a sharp edge that I didn't quite understand. Femme was mysterious and carnal but did nothing to satisfy my naïve, young nose. I was drawn to more overt and accessible beauties; to my mother's big perfume powerhouses like Sirocco and Jungle Gardenia and to the bright and bracing complexity of Lanvin's now long discontinued Spanish Geranium. Over the years I have maintained an ambivalent relationship with Femme Rochas, loving or loathing her, but always returning to her warm, voluptuous femininity.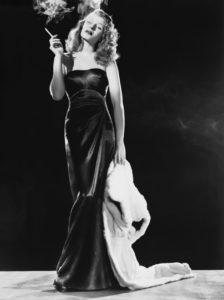 Rita Hayworth as Gilda the ultimate femme fatale 1946
The name itself – "Femme" – is open to several interpretations. The word suggests a number of images, the first of which is the sweet, pretty, compliant young woman, the type that was sanctioned by the traditional dominant male culture of the early 20th century. Another "femme" is the gender/role designation that began to be used in the1950s/60s referring to "submissive" women in same sex relationships. And then, of course, there is the notorious "femme fatale" who wields both intellectual and sexual power. Charismatic and shrewd, she uses her intense, manipulative sexuality to get exactly what she wants from men and from life. This "femme" exudes self-confidence, control and at the same time an inexplicable vulnerability that can be every man's sexual fantasy – or darkest nightmare. While the perfume Femme suggests (to me) all of these feminine modalities it is not confined to any of one them.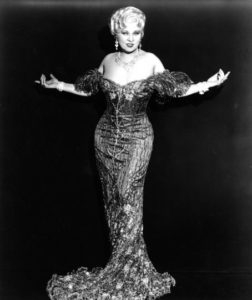 Mae West inspired Femme
In 1943/44 Edmond Roudnitska created Femme at the request of Marcel Rochas for Rochas third wife Hélène. Roudnitska was inspired by one of the most notorious and powerful femme fatales of the silver screen – Mae West. The perfumer used Prunol for the peachy sugarplum and laced this semi-gourmand with lemon and aldehyldes, fortified with dusty immortelle. At the heart ylang, jasmine, rose, spices and orris rested on a disturbing base of civet, musk, amber and benzoin. The bottle suggested the figure of Mae West and the black lace patterns on the box referenced the lacey wasp waist corsets designed by Marcel Rochas.
Now what, if anything, does Femme the perfume have to do with feminism? From my aging perspective, mid 20th century feminism – AKA Women's Liberation – was at odds with the femme fatale as well as with many other traditionally feminine roles. In the 70s certain feminists went so far as to consider the promotion and use of perfumes like Femme to be politically incorrect, regressive and predatory. In those days I was a young married mom and housewife, migrating and nesting with my young family in various locations around the world. Instead of being liberated by early feminism I felt pigeon holed, demeaned and patronized simply because I did not work outside of the home. I was happy to be a homemaker and felt totally fulfilled in my role as mother and wife, but the notion that I should be "liberated" cast a shadow on my contentment. That being said, my bottle of Femme perfume was rarely used, as it was often too provocative, rich and ripe for my practical homemaker's taste. Make no mistake, though, I was a party girl as well as a mom. But in those days it was green, resinous galbanum, rather than ripe plums that made me feel sexy and powerful and my favorite fragrance was Guy Laroche Fidji.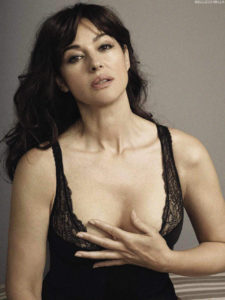 Monica Belluci is 52 photo by Sandrine Dulermo and Michael Labica for Citizen K International, Spring 2016
Over the years, as life and circumstances have changed, I began to appreciate and resonate with the ideals and goals of a new feminism. As the movement evolved it no longer seemed to be at odds with the role of housewife and mother or the motives and manipulative power of the femme fatale. Now, in my mid 60s, I have learned that the most radical and "feminist" thing any woman can do is simply be the person she really is and say what she really means, whether that be about politics, perfume or anything else! I have also come to a genuine appreciation and love for the unabashed and honest sexuality of the original Femme. At long last, I believe I have developed a better understanding of my 1950s vintage Rochas Femme, the same scent (albeit it aged), in the same lace patterned box that graced my mother's dressing table so many years ago.
Gail Gross – Sr. Contributor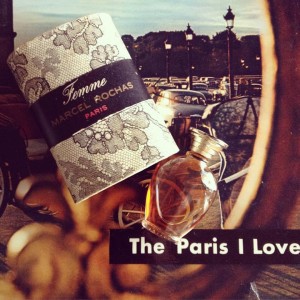 Early1980s bottle collage Dawn Spencer Hurwitz
Art Direction: Michelyn whose first grown-up perfume was Rochas Femme gifted to me by a French gentleman while I lived in Paris (which may explain my penchant for peach and plum notes as well as prunol in my personal fragrances). Dawn Spencer Hurwitz created Reveries de Paris for me, which took seven years, based on my experiences as a young woman and my love of Rochas Femme.
We are offering a 10 ml decant of the original vintage formula Rochas Femme EDP from a bottle Michel gifted Michelyn (marked 1959) when they met in NYC in 2008 to one registered reader in the EU, USA or Canada. (Be sure to register or your comment will not count.) To be eligible for the draw please let us know whay you thought of Gail's review (if you agree with her that being a feminist doesn't preclude you from being a femme fatale), Michel Roudnitksa's true story, and where you live or comment on feminism and honest sexuality. Draw closes 1/8/2016
We announce the winners only on site and on our Facebook page, so Like Cafleurebon and use our RSS feed…or your dream prize will be just spilled perfume