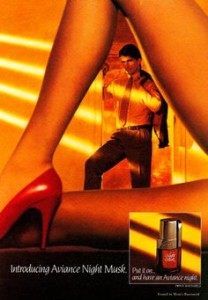 Aviance Night Musk 1983
When was growing up there was always certain perfumes that would stick out to me at drug stores. Prince Matchabelli's Aviance Night Musk and Wind Song were among them. I was (and still am) extremely fond of both, but Aviance Night Musk was just beyond my comprehension wonderful. It's a glorious concoction of florals and vanilla musk that I love today as much as I did as a little pip squeak boy ogling over the perfumes at the perfume counter. Of course, Wind Song always had a song to go with it…making it, well, something that stayed on my mind. Did you all just hear it? I bet a few of you did…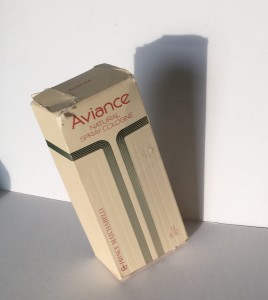 Aaron's bottle of Aviance
This song, however, is not the one I want to focus on. In 1975 the house put out a perfume that really helped set the stage for the development of perfume tastes for several years to come. In ways, the perfume was an unsung hero, her name was Aviance. Now, I am not sure if there is really a bonafide "definition" of what the word means, but "forward" is the definition I am going to settle with. That one simple word says so much.
Aviance Perfume Commercial "I've been sweet, and I've been good/I've had a whole, full day of motherhood/But I'm gonna have an Aviance night!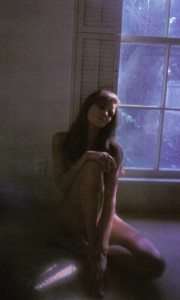 Raquel Welch 1970s
Like Wind Song, the marketing/advertising team made an attempt to place the perfume in the minds of the public in a certain way. Aviance was pitched as a perfume for hard working women that deserved a little "attention" after hard day of housemaking/working. It was the beginning of, the "you get it, girl" frame of mind. It was one of the sexiest ads for its day and written by a woman… Lois Geraci Ernst, the C.E.O. and founder of Advertising to Women .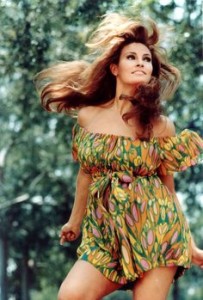 Raquel Welch 1970
The perfume itself is a Floral- Chypre hybrid. Moreover, it's like a best of Prince Matchabelli remix from the 1950's updated to the mid 70's right before the disco craze started to take off. There are two "song" elements that play in mind when I smell Aviance; the Floral-Aldehyde symphony of Wind Song and the romantic yet dirty Animalic and lightly green Chypre of Beloved. For those of you not familiar with these two, they are both quite lovely and having them mixed together is pretty revolutionary. It moved both forward and back into a new era. To start we are greeted with a blast of subtle green with aldehydes and hints of white roses, jasmine sambac, subdued bergamot, and nitro musks giving an ambrette effect (which actually reminiscent of another Prince Matchabelli creations, Golden Autumn). The cloud that emanates is not overpowering at all, it is more seductive and very nicely done.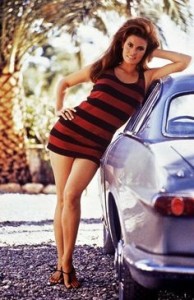 Raquel Welch Myra Breckinridge 1970
The mid notes are quite interesting as the aldehydes start to fade the remainder of them is very waxy. It's quite distinct in this perfume. Many times this is something that is overridden by other notes, but here the waxiness takes front and center. Actually, it rather brazen. Amongst this there is a certain spiciness that develops that isn't quite that of clove, carnation, or cinnamon that is straight up addicting. The musk is also begins morphing here becoming cleaner, yet oh so very dirty minded.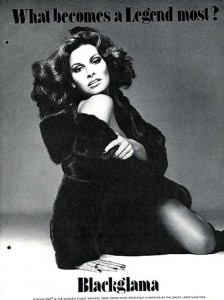 Raquel Welch 1975 Blackglama Ad Campaign
As the fragrance starts to fade the animalic aspect of musk is pretty much front and center. It's reminiscent of what one may call "skank", but it's still far too clean to be a brazen whore. I think "suggestive" is definitely the word I am looking for. Here we also get elements of Tonka, a tiny little bit of Oak Moss and Vetiver, and a slightly creamy, but dry Sandalwood.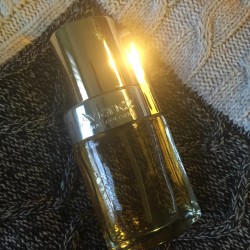 Photo Aviance by Aaron
Overall, I must say this perfume will go in my little book as one of my favorites from the decade of the 70's. Unfortunately, this perfume was one that didn't survive, but it' spirit still lives on Like Revlon's Charlie before it one thing is for sure, the marketing/advertising campaign around it helped set the stage for other similar concepts a few years later. "I can bring home the bacon…." ring any bells? I thought so.
–Aaron Potterman, Contributor and Vintage Perfume Expert