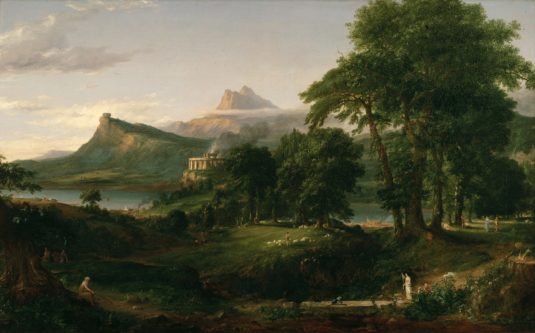 The Arcadian State, Thomas Cole, 1834, © The New-York Historical Society
"The subtle secrets of power" or "the mysteries of persuasion" are possible translations of Arcana Imperii, the name of the latest fragrance from the Brooklyn-based natural perfumery Villa of the Mysteries. The traditional understanding of the phrase "arcana imperii" is "state secrets" but that translation doesn't reflect the mystical, personal nature of the perfume. This scent quietly takes you on a winding trek through an ancient forest leading you in the search of a secret, floral glade.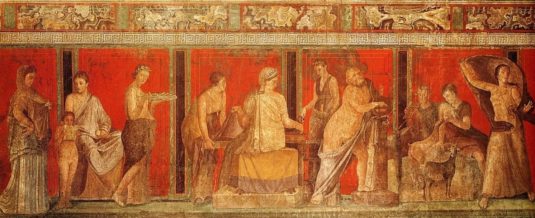 Fresco from Villa of the Mysteries, Pompeii, ca. 50 BCE
The first time I met Paula Pulvino, founder of Villa of the Mysteries, was in her lovely Brooklyn turn-of-the-century brownstone. I'd come for an afternoon class on blending natural perfume based on ancient recipes. This is her specialty. Her grandparents in Italy owned a small perfumery and apothecary shop. Paula inherited a book from her grandmother full of formulas calling for Mediterranean ingredients that had been used in perfumes and unguents for thousands of years. She has adapted these recipes to create a line of six modern fragrances that evoke our ancient, shared memories. Paula named her perfumery after a house in the ruins of Pompeii, Villa of the Mysteries. The preserved frescoes of this home present Roman women participating in nature-focused religious rites, complete with satyrs playing pan-pipes and initiates carrying armfuls of aromatic plants like myrtle, laurel and pine. Our blending class included many ingredients like these that would have been used by our ancestors to cure ills, worship their gods, and produce beautiful perfumes for pure pleasure. We had a magical afternoon discussing Roman history and mystery religions while we blended ancient accords.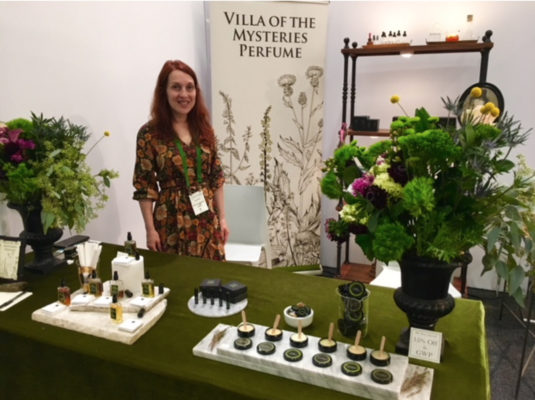 Paula Pulvino at the 2018 Indie Beauty Expo © Hernando Courtright
The Indie Beauty Expo is an annual event in many cities. In August I attended the show here in New York and was thrilled to see that Paula was an exhibitor. She was debuting the latest perfume in her line, Villa of the Mysteries Arcana Imperii. (Last year Villa of the Mysteries was nominated for an award as Best in Show/Fragrance at the Indie Beauty Expo.) Of course there was a crowd around her booth so we didn't have time to chat for long. I took a deep inhale of the solid version of the perfume and I knew I needed to take some home. "Cade?" I asked Paula. "No, birch tar, but it's not listed as an official note," she quietly answered over someone's head as she was graciously packaging her fragrances for customers. I felt special to be in on a "state secret"!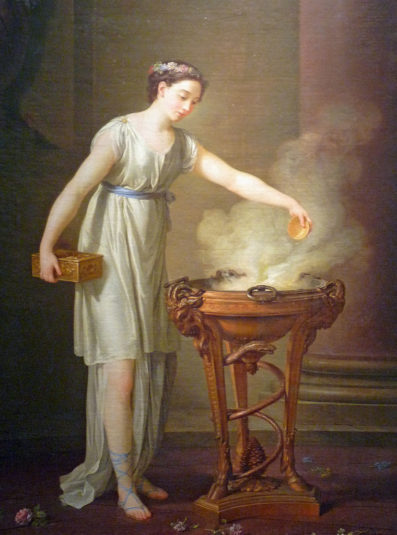 Priestess with Tripod, Joseph-Marie Vien, 1762, © Museum of Beaux-Arts, Strasbourg
Has a fragrance ever transported you into a very specific and detailed dream scenario? That is exactly what Villa of the Mysteries Arcana Imperii does for me. I'm in a lush, green, ferny, ancient forest. The soil is dark and rich with humus under my feet. The rocks and trees are moss-covered. My nose twitches at a wisp of smoke from a distant wood fire and the prick of fresh pine needles crushing under my feet as I walk. The citrus-like brightness of elemi comes sparkling through like sunlight glittering through a thick canopy of leaves.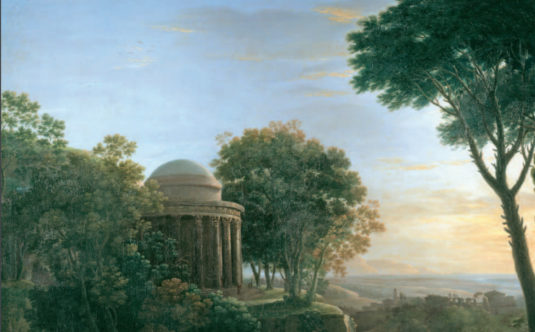 Temple of Vesta, Robert Crone, 1765, © Gorry Gallery
The aroma of Villa of the Mysteries Arcana Imperii is sylvan, grounding and meditative. I may be sitting in my living room in Brooklyn but my soul is wandering deep in the forest on the fringes of civilization. The darting of the light and hide-and-seek of the smoky notes lead me on. I feel as I'm being drawn toward something but not sure what. Over an hour into my journey a new beauty opens on my skin. I've stepped into on open glade surrounded by honey-scented linden trees. In the center is simple marble temple whose floor is strewn with sweet lavender and grassy sage. This is a place to rest, perhaps to levitate, to be restored and grateful for the beauty the earth has to offer. The floral stage of the perfume lasts quite a while before you are left with gentle, lingering woody, musky, warmth.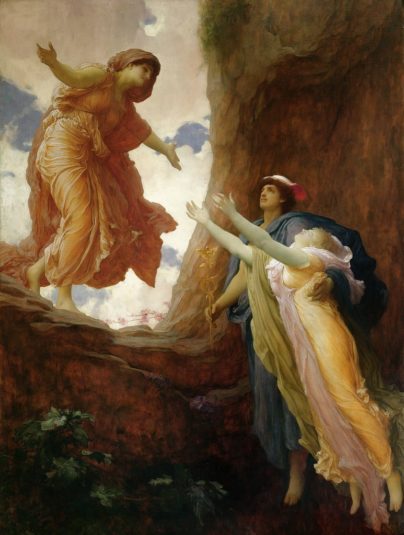 The Return of Persephone, Frederic Leighton, 1891, © Leeds Art Gallery
I have worn both the concrete and bottled eau de cologne versions of Villa of the Mysteries Arcana Imperii. Both perform well but I prefer the creamy solid (made with a base of beeswax and almond oil.) Layering the two results in the best projection and longevity.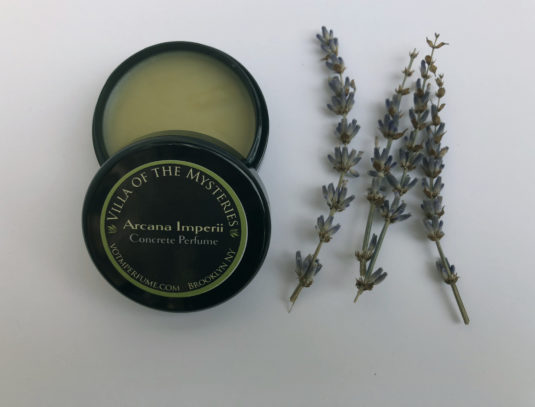 Villa of the Mysteries Arcana Imperii Concrete, courtesy of Paula Pulvino
Paula Pulvino's perfumes are handmade in small batches from all natural essential oils and absolutes, organic and locally sourced whenever possible. Notes: clary sage, elemi, oakmoss, cedar, birch tar, lavender maillette, linden blossom.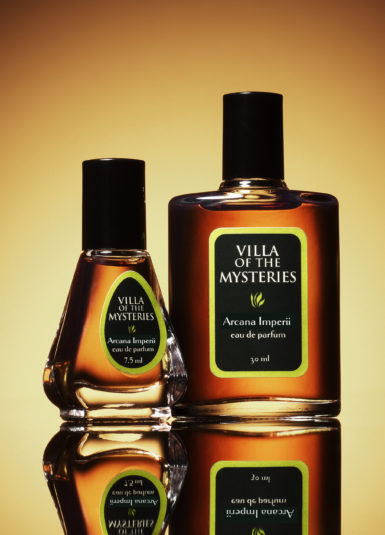 Villa of the Mysteries Arcana Imperii Eau de Parfum courtesy of Villa of the Mysteries Perfumes
Disclaimer: I purchased the concrete perfume but was given a sample of Villa of the Mysteries Arcana Imperii eau de cologne by Villa of the Mysteries. My opinions are my own.
Marianne Butler, Senior Contributor
Follow us on Instagram: @CaFleureBon @Spritzi_McGillacutty @VOTMperfume
Thanks to the generosity of Villa of the Mysteries Perfumes we have the choice of one 30 ml bottle or a 20 gram solid of Villa of the Mysteries Arcana Imperii available to one registered reader in the US. Be sure to register or your comment will not count. To be eligible please let us know which you prefer to win the solid or the 50 ml EDP, tell us what appeals to you about Marianne's review of Arcana Imperii, and your favorite figure from ancient history or mythology. Draw closes 10/17/2018
We announce the winners only on site and on our Facebook page, so Like ÇaFleureBon and use our Blog feed…or your dream prize will be just spilled perfume.