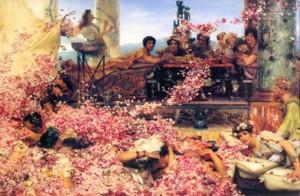 Alma-Tadema—Roses-of-Heliogabalus
I love strong ballsy roses, cut with woods, salt, oud, patchouli, hairspray, candyfloss, chocolate and the retro lipstick beauty of violet. It is a scent I have come to late in life, looping me back directly to my childhood in the Middle East where rosewater and the scent of woody, smoked rose oil are filtered through everyday life. I have a lot of rose perfumes in my collection, some sweet, some dipped in cocoa, some burned through with patchouli, fire and smoke, others more traditional, slow burning, gardens at dusk and the scent of summer kisses and languid skin.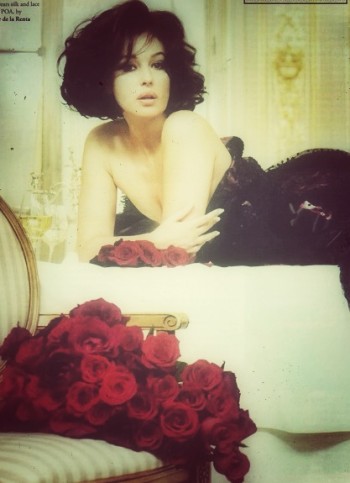 Monica Belluci
Jean-Paul Guerlain's Nahéma from 1979 is the rose that burns like ruby fire in my heart. Sometimes it seems to be almost too much to bear, something that might consume me if I wore too much at once, burn me to ground in a blaze of Ferrrari-tinted flame. Nahéma is violently beautiful, the Monica Belucci of rose scents. Some claim it contains no rose at all and is a masterpiece of aromachemical sleight of hand. In fact there are roses galore, Rose de Mai, Bulgarian rose, oil of roses and damascenones, the natural isolates found in roses that flicker in scent like vermilion flames in distant windows. The peach accord, so beloved of Guerlain just gilds the lily as it were, adding layers of bronzed depth and warm honeyed addiction.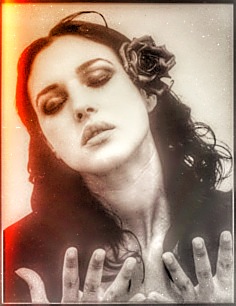 Monica Belluci fiery rose
It causes the roses to deepen in tone mingling with voluptuous ylang, lily and vanilla. It inspires shock and awe and no one else has come close to capturing the power and impact of Nahéma's massive beauty. It seems like every rose ever made and like no real rose at all. I had forgotten its ability to literally stop my world turning, just for a moment as a storm of roses splinters, then coalesces and reforms around you.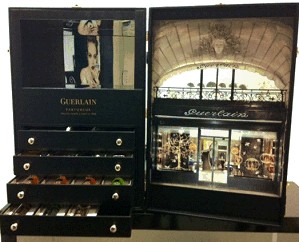 Guerlain Boutique Paris Photo CaFleureBon 2011
I have been a Guerlain fan for years. I know the House has tweaked and reformulated scent upon scent over the decades, but there is still a palpable sense of magic and majesty around this revered maison de parfum. Derby, Chamade pour Homme, Spiritueuse Double Vanille, Bois D'Arménie, Shalimar, Sous le Vent, Atrappe-Coeur; all of these have decorated and loved me. Any trip to Paris must include a visit to the flagship salon on the Champs Elysées, now in its newly refurbished domain. No expense has been spared in the lavish creation of a sensuous spiritual home for Les Parfums Guerlains. Eternally chic and glittering, there is an art and museum style reverence for every Guerlain scent from bestsellers such as Insolence, La Petite Robe Noire and Idylle; classics like Jicky, Mitsouko, Après L'Ondée and hidden treasures like Iris Ganache, Cruel Gardenia, Derby Pour Homme and Quand Vient la Pluie.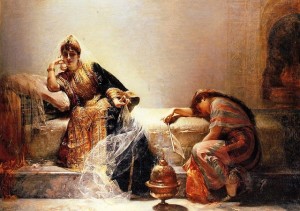 Edouard Richter sheherazarde
All rose fragrances hold secrets I think, something dark and private for each individual wearer. Like unfolding velvet petals, there is shadow at the heart. Nahéma is a vortex of rubicund emotions, drenched in the grandest Orientalist drama. It is one of the few great Guerlain fragrances, I continue to wear that still continues to intrigue me. It has changed of course, the roses are a touch more brassy than before, the base a little more shallow, the opening aldehydes a little exhausted. But the overall power still remains, as I own both a 1993 and a current version.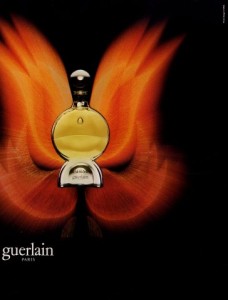 Vintage Guerlain Nahema ad 1980
Nahéma, which means "daughter of fire", is an olfactive essay in smouldering love, a light that burns through the years, igniting the skins she loves,a fantasy rose, a storyteller's dream, an essence of 1001 Nights. It has a voluptuous body, blush-toned and a little coy.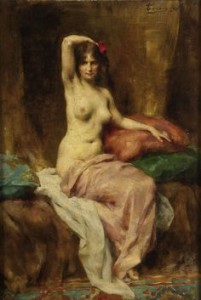 Henry Tanoux Orientalist
But behind the seemingly innocent play of pretty soft peach, plush skins and heavy burgeoning roses, there is serious eroticism. I love the emotions she provokes, drama, contemplation and a sense of something secret, something lost that leaves behinds a deep dark rose-filled hole. When is a rose not a rose. When it is made from burnished gold. It is not a Guerlain bestseller, but it is one of the remarkable fragrances the House has produced. When I wear it I feel gilded and special as if I'm quietly on fire, flickering in the dark. There are roses everywhere, but there is nothing quite like a Guerlain rose.
Sr. Editor, The Silver Fox and Editor of The Silver Fox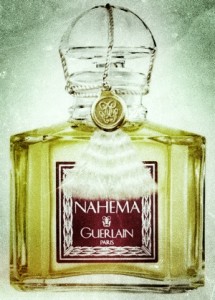 We have a 2ml sample of Vintage Guerlain extrait from our private collection circa 1993 for one reader in the Eu or the USA. To enter, please leave a comment with what you enjoyed about this review of Nahema and if you own any vintage Guerlain perfumes. Draw ends 12/31/2014
We announce the winners only on site and on our Facebook page, so like Cafleurebon and use our RSS option…or your dream prize will be just spilled perfume