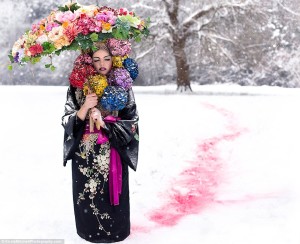 Spirited Away From Wonderland by Kirsty Mitchell
What is it about lists that everyone loves? We have waited over a month to publish this one. This year, spring just arrived what feels like moments ago in most parts of the Northern Hemisphere. Many of us are packing away our heavy parkas and snow boots, (admittedly not too far back in the closet; it snowed on Easter Sunday in New England and the Midwest of the US. There was sleet and slush upon Michelyn's return from Excense Milano). So don't blame us if we are wary; this post was ready to go live March 19. No season could be more welcome than spring 2015.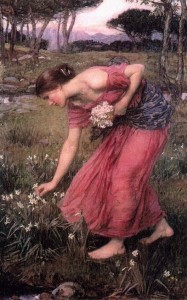 John Williams Waterhouse Persephone
"The Greening" is upon us, and aromatic desires swell, nature pulling flora out of winter storage and perfumes to thaw our icicle minds. Joy is the order of the day, and for this I reach for archetypes of the Earth in its rebirth. It is the cool perfection in a green ice flower of galbanum and lavender. Persephone leaves Hades represented by JoAnne Bassett's Josephine. A perfumed promise to keep her word– when it melts the world will again turn toward winter.
The part-time underworld princess rushes toward the surface to bloom; like the intoxicating boronia on mango in Carmen Dances by Perfumer Elise Pearlstine Tambela. The sensual passing of Perspehone dancing, freed from exile. Her toll and promise for Charon to recross the Styx- an awaited event in the Underworld; a place undeniably improved by her yearly sentence.
Tempted Muse by Award winning Perfumer Tanja Bochnig of April Aromatics brings to mind Demeter, making good on allowing spring to happen at all. Her fruit, food for humans fallen from ambrosia tears at the return of her beloved daughter. Tonka and anise base notes bursting with pacts kept by forces greater than Christmas wishes and Valentine's Day's passionate promises. Humans may be pitifully inconsistent in our patterns, but spring brings Earth to task… and offers hope as we drag ourselves through Hades year after year.
–Natural Perfume Editor, Einsof
Men and Flowers by Tim Walker
Bruno Fazzolari – Jimmy: Inspired by poet James Schuyler, lover of growing green things, it is my antidote to the WORST Winter on Record here in Massachusetts. A shimmering green floral laced with violet filigree, Jimmy practically skips through the grass trailing Roses. Hell man, even DAYLIGHT is listed as a note.
I Profumi di Firenze – Plenilunio: A spring night, a full moon and Strawberries! Although they're not technically growing until the start of summer, what better perfume to usher in the relief of warmer weather? Demure and decadent, Plenilunio is packed with the scent of red fruit, mandarin and amber tinged woods.
-Editor, Steve Johnson,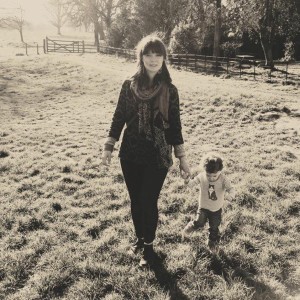 Susie and her little one out for a spring walk. Doesn't this picture look like a scene from a BBC TV Series?
Now that the weather is warmer, it is time to break out my bottle of 4160 Tuesdays 'Sunshine and Pancakes'; a lovely, lighthearted creation by maverick perfumer Sarah McCartney. This scent, with its sunny citruses, dripping with honey never fails to cheer me up. Don't let the cheeky name put you off. As Sarah writes, "We pretend it is about pancakes, but it's the sensuality of warm skin"
My second sun salutation scent is the creamy floral floral bliss of Penhaligon's Orange Blossom. Originally created in 1976 and resurrected by Bertrand Duchaufour as part of the 2010 Anthology collection, it is one of my all time favourite perfumes featuring one of my all time favourite notes. This is a fifties pin-up girl on the beach with blossoms in her hair and a cheeky smile on her face. I adore it.
-Sr. Contributor Susie Baird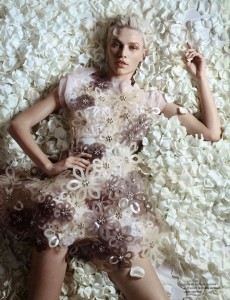 Aline Weber by Liz Collins for Numéro #132
For days when I want to escape being a mum in jeans, I like to spray Tubereuse Couture from Parfumerie Generale (Pierre Guillaume). This is a take no prisoners sexy tuberose that has a sweet banana like accord (ylang ylang) with a dusting of sugar and a hint of green jasmine shoots. It has a bit of tropical vibe, but make no mistake it is all about the heady Indian tuberose. If you dream of wearing a risqué haute couture gown that shows more than a bit of skin, PG No 17 is the next best thing.
– Senior Contributor, Megan Paki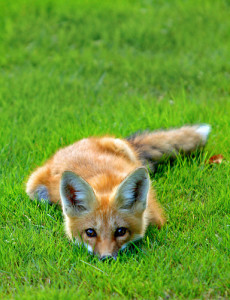 TSF ventures outside
Speakeasy is Marc-Antoine Cortichiatto's masterpiece for Frapin, a portrait of ambivalence, shared desires, cocktails, secrets and laughter in the night. Leather and smoke whisper of jolting love in louche deco bars. It's the gorgeous mojito accord of mint, lime and rum that clinches it for me, mixed with a sweet bready background whiff of rum baba. Perfume fills the bar; a smear of lipstick stains a glass, hairspray mixed with booze and cigarette trails. It may be Spring outside, but baby it's dark inside.
Fils de Dieu (du Riz et des Agrumes) was created for Etat Libre d'Orange by Ralf Schwieger of Mane. This twisted take on the classic Guerlain vanillic oriental is lifted by the most extraordinary steamed jasmine rice effect, literally like lifting the lid on slow cooking rice and inhaling the sweet green, humid Pacific Rim aromas that flood out. Coconut, shiso leaf, rose, ginger and vanilla lay carefully of a bed of oh so white musks and a growl of castoreum. It is a near perfect scent, layering magnificent oddity with gourmand compulsion.
-Editor, The Silver Fox
All art direction Michelyn Camen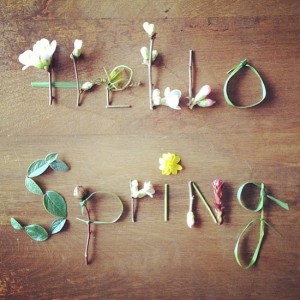 For our Hello Spring Fragrance Draw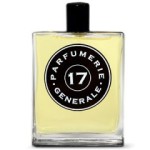 Merci Pierre Guillaume for offering 30 ml Parfumerie GeneraleTubereuse Couture–Worldwide (Michelyn met with Pierre at Esxence 2015 and they both agreed it is one of the unsung perfume heros of the PG Line)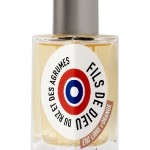 Bise to our friend Etienne de Swardt, Creative director of Etat Libre D'Orange for 50 ml of Fils de Dieu WORLDWIDE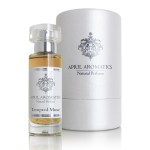 From the ever generous Tanja Bochnig April Aromatics 7 ml sprayer of Tempted Muse–Worldwide ALL NATURAL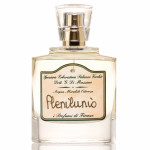 With gratitude from Indigo Perfumery in Cleveland and Ann Onusko for sponsoring 50 ml of I Profumi di Firenze – Plenilunio USA ONLY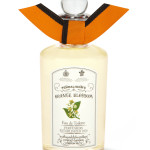 Ever Grateful for the 100 ml of Penhaligon's Orange Blossom thanks to Penhaligon's North America (USA and Canada)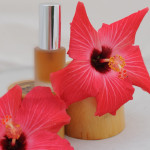 Many thanks to Sr Contributor and perfumer Elise Pearlstine for 10 ml EDT Carmen Dances Tambela USA ONLY ALL NATURAL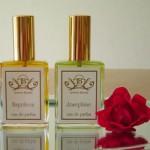 From JoAnne Bassett, who is celebrating her 20th yr as a perfumer for 5ml JoAnne Bassett Josephine USA ONLY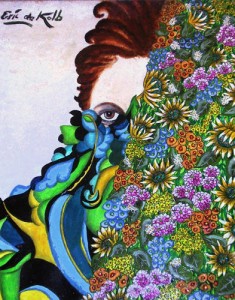 Eric de Kolb Behind Flowers
Spring is a great time to start anew; to enter you must be a registered user of ÇaFleureBon. It is simple to do, just follow the prompt here. Now that you are official, to be eligible, please leave a comment with what you thought of our Best Spring Perfume choices, the fragrances you would like to win (at least one must be all natural), where you live by April 16, 2015.
We announce the winners only on site and on our Facebook page, so Like Cafleurebon and use our RSS option…or your dream prize will be just spilled perfume.