ANGEL is a fragrance very connected to my childhood, and it continues to fascinate me now as much as ever. It's very exciting to become the new face of the ANGEL woman… 19 years after my mother was the ANGEL muse!" —- Georgia May Jagger
As of July 1, 2014, Thierry Mugler Parfums has a new ANGEL icon: Georgia May Jagger the daughter of Jerry Hall former Angel spokesperson. A rising young star in the international worlds of fashion and beauty, London-bred Georgia May Jagger is instantly recognizable by her sexy gap-toothed pout. At just 22 years old, she has already appeared in major fashion magazines worldwide and attracts over a million followers via her social networks. She is one of the most high-profile trendsetters of her generation and the eighth woman to appear in an Angel Perfume ad and follows Eva Mendes who was the face of the fragrance since 2011.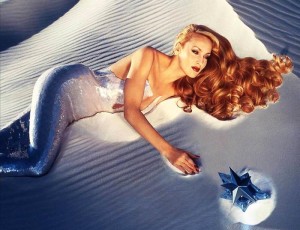 Jerry Hall in Angel Ad 1995
ANGEL launched 22 years ago has consistently been a world-wide top-selling product., created in 1992 by Olivier Cresp and Yves de Chirin. The choice of Georgia May Jagger ushers in a new modern era in the ANGEL legend.Her mother, supermodel Jerry Hall, was a muse of Thierry Mugler. Hall appeared regularly in his Paris runway shows and was ANGEL's icon from 1995 to 1997. Georgia May reflects her mother's beauty and innate sense of glamour, and her father Mick Jagger's rock attitude and creative spirit. Like this iconic fragrance, Georgia May shakes up the established codes with her natural, yet sexy rock n' roll style.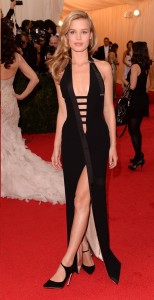 Georgia May Jagger at the Met Ball dressed in Mugler
Georgia May Jagger attended the 2014 Met Benefit Gala wearing a provactive black cut evening gown created by MUGLER Paris's newly-appointed designer, David Koma, as a preview of the brand's relaunch runway debut during the September 2014 Paris fashion week. Fitting for the new campaign's slogan Beware of Angels!
Both THIERRY MUGLER PARFUMS and the fashion house MUGLER PARIS are brands owned by Paris-based Groupe Clarins.
via Groupe Clarins
-Michelyn Camen, Editor in Chief