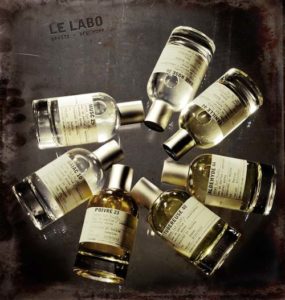 There are nine Le Labo CITY EXCLUSIVES: Vanille 44 (PARIS), Tubéreuse 40 (NY), Poivre 23 (LONDON), Musc 25 (LOS ANGELES), Gaiac 10 (TOKYO) Limette 37 (SAN FRANCISCO), Baie Rose 26 (Chicago), Cuir 28, (DUBAI), Benjoin 19 (MOSCOW)
We are in late-September –summer is winding down, school has started and the world starts to feel a bit more serious. For perfumistas, September is a banner month: fall releases pour in, stores stock new lines and – drum roll, please – Le Labo holds its annual event during which all City Exclusives are available both online and in stores until the end of the month worldwide.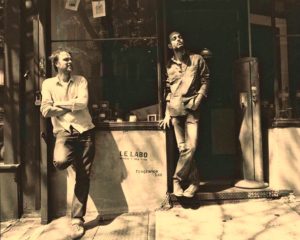 Le Labo's Co Founders Fabrice Penot and Edouard Roschi (Le Labo-ized by Michelyn)
Founded in 2006 by Creative Directors Fabrice Penot and Edouard Roschi, Le Labo has become (in)famous for its City Exclusives; perfumes assigned a specific city in which it is solely available. But once a year, these rarified beauties become available to the rest of the world. Yes, folks, this is your chance to snaffle one of those coveted bottles without hopping on a plane for some long-distance travel or hiring a scent mule. These are my picks of the City Exclusives that every perfume lover should get their hands on between now and September 30th – Poivre 23 (London), Vanille 44 (Paris) and Benjoin (Moscow), all of which work beautifully in cooler weather.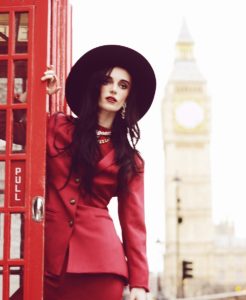 London Fashion Editorial Photo by Erica Matthews
I must start by saying that Poivre 23 (2008, Nathalie Lorson), the London exclusive, is one of my very favorite perfumes. Its rapturous blend of astringent black pepper and warm benzoin is provocative yet deliciously comforting. I lived in London for many years, and Poivre 23, a rich, aromatic oriental, captures some of my old home town's splendid contradictions.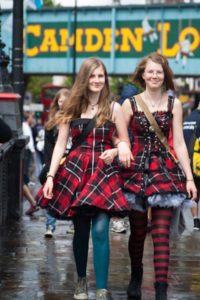 Camden market, photo by The Daily Mail
The aggressive pepper note that opens Poivre 23 captures the in-your-face brashness of Camden Market — a take-no-prisoners spice attack. But rather than hanging around the curry shop, this pepper has other plans. It grabs you by the hand and takes you for a stroll in the woods of Hampstead Heath, where it picks up some aged oak and bonfire smoke.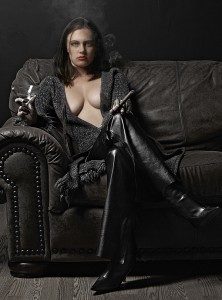 Photo by GD Whelan
Then Poivre 23 heads down to Mayfair, where it pours its amalgam of woody-spicy notes over a thick, vanillic benzoin and resinous labdanum, as cuddly and luxurious as a Bond Street cashmere coat. The woods and pepper sink into the benzoin, a slightly boozy note emerges, as Poivre 23 settles down in a comfy chair for a brandy at The Connaught bar.
Notes: There are 23 of course including Cistus labdanum, incense, patchouli Indonesia, gaiaic wood, pepper bourbon, Australian sandalwood, vanilla absolute, styrax resin.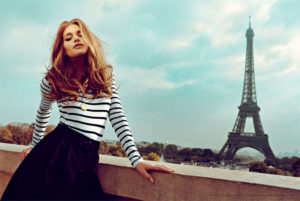 Photo by Alison Arboux for Kurv Magazine
Vanille 44 (2007, Alberto Morillas), an incense-vanilla-gaiac fragrance, a paean to Paris: the smoky-sweet baking aromas that permeate the city, the warm wood of the plane trees that line her boulevards, the lingering perfumes of a thousand silk scarves wafting in passing. And, as you might expect from a perfume made for la ville d'amour, Vanille 44 is the sexiest of the Exclusives, with an understated sensuality that is come-hither as a backward glance.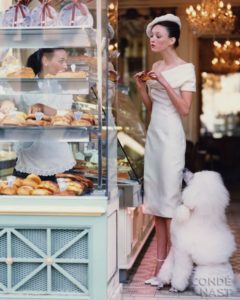 Photo by Arthur Elgort, Vogue Cover, March, 1999
This vanilla purrs on the skin like a contented kitten. Vanille 44 starts with a smoky, kohl-like note as the incense starts to bloom almost immediately. I get the incense note a few seconds before I detect the Bourbon vanilla, dry and off-sweet, and quickly blends with a toasted wood note from the gaiac.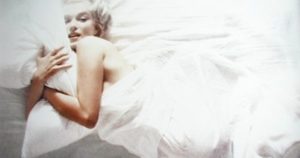 Marilyn Monroe, photo by Douglas Kirkland
Rather than going bigger as it expands the way Poivre 23 does, Vanille 44 actually lightens in its middle stages, as hedione surfaces, adding a tickly sparkle that remains throughout the rest of Vanille 44's development, and a subtle fruity brightness is added by mandarin. In the dry down, the incense, vanilla and woods mellow, curling up together on a bed of musky amber – the perfect perfume for wallowing in disheveled silk sheets.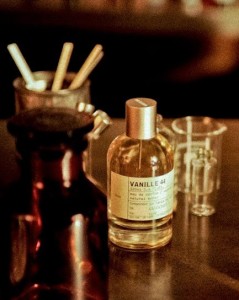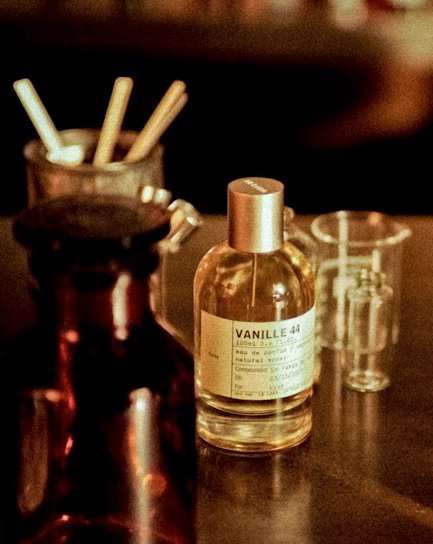 Le Labo Vanille 44
Notes: There are 44 and include Natural bergamot, incense, mandarine, gaiac, vanille bourbon, muscenone, pipol, hedione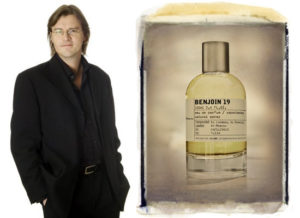 Benjoin 19 (2015), Frank Voelkl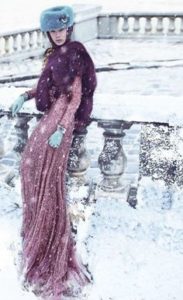 Photo by Thomas Whiteside for Tatler, Dec 2011
Snowy Moscow's signature fragrance, Benjoin 19, is, in similarity with Poivre 23 and Vanille 44, warm and enveloping. But where Poivre spices things up and Vanille smokes, Benjoin snuggles. Cedar is more prominent here than the gaiac in Vanille 44 and the unctuous resins of Poivre 23 are downplayed in here to give benzoin a starring role. This benzoin is velvety, almost dusty, and very slightly herbal, which may be due to the subtle piney quality of frankincense (olibanum).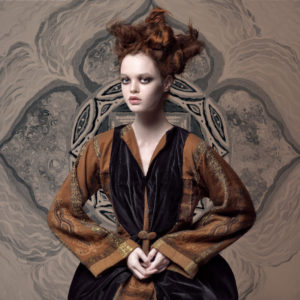 Photo by Andrey Yakovlev & Lili Aleeva
Cedarwood gives Benjoin 19 backbone and balance in the middle stages and keeps the benzoin and amber from careening into heaviness. This is what I'd like to be wearing, swaddled in a pashmina, the next time I watch Yuri Zhivago read his love poems to Lara on a frigid night.
Notes: There are 19 and include Olibanum, amber, cedar, musks, benzoin
All three City Exclusives have exceptional longevity and above average sillage. Get them before they are gone!
Disclosure: From my own collection
— Lauryn Beer, Editor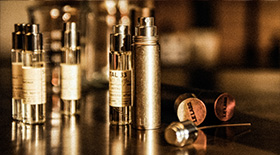 Thanks to the generosity of Le Labo, we have a reader's choice of a 15 ml bottle, which will be hand poured with the winner's name of course of either Poivre 23, Vanille 44 or Benjoin 19
OR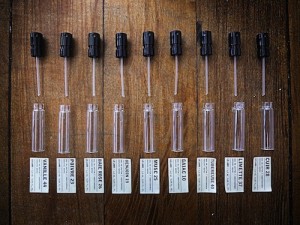 Photo Le Labo discovery kit not shown
a Le Labo discovery set of Poivre 23, Vanille 44 or Benjoin 19
The draw is for our registered readers YOU MUST BE REGISTERED CLICK HERE in the US, Canada and Europe. To be eligible please leave a comment with what appeals to you about Poivre 23, Vanille 44 or Benjoin 19 based on Lauryn's reviews, where you live and if you have a favorite Le Labo City Exclusive. Please be sure to indicate your choice from the above should you win and for fun what city would be your choice for a new fragrance. Draw closes 9/27/2016.
Editor's Note: a sample is $12 and can be purchased online and at any Le Labo department or boutique. Our full reviews of City Exclusives: Limette 37 is here Cuir 28 is here Benjoin 19 (Tama Blough offered to sell her Grandma for a bottle And to marry Frank Voelkl, in this memorable review) here, Vanille 44 here Baies Rose 26 here Cuir 28 here. I don't know how as a New Yorker Tubéreuse 40 has not been reviewed, but we need to rectify that soon. If you are new to Le Labo the number of notes follow the ingredient. Often, the main ingredient takes on a different life with the addition of the ancilary notes. Vanille 44 is my personal favorite a signature scent for me, with Gaiac10 (Annick Menardo) a close second and Limette 37 (Frank Voelkl) right behind them. -Michelyn Camen, Editor in Chief
We announce the winners only on site and on our Facebook page, so Like Cafleurebon and use our RSS option…or your dream prize will be just spilled perfume