Creative Director Luc Gabriel of The Different Co. and Co Founder Master Perfumer Jean-Claude Ellena (photos: TDC)
How many perfume companies can boast they were co-founded by one of the world's greatest perfumers? Launched in 2000 by Jean Claude Ellena and Thierry De Baschmakoff, The Different Company (TDC) was formed to create "exceptional fragrances embedded in real works of art … freed from the constraints of costs, from the marketing codes." Creative Director Luc Gabriel joined them in 2004 "to carry the DNA and the development of the brand."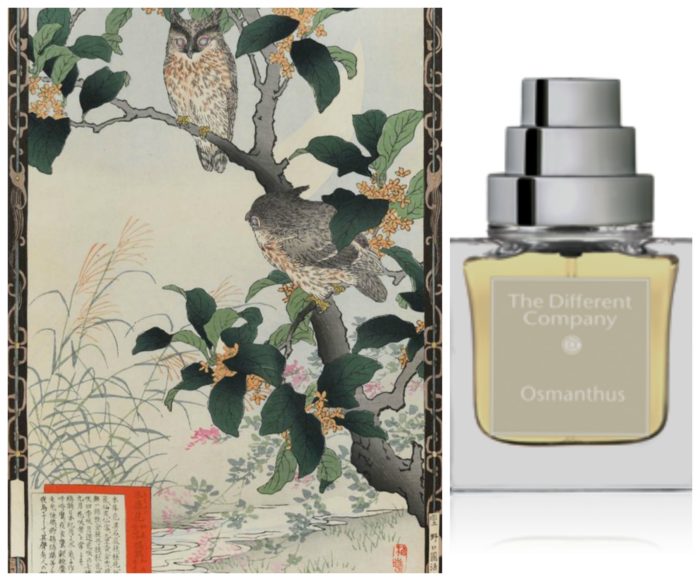 Osmanthus and Horned Owls (detail), Bairei, 1883 and The Different Co. Osmanthus (Collection Juste Chic)
The first wave of TDC fragrances were developed by Jean-Claude Ellena and bear his trademark translucent beauty. Of these, Osmanthus is an early gem. Osmanthus was created to distill a moment of emotion M. Ellena experience during a visit to the Forbidden City in China.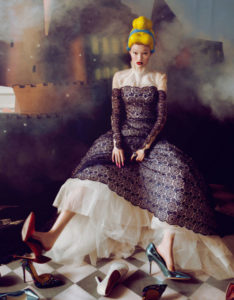 Dream of the Dress Fashion Editorial, photo by Paolo Roversi for Harper's Bazaar China, Dec 2013
An intoxicating bouquet of just-cut apricots pours into the juicy tang of orange citrus fruits in the opening of Osmanthus. Just moments later, sweet tangerine, orange and the bittersweet bite of bergamot lift the osmanthus flower right into the heart of the perfume. Osmanthus' unique apricot-oolong tea scent is garlanded by bright leafy greenery. While this is a rather linear perfume, it is a lovely one, where the fresher dimensions of Osmanthus are allowed to sparkle supported by fresh, green hay and light musk. Exotic, calming and wearable everywhere. Notes: osmanthus fragrans (China), leaf green, bergamot, orange, tangerine, rose, rose bay, castoreum, hay, musk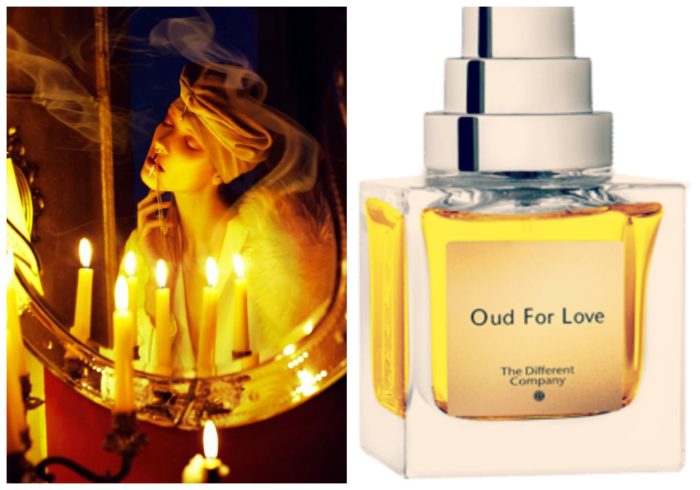 Photo by Elizaveta Porodina and The Different Company Oud For Love (Collection Excessive)
Oud for Love (2012, Bertrand Duchaufour) is a warm, glowing concoction of whiskey, woods and resins, on which an incredibly smooth, rich oud sits like a gilded figurine in a Faberge egg. It opens with a rich, tipsy fruity top note, like brandied plum. A chorus of spice and woods then rushes in: dusty saffron, woodsy coriander, smoky clove, sandalwood and just the lightest tang of cumin tumble over each. While this should have been fragrance mayhem, all these notes work in perfect harmony with each other. In the middle stage, darker flowers move in, the syrupy immortelle and a deliciously fleshy ylang grab hold of the oud and spice and give them a whirl.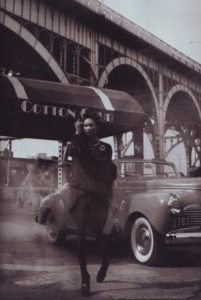 Chanel Iman, photo by Peter Lindbergh, US Harper's Bazaar, September 2009
If you ever loved and lamented the wonderful Incense from Matthew Williamson (created with perfumer Lyn Harris), Oud for Love is that long-lost beauty after spending two decades singing in smoky dancehalls and jazz bars. It is rich, dark, densely beautiful and just this side of louche. I adore it. Notes: Whisky, saffron, cumin, coriander, aldehydes, angelica, tuberose, ylang ylang, iris, sandalwood, clove, soft musks, amber, immortelle, Haitian Vetiver, Oud, Castoreum, Heliotrope, Caramelized notes, Tolu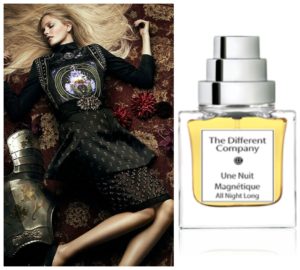 Your Majesty fashion editorial, photo by Chris Nicholls for Flare Magazine, Dec 2011 and The Different Co. Une Nuit Magnetique (Collection Juste Chic)
Une Nuit Magnetique (2014, Christine Nagel) was designed around the concept of magnetic attraction, with notes chosen to represent opposition and congruity. The purple-sweet smell of blueberry and a glint of bergamot lend a fresh vibrancy to the opening. Sparkly, sudsy ginger tickles its way into the fruit and the sweet and spicy notes play very nicely together. Next comes some buxom florals: A deep pink rose and narcotic jasmine. Then back to fruit, this time, dark, golden-fleshed plum, as Nuit Magnetique seems to slow in tempo, going deeper, sultrier in tone. As it dries down, Nuit Magnetique lays out a carpet of rich, dense amber and benzoin. The blueberry note slinks back in along with the plum before snuggling down with some light woods and musk. Une Nuit Magnetique is the perfect perfume to wear when contemplating bad behavior in the wee hours. Notes: Ginger, bergamot, blueberry, Egyptian jasmine, Turkish rose, tuberose, plum, benzoin, patchouli, amber, musk and woody notes.
Disclaimer: I received my samples from The Different Company's USA Distributor Amerikas– many thanks. My opinions are my own.
— Lauryn Beer, Editor
Thanks to the generosity of Luc and Sophie Gabriel of the The Different Company, we have a reader's choice of a 50 ml bottle of either Oud for Love, Osmanthus or Une Nuit Magnetique for 1 registered reader in the US, EU and Canada. To be eligible, please leave a comment with what appeals to you about Oud for Love, Osmanthus or Une Nuit Magnetique based on Lauryn's reviews, where you live, which fragrance you would like if you should win and if you have a favorite The Different Company perfume. Draw closes 1/29/2016.
We announce the winners only on site and on our Facebook page, so Like Cafleurebon and use our RSS Feed…or your dream prize will be just spilled perfume