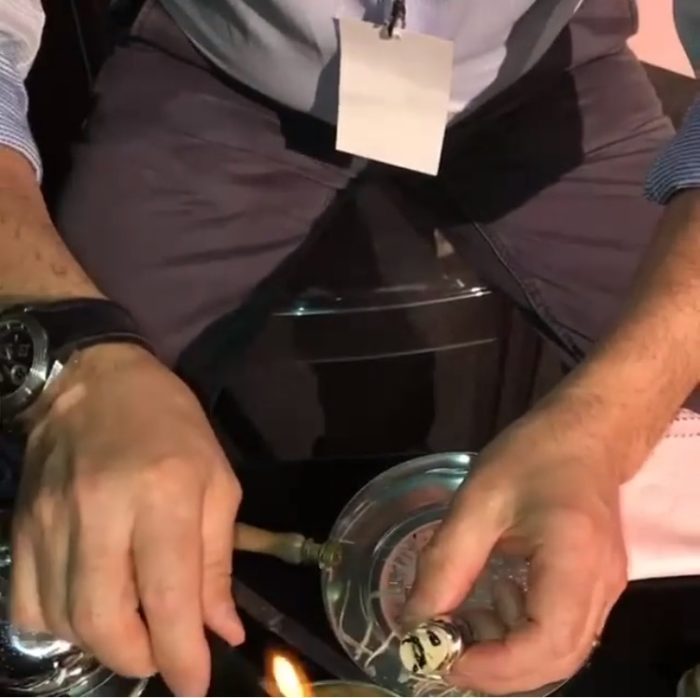 Italian Craftsmanship at Esxence 2017 hand-sealing wax for the stoppers via @brunoacampora _profumi
One of the indelible memories of my visit to Esxence this year was meeting Sonia and Brunello Acampora and experiencing their exquisite line for the first time. The Acampora perfumes are old school in the best way: all handmade, using a high level of perfume essences and sealed and stamped with wax – a lovely, old world touch. Care goes into the presentation: all perfumes are poured into aluminum vials with the correct level of air inside them to prevent the oils from turning, and are stoppered with cork and sealing wax. But the magic is in the juice. These are some of the most wearable, downright pretty scents around, and should be a whole lot better known here.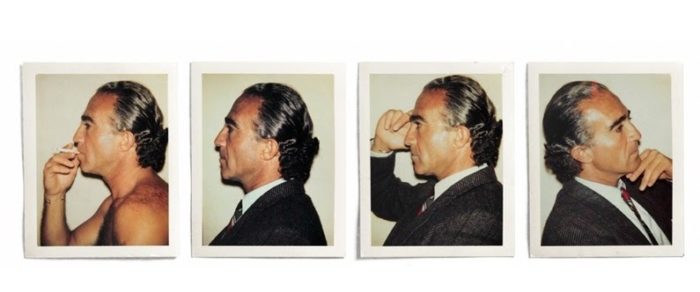 Bruno Acampora by Andy Warhol
Bruno Acampora Profumi was founded by Naples-based fashion insider and bon vivant Bruno Acampora, over forty years ago, who also personally created the fragrances. Many, like Seplasia and Jasmin T, are absolutely lovely, and there is not a bad one in the bunch. But for me, the standouts of the Acampora line are the fragrances that run with a note, flip it on its head and then circle back to it: Egoi, Sballo and Blu.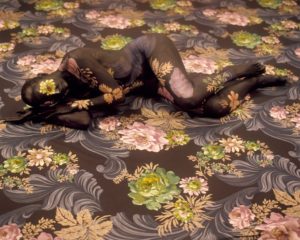 Le Jardin by Cecilia Paredes, 2015
Egoi is one of Acampora's more recent additions, introduced in 2016's 7 Rules Collection, in which key notes used extensively in classical perfumery are reinterpreted. The namesake notes are given a fresh spin, in some cases, playing hide-and-seek behind deceptive openings.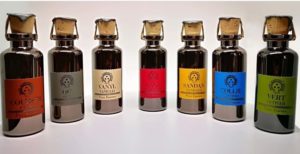 Bruno Acampora 7 Rules (L)-Courser, Ou, Vanyl, Egoi,Sandan, Collie and Vert @brunoacampora_profumi
Sandan, for instance, in its first stages could be mistaken for a lemony fougere before it slowly fans out into rich, luxurious sandalwood. Vert, the vetiver scent, has a citric-woody opening accented with pepper that becomes musky and woodier before the rooty-grassy vetiver peeks through in the latter middle stages.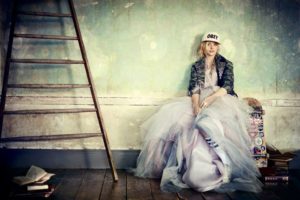 Chloë Grace Moretz, photo Bruce Webber, Teen Vogue, Oct/Nov 2016©
And so it is with Egoi, the patchouli perfume, whose surprising opening has none of the earthy, chocolatey qualities of a typical patch fragrance, but is instead marked by a life-like, lush jasmine and assertive lime-peel citron. In these early moments, Egoi is a dewy, spring-like floral. Although individual flower notes are not listed, I get a waft of honeyed orange blossom following the citron and jasmine. After some ten minutes, the aromas shift. A loamy smell of just-turned soil and something a little sweaty begins to emerge. The jasmine, while not indolic, turns fleshy. Where Egoi's attenuated opening is bloomy and rich, the middle stages take on an earthiness with just the slightest bit of raunch, as Egoi strips off its flower power shirt and gets down and a bit dirty. Green tobacco leaf, astringent musk and mellow cedar act as stage for the patchouli which comes into its own in the dry-down. Egoi is a lovely contradiction: pretty and decorative as a prom dress corsage on top, with more than a bit of garter snap down below. Notes: Citrus, cedarwood, patchouli, musk, floral notes.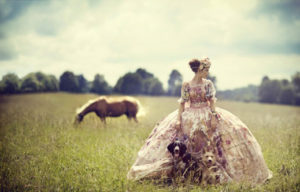 British Pastures New fashion editorial, photo Boo GeorgeVogue, October 2012
Sballo (1977), on the other hand, gallops straight out of the stable and into the hayfield with a wild rush of meadow flowers. It is like the grassy equivalent of wildflower honey: field blossoms, rich broom, fresh and dried hay stack on top of each other like a plate of pancakes dripping with golden syrup straight from the hive – and is just as delicious. These notes glide around each for quite a while. But somewhere in the middle stages, Sballo pulls around the back of the stables. The honey positively slithers through the hay, and the flowers become darker, more seductive and secretive. Though it is not listed, I'd swear there was a linden in there; the dark floral aspect is so heady, so honeyed. Hay scents do not get more glorious than this. Notes: Rose, geranium, violet, orange blossom, musk, resins, sandalwood, vetiver, hay, sage.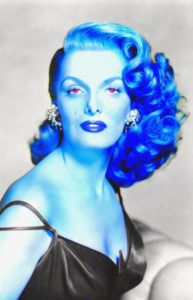 Jane Russell in The Revolt of Mamie Stover, photo Art Cinema Gallery, 2013©
Before I talk about Blu (1984), let me first say I am not La Tuberose's biggest fan. Her bosomy, in-your-face vamping tends to make want to retreat into a quiet corner with a cup of tea. Blu, however, may have just changed all that. This is one of the most breathtaking tuberose scents I've ever discovered. That lovely fresh hay note in Sballo resurfaces in Blu's opening for a few minutes, but then steps back as the curtains open on the star: a creamy, almost coconutty, dense bloom that stops short of the usual heaving voluptuousness of this most carnal of flowers by introducing a bright citrus tang just at the right moment.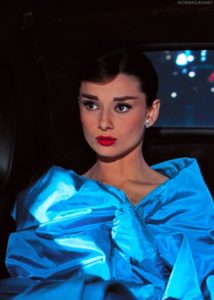 Audrey Hepburn in Funny Face, 1957
The fleshiness of the blossom is paired with that other sex-bomb of perfumery, ylang ylang. But that citrus note, which verges on sharp, pulls this dominatrix duo back from the edge of excess. The buttery quality of Fracas is there, yet tempered with a stemmy greenness that gives Blu a girlish Audrey Hepburn freshness instead of becoming Liz Taylor in "Who's Afraid of Virginia Woolf." Give it an hour, and Blu is spectacular: wafting between creamy-buttery and spicy green stems. Notes:Tuberose, orange, sandalwood, ylang ylang.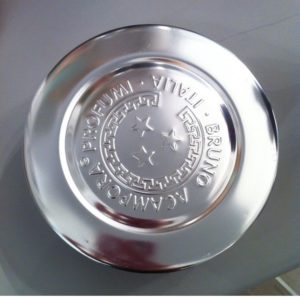 Bruno Acampora bottle cap via @brunoacampora_profumi
All of Bruno Acampora's fragrances are thoughtfully crafted, elegant and have a timelessness and sparkle that makes them seem both old school and contemporary, and a quiet joyousness that seems innately Italian. A lovely House and one very much worth visiting.
— Lauryn Beer, Editor
Disclaimer: samples provided by Bruno Acampora Profumi – many thanks. My opinions are my own.
Bruno Acampora Profumi samples (collage by Michelyn)
Thanks to the generosity of Bruno Acampora Profumi, we have a sample set of 18 Acampora pure essence perfume oils for 1 registered reader in the U.S., Canada or Europe. To enter, please like Bruno Acampora on Facebook, and let us know which fragrance of the three Lauryn recommend sounds the most appealing based on her review, where you live and which of the 18 pure essences fragrances strike your fancy. Draw closes 4/29/2017
Please follow us on INSTAGRAM @cafleurebon and be sure to check out @brunoacompora _profumi as well.
We announce the winners only on site and on our Facebook page, so Like Cafleurebon and use our RSS FEED…or your dream prize will be just spilled perfume.