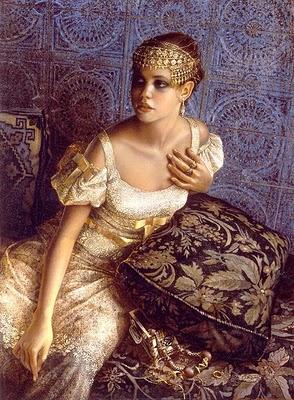 One of the most popular ingredients in fine perfumery today is oud/oudh/aoud, or agarwood, a material as ancient as the art of perfumery itself, literally rooted in the culture of the East and highly prized for its unique, aphrodisiac and sensual aroma. Over the past few years this rare and expensive ingredient has made its way into Western style fragrances in the form of numerous perfumes focused around it; although it has occasionally been used in smaller amounts, in uber luxe niche fragrances, and men's scents; until recently, it has rarely been used as the centerpiece of conventional perfume compositions.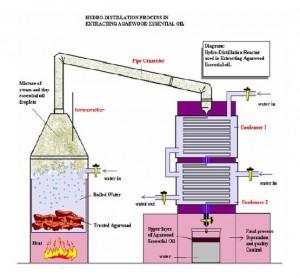 Diagram of oud steam condenser from Wikipedia.org
So exactly what is oud? It is a resin from the heart of the agarwood tree, Aquilaria malaccensis, native to southern and southeastern Asia. Other species of Aquilaria trees are also capable of producing the desirable resin, but A.malaccensis is the best known and also the most in peril. As explained to Editor-in-chief Michelyn Camen in her interview with Maurice Roucel, this species of tree is threatened on several fronts – loss of habitat from illegal logging, growing human populations and over-harvesting for use in perfumes and incense. Ironically, the prized part of the tree is actually diseased; the heartwood is attacked by a fungus that imbues the resin with its characteristic odor, which is dark and somber, somehow both smoky and medicinal and very powerful. The infected parts of the wood are much darker than the healthy areas, creating dramatic streaking when the wood is cut into pieces.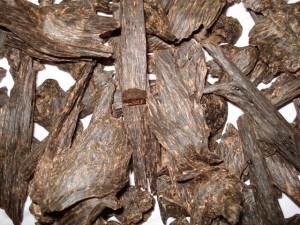 Photo of infected agarwood pieces from teakdoor.com
The raw wood is burned during religious ceremonies, and the heartwood resin is extracted (by steam distillation today) for the manufacture of fragrances. These uses stretch back to ancient Egypt, where oud was used to embalm bodies during the mummification process. Historically the trees have been found over a wide swath of Asia from Mesopotamia to the Far East, but their habitat has become scattered. Today, in an effort to spare the wild trees, they are being grown in plantations and injected with the fungal organism specifically for cultivating the disease and creating the precious resin.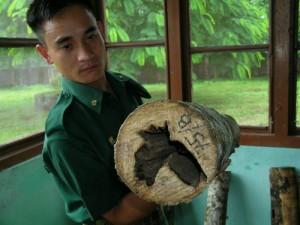 Cross section of oud wood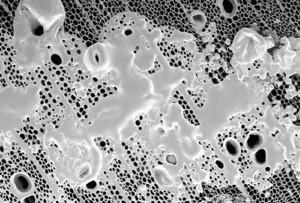 Up Close and Personal: Oud Resin Under The Microscope
The medicinal odor of oud resin might yield a clue as to its other uses,( was used to treat disorders and was a form of purification) and sure enough it is a stalwart of Ayurvedic medicine, being used as a treatment for a number of ailments including cardiac problems, rheumatoid arthritis and digestive disorders. It is considered to be an anti-inflammatory and rejuvenating tonic, as well as a topical treatment for skin ulcers and even leprosy. Lord Dhanvantari, the traditional spiritual figure who is thought to give the gift of Ayurveda to its first practitioner, holds in one of his four hands a vessel containing "immortal, celestial ambrosia" – and who is to say that it was not agarwood essence?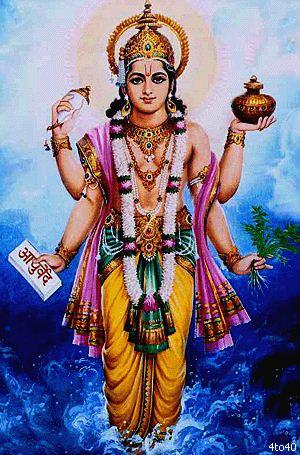 Lord Dhanvantari, patron of Ayurvedic medicine
If Western people traveled to India, Malaysia, or other South Asian countries, the aroma of oud would be encountered quite frequently, since it has been used in traditional ways for thousands of years. It's everywhere in the East, in perfumes and attars in India, or in Vietnam as both essential oil and hand-carved, aromatic beads that are worn as jewelry. The making of traditional oils, unguents and attars would be unthinkable without this staple ingredient. The agarwood tree is as indispensable in the East as oak trees are in the West.
Vietnamese oud oil and wooden beads from tradenote.net
Finding oud in Western perfumery is quite another matter. It has been used mostly in trace amounts along with other woody notes, as it is an excellent fixative. The first mainstream fragrance to feature it was Yves St. Laurent's M7 in 2002, the first YSL fragrance released under Tom Ford's direction. It was a resounding failure at the time, although it would probably be very popular if it were introduced today due to the current market's new familiarity with oud. It was apparently too much, too soon, as it was a very powerful fragrance, but it has a cult following to this day, due in part to its provocative ad campaign.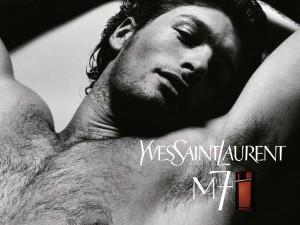 YSL M7 print ad from desktop-3D.com
The first perfume house to feature this material in a major way was M.Micallef in the late 1990s, when they began research into how to take this resin and formulate it for contemporary tastes. They were ahead of their time, as their Rose Aoud was quickly "borrowed" by many. Another leader is Parfums Pierre Montale, a niche company that has built its reputation on fine materials and exotic formulas. The Montale company has two lines, one of excellent yet more conventional perfumes and the Aoud line of perfumes. These are not shy and retiring by any means; you had better like oud a lot to wear them. Whereas oud was used mainly as a subtle accent in other perfumes, it's front-and-center in these compositions. In some of them, such as Aoud Roses Petals, the pungent oud is softened by roses, other florals and spices such as saffron. In other scents it is full-on oud, such as Steam Aoud, Black Aoud, Wild Aoud and Aoud Cuir d' Arabie. The strength and longevity of these perfumes is legendary, and wearing them is a commitment – to twelve or more hours of smelling of this intensely aromatic resin. It's love or hate with oud – there is no indifference, it either smells like a medicated Band-Aid or a deliciously sexual elixir depending one's own individual olfactory receptors. I happen to love it, and my favorite oud perfume so far is Montale Aoud Queen Rose, which contrasts sweet, almost candied rose with the deep and sensuous oud note.
Dromedary Caravan near Nouakchott Mauritania by Yann Arthus-Bertrand/Perfume Smelling Things
Other perfumeries took note of M.Miccalef's success, and now there are dozens of oud scents on the market, from highly exclusive lines to those available at better department stores, such as Tom Ford, he of the M7 debacle, who reintroduced the note with much more success into his own Private Blend line with Oud Wood, and even mid-range brands such as Comptoir Sud Pacifique, a fun-in-the-sun line famous for its affordable vanilla and tropical floral fragrances, which brought out a group of oud-based fragrances in 2009.By Kilian introduced several of these scents in the Arabian Nights Collection including Pure Oud, Rose Oud and Incense Oud. Oud has become such a sensation that Westerners are demanding the hard stuff – real Arabian attars have made their way to the West and are selling briskly.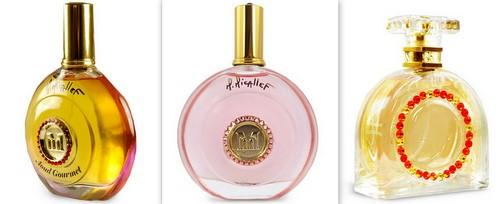 Even L'Artisan Parfumeur, known mainly for gentle and diaphanous fragrances, having charted a new direction with perfumer Bertrand Duchaufour's successful Havana Vanille, had another big hit with Al Oudh, a refined and highly wearable scent, not as in-your-face as the Montales. (I have tested Al Oudh on my skin and I can even wear it to work, which is just impossible with the Montales.) Mr. Duchaufour also created Amouage's highly regarded Jubilation XXV for Amouage's anniversary year, which although not an oud perfume per se, has enough of it in the base so as to be noticeable. One of the most notable entries into the oud sweepstakes is Parfums M. Micallef, a niche brand that is enormously popular in the Middle East and has recently re-entered the U.S. market with a line of coveted fragrances noted for their beautiful bottles and excellent materials. Rose Aoud, Vanille Aoud and Aoud Gourmet are standouts in the lineup. It seems that no matter where a perfume lover turns these days, their nose encounters an oud perfume.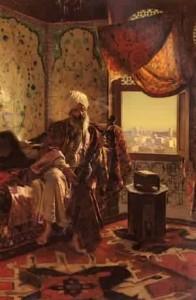 Ernst Rudolf: SmokingThe Hookah
It can be intimidating to wear oud perfumes for the first time, and they are certainly not for everyone. Unless you are very brave, your first oud perfume probably should not be Black Aoud or any of the other heavy Montales. I can recommend L' Artisan's Al Oudh for its balanced character and relatively quiet sillage, and you can't go wrong with Amouage's Jubilation XXV or Aoud Gourmet either. Spend some time with samples and get to know this note and its reaction with your own skin chemistry. If it goes horribly wrong, at least you will not have paid a lot of money for a full bottle. Oud is a precious ingredient, one of the most expensive natural essential oils in perfumery today and the fragrances that contain it are correspondingly pricey. Be warned however, that once you fall in love with the aroma of oud, there is no going back; you are hooked for good!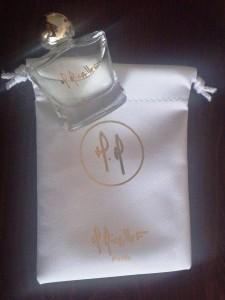 To give you a chance to experience oud for your self Parfums M. Micallef have generously offered three 10mL samples of Aoud Gourmet, Rose Aoud, and Vanille Aoud. Draw ends March 7, 2011at noon est. To enter just leave a comment about your favorite oud fragrance, M. Micallef fragrances, or the oud fragrance you would most like to try.
Donna Hathaway, Contributor (Art Director: Michelyn Camen)