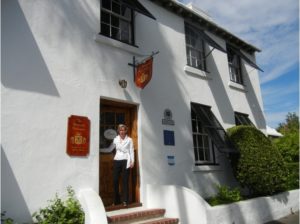 The Perfumery at Stewart Hall, Bermuda and Isabelle Ramsey Brackstone
Isabelle Ramsay-Brackstone, Master Perfumer for The Lili Bermuda Perfumery in St. George, celebrated the 90th anniversary of the storied house on September 20, 2018 "15 years ago, I started this great journey of telling the story of Bermuda in creating beautiful perfumes. Our iconic fragrances are a true reflection of Bermuda and our Perfumery in St. George is a must-see destination. It is with immense pride that I will ensure that this tradition of Bermuda Perfume making will continue to prosper for many years to come", explains Mrs. Ramsay-Brackstone.
William Blackburn (W.B.) Smith and his daughter Madeline Smith founded the legendary Lili Bermuda Perfumery, now one of the oldest perfumeries in the world, in 1928. In 2004, Isabelle Ramsay-Brackstone and her late husband Leslie Kirby Brackstone acquired the Perfumery and moved its operations to Stewart Hall, a 1700's Bermuda National Trust grand mansion in the historic town of St. George. Since then she has worked, with her dedicated team, to perfect the quality of the line of fragrances and took the business to the next level. In 2006, she created her first Lili Bermuda fragrance Coral, which was an immediate success and still one of her bestseller perfumes.
The Lili Bermuda Perfumery 90 year anniversary Legacy Collection
The Lili Bermuda Perfumery 90 year anniversary Legacy Collection.The Legacy Collection consists of the very first fragrances from Lili Bermuda, all inspired by Bermuda flowers: Easter Lily, Jasmine, Frangipani, Oleander, Passion Flower and Bermudiana. Each fragrance, available as 100ml Eau de Parfum, is elegantly nestled packaged in a Bermuda Cedar box handcrafted by Mr. Mickey Foggo, carpenter in St George. With each purchase of this Limited Edition, Lili Bermuda offers a unique Venetian glass flower ornament, beautifully handcrafted by Oliver Zawistowski from the Dockyard Glassworks.
The Lili Bermuda Perfumery 90 year anniversary Legacy Collection is available at the Lili Bermuda Perfumery in St. George and at Lili Bermuda Boutique in Hamilton.$130/ 100ml
Via press release
Michelyn Camen, Editor-in Chief