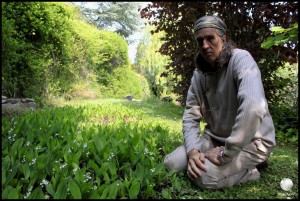 Michel Roudnitska: Photo Courtesy of Pierre Benard Osmoart Parfums Couleurs et Sons,
The creation of Diorissimo in 1956 was a revolution in my father Edmond Roudnitska's way of composing fragrances.10 years before "Eau Sauvage" this perfume was a real return to nature, a reaction to the heavy, sweet and complex perfumes of the past.
It was a new signature, light, fluid, limpid, and uncluttered.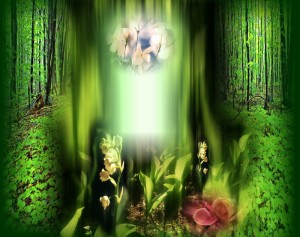 Art by Michel Roudnitska
Diorissimo is not only a reproduction of the lily of the valley, the muguet, it's a complete spring scene in the forest at dawn, with the evocation of green fresh leaves, adorned with hints of jasmine, lilac and rose.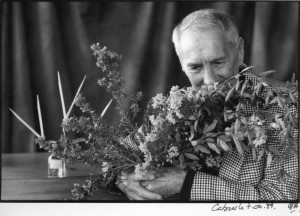 Edmond Roudnitska 1969:Courtesy of Michel Roudnitska
It smells like nature, but the kind of nature that was only achieved by way of my father's own acuity with both natural and synthetic odorants and his abiding intellectual search for the meaning of art and perfume. He said "Speak to people of form and not of epidermis". He sought to elevate the perfume from the sensual level to a sophisticated aesthetic discourse.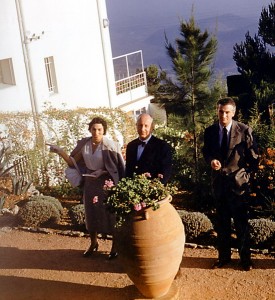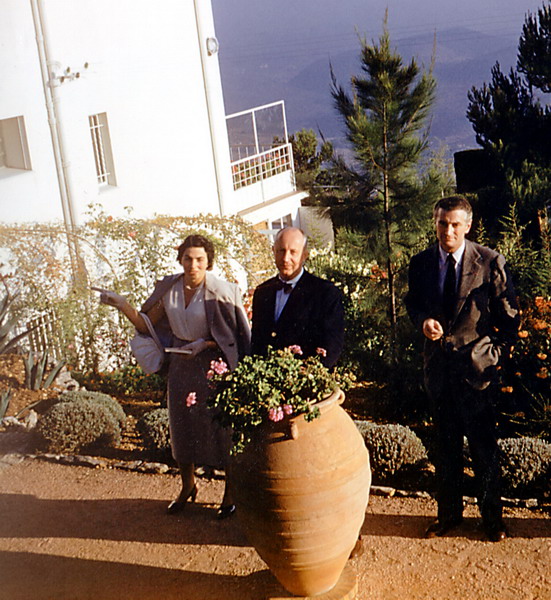 Thérèse and Edmond Roudnitska with Mr. Christian Dior: Photo Courtesy of Michel Roudnitska
This flower was the favorite and fetish odor of M. Christian Dior (for his funeral ceremony his coffin was completely covered with muguet). So when he came to our laboratory in Cabris and discovered my father's creation he adopted it immediately. It was also very meaningful to my father himself, who spent the early days of his relationship with his wife Therese, wandering the woods and gathering lily of the valley around Paris.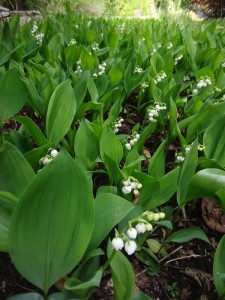 Roudnitska Garden Cabris: Photo Courtesy of Michel Roudnistka
I was eight years old when this fragrance was launched but I remember rather well all the numerous tests done before, directly inspired by the large flower bed of "muguet" my father specially created in our garden. We are still taking great care of this precious and mythical place. Because of the European safety rules (IFRA) the formula of the Diorissimo had to be changed several years ago especially about one main component which had no real substitute. It's a great pity that, like many other olfactive masterworks, this fragrance cannot be preserved from such alteration!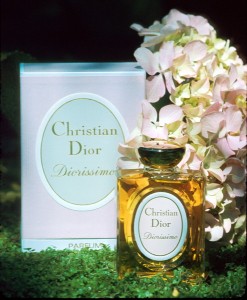 Photo: Courtesy of Michel Roudnitska
Nevertheless this fragrance was still very close to the original and still provides 55 years after its creation the same ineffable appeal.
As of last year an "Eau de Parfum" has been launched, it's no longer the genuine formula of the "Eau de Toilette", it's a new interpretation by François Demachy for Dior which may bring some confusion among the public because it's nearly impossible to distinguish the 2 versions only looking at the packaging. So be very attentive next time you buy your Diorissimo bottle
–Michel Roudnitska, Contributor
Editor's Note: Tu nous honores de nouveau en nous authorisant a publier cette speciale dedicace de ton pere, le Maitre-Artiste, Edmond Roudnitska. Diorissimo is not just for May Day; it is a perfume for every day, although its associated with Muguet the flower of May Day.