On March 23, 2017 at Esxence the Scent of Excellence in Milan, Saskia Wilson- Brown, founder of The Institute for Art and Olfaction announced the finalists of the fourth annual Art and Olfaction Awards. I had the pleasure of being at the ceremony, which was packed with perfume enthusiasts from all over the world.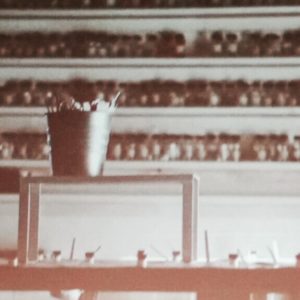 Art and Olfaction Perfume Sample submissions
How it works: Four perfumes winners will be selected from the categories Artisan and Independent, and one winner will be selected for the Sadakichi Award for Experimental Scent. There is a new category in partnership with Pochpac, there is a "Contribution to Scent Culture Award". This award will be given to one outstanding person who made significant contributions to global public awareness of artisan, independent and experimental practices with scent in 2016.
Saskia-Wilson Brown and the panel of judges
The winner will be announced May 6, 2017 at the Ceremony at Silent Green kulturquartier in Berlin, Germany. According to Saskia Wilson-Brown, it is for one year and to better connect the US and European independent, artisan, experimental perfume world. The Judges in both the shortlisting and finalist committees for the Artisan, Independent and Experimental have been announced (you can find out who they are here). At the ceremony, judge Antonio Gardoni of BOGUE Profumi commentd he blind-sniffed 185 fragrances!
THE FINALISTS FOR THE FOURTH ANNUAL ART AND OLFACTION AWARDS
ARTISAN CATEGORY FINALISTS
Baraonda by Nasomatto, Perfumer: Alessandro Gualtieri, The Netherlands
Bruise Violet by Sixteen92, Perfumer: Claire Baxter, USA
Ceremony by Mirus Fine Fragrance, Perfumer: Neal Peters, USA
Fatih Sultan Mehmed by Fort and Manlé Parfum, Perfumer: Rasei Fort, Australia
Limestone by Thorn & Bloom, Perfumer: Jennifer Botto, USA
Liquorice Vetiver by SP Parfums Perfumer: Sven Pritzkoleit, Germany
Mélodie de l'Amour by Parfums Dusita, Perfumer: Pissara Umavijani, France
Onycha by DSH Perfumes, Perfumer: Dawn Spencer Hurwitz, USA
Rosuerrier by Pryn Parfum, Perfumer: Prin Lomros, Thailand
Saffron by Aether Arts Perfume, Perfumer: Amber Jobin, USA
Vanilla & The Sea by Phoenix Botanicals, Perfumer: Irina Adam, USA
INDEPENDENT CATEGORY FINALISTS
Absolue D'Osmanthe by Perris Monte Carlo, Creative Director: Gian Luca Perris, Perfumer: Jean Michel Santorini, Monaco
Altruist by J.F. Schwarzlose Berlin Creative Director: Lutz Herrmann Perfumer: Véronique Nyberg, Germany
Anti Anti by Atelier PMP Creative Directors: Stefanie Mayr, Daniel Plettenberg, Perfumers: Mark Buxton, David Chieze, Germany
Belle de Jour by Eris Parfums Creative Director: Barbara Herman Perfumer: Antoine Lie, USA
Civet by Zoologist, Creative Director: Victor Wong Perfumer: Shelley Waddington, Canada
Close Up by Olfactive Studio Creative Director: Céline Verleure Perfumer: Annick Mennardo, France
Fathom V by BeauFort London, Creative Director: Leo Crabtree Perfumer: Julie Marlowe,UK
Lankaran Forest by Maria Candida Gentile Maitre Parfumeur Creative Director / Perfumer: Maria Candida Gentile Team, Italy
Maître Chausseur by Extrait D'Atelier, Creative Director: Chiara Ronzani Perfumer: Not Disclosed, Italy
Romanza by Masque Milano Creative Directors: Alessandro Brun, Riccardo Tedeschi, Perfumer: Cristiano Canali Italy
Stones by Atelier de Geste Creative Director: Beau Rhee Perfumer: Irina Nesa, USA
SADAKICHI AWARD FINALISTS
Smell of Data by Leanne Wijnsma Project lead: Leanne Wijnsma Perfumer: Leanne Wijnsma with ScentAir. The Netherlands
Is This Mankind, by Peter de Cupere, Project lead: Peter de Cupere Perfumers: Various, Belgium
Osmodrama Berlin via Smeller 2.0 Project lead: Wolfgang Georgsdorf Perfumers: Various, Germany, Austria
The Feelies: Multisensory Storytelling, Project lead: Grace Boyle Perfumer: Nadjib Achaibou, UK
Paradise Paradoxe Project lead: Elodie Pong Perfumer: Anonymous Switzerland
Congratulations to all the Finalists…Good Luck to all