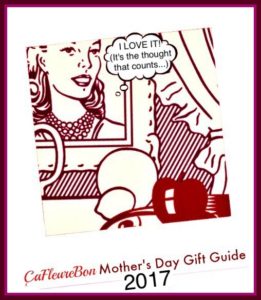 If it was up to us, we think Mother's Day should be a national holiday. Not only do moms never get time off, their special day is always Sunday (usually a day of play for the rest of us). Were you planning on buying your mother a nice meal or flowers?
The random winners are
Strange Invisible Sage and Rose Body Wash Alicia
Phoenix Botanicals Lilac Rain solid perfume compact Ellen B
2 signed copies of Bad Girl Perfume Tips and Tales. Donna S
Brambleberry Rose tea from Charna Ethier of Providence Perfume Company's A•POTH•A•CARE•TEA ntabassum92
The Love Emoji Masque from Smallflower.com cardinalmind
Libby Patterson of LPO Organics Anti-Stress Serum karo
Tanja Bochnig of April Aromatics Unter den Linden hair mist created just for CaFleureBon Patsi
Dawn Spencer Hurwitz's Special Formula X Extreme one dram Rollerball Tami H
Amouage 12 x 2ml For Her Gift Set Mara
Belle Fleur Mimosa Magnifique Nora McLoughlin
Tonnato Profumi Water Perfume in Nerola Jewel
M.Micallef Fragrance Discovery Booklet Vicki
. A $50 Gift Certificate to Twisted Lily Keswa
If you are one of the 13 winners please email michelyn at cafleurebon dawt com with the exact name of your prize (i.e. Belle Fleur Mimosa Magnifique) as your subject and your complete mailing and phone details by 5/11/2017 12:00 PM EDT. This is a deadline and no exceptions if you are late. Please use your email from your comment so we know it is you. Be courteous…include a warm thank you to our generous sponsor in your email.