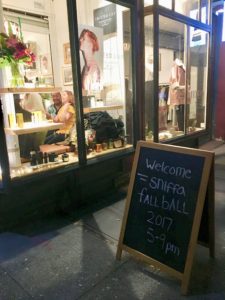 Friday Night October 27, 2017
The Fall Ball's Friday Night Kickoff Cocktail Party was held at Brooklyn's nirvana of scents, Twisted Lily. Co-owners Eric Weiser and Stamatis Birsimijoglou were on hand to introduce us to the latest and hard to find niche and artisanl perfumes from all around the world. Known for their charming personalities, extensive knowledge and nose for newness, we were, as always, welcomed like family. What was hot? The crowd loved Idyllwild by Ineke, Jeroboam's Ambra, Patch Flash by Andy Tauer, and Ormonde Jane's Ambre Royale.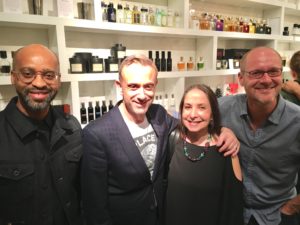 Rodney Hughes, Eric Weiser, Karen Dubin and Bart Schmidt
Friends-in-fragrance are always a joy to meet up with at these events. Mary Ellen Lapsansky of Perfume Plumed, Bart Schmidt of Brands with a Purpose, Rodney Hughes of Therapeutate, and writer Daisy Bow were on hand, as well many other fragrance lovers.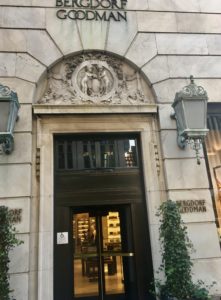 Bergdorf Goodman NYC
Day One, Saturday, October 28th
Ndew Sall and Aminata Sall, Bottega Veneta Specialists
Bergdorf Goodman's Beauty Level was made available one hour earlier than the official store opening. Three presentations by Bottega Veneta (Parco), Creed (showing two new scents, White Amber and Viking) and Initio with Parfums Prive were arranged for us.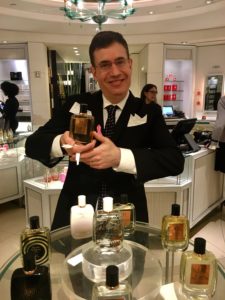 David Ecker, Dear Rose
Brands and scents that impressed on the sales floor: Dear Rose, Lalique's new trio – Mon Premier Cristal, Tom Ford's Fucking Fabulous, By Killian's Women in Gold, Ex Nihilo, Jo Malone, and Roja Dove's Gulf Collection which had many of the attendee's spritzing.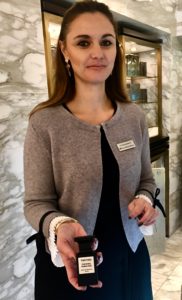 Tom Ford Fucking Fabulous
Of course everyone was talking about Fucking Fabulous.
Lunch with guest speakers was held at Brasserie 81/2, just around the corner from Bergdorf Goodman.
Guest Speakers Highlights: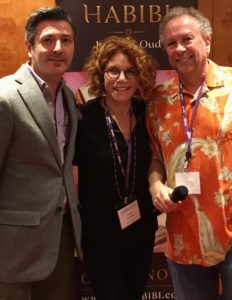 Laurent Le Guernec, Hope Freeman and Jay McSherry
Nateeva founders Hope Freeman (featured in our Profiles in American Perfumery Series),Jay McSherry, and master perfumer Laurent Le Guernec, began the speaker presentations with insights into their brand. Inspired by travels to island destinations, they touched on the creative process, the challenges of building a brand from passion and the ingredients utilized in their latest creations.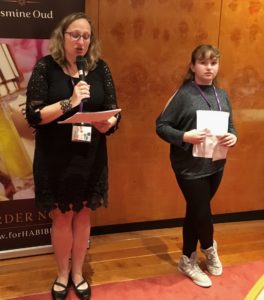 Amy and Lucy Marks-McGee, Trendincite
Amy Marks-McGee, Trendincite: Amy and Lucy gave us a glimpse into what to expect in the upcoming year in fragrance and beauty. Multi-sensory, alternative applications and delivery systems and devices will be used for fragranc and, hair care. Smarter apps are in our near future.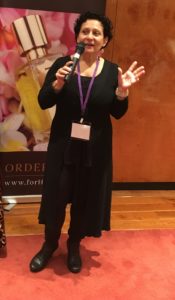 Francoise Alessi, Annick Goutal Manager Madison Ave
Francoise Alessi, Brand Manager for Annick Goutal introduced the latest release to the Oiseaux de Nuit collection, Nuit et Confidences, inspired by Parisian nightlife, is darker and complements Tenue de Soirée.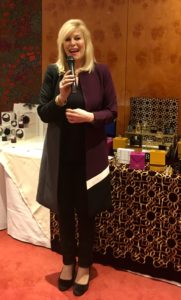 Sue Phillips, House Of Fragrance
Sue Phillips of House of Fragrance spoke of recent events and trends in bespoke perfumes. She recently launched two new fragrance kits which allow fragrance lovers to create and enhance their own unique scents.
Jon Bresler of LAFCO New York: Jon schooled us on the art of soap. His passion for making a better bar inspired many in the room to reconsider what we are going to use in our bathroom.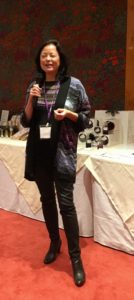 Ruth Sutcliffe, Essential Awakenings
Ruth Sutcliffe of Essential Awakenings presented an innovative way to re-awaken memories with her award-winning Essential Awakenings Smell and Memory Kits. They were developed especially to help those with Alzheimer's and dementia re-connect with memories.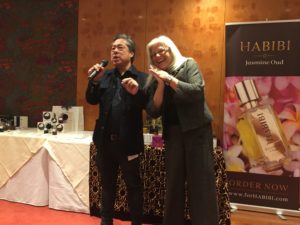 Darryl Do and Rhona Stokols
Industry Veteran Rhona Stokols and Perfumer Darryl Do of Perfumariē (also founded by Mindy Yang) introduced their new multi-sensorial curated shop for beauty, decor, artisan gourmet products, exotic botanicals and of course perfume.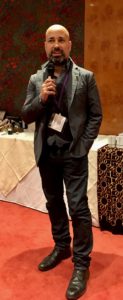 Nick Arauz, Caswell Massey
Nick Arauz, CEO of Caswell Massey gave a brief historical overview of the US brand (1752). We learned that their products are free of parabens, sulfates, and artificial additives, and a hint of what to expect in 2018 when the fragrance collection is updated/ rebranded.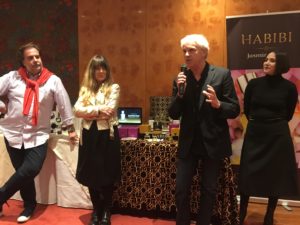 Frederic Jacques, Beatrice Dupire, Jean Claude Delville and Nathalie Feisthauer, and Mireya Zendejas The Society Of Scent
The Society of Scent partners, Frederic Jacques, Beatrice Dupire, the esteemed perfumers Jean Claude Delville and Nathalie Feisthauer, and Mireya Zendejas presented their cultural platform featuring scented collections developed in their laboratory. More from Nathalie soon, ,according to Michelyn.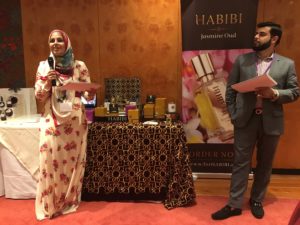 Tabassum Khan and Shakir Ahmed, Habibi Parfums
Shakir Ahmed and Tabassum Khan of Habibi Parfums presented their pure Oud fragrances. Meant to evoke love, passion and a feeling of nostalgia that fragrance evokes. The bottles are done in fine French glass and boxed in elegant handcrafted boxes.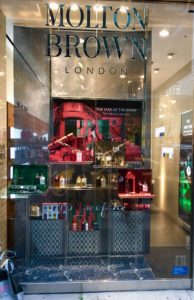 Following lunch, the first stop was Molton Brown's Flagship store on 59th Street. Dressed to impress and showcasing their Holiday best.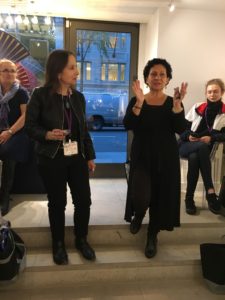 Karen Dubin and Francoise Alessi of Annick Goutal Madison Avenue
At ANNICK GOUTAL, Store Director Francoise Alessi and staff greeted us. A five-question quiz on the brand's history for a chance to win a 20% off certificate was given. Word has it that the brand will be going through a revamp of the bottles and packaging for 2018.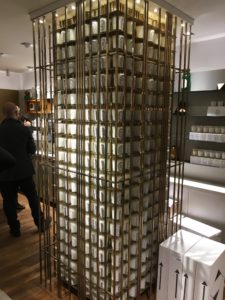 Diptyque tower of candles
Next door neighbor DIPTYQUE was in the holiday spirit. The new Holliday Constellation Candle Collection, Frosted Forest, Fiery Orange, Incense Tears are stunning. New fragrance Vetyverio Eau de Parfum (Olivier Pescheux) was a hit with the attendees.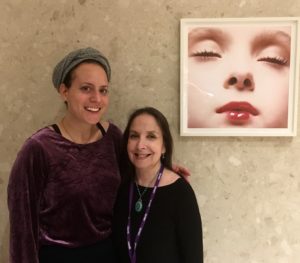 Chef Tessa Liebman and Karen Dubin
The evening's cocktail party was hosted by Byredo at their SoHo Flagship Store.
New release Velvet Haze got the most buzz. A highlight was Chef Tessa Liebman's pairing her dessert creations to Velvet Haze's top, heart and base notes. A great close to a scent filled day.
Day Two: Sunday, October 29th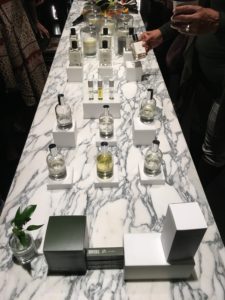 Malin & Goetz NYC
First stop of the morning, the first of many on Elizabeth Street, was MALIN + GOETZ. The new Cannabis collection got all the attention. The line includes an Eau de Parfum, candles, perfume oil, and hand and body wash.
Next was NATURA BRAZIL. The NoLita store is their first in the USA. Scented candles, body sprays, hair oils, soaps and hand creams, and hair care are some in their range. A very impressive experience.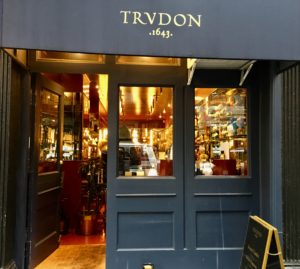 Cire Trudon, the famous French candle house opened their first US store earlier this year.The new fragrance line is rich and powerful, and worthy of the esteemed brand; both historic and modern. Sr Editor Lauryn Beer recently reviewed three and there is a draw still open for all five.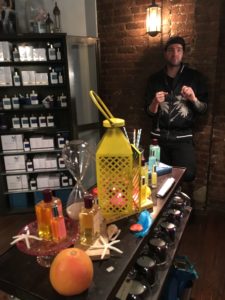 Atelier Cologne – GM Ross Barry
Atelier Cologne has always been a favorite for many of us (CaFleureBon was the first to review the inaugural line in 2010). General Manager Ross Barry cheerfully welcomed us with cocktails and presented the current uber-hot new release, Cafe Tuberosa, which was reviewed by Sebastian Jara, our Senior Contributor.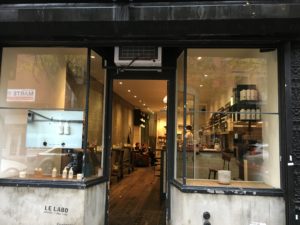 Le Labo Downtown
Le Lebo is a joy to visit.The brand has now expanded into Body, Hair, and Face care and added a retro feeling men's grooming line. But for me, it's the experience and wonderful scents that keeps me coming back.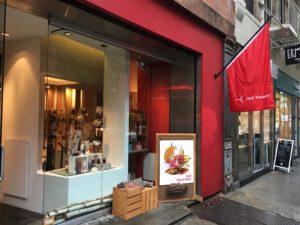 red flower Boutique
Red Flower was my last stop before lunch. Their line includes body, face, hair and candles and fragrances. The Hamman, Nature, and Japan Collections are unique. The brand is botanically based, 100% vegan, cruelty-free, paraben-free biodegradable and biocompatible.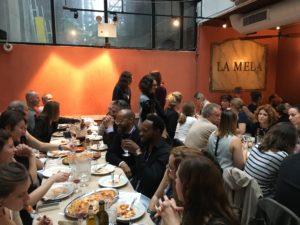 La Mela Restaurant NYC
Little Italy's La Mela restaurant awaited the rain-soaked. Fragrance Specialist David Ecker hosted the EAU (Emerging Artisans Uncorked) showcase.
Guest Speakers Highlights:
David Ecker Fragrance Specialist and host
David Ecker presented Perris Monte Carlo's two new releases, Cacao Azteque and Tubereuse Absolute (Mathieu Nardin). Samples were passed out to sniff. The oriental spicy Tubereuse Absolute was the crowd favorite.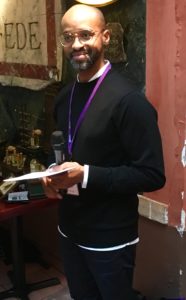 Rodney Hughes of Therapeutate
Rodney Hughes, formerly the Natural Perfume Editor for ÇaFleureBon presented his New York-based Therapeutate. All Rodney's beautiful perfumes are 100 percent botanical with no aroma chemicals, no isolates, no animal by-products, and are certified all-natural.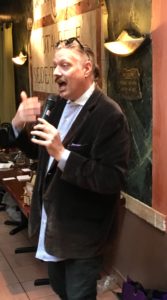 Stephen Dirkes Euphorium Brooklyn
Stephen Dirkes of Euphorium Brooklyn: Stephen spoke of his recent New Mexico collaboration creation, developed in conjunction with the Gila Collective's installation RIVER VOICE TIME. His hand-made RIVER fragrance evokes the scent of the Gila River, New Mexico's last wild river.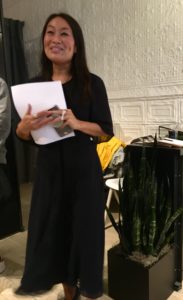 Mindy Yang Perfumarie
After lunch, Mindy Yang of PERFUMARIĒ hosted three workshops sessions. A blind guided Perfume Flight followed with an open discussion on our impressions. A sample of a favorite was included to take home.
Closing out the scent filled weekend was final stops at Harney & Sons Fine Teas and Byredo.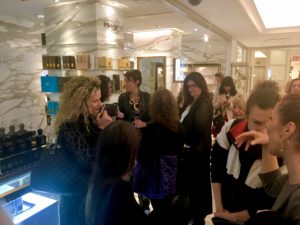 Thank you, Team Karen, (Karen Dubin and Karen Adams) for another scentually wonderful weekend. See you all at The Spring Fling 2018!
~Hernando Courtright, New York City Events Contributor and CaFleureBon Ambassador-at-Large and Michelyn Camen, Editor-in-Chief. All Photos by Hernando of CaFleureBon unless otherwise stated.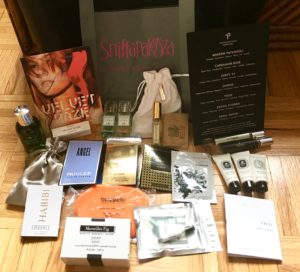 We have a scent filled Sniffapalooza swag bag filled with dozens of samples from the Fall Ball including mini and sample size fragrances and goodies from Perris Monte Carlo, Byredo, Diptqyue, Molton Brown, Nateeva, LAFCO, Therapeutate, Euphorium Brooklyn, Aqua Dell' Elba, and many, many others. To be eligible you must be a registered reader in the CON USA (you have to do this folks) and leave a comment with what you enjoyed about Hernando's very detailed Sniffapalooza Fall Ball report, if you have attended a Sniffa event before and which brand or perfume you are really excited to get your nose on. Draw closes November 7, 2017.
We announce the winners on our site and on our Facebook page, so Like Cafleurebon and use our RSS option…or your dream prize will be just spilled perfume.