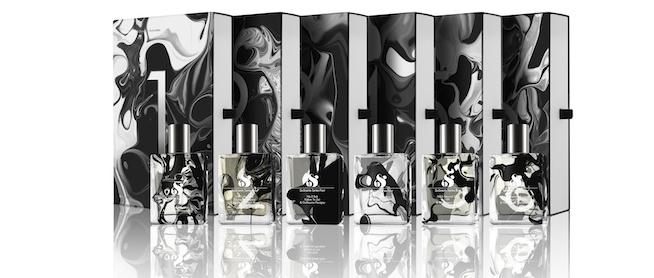 The Fifi Award winning Perfume Company Six Scents Parfums, announces its Series 4, Six Scents Characters: A Divine Narrative.
"As past Six Scents Series were constructed around themes, Six Scents: Characters continues this tradition through a character study in the context of perfume. With each fragrance, physical, psychological and symbolic human attributes are assigned to every note to slowly reveal a fictional character imagined by designers; Boris Bidjan Saberi, Giuliano Fujiwara, KTZ/Kokon to Zai, Raphael Young, VPL by Victoria Bartlett and Vth Avenue Shoe Repair and realized by perfumers, Shyamala Mainsondieu, Rodrigo Flores –Roux, Guillaume Flavigny, Calice Becker, Marypierre Julien, and Nadege Le Garlantexec.
'This time around we explore the back-and-forth dynamic between designers and muse: the muse inspires and guides the creator who simultaneously empowers the muse. – Joseph Quartana, Six Scents Parfums Founder & Collection Curator. The Australian art collective, AG11, have created original artworks that will become a part of the packaging experiences along with a documentary revealing the creative process of each Six Scents Characters Fragrance. Additionally, the new series will continue to support War Child, a non-profit committed to the safety and security of children in war-affected areas globally.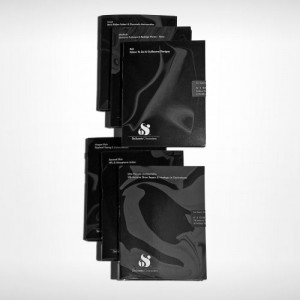 CHARACTERS SERIES – PARFUMS
No°1 – 'Crust' by Boris Bidjan Sabari & Shyamala Maisondieu –fresh citrus, tanned leather and woody cedar
No°2 – 'Modesty' by Giulliano Fujiwara (Masataka Matsumura) & Rodrigo Flores-Roux – *Frozen Metal, Cypress, *Kephalis, Labdanum, Opoponax, Resin
No°3 – 'Buk' KTZ (Kokon to Zai) & Guillaume Flavigny- Olibanum, Myrrh Oil, Sandalwood, Jasmine, Cedarwood, Patchouli
No°4 – 'Nappa Noir' by Raphael Young & Calice Becker– Ylang, Violet, Tobacco, Coffee, Patchouli, Iris, *Speculos, Cistus, Styrax, Leather, Birch Tar, Saffron, Vanilla, Serenolide
No°5 – 'Second Skin' by Victoria Bartlett (VPL) & Marypierre Julien– *Steamed Skin, *Karmaflor, Suede, Eorgywood, *Nirvanolide, Amber
No°6 – 'Une beauté accidentelle' by Vth Avenue Shoe Repair & Nadege Le Garlantezec- Grapefruit, Nutmeg, Bergamot, Sage, Leather, Tonka Beans, Cedarwood, Gaiac, Vetiver, Patchouli
Via press release
The series will launch in September 2012, but if you want to order a sneak sniff of all six, a preview sample pack can be purchased on the Company's new e-commerce site . Series 1-3 can be purchased individually, collectively or in sample sets http://www.six-scents.com/
Editor's Note: * They are all notes created exclusively by the perfumers from Givaudan to replicate the idea and story of the designers, for example "steamed skin" to replicate the smell of clean skin (5), speculos to recreate the smell of French cookies (4), and kephalis for stone (2) -MC