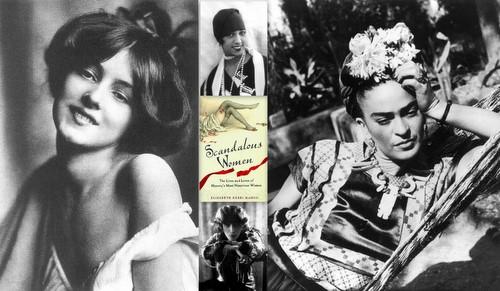 What is scandal? It is a set of behaviors that raises the collective eyebrows of the society in which a person lives. When a woman is scandalous it points to a special brand of courage. Not only has she shirked the confines of the accepted behavior of her society but there is that added element of redefining what it means to be female. What is scandalous to one time or another in various societies may not be scandalous in another so it must be seen in its proper context. Often a scandalous woman begins blazes trail and changes her society forever.
The following women caused scandals in their day but often served as catalysts for change. They were artists, entertainers, heiresses and fashion muses each of whom was unapologetically unconventional in her personal life an often held controversial political views. They shared a common bond of overt sexuality (and often a common sexual bond) and a highly developed sense of personal style.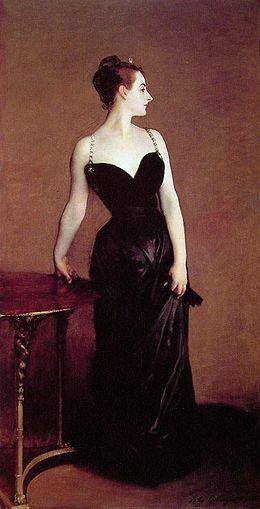 Madame X John Singer Sargent
Virginia Galtreau (1859-1915)
"Madame X set up a piano in the Alps." ~Arthur Rimbaud
American expatriate, socialite, and wife of French banker Pierre Galtreau, Madame Galtreau served as the model for John Singer Sargent's Portrait of Madame X (1884). The painting was controversial for the portrayal of a woman wearing a black dress, formerly known and the color of mourning deep respect, in a provocative manner. Renown for her great beauty Madame Galtreau was pursued by the artist for a sitting. The initial version of the painting featured Madame Galtreau with a plunging neckline and a fallen shoulder strap, a huge nod to her sexuality. Seen as indecent by the public and critics alike, Sargent created a modified version with the strap intact. Originally hoping for a foothold in the art world, the resulting scandal (the original wardrobe malfunction) lead to a halt in Sargent's portrait commissions and had a devastating affect on Madame Galtreau's position on society.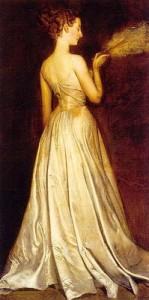 Gustave Courtois
Already notorious for her great beauty and rumored infidelities, the painting debuted anonymously (hence the Madame X) but Madame Galtreau's identity as the model was soon discovered. Instead of the adulation she was hoping for, Madame Galtreau faced public humiliation. To remedy the perceived injustice, Madame Galtreau had another artist paint her portrait. In the version by Gustave Courtois she has the same standing frontal pose with the head turned in profile. This time, however, the painting was well received and Madame Galtreau was vindicated. She later went on to pose for one more portrait by Antonio de la Gandara in 1898 where her back is to the viewer and she is clothes in an off the shoulder cream colored dress.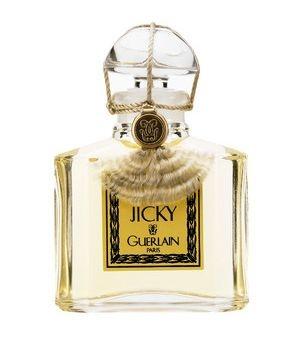 Guerlain Jicky (1889)
Give me an ounce of civet, good apothecary, to sweeten my imagination." ~William Shakespeare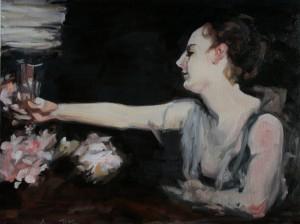 Madame Galtreau by John Singer Sargent
Known for her love of lavender, Madame Galtreau would have surely adored the groundbreaking Jicky with its notes of bergamot, lavender, basil, bay, rosemary, sandalwood, cinnamon, civet, coumarin, and vanillin. A revolutionary scent Jicky (Editor's Note: named after both Jaques Guerlain and a long lost love Jaqueline by nose Aime Guerlain) was as scandalous in its day as Madame X for the amount of civet in its formulation. (Editor's Note: Had Madame Galtreau lived a few more years our choice would have been Mitsouko by Jaques Guerlain; it means 'mystery' in Japanese)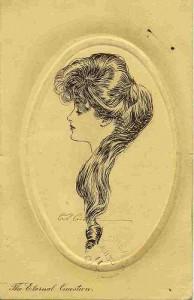 Charles Dana Gibson
Evelyn Nesbit (1884-1967)
"You'll never go out with that woman again." ~Harry Thaw as he shot Stanford White
American chorus girl and fashion muse, Nesbit was famous for being part of a group of models who helped define the look of the "Gibson Girl" from the drawing of Charles Dana Gibson. She began her modeling career in New York City and posed for such artists as Frederick S. Church, Herbert Morgan, Gertrude Kasebier, and Carl Blenner. It is Gibson's portyal of her with the red hair arrange in a question mark in The Eternal Question which has cemented her place in art and fashion history.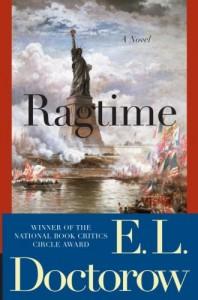 Her first known affair at the age of 16 was with world famous architect Stanford White who could have been her grandfather at age 47. This affair continued into her marriage to wealthy coal and railroad heir Henry Thaw who eventually killed White in a jealous rage in 1906. The real scandal emerged when accounts of her seduction were reported in the second of two murder trial, dubbed at the time "The Trial of the Century". Nesbit testified that White had a fetish for entertaining young women and pushing them in a red velvet swing while nude. This account was portrayed in the movie The Girl in the Red Velvet Swing (1955) featuring Joan Collins as Elizabeth Nesbit and Ray Milland as Stanford White. She was also a key figure in the award winning book Ragtime by E.L. Doctorow published in 1971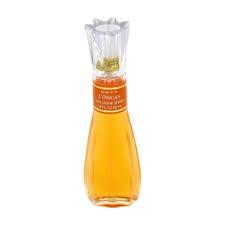 L'Origan Coty (1905)
"Perfume is love affair with one's self". ~Francois Coty
Francois Coty was a pioneer in the fragrance industry. He was one of the first perfumers to work with synthetics. L'Origan by Coty used the groundbreaking new materials and incorporated them with natural ingredients. The notes include bergamot, carnation, rose, violet, ylang-ylang, coumarin and vanillin. As a leader in fashion and trends it is very likely that Nesbit wore L'Origan.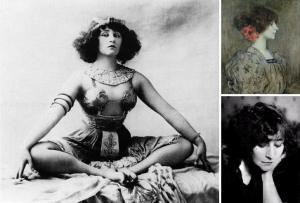 Colette (1873-1954)
"A little perfume here, a little perfume there and his lips will sweetly follow." ~Colette
French novelist Sidone-Gabrielle Colette is best known in popular culture for her novel Gigi which later turned into a play and provided the breakout role for Audrey Hepburn. Her first books known as the Claudine series were published under the name of her husband Henri Gauthier-Villars, known as "Willy" were considered shocking in their day. She left her unfaithful husband for Natalie Barney an American writer and embarked on a series of lesbian affairs which included Josephine Baker. The most public of these was with the Marquise de Belbeuf with whom she performed at the Moulin Rouge. The pair shared an onstage kiss that lead to the show being banned (Editor's Note : been there done that Madonna, Christina and Britney) In 1912 Colette married her second husband Henri de Jouvenal, editor of Le Matin, and had a daughter Colette de Jouvenal. The marriage dissolved in twelve years later after a scandalous affair with her step-son Bertrand de Jouvenal. She married a third time in 1935 to Maurice Gaudeket.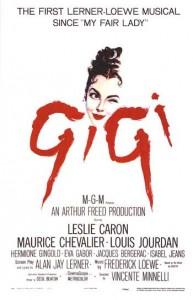 A prolific writer Colette published a total of 50 novels; perhaps her most famous is Gigi, which we know as a movie (starring Leslie Caron, Louis Jourdan, Maurice Chevallier and directed by Judy Garland's second husband Vincent Minelli–she had five) . They were known for exploring relationships in an honest and often dark manner. She is also recognized as an "olfactory novelist" as she used her highly developed sense of smell as imagery in her works. Despite her controversies, Colette was a member of the Belgian Royal Academy and served as president of the Academie Goncourt, and a Grand Officer of the Legion d'Honneur. Upon her death in 1954 she was the first woman given a state funeral in France. She is interred in the infamous Pere Lachaise cemetery along with fellow scandalmongers Countess Walewski (Polish mistress of Napoleon), Sarah Bernhardt, and Edith Piaf.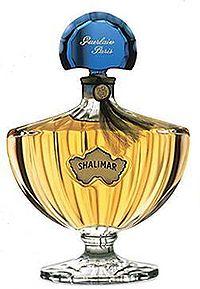 Shalimar (1924)
"There are three things no respectable woman should do: smoke, dance the tango, and wear Shalimar." ~A saying from the 1920's
Colette was known for her sensuality and was not limited to the world of words to express her creativity. Along with acting and music, she also dabbled in perfumery. At one point in her rich life Colette owned a beauty salon where she created original fragrances. One must imagine she also indulged in some of the finest fragrances of her day. What perfume would be worthy of the complex, volitile, passionate genius that was Madame Colette? None other than Guerlain Shalimar, the world's first great Oriental scent., created by Jaques Guerlain. Why Shalimar? First, it is French and from the venerable House of Guerlain. Second, the notes are a luscious blend of bergamot, sandalwood, vetiver, patchouli, coumarin and vanilla. When it debuted Shalimar was described as: "racy", "intoxicating" "bewtitching". All those adjectives could be applied to Colette herself. The name Shalimar means "Temple of Love" and is as straightforward in its overt sexuality as the writings of Colette. (Editor's Note : Perfumer Gerald Ghislain of Histoires de Parfums created 1873 in her honor ""surrounded by Mediterranean scents, citrus, yellow fruits, orange blossom with a gourmand touch of vanilla, white musk, and caramel because she was a sensual woman)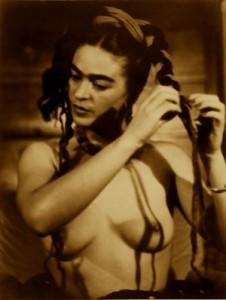 Diego Rivera painting
Frida Kahlo (1907-1954)
"Feet, what do I need you for when I have wings to fly?" ~Frida Kahlo
Mexican painter she was revolutionary for her frank portrayal of the female experience and for her uncompromising loyalty to the Mexican and Native American folk heritage. Born Magdalena Carmen Frieda Kahlo y Calderón, (Kahlo, whose father was German- Jewish), even claimed her birth year was 1910 to coincide with the Mexican Revolution. She was married to fellow artist Diego Rivera who had been her mentor. They were both passionate and combative and each had many public extramarital affairs. This was often accepted behavior for a man in that day. However, Frida broke with convention to not only pursue men but woman as well. Rivera tolerated the lesbian connections, which also included Josephine Baker, but her affairs with men made him jealous. The most notorious of these was with Communist leader Leon Trotsky while he was in Mexico seeking asylum from Stalin's regime in the USSR.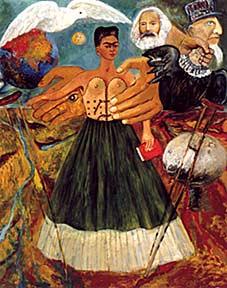 Marxism Will Give Health to the Sick – Frida Kahlo
A defining aspect of her personality was established when at age six Kahlo contacted polio. The illness left her left leg much thinner than the right which she hid by wearing the iconic colorful full Mexican skirts. The effects of this illness were exacerbated by a serious accident in her early 20s when she was in a bus accident car and Kahlo suffered broken bones all over her body. She also suffered a puncture wound to the abdomen which went through her uterus and later hindered her ability to have children. Kahlo underwent 35 successive operations and endured physical pain through much of her life. It was while Kahlo was recuperating in a full body cast that she turned her eye to painting. (Editor's Note: In an interview when I asked Rodrigo Flores-Roux about Frida and a scent he would create for her he replied, "Well, I am biased here, because I know a lot about Frida's life and I know that her fragrances were Shocking de Schiaparelli, Tabu and Emir by Dana… so I cannot dissociate these scents from Frida's persona ).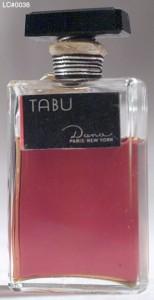 Dana Tabu (1931) Shocking de Schiaparelli (1935), Dana Emir(1936)
"Whenever a taboo is broken, something good happens, something vitalizing." ~Henry Miller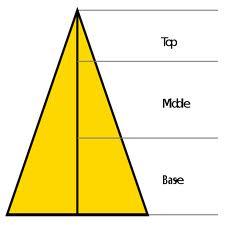 Kahlo was known to wear vintage Dana Tabu. Heavy in patchouli Tabu, a play on the word taboo, also boasts notes of bergamot, coriander, clove, jasmine, narcissus, ylang-ylang, amber, cedar, civet, musk, and sandalwood. Nose Jean Carles, in describing the fragrance to an industry outsider, created the concept of the Perfume Pyramid. Legend has it that Dana, originally a Spanish company, gave Carles instructions to create a perfume that would suit a "puta" (whore). Kahlo must have loved both the irreverence of the name and the original sultry formula (not to be mistaken what is now sold in drugstores).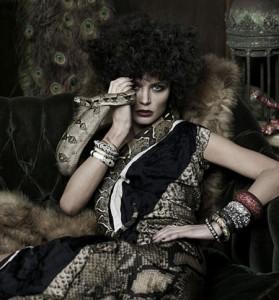 Luisa Casati Stampa di Soncino (1881-1957)
"I want to be a living work of art." ~Luisa Casati
Italian heiress muse and patroness of the arts the Marchesa di Roma was unique. She was seen strolling down the fashionable streets of Rome with her pair of pet Cheetahs wearing nothing but her fur coat. She was also known to sport live snakes as jewelry. Married to a fellow Italian nobleman Marquis Casati Stampa di Soncino, they maintained separate residences as Luisa embarked on many adulterous liaisons.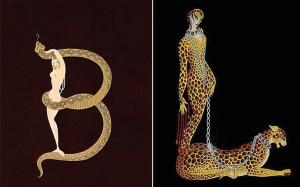 La Marchessa inspired Cartier's Panthere jewelry design and influenced many artists of her day, including Erte and his fabulous portraits of women with leashed greyhounds and leopards. Her legend resonates today with as the namesake for the Marchessa fashion house. Despite Casati's fame and early wealth, she died in relative poverty in England. She is said to be buried in her favorite black and leopard skin outfit sporting false eyelashes.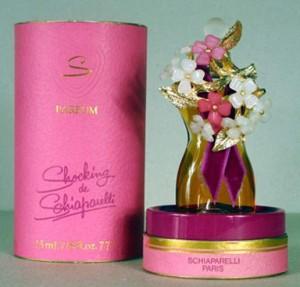 Schiaparelli Shocking (1935)
"I have always believed Shocking to be one of the most aptly named creations of all time". ~Roja Dove
Luisa was no stranger to shock value and would have loved the Schiaparelli aesthetic. The fragrance is highly aldehydic with notes of tarragon, rose, jasmine, carnation, honey, oakmoss, vanilla, vetiver, musk and civet. The bottle depicts the hourglass figure of a curvaceous woman said to be actress Mae West. Italian designer Elsa Schiaparelli was the first courtier to outsource her fragrance and contract a compounding house. This is now the most common practice of designers such as Ralph Lauren, Giorgio Armani, and Calvin Klein.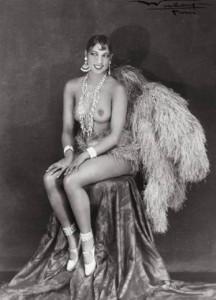 Josephine Baker (1906-1975)
"I wasn't really naked. I simply didn't have any clothes on." ~Josephine Baker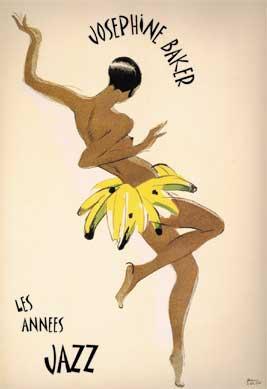 Born Frieda Josephine McDonald in St. Louis, Missouri the ex-patriate American entertainer and advocate of social justice "La Baker" found her spiritual home in France. Her skills as a dancer were honed in New York City during the Harlem Renaissance. Baker was immediately embraced by the French (Editor's note: One of my favorite quotes of La Baker is "We are all citizens of France") when she appeared onstage at the Theater Champs-Elysees in 1925 in a state of semi-nudity while performing an erotic dance. This set the tone for her image as a modern European reinterpretation of the African as raw sensualist. This was later made iconic in her infamous Danse Sauvage where she sported nothing but a skirt of bananas. Baker's outlandish behavior, though, was an extension of her personality. She enjoyed having her pet cheetah, which supported her jungle image, join her onstage and allowed him to frequently escape into the orchestra pit to add an element of danger to her show. Josephine Baker was infamous for her lesbian affairs as noted above.
She served as a spy during World War II after marrying a Frenchman and becoming a citizen. As an entertainer Baker was able to move freely around Europe and successfully smuggled secrets written in invisible ink on her sheet music. Her work for the American Civil Rights movement was a based from France through her frequent trips to entertain. Baker refused to perform for segregated audiences in the US which lead to the first integrated shows in Las Vegas. She waged a charge of racism against the prestigious Stork Club, an institution in New York, which had refused her service. In addition, Baker spoke at the groundbreaking March on Washington lead by Martin Luther King in 1963.
She also made a statement of tolerance through her adoption of children from diverse backgrounds This was way before Angelina Jolie and Brad Pitt! She dubbed them the "Rainbow Tribe" and hey hailed from Korea, Japan, Columbia, Finland, France, Israel, Algeria, France, Ivory Coast, Venezuela and Morocco.
Josephine Baker received the Croix de Guerre, the Rosette de La resistance, and was made Chevalier of the Legion d'honneur.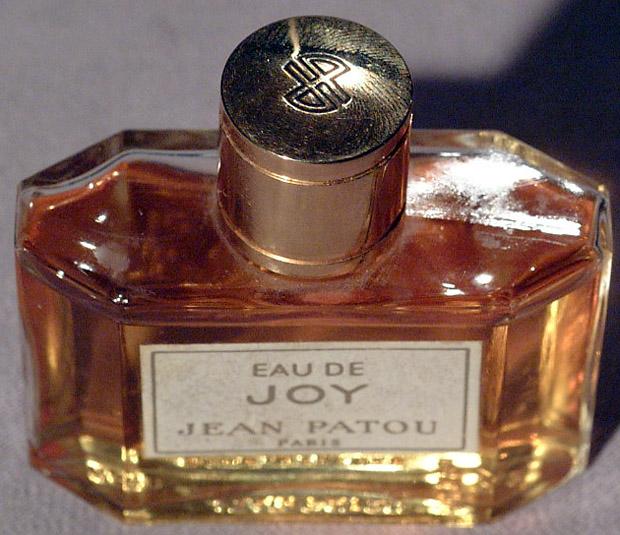 Jean Patou Joy (1929)
"Perfume and incense bring joy to the heart." ~Proverbs 27:9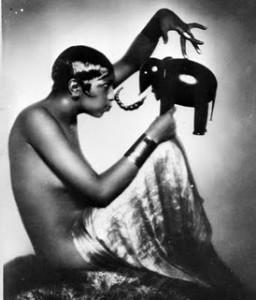 It is said that Josephine Baker sprayed Worth Je Reviens on her pet pig. However, for herselfBaker chose the most expensive perfume in the world at that time: Joy by Jean Patou. Born to poverty, Baker must was relished the fact that she could afford such a luxury. The name "Joy" was deliberately picked in response to the somber mood of the Great Depression. The reason for the high price tag is the use of over 10,000 jasmine flowers in every ounce! Joy is a floral erupting in notes of rose, jasmine, ylang-ylang, tuberose, sandalwood, musk, and civet.
Liza Wade, Contributor
Michelyn Camen, Art Direction
The draw is for a 1.7 oz of Joy de Jean Patou. Who is your favorite Scandalous women past or present? Leave a Comment about this article, the fragrances chosen and your vote for CaFleureBon's most intriguing perfume people. Draw ends Saturday March 12, 2011

Editor's Note: I was too young for La Liz, Marilyn Monroe and Ava Gardner, one of whom would get my vote perhaps (Ava Gardner has Maurice Roucel's)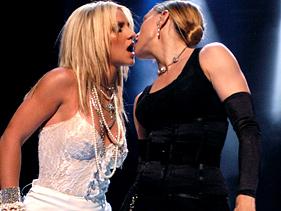 been there done that by the scandalous ladies of scents
I was formerly a VP of a company called No Excuses. We used 'scandalous women of the 90s in our ads. the brand is obscure now, as is many fo the high profile women of that time: Jennifer Flowers (Gary Hart), Marla Maples (a former Mrs Trump) and Monica Seles (who was to young to know what she was doing and hid out at with The Donald during a personal crisis; she went to battle back after a stabbing of a crazed fan). I look at Lindsay Lohan, troubled, trying but arrested recently for stealing jewelry. Madonna writes children books, and turned into 'Esther'. Britney Spears looks like she is having a comeback, but she isn't an icon. Amy Winehouse. I don't know when she will be out of Rehab… No, no no. Lady Ga Ga really excites me, but so far just a singer.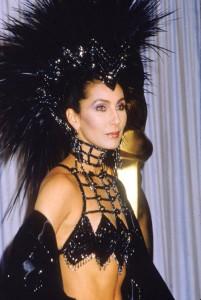 So my vote goes to CHER.
As a young girl, I remember the Sonny and Cher show. Cher did a vignette every week featuring shady ladies: "she was camp, a scamp, and a bit of a tramp. She was a V-A-M-P. Vamp. Cher went on to be more than half a novelty act. She has two very strong children, transexual Chaz Bono and Elijah Blue. She divorced Sonny Bono, and married Greg Allman. She had affairs with Elvis Presley, Tom Cruise and Val Kilmner, and lived three years with a 22 year old guy who made bagels for a living when she was 40. She stunned the world with her acting, playing against type (as an unglamorous lesbian) in Silkwood, Mask and Moonstruck (Academy Award for Best Actress). She's won Grammys' Golden Globes, and an Oscar.
In 1998, Cher was honored with a GLAAD Media Award (Gay and Lesbian Alliance Against Defamation) in November 1999. She wore mouth dropping fashions to the Oscars, when most everyone else played it safe. She has had comebacks so many times I lost count , most recently in the movie Burlesque at age 66. Where she failed? Cher the fragrance…well its never too late.