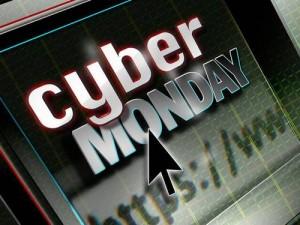 What smells like heaven on you often ends up in someone else's 're-gift' pile, so as fragrance fanatics, we rarely recommend giving the gift of perfume or cologne for the holidays, unless the recipient specifically asks for it; if you know your giftee-to-be's fave fragrance, so does everyone else. Does anyone really need 12 bottles of their favorite fragrance under the tree? Do not despair…"Scent-a Claus" is here. The Ca Fleure Bon's Cyber Monday Gift Guide that will surely please even the pickiest perfumistas and discriminating connoisseurs. Tested and approved…all you do is point and click:
Les Objets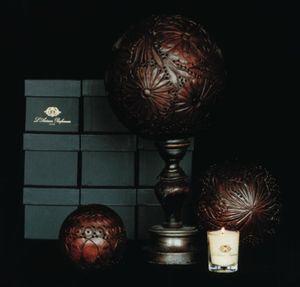 Liza Wade, Contributor: L' Artisan Parfumeur's Amber Balls are at the top of my list as a personal holiday gift. Designed and created by mother and daughter in Paris, these are the ultimate artisnal gift, handcrafted from terra cotta. They waft a beautiful amber scent that lasts about a year, and the refillable scent "crystals" can be purchased separately.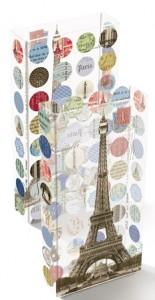 Michelyn Camen, Editor-in Chief: Ron Robinson's Fringe Studio – Eiffel Tower Dot Tiffany Vase is not only beautiful to look at but well-priced. This vase has Gallic flair; and even though the French didn't invent perfume (they just think so), most perfumistas are Francophiles.www.ronrobinson.com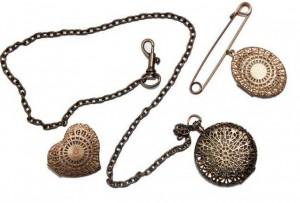 Debuting today on CaFleureBon: Frederick Bouchardy of Joya gave us this exclusive …
Didier Cholay, Managing Director: Fragrance and home ambiance innovator, Joya, teams up for a third capsule collection with design collective, Vane, featuring hand-crafted solid perfume and jewelry. Timepiece, a pocket watch pendant contains a Royal Jasmine perfume; Pin, featuring an oversized safety pin, houses a Moro Blood Orange concreta; and the heart-shaped Brooch is scented with Starleaf, an exotic orange blossom fusion. "I would send my daughter Leslie 'Starleaf', so she can pin it on her blouse and keep me close to her heart".
The collection will be available at all Anthropologie stores in the USA and UK and on anthropologie.com beginning November 29.
Emmanuelle Varron, Contributor: "Bulles d'Agathe" by Masion Francis Kurkdjian It's always a pleasure to find a gift that will please and surprise, and that you will still hear about several months later. This is what happened to me when looking for a unique gift, not too expensive but fun enough for the young daughter of a friend who had invited me for a home-cook dinner. I offered the little girl the famous the scented bubbles "Bulles d'Agathe" created by Francis Kurkdjian. I chose the "cut grass" scent because I find it absolutely amazing, so close to the real thing. My friend's daughter was thrilled. She gave us a demonstration! www.franciskurkdjian.com
Go for Broke…Go Bespoke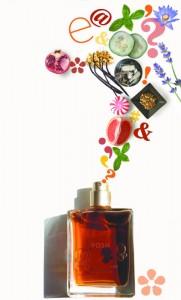 Mario T. Gomez, Contributor: Scented Aura Reading by Yosh Han who offers intuitive insights and personalizes fragrance from her Evanescent Collection by reading your aura and chakras. Readings vary in length and scope. All you need is an open heart and questions about love, prosperity and life transitions. For private in-depth readings, please inquire about appointments, in person or by phone. info@eaudeyosh.com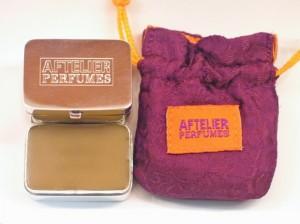 Michelyn Camen, Editor-in- Chief: Bespoke Perfume by Mandy Aftel, named by Forbes as one of the top seven bespoke perfumers in the world. Mandy's natural and botanical bespoke perfume costs $1,100, using only the finest ingredients and includes 1/4 oz. liquid perfume and 1/4 oz. solid perfume in a sterling silver compact. This can be done either in-person at her studio, or long-distance at home.
Green Holiday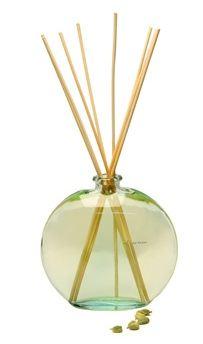 Monica "Skye" Miller, Senior Editor and Natural Fragrance Editor: Red Flower Cherry Blossom Intensely-Scented Organic Room Diffuser has tested a number of natural home fragrances and Redflower consistently throws the most scent and lasts for at least 3 months. "My personal favorite is Cherry Blossom, because when the chill is on, it will always be Spring in my heart. I love that it is Demeter-certified and encased in a recycled Spanish glass vase".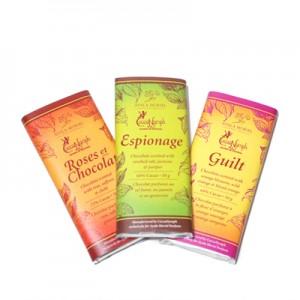 Ida Meister, Senior Editor: Chocolate FairyTales by perfumer Ayala of Ayala Moriel Parfums and chocolatiere Rachel Sawatzky of CocoNymph are multi-sensorial treats for the nose and the taste buds. Each of the three chocolate bars were inspired by a perfume created by Ayala Moriel: GUILT chocolate is scented with orange blossoms, wild orange & blood orange. 64% cocoa; ESPIONAGE chocolate is scented with smoked salt, jasmine & juniper. 64% Cacao; ROSES ET CHOCOLAT chocolate is scented with rose, saffron & chilli. 72% Cacao. http://ayalamoriel.com/index.cfm?PageName=Products&View=ProductsDetails&ProductID=192
Christmukkah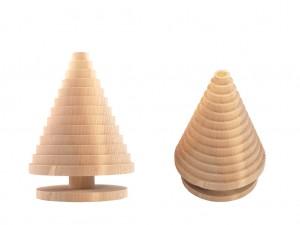 Liza Wade, Contributor: Cedar Christmas Tree by Linari is made from a single piece of rare Lebanese cedar with a long and noble history. The tree was planted in 1790 in the park of the Château de Sassenage near Grenoble in the French Alps during the reign of Marie Antoinette and Louis XVI. During a storm in late 2008 the crown of the protected Lebanese cedar was so damaged that the tree had to be felled. The history of this unique tree lives on in the form of a modern Christmas decoration that wafts the wonderful aroma of cedar that exudes the thrill of Christmas anticipation. http://www.ausliebezumduft.de/linari-cedarwood-christmas-tree.html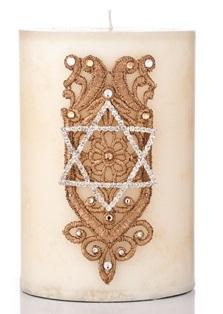 Ida Meister, Senior Editor: Lisa Carrier Embellished Candle uses hand painted Italian lace, rhinestones, Swarovski crystals and silver studs, the 6 "/15cm crème gardenia-and-jasmine scented Judaica Star of David is just in time for Hanukkah (December 1-9) which is just around the corner. Just a gorgeous gift!!!
http://www.ahalife.com/archive/product/77/embellished-candles/
Tea For Two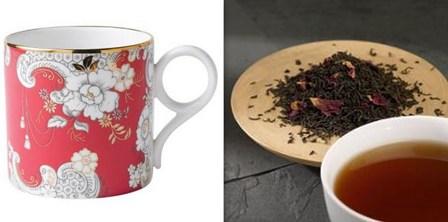 Vanessa Musson, Contributor: "Aside from my interest in perfume, I am a bit of a ceramicophile on the quiet, if such a word exists for a person with a mug buying compulsion. We have periodic culls in our house of the plainer earthenware sort with garish corporate logos, but still the mug trees multiply into forests. So in a bid to curb my tableware habit, I will gain vicarious pleasure from giving someone else a mug, in this case a flamboyant gilt-edged number by Wedgwood, the quintessentially English brand of china, based a mere plate's throw from me in Staffordshire. And as the mug seems to call for a more ritualistic ceremony than just lobbing in a tea bag of the standard floor sweepings variety we Brits favour for our daily cuppas, I will also give my imaginary friend a packet of Taylors of Harrogate speciality black tea made with rose petals, for brewing in a proper pot. That should make for a stylish, pink-themed tea drinking experience this Christmas"
http://www.tablewhereshop.co.uk/detail/17445
http://www.taylorsofharrogate.co.uk/teaitem.asp?itmid=631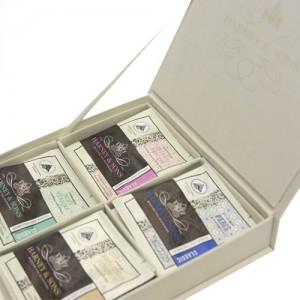 Mario T. Gomez, Contributor: Harney & Son's 4 Slot Beige Tea Chest Linen box: "The price is $15 and tea is a great gift…it includes one of two of my favorite teas from them: Bangkok and White Vanilla Grapefruit. The aroma and taste are amazing."
http://www.harney.com/4-Slot-Beige-Teachest-Linen/productinfo/80146/
Burn Baby Burn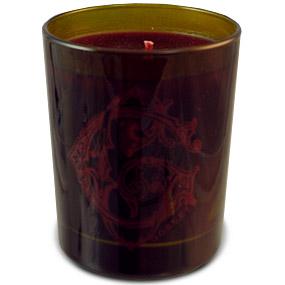 Mark Behnke, Managing Editor: Gossett Fizz Bordeaux Candle Created by Béatrice Cointreau is our resident oenophile. It reminds him of an old underground wine cellar: dark, woody, with a spicy-cool air; one of the most original candle scents available today
http://www.luckyscent.com/shop/section/1/item/35100/brand/Gosset/Fizz_Bordeaux.html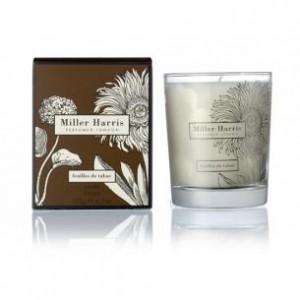 Miller Harris Feuilles de Tabac Candle One of my favorite smoky, woody fragrances during the winter months is a great gift for him (and her). Real men do like candles!
https://minnewyork.com/gifts-and-top-picks/for-him/miller-harris-feuilles-de-tabac-candle-185g.html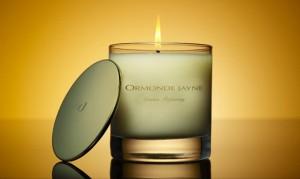 Michelyn Camen, Editor-in-Chief: Ormonde Jayne Ltd. Edition Navidad Candle Fragranced with warm notes of Clementine, Cardamom, Amber and Tonka, the candle has an embossed gold lid and is housed in an antique gold box. Burn Time 60 hrs. I love the complimentary worldwide shipping with every order £60 or over (Enter promotional code 'SANTA' at the checkout). *Offer open until 20th December 2010 http://www.ormondejayne.com/uk/perfume-collection.php
Bath and Body

Mark Behnke, Managing Editor: Atelier Cologne Soaps I really enjoy having a bit of Atelier added to my day is in the shower with their new hand-milled soaps. They have a soap to match each of the Cologne Absolues and the soaps are lovely to handle rectangles of refreshing scent. They are available individually or as a set of three. Perfect for anyone who doesn't wear fragrance but wants to feel refreshed. http://www.bergdorfgoodman.com
Michelyn Camen, Editor-in-Chief: Skye Botanicals Hand and Body Lotion (vanilla) Yes,in full disclosure, Skye Botanicals is owned by our Senior Editor and Natural Fragrance editor Monica Skye Miller. I have been using this magic healing lotion before Skye joined our team. Very slightly fragranced, absorbs beautifully and my skin looks and feels supple. This lotion is filled with anti-oxidants and anti aging ingredients. My skin looks at least five years younger!!!
http://www.skyebotanicals.com/
WIN: LEAVE A COMMENT ON WHAT YOU COVET FROM OUR GUIDE AND TWO READERS WILL BE ELIGIBLE TO WIN A 4.0Z FULL SZ BOTTLE OF SKYE BOTANICALS HAND AND BODY LOTION. COMMENTS MUST BE LEFT ON SITE. (Draw closes December 2, 2010)