For years I have wondered what Mitti Attar smells like. Mitti is a traditional Indian attar made by hydro-distilling baked earth into pure sandalwood oil. If you can imagine living in an intensely hot dusty desert environment that reaches oven like temperatures every summer, then you can imagine the emotional significance of the scent of the eagerly awaited rain on dry earth. This is the perfume captured in Mitti Attar.
Mitti does indeed smell dry and dusty bringing new meaning to the word "earthy" in reference to perfume…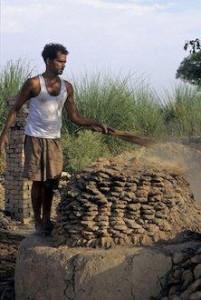 Evan Healy is a woman of simple, sophisticated taste. To be clear the fragrances offered here are not the complex blended perfumes of western culture which require the talent of a skilled Perfumer to build and construct, but the collected treasures of a traveler to India bringing her customers the wares of the Indian attar distillers, unadulterated, unblended, and undiluted. The attars are made by hydro (water) distilling fragrant flowers such as roses, jasmine or saffron captured into sandalwood or vetiver oil, and the ruhs are the pure essences of the flowers or spices without sandal or vetiver oil. Evan calls her perfumes Puja Fragrances, referencing the ancient Sanskrit word Puja which means "a ritual offering of auspicious items such as flowers, fruit, perfume and sacred ash. It is an act of showing reverence to a god, a spirit, or another aspect of the divine through invocations, prayers, chants, song and rituals".
True natural aromatherapy Indian attars and ruhs have long been applied daily to pulse points or specific marma points (energetic pathways) by the Vedic healers of India to "quiet the mind and calm the spirit… soothing and calming the breath, nervous system, and heart and producing a mild euphoria".
Attars can be applied more than once throughout the day creating a mild and beautiful aromatic sillage around one's body bringing the healing effects of the oils to the people and animals in one's vicinity as well as to oneself.
The Offerings…
Parijata Attar
Being an unfamiliar flower to me I was very interested to try the Parijata Attar. The scent is very bright and energetic, a lovely floral with a slight "bite" or sharp quality. Made from the flowers of the parijata tree the flowers bloom only at night dropping their blossoms at the first light of dawn.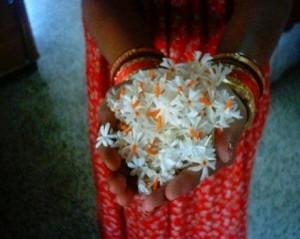 Mitti Attar and Vetiver/Mitti Attar
Baked Earth captured in Sandalwood or Vetiver oil. Mitti does indeed smell dry and dusty bringing new meaning to the word "earthy" in reference to perfume… The sandalwood captured mitti attar is a lighter scent, the dry dusty earth being more obvious from the first impression. The vetiver mitti is heavier, the earth scent emerging over time.
Rose Attar
A delicious "steam distilled light rose" scent captured in sandalwood oil (much like a Bulgarian damask rose steam distilled oil)
Motia Attar
Beautiful night scented jasmine flowers captured in sandalwood oil.
Night Queen Attar
I would describe this as an herbaceous floral scent. Quite interesting.
Vetiver and White Ginger Lily
A spicy, energizing floral.
Saffron Attar
Known for its anti-depressant qualities saffron is an herb of the Sun. This scent is fresh, tangy, very true to saffron as we know it. An uplifting scent.
Vetiver and Rose
A very yummy almost chocolaty vetiver scent layered with rose. Lovely.
Essential Oil of Patchouli
A collector's item for patchouli lovers. An aged patchouli the quality of fine wine.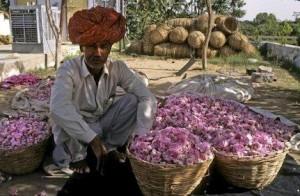 sillage: gentle
longevity: good
natural or blended: 100% natural
worth the risk to buy unsniffed: Yes
references, quotations and photos: Evan Healy's website.
Photo of Buddha by Sameer Tuladhar
https://www.evanhealy.com/products/fragrance Puja Fragrances
https://www.evanhealy.com/blog/show Evan Healy's Blog
Evan is offering a tester sample set of all of the attars as a gift to one of our commenters on this post. Please comment to be entered in our draw . The draw ends Nov 6, 2010 at 11:59 pm
–Monica "Skye" Miller, Natural Perfume & Senior Editor