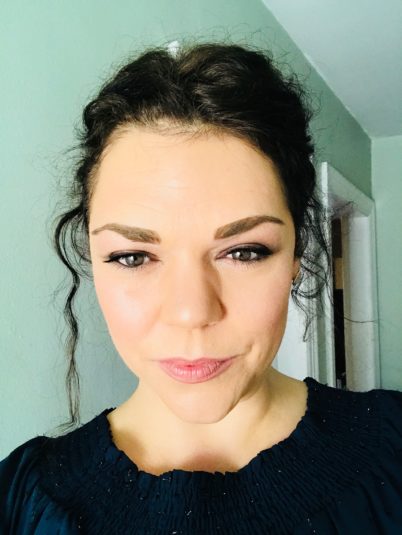 Charna Ethier of Providence Perfume Co (photo Charna)
Providence Perfume Co.'s founder and natural perfumer Charna Ethier seems to have something fascinating up her sleeve at all times; that's a given. In the early January snow a bevy of inveterate sniffers (John Biebel and myself among them) descended upon her gracious self like flies upon a honeypot.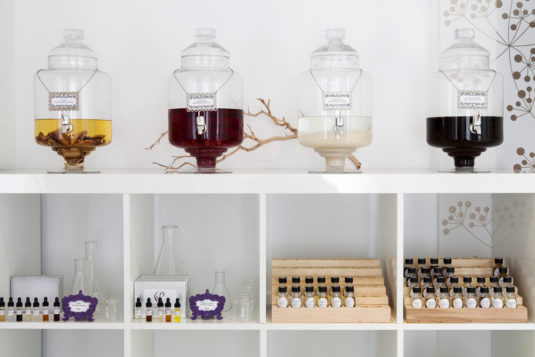 Display of Natural Tinctures and absolutes at Providence Perfume Co. Boutique
She gave us the grand tour of her new boutique and some sniff-and-tell of unusual absolutes and tinctures.The primary subject of aromatic scrutiny was her latest experiment – tincturing jasmine rice in alcohol in order to capture its gentle milkiness. An immense vessel filled to the brim with it sat upon the table: how long was long enough? The odor we smelt was familiar and comforting, if rather dilute at that time. As we were to discover later, this essence wheedled its way into her latest fragrance Providence Perfume Co. Vientiane.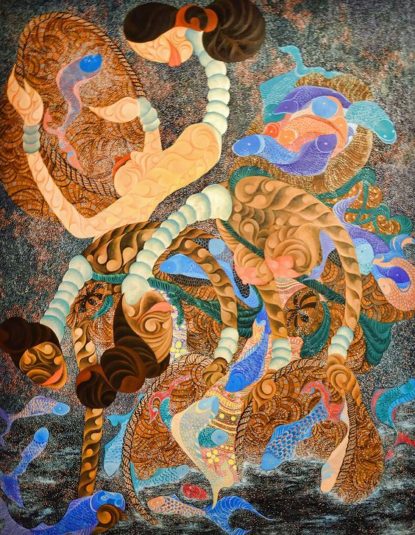 Marisa Darasavath©
Vientiane.The capital city of Laos, known to its people as both The City of Sandalwood and The City of the Moon sidles along a bend of the Mekong River. Now the economic center of modern-day Laos, it was once heavily forested with sandalwood, hence yielding the inspiration for Charna's newest perfume. So many cultures have converged surrounding Vientiane throughout the years – Thai, Burmese, Cambodian, Vietnamese, Chinese – and they are fleshed out via the perfumer's employment of unusual and evocative materials.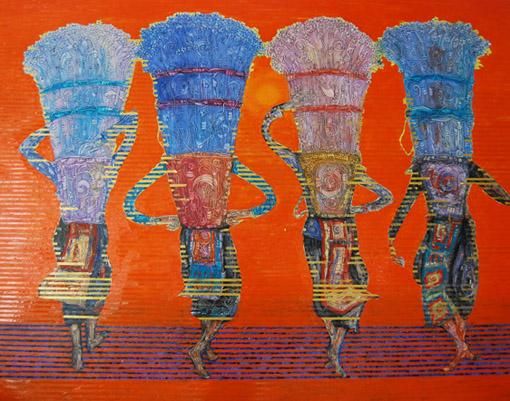 Marisa Darasavath©
"Sandalwood smells like a combination of baby powder and wood, but real sandalwood especially from East India or New Caledonia has a complex, rich, buttery, old polished wood aroma that's incredibly beautiful. The mainstream perfume industry very rarely uses real sandalwood due to its cost and rarity My goal in Providence Perfume Co. Vientiane was to create a sandalwood forward perfume, that highlighted this rare material in conjunction with the delicate jasmine rice accord. Lactones are milky, buttery smelling scent components that natural perfumers have little access to. By creating the jasmine rice tincture as the base for this perfume I'm able to work with a natural lactone enhancing the beauty of the sandalwood." –Charna Ethier of Providence Perfume Co.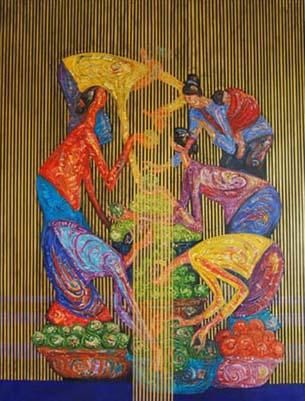 Marisa Darasavath©
Firstly, our jug of tincture: it may have been strained many, many times, but the jasmine rice tincture in my vial is as toasty as if it just came from my stove top and possesses more longevity than you might expect. That's the beautiful olfactory immediacy of it. Imagine this if you can, integrated with tropical and culinary-intoned Asian aromatics cradled in a profusion of sandalwood. Next, envisage a flavor which is creamy, savory/sweet, tenderly white floral-tinged with a soupçon of bitterness on the tongue. This would approximate my delighted perception of Providence Perfume Co. Vientiane. It is a remarkable perfume in its own right and unlike any other sandalwood fragrance I've encountered. The tenacity is amazing. Over hours upon the skin it assumes a burnished honeyed glow which lasts and lasts; that tiny dollop of bitterness slides into the background but its seasoning remains, a subliminal scented undercurrent.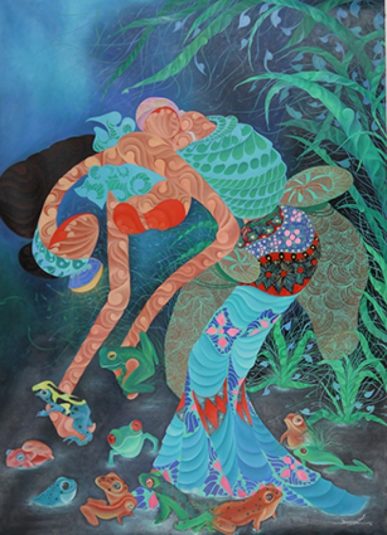 Marisa Darasavath©
Rice paddy herb (aka Limnophilia aromatica) is a Southeast Asian native relative of the plantain which is loved for its lemony, cumin-like facets, often used in soups and vegetable dishes. Chinese silk vine (Periploca sepium) derives from the roots of the plant and resembles frangipani adorned with almond-vanilla notes; it's quite rare, and a reputable source I located values the essential oil (extracted from concrete and sold in a fixative base) at $175.00 an ounce. Ginger lily, one of Charna's beloved tropical floral absolutes – is ethereally complex, boasting a spicy/balsamic/fruity/floral palette ($400.00/oz.). You see where I'm headed, I think: there is nothing 'bon marché' about the perfumer's choices.
Time, effort and quality materials display themselves to exquisite effect. According to Charna, the genesis of Providence Perfume Co. Vientiane was unusual for a natural perfumer. She said "I have a customer for whom I previously created bespoke perfumes. I'm no longer able to do this as my time is very limited. Her persistent request is that I create a natural take on Bois Farine by L'Artisan Perfumeur. Although I've turned her down a number of times, perhaps her request was subconsciously in the back of my mind when creating Vientiane. As a devotee of her 2014 Rose 802 perfume oil (I've lost count of the number of bottles I've used, ordered, given as gifts) I staunchly avow that scent like any form of communication, efficacy lies in whether or not you've succeeded in conveying the intended message.In reference to Vientiane, we hear you, Charna – loud and clear. The medium is the message (Marshall McLuhan, 1964). Notes:Indian Sandalwood, New Caledonian Sandalwood, Hawaiian Sandalwood, Jasmine Rice Accord, Chinese Silk Vine,Ginger Lily and Rice Paddy Herb
.Thank you, dear Charna and Sarah – for my bottle! My nose is my own…
~ Ida Meister, Senior Editor
~ Art Direction: Michelyn Camen, Editor-in-Chief. I used the art of Marisa Darasavath, a Laotian artist cited in The New York Times as "one of Laos's leading contemporary artists" and was born in Vientiane.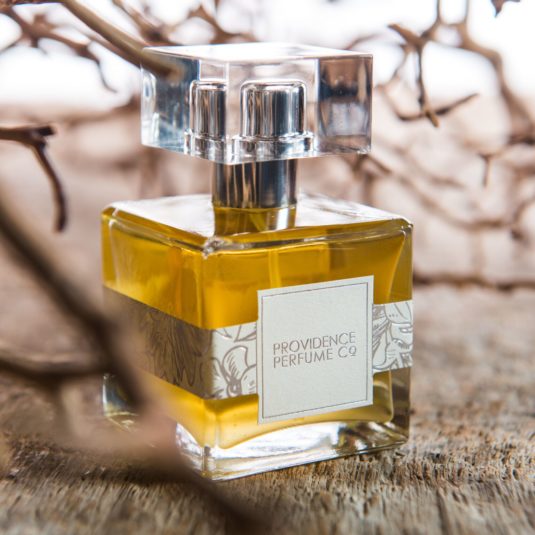 Providence Perfume Co Vientiane
Thanks to the generosity of Charna Ethier of Providence Perfume Co. we are offering a 50 ml bottle/$175 of Providence Perfume Co. Vientiane to one registered reader worldwide (be sure to register or your comment will not be counted). To be eligible, tell us what appeals to you about Providence Perfume Co. Vientiane based on Ida's review and where you live. This is the first time Charna has offered a worldwide bottle draw so we are very grateful. Draw closes 2/12/2018
We announce the winners only on site and on our Facebook page, so Like ÇaFleureBon and use our RSS blog feed…or your dream prize will be just spilled perfume.