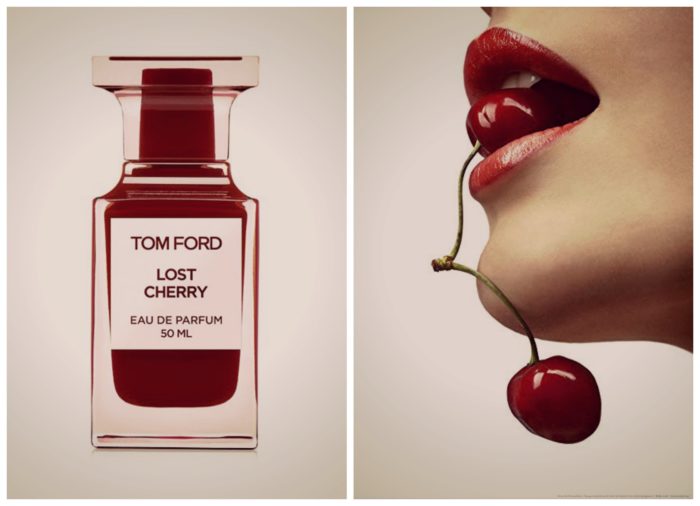 Tom Ford Lost Cherry courtesy of Bergdorf Goodman and Stock photo
It's been over a year since Creative Director Tom Ford has blown me away, but his latest release from the Private Blend collection, Tom Ford Lost Cherry (composed by Givaudan's English perfumer Louise Turner) makes up for lost time despite its unfortunate moniker. We could bandy about any number of reasons why I felt predisposed to vehement dislike Tom Ford Lost Cherry: the hefty price tag for 50 mls ($320.00), lamentable nomenclature which is patently perverse and tasteless (not to mention gauche); the whole overblown enfant maudit aura about it. What I wasn't prepared for was how thoroughly smitten I would become, beholden to the bad boy who dreamed it up. In thrall to a perfume whose name struck anguish in the pit of my stomach redolent of childhood trauma (to put it mildly).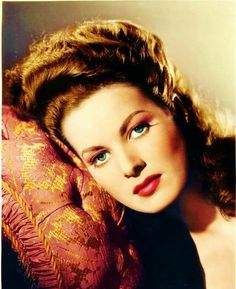 Maureen O'Hara
Ah, dear reader – then I smelt Tom Ford Lost Cherry. Heaven help me, I was hooked and reeled in, pronto. To make matters worse, once I'd gingerly applied it to the flesh folk stopped me on the street, in stores, on buses, trains. My own family, my colleagues, those in my care exclaimed as one Greek chorus: "You are delicious! Divine! What ARE you wearing???" I FELT delicious, and sophisticated, knowing, erudite, marvelously chic. I began scheming up potential circumstances through which I could acquire some bon marché (the only decent way a working stiff can!). Pride goeth before a fall, as does hubris. I felt a fool indeed.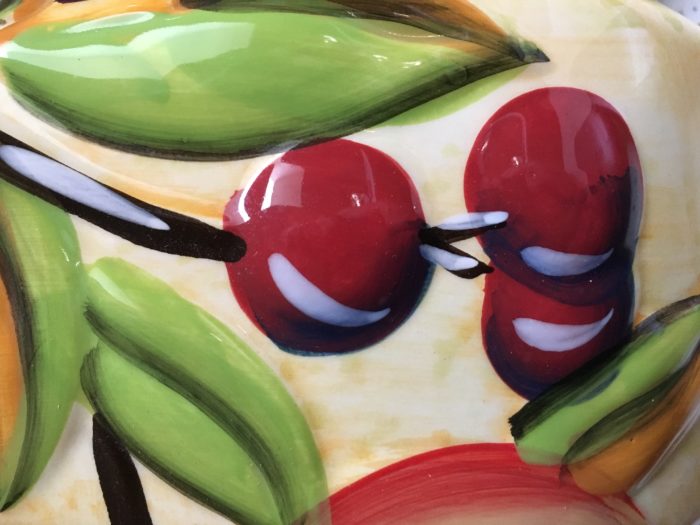 Detail of Gail Gross' cherry decorated pottery©
Cherries are cheerful: "Life is just a bowl of cherries", sings the old adage. A "cherry on top" is thought to complete the picture, a pinnacle of perfection. To cherry-pick is to selectively choose only the best available. They are symbolic of fecundity, viewed as one's first taste of love's kiss: deeply red, ripe, juicy – intensely colored and flavored. When bitten, the juice dribbling down one's chin resembles blood; a lover's lips are compared to them. How exquisitely vampiric.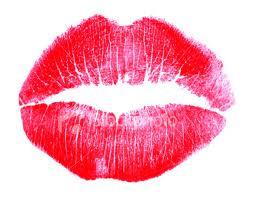 Michelyn's Lip print (Tom Ford Cherry Lush lipstick)
The cherry ripens upon the tree; once plucked it represents the loss of innocence and virtue – thus the equation with maidenhead/virginity. Cherries tasted are pierced by appetite and virgin no longer. Cherries flambéed imply unquenchable desire and lustful intention.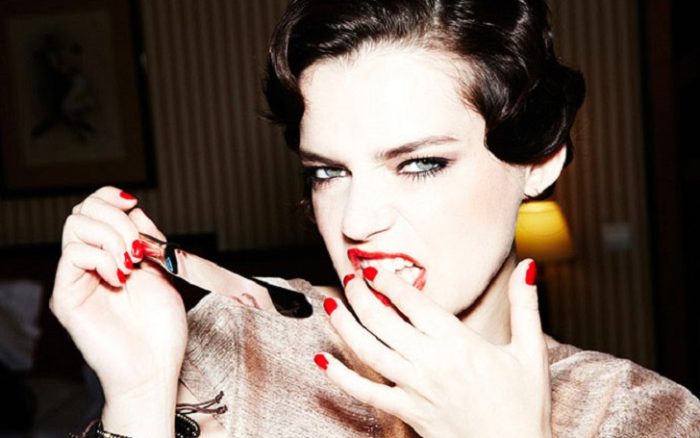 Paolo Roversi© Roxanne Mesquida
Plenty of eroticism is packed into such small succulent fruit.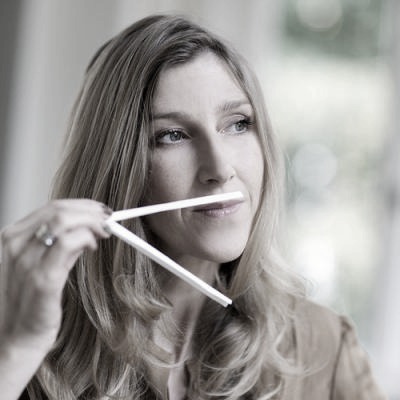 Louise Turner of Givaudan
All this is well and good. Perfumer Louise Turner bestows many fragrant blessings – one of which is griotte syrup, traditionally created from the tart Morello cherry, mouthwateringly toothsome and not as candied as you might suppose. Her black cherry accord is fleshy, married to its cousin bitter almond. Marzipan? NO. We're not swimming upstream against a current of heliotropin, baby-powder-soft-all-sweetness-and-light. We wrest that morsel of innocence and press it against a palpitant bosom of rose Orpur nestled in jasmine sambac – the most joyful and companionable of jasmines. How it glows! Rose, cherry and almond form the Three Graces. Roasted tonka lends a spicy balsamic leatheriness laced with tobacco, mirrored by Peru balsam's cinnamony vanillic disposition.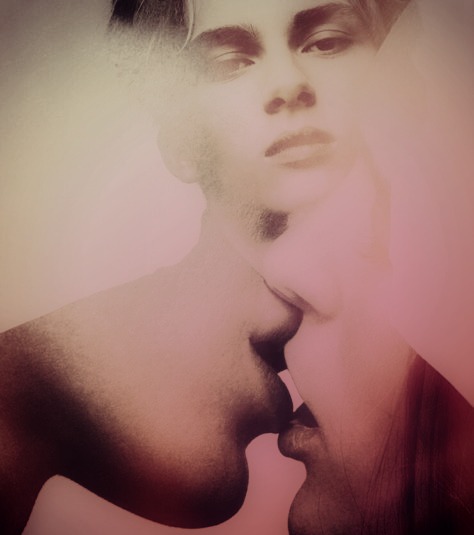 Digital collage Michelyn
Here's where Tom Ford Lost Cherry becomes even more interesting: let's give smokily balsamic vetiver its head. Cradle all of it in a woody swoon of cedar and fine sandalwood, contrasting creaminess with aridity, sylvan whispers amidst the conifers. How captivatingly complex Tom Ford Lost Cherry is as it evolves (imagine that! A contemporary perfume which isn't linear!) – and evolve it does. It takes us from youthful nascent fruit to the tart jamminess of adolescent discovery, love's first kiss and the fullness of urbane maturity – of carnal knowledge and the sweetness which that brings. Lingering throughout the perfume's development is cherry in all its glory, burnished by autumnal woods burrowed in the comely poitrine of lissome rose. It is a deep sigh of aromatic revelation, a living breathing entity.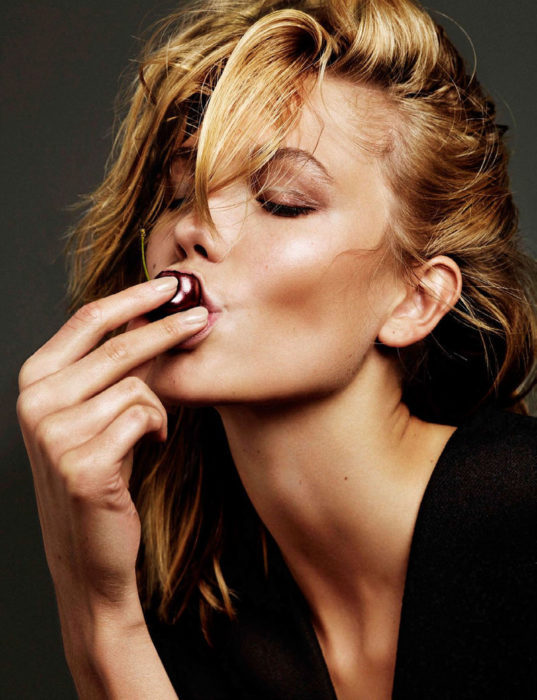 Karlie Kloss for Vogue Netherlands 2014©
Tom Ford Lost Cherry feels like a gourmand chypre full of charm, elegance and enticement. It's an extraordinary scent and a satisfying one. Many rose/almond and cherry/almond perfumes have been composed; more often than not, they are extremely sweet. Some resemble cough syrup and others teeter on the edge of plastic. Tom Ford Lost Cherry is none of these; it is worldly-wise, not world-weary. Innocence exists and is never completely lost – it evolves and develops other attributes, tempered by knowledge and experience. Notes: black cherry accord, bitter almond, griotte syrup, rose absolute Orpur, jasmine sambac, Peru balsam, roasted tonka, vetiver, sandalwood, cedar
Perfume sample of Tom Ford Lost Cherry provided by Boston's Neiman Marcus – bless you! I love it! My nose is my own
~ Ida Meister, Senior Editor and Natural Perfumery Editor
~ Art Direction: Michelyn Camen, Editor-in-Chief
We have 2 x 2m ml sprayers of Tom Ford Lost Cherry (courtesy of Bergdorf Goodman) for one registered ÇaFleureBon reader anywhere in the world. If you are not sure if you are registered click here (you must register on our site or your entry will be invalid). To be eligible, please leave a comment with what you enjoyed about Ida's review, where you live and what is the first thought you have when you hear "cherry".. Draw closes 11/21/2018
We announce the winners only on site and on our Facebook page, so Like ÇaFleureBon and use our Blog feed…or your dream prize will be just spilled perfume.