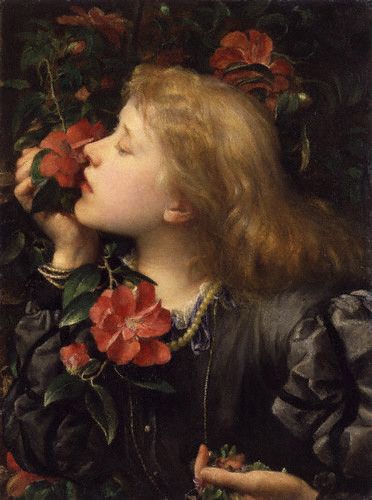 Choosing by George Frederic Watts
Perfume indulges our senses. They tell us stories. I find some of the best fragrances can evoke art, poems, and music. As I was working on some CaFleureBon projects (to remain secret for the time being), I closed some circles and gained a new appreciation for both a 19th century English Poet and a Caron fountain fragrance. But it all started with the scent of sweet violets and intoxicating roses.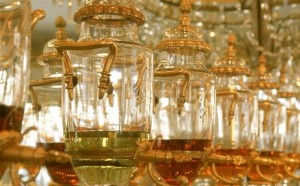 Caron coveted urn fragrances
Few Fragrance Houses carry as much gravitas in our perfume community as Caron Paris parfums. My very first perfume fairy Godmother (who wore many scents marketed for men, as I mentioned in an older post Diva Divo) loved Carons and provided me with my very first sample of Fleurs de Rocaille. I drained that sample in three days. Another perfume fairy Godmother collects vintage Caron extraits. Recently a dear friend from Seattle told me that she loves Caron beautiful scents as well. She closed a circle of Caron fragrances and perfume Godmothers for me by helping me secure a bottle of Fleurs de Rocaille from the 1990s.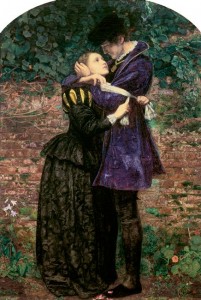 Huguenot by John Everett Millais
This time I reached for Caron's N'Aimez Que Moi, which although almost hundred years old, was new to me. Here is what Caron's website says about its creation: 1916 war is raging on all fronts and young girls are still languishing after their loved ones, having seen them off two years earlier, a flower in their guns, with the promise they'd soon be home. To keep up morale among the troops and the girls they are leaving behind, CARON launches N'AIMEZ QUE MOI, a true pledge of faithfulness with its sweet violet candy notes. The young soldiers give it to their betrothed to remind them to renew their love vows daily until victory comes.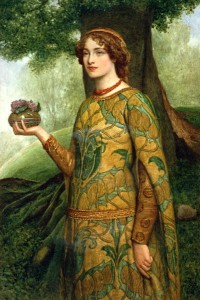 Violets (James Dromgole Linton)
N'Aimez Que Moi, created by Ernest Daltroff, pours out of the vial and startles me. Generally, violets do not make my heart skip a beat. But these violets do. They are no shrinking violets; they are proud and hold their own with the perfume's sweet roses. They stand proud and they promise joys and delights of love to those who are coming back home. But what is rarely heard in the patriotic cries during wartime is the simple truth: the war is a horrible thing, and many of the soldiers will not come home. What will they do, these girls who cannot even be called girls any more because they had suffered a loss that cannot be solaced? The life stood proud when it stood, but when the young life is ended untimely, will these women grieve forever? Will they ever be happy again?
Love's Shadow by Frederick Sandys
I suspect cries of war silence the voices of emotion, the voices of love, the voices of life. Flowers in guns do not stop shooting. They only started smelling like metal and oil. A war is a crime against life and against love. And, as the Caron's N'Aimez Que Moi, unfolds, the roses lose a faint machine oil note that follows the initial sweetness. As the perfume settles into its mossy meditative base, I see a different story unfolding. The woman is not clutching a bouquet of forget-me-nots, putting her life on hold and not knowing what to do while waiting. She is opening the door to the great Unknown.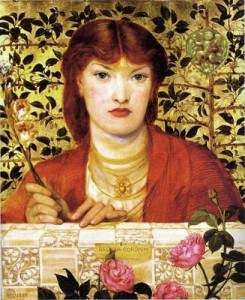 Dante Gabriel Rosetti: Regina Cordium
When I am dead, my dearest,
Sing no sad songs for me;
Plant thou no roses at my head,
Nor shady cypress tree:
Be the green grass above me
With showers and dewdrops wet;
And if thou wilt, remember,
And if thou wilt, forget.
I shall not see the shadows,
I shall not feel the rain;
I shall not hear the nightingale
Sing on, as if in pain:
And dreaming through the twilight
That doth not rise nor set,
Haply I may remember,
And haply may forget.
-Christina Rossetti , When I am Dead My Dearest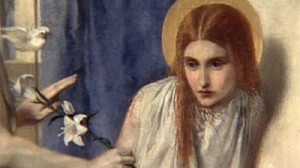 image of Christina Rossetti, a fragment of Dante Gabriel Rossetti's Anunciation
When I am Dead, Dearest was written by Christina Rossetti, one of the most important female Victorian Poets of her time and written in 1862. Many of you know at least one of her works. Some of you may sing her words every year! She wrote the verses In the Bleak Midwinter, the love poem Remember, Goblin Market, and the song Love Comes Down at Christmas. She was the youngest member of a remarkable family of poets and painters and sister of the Pre Raphaelite artist Dante Gabriel Rossetti. He painted her image in his Annunciation. It is the face of the woman who admitted that we often know very little about ourselves in times of uncertainty. A woman who wrote these words: "perhaps, I may remember and perhaps, I may forget".
– Olga Rowe, Contributor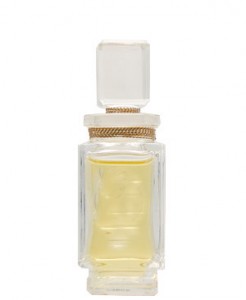 Thanks to our friends at Caron-Paris Fragrances, we are offering a draw you will not forget… 5ml of N'Aimez Que Moi Fountain Fragrance. To be eligible please leave a comment about your own connection to a perfume and a poem or your favorite Caron fragrance. Draw closes July 30, 2012.
For our newer readers, Michelyn Camen, Editor in Chief of CaFleureBon interviewed Romain Ales who owns Caron-Paris. You won't want to miss Love, War and Fragrance: A history of Caron Paris
We announce the winners only on site and on our Facebook page, so Like Cafleurebon and use our RSS option…or your dream prize will be just spilled perfume.