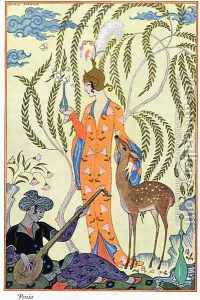 Painting: George Barbier
All of life as we experience it, except for the present moment, belongs to memory, dreamlike, dense, timeless and turgid. Sometimes it's hard to recollect occurrences, but then we chisel away the memories. Was it really 34 years ago? It feels like yesterday. And then we remember, oh yes, the revolution, finishing high school, college, grad school, years of work, marriage, building a family, finding one's passion. The threads weave back together and the carpet appears whole.
Plucked from the place of my birth, all that is left of this tapestry are remnants, couplets and quatrains, but each piece is vibrant on my current path. "Midway on my life's journey I found myself in dark woods" (Dante). Ironically, these woods were not "tangled and rough", but a place where I could distinguish the light of fragrance. Perfume became the candle that illuminated memory so it could be relived, reworked, reshaped and tamed.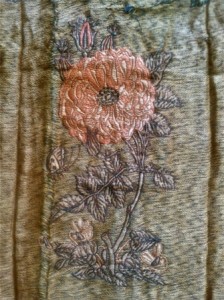 Safavid Textile remnant (S. Mahboubian collection)
There was always an affinity to plants, through the Persian poetry my father recited and the art that surrounded me. They formed the bridge that connected me to the world. When I was ready, the plants revealed themselves and allowed me to enter their realm beyond time and causality. I learned that beauty was not a luxury, but a necessity. Such was the lesson of my culture spanning millennia, the cradle into which I was born, a cradle fragranced with the poetry of flowers.
At dawn I found myself drawn to the garden to inhale its scent
So I could cure my ills like a listless nightingale probing with its nose
I examined the beauty of a rose
That stood like a ray of light in darkness
So proud of its youth and beauty
That even the nightingale fluttered away broken hearted,
The blossoming narcissus shed tears of jealousy
The tulip despaired
Lily's sharp tongue reproached
And poppy's open mouth opposed.
To one who worships wine wantonly
And to one who appreciates the fruit of the vine
Know that happiness, joy and youth are fleeting
Even the Prophet will advise you of this as does Hafiz. -Ghazal 295 by Hafiz (14th century)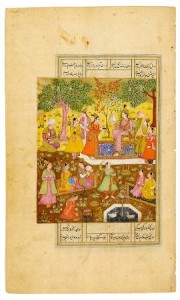 Shirin in Her Garden (Pierpont Morgan collection)
Classical Persian poetry was rife with perfume references that had mystical roots in the sensual world. A lover's tresses would smell of "Anbar" while her bosom would exude "Moshk", all sublimely sensuous but also metaphors for the divine, ecstatic experience. Scent could transport one to a higher state of being, opening the third eye, allowing insight and knowledge to enter. Changing one's fundamental course in nature.
Some sweet-smelling clay, one day in the bath,
Came from a beloved's hand to mine.
I asked it: "Are you musk or ambergris?
Because your delightful scent has intoxicated me.
It replied: "I was a worthless lump of clay,
But for I while I stayed in the company of a rose
And the grace of my companion took effect on me
Otherwise I am the same dirt from which I originate. -from Koliat-e-Sa'adi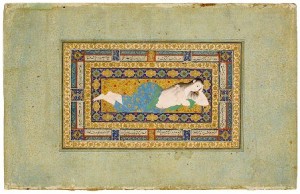 Young Lady Reclining After a Bath (Pierpont Morgan collection)
Perfume and poetry were intrinsically tied together in ancient Persian culture. Perfume was a love poem embracing the skin, dancing and whirling or settling down in a quiet corner; an ecstatic experience leading to divine knowledge through the sensual world of beauty or a quiet moment of domestic bliss while resting next to a sleeping child. Every moment counted in poetry, as in perfume. They added up, drop by drop.
You have thrown into this world the fragrance of musk

And perfume itself into nothingness.

A hundred thousand murmers have resulted from this scent

That was tossed onto the earth and into the air.

From these rays of light

You have set fire to body and soul.

From that gem of knowledge

A revolution has taken place in the desert and oceans.

A hundred thousand souls of Rumi

Have been flung amongst the ignorant.

To the multitude of fools

You have given tools for thought.

Since you have given them this pliable dough

Their blood has become sweetened.

You have cracked open the hearts of the wise 

And salvaged the broken-hearted.
Shams-e-Tabrizi, from your kindness

A flame has been imparted to all lovers. -Rumi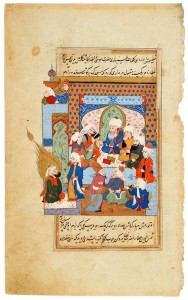 Image 4:
Khizr Attends a Sermon by Rumi (Pierpont Morgan collection)
Qajar Rose was the first perfume I created in a series celebrating the beauty and poetry of my paternal culture. Intricate and opulent, structured but fluid this fragrance was built around the rose, beloved and revered. The Qajar era was the culmination and final flowering of this rich heritage before modernity introduced its hard edge.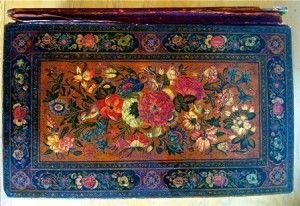 Qajar book cover (S. Mahboubian collection)
It was also the era of my grandfather who had a basic understanding of how to extract plants through infusion, maceration and enfleurage, creating his own jasmine pommade for his moustache or using rosewater to wash his hands. As I was blending Qajar Rose, I sometimes felt like my hand was being guided by my past and my ancestors, so they could find a voice to speak again.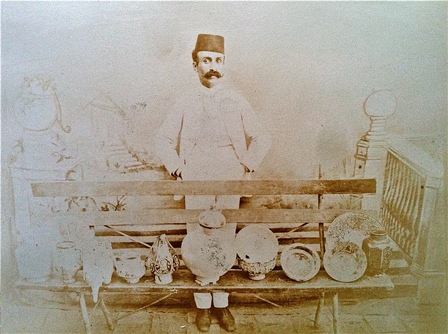 Photograph of my paternal grandfather, Abraham Mahboubian with his collection
Tonight is the anniversary of my leaving Iran on August 17, 1979, a day of personal reflection and hope. Reflection on my youthful desires and hope for my future aspirations. Perhaps that hope will include my return one day, if only to smell the fragrant life that was left behind. But if I never return physically, I know the poetry and perfume will endure.
What use is this vase of roses to you?
Pluck a leaf from my rose garden (Golestan)
A flower endures five or six days
But this rose garden (Golestan) is always delightful.-from Golestan-e-Sa'adi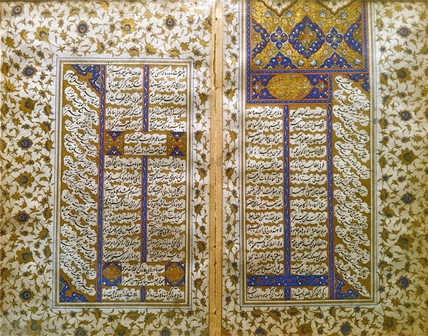 Double-Page Opening for Golestan-e-Sa'adi (S. Mahboubian collection)
All poems were read or recited by my father, Shahrokh Mahboubian and translated/interpreted by our family.
– Maggie Mahboubian, Guest Contributor
Editor's Note: Maggie Mahboubian was born and raised in Iran and moved to the United States when she was sixteen. She graduated Cum Laude from Barnard College and went on to earn a Masters of Architecture from Harvard. Maggie is the founder and natural perfumer for Parfums Lalun. She is a supporter of indie and artisan fragrance and orchestrated FRAGments which was an all day gallery event held June 22, 2013. She is the editor of the beautifuly written blog Architecture of Perfume. She is a special friend in fragrance to many and to all of us at CaFleureBon.Maggie Mahboubian's Qajar Rose is one of my favorite rose perfumes and now that I know the story behind it is even more precious. We welcome Maggie back to CaFleureBon as this is her second article for us, her first was the memorable "Perfume Appreciation". –Michelyn Camen, Editor In Chief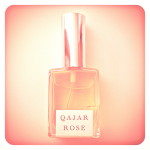 We have a 7.5 ml bottle of Qajar Rose for one US reader. This is not a draw. The reader who leaves the best comment as judged by Maggie and me is the winner. Please leave your comment by August 20, 2013. There is no spilled perfume.