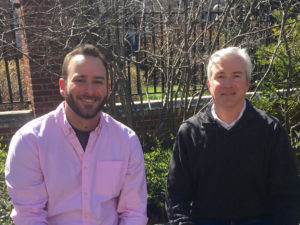 Nir Guy and Perfumer Justin Federico of PBL Labs
Nir Guy, creative director and owner of Perfumology Fragrance Boutique in the King of Prussia Mall, announces his second fragrance Perfumology Grange, once again created in collaboration with perfumer Justin Federico. Like BLYSS, Grange is deeply personal. .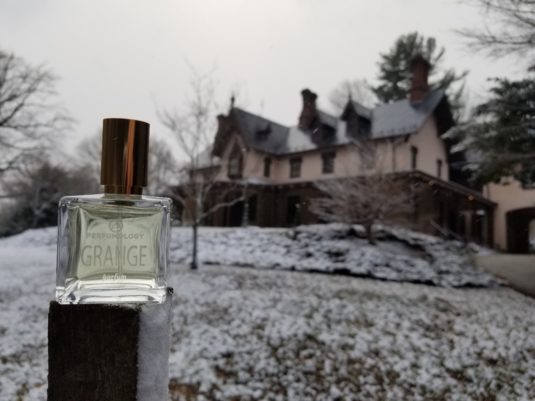 Perfumology Grange Eau de Parfum photo Nir Guy©
"The Grange Estate was first established in 1682, collecting 300 years of history before my friends and I played in Cobbs Creek. We were preadolescents, not caring that William Penn, George Washington, and Marquis de Lafayette walked the same grounds. The same trees may have listened to conversations that directed history. None of that mattered, though. This was our playground.
Justin Frederico composed Perfumology Grange to reflect the fresh creek in the woods. The creek opens through a bright Mexican lime and the purity of the Sicilian orange that we used in Blyss. A warm fig and tobacco accord as a nod to the smells of beer and cigarettes that few teenagers left behind after dusk. Finishing with mighty oak and American cedar, the soft giants standing tall and watching the residents change over centuries.
Grange is designed to be versatile and interesting to the wearer. My direction for Justin was not simple, as it was a memory from my childhood. He managed to interpret that time in my life in this perfume perfectly. Fresh water; a warm evolving heart; a steady, smooth woody base that lasts."
A masculine, woody scent at an accessible price-point ( 50 ml/$85), Perfumology Grange is an easy fragrance for people interested in trying a unique, independent perfume.
Via Nir Guy of Perfumology and my own synopsis
–Michelyn Camen, Editor-in-Chief
For more information contact nir@perfumologyshop.com