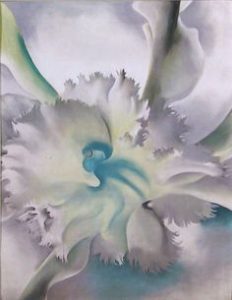 Georgia O'Keeffe 1975, Orchid
In addition to the familiar cattleya and phalenopsis orchids we find at nurseries and in the grocery stores, there are over 25,000 species of orchids in the world, making the orchid family one of the most diverse plant groups on the planet. If you count in the many hybrids, that number quickly grows. Many species are fragrant with the aroma ranging from pure coconut to beautiful florals to vanilla and chocolate. There are stinky orchids and woody-smelling orchids too. Then, of course, there is the most famous orchid of all, vanilla. The flower is said to have a faint floral smell but the seed pods, after appropriate aging and drying, give us the deep and luscious ever-popular vanilla.
Orchid and Bee Photo Elise
Orchids depend on scent but, sometimes more important to them is appearance. .Their shape and color is often a perfect doppelganger for their insect pollinator and they draw the insect in this way. Sometimes they reward their particular insect's devotion, sometimes they just trap and deceive. In perfume they are also about attraction and beauty. They evoke feminitiyand sex and are a symbol of woman's private parts in art. We have three orchid specialists, Orchid whisperers, that share with us not only their knowledge and affection for orchids but also their expertise in re-creating this beautiful and difficult perfume type. Elise is an expert in cultivating orchids and we invited Ellen Covey of Olympic Orchid Perfumes and Juan Perez of Exotic Island Aromas to divulge some of their secrets in creating orchid perfumes and knowledge on the many orchid varietals.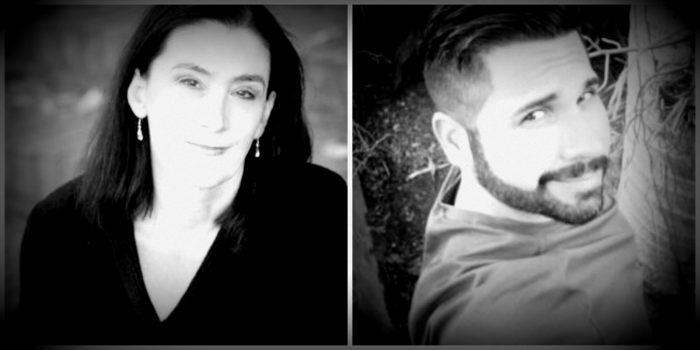 Ellen Covey of Olympic Orchids and Juan M Perez of Exotic Island Aromas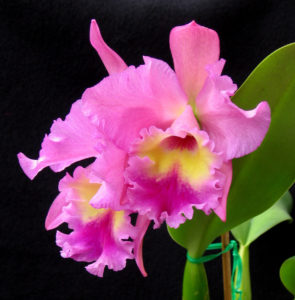 Blc (LC Drumbeat 'Heritage' x B glauca) by Ellen Covey
Elise Pearlstine: Orchid fragrances are everywhere but there are no orchid extracts with the exception of vanilla. And yet we know they are fragrant, many with very distinctive fragrances.
Ellen Covey: A great many of them are fragrant, but not always in ways that are appealing to humans. The hybrid orchids that most people encounter in stores are not fragrant because they have been bred for extremely fast growth, ability to take abuse, and big showy flowers that last a long time under poor conditions. Orchid flowers do not lend themselves to being grown in mass quantities for extraction of oils, absolutes, or oleoresins, so it makes sense to reconstruct the fragrances as is done in the case of gardenia and other flowers that are hard to make extracts from.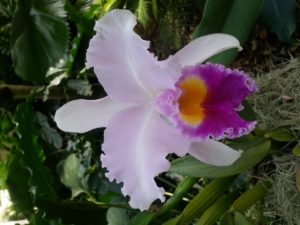 Cattleya by Elise Pearlstine
Juan M. Perez: This diverse and abundant group has highly specialized survival and pollination mechanisms. Their fragrances are just as diverse and plays an important role in insuring their survival by attracting pollinators.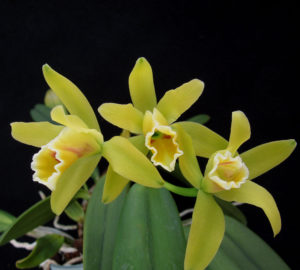 Cattleya luteola by Ellen Covey
What are the differences between the different kinds of orchids? For example, Ellen has many orchid fragrance including Yellow Cattleya, Red Cattleya and White Cattleya scents.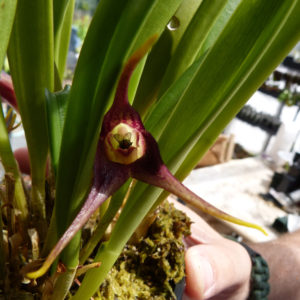 Fly stuck in Masdevalliapicea orchid which smells awful byEllen
Ellen: Orchid flower fragrances run the gamut from those that smell like feces or dead animals (most of the Bulbophyllums and Pleurothallids, which are pollinated by flies) through ones that smell like coconut, chocolate, fresh or spoiled fruit, freshly cut wood, caramel, herbs like anise, citrus, spices like cinnamon or cloves, and what we think of as typically "floral". Most of the Cattleyas have a floral scent of one kind or another, although I have one species (C luteola) that smells just like the original Fendi perfume.
Some orchids emit one kind of scent in the morning, when bees and butterflies are out, and a completely different one in the evening when moths are flying around, doubling their chances of being pollinated. Even for a given species the fragrance may vary a lot from one individual plant to another, and even for the same plant it may vary depending on cultural conditions and the state of the plant. When people say "that doesn't smell like my orchid", they're probably right, because each plant is an individual with its own scent properties. Also, flowers are constantly pouring out a complete mix of top, middle, and base notes, which a perfume can't easily do.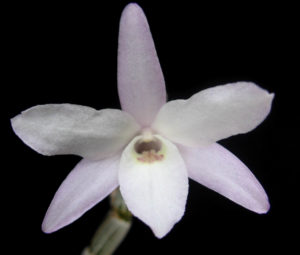 Dendrobium moniliforme 'Raizan' flower by Ellen Covey
Juan: Each fragrant orchid species has its own distinctive scent. Many orchids smell like other familiar flowers (roses, hyacinth, jasmine, gardenia, etc.), others smell like fruits, spices or medicinal and some orchids have strong animalic or repulsive smells. Each scent is specialized to specific pollinators. Some fragrances mimic the scents of the pollinator's food source (sweet fruit and flower nectars, carrion), other fragrances are sex attractants, combined with a very complex flower shape to mimic the females of certain insect species, attracting male insects to pollinate the flowers as they try to mate with the false females. Many orchids are real masters in using deception to lure their pollinators. Some orchids are very fragrant during the day, while others are fragrant at night, depending on the pollinator they target. Bee and hummingbird pollinated orchids are usually very fragrant during the day, especially in the morning. Such orchids usually have bright colors too. Bat and moth pollinated orchids are strongly scented at night and many are usually white or light green colored.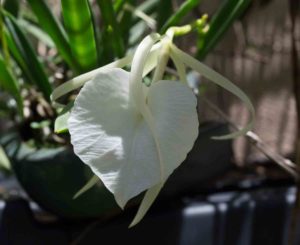 Brassavola nodosa by Elise Pearlstine
Some orchids form a relationship with their pollinator, which is the case of Euglossine orchid bees. These brightly metallic colored little bees collect fragrant oils from the flowers and store them in specialized glands in their legs to craft a very complex perfume that will use in their mating rituals to attract females by releasing their special perfume to the air. The female bee will choose to mate the male who created the most complex perfume. These bees are usually attracted by orchids of the genus Gongora, Stanhopea and Coryanthes. Such orchids usually have very strong scents like eucalyptus, clove, wintergreen or lavender. The bee gets from the orchids the scented oils to make its ritual perfume and in turn the orchid is pollinated by the bee.
We three grow orchids, how do the different ones influence our orchid perfumes.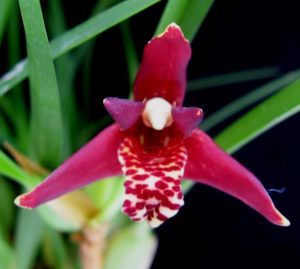 Maxillaria tenuifolia byEllen
Ellen: Whenever one of my orchid plants blooms, I always spend time smelling it, and often think what a great perfume it would make (or not). Obviously my Cattleya series have been directly influenced by the flowers they were named for, but other influences are more indirect. For a long time I wanted to make a perfume that was like the woody-caramel smell of Maxillaria variabilis, but hadn't gotten around to it. Then when I smelled wood being cut for a fence, everything clicked and Woodcut was the result. There is so much crossover between the myriad of orchid fragrances and everyday scents that they can merge in unexpected ways to create a perfume with elements of both.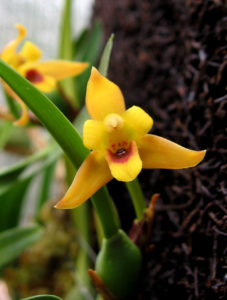 Maxillaria variabilis Close-up by Ellen Covey
Juan: I grow several orchid species and hybrids. My greenhouse is almost always filled with orchid scents. The intensity of their scents can vary from no fragrance to extremely fragrant and many have very complex and unique perfumes, combining floral, fruity, spicy, animalic and medicinal notes like the fragrances of many Cattleyas. I think there's an orchid fragrance for everyone. I've always been fascinated by the unique and exotic combination of scents of many orchids. Of all the orchids, the scents of Cattleyas are to me the epitome of an orchid fragrance. Some species like Cattleya dowiana, Cattleya walkeriana and Cattleya labiata have very intense complex layered perfumes, like a bouquet of multiple spring flowers. They are really exquisite! Some of these species were my inspiration in the development of Orquidea Absoluta.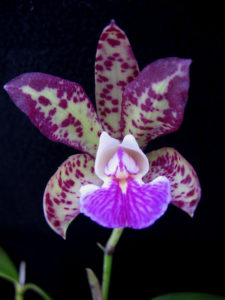 Cattleya Fort Motte 'Leopard' by Ellen Covey
What are your fragrant [favorite?] fragrant orchids?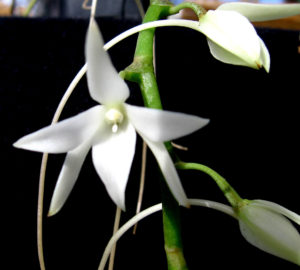 Aerangis modesta byEllen
Ellen: I'm not good at answering questions that ask about my "favorite" anything. When it comes to orchid fragrances I love them all, for different reasons. The most exciting experience is when a new fragrant species blooms for the first time and I get to smell a fragrance that I've never smelled before. I like Cattleyas because they are the most reliably fragrant, and they all have scents that rival 80s heavy-hitter fruity-floral perfumes in terms of strength and sillage. I like the night-fragrant orchids like Angraecoids and Brassavolas because they're also strongly fragrant in the "white flowers" genre. However, I have a special affection for the real oddball scents, the niche-perfume orchids that are all over the map.
Juan: Apart from the Cattleyas species that I already mentioned I grow other species and hybrids that have very powerful or interesting scents. The ones that really stand out with amazing fragrance are: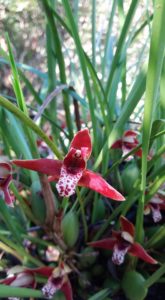 Maxilleriella Maui Coconut by Juan
The coconut orchid Maxillariella tenuifolia and the hybrid Maxillariella Maui Coconut – A blooming plant can fill an entire backyard during the day with an intense scent of freshly baked coconut cookies.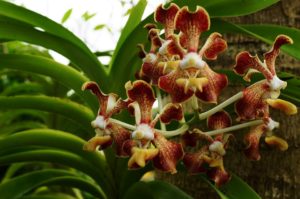 Vanda trimerril lbyJuan
Vanda trimerrill – A primary hybrid of Vanda tricolor and Vanda merrillii. The cross of two highly fragrant Vandas species resulted in a flower with a gorgeous strong daytime scent and it's a complete perfume by itself. A combination of notes like ylang ylang, rose, jasmine and spices, but it's much more in it. A single flower fills a room with its fragrance.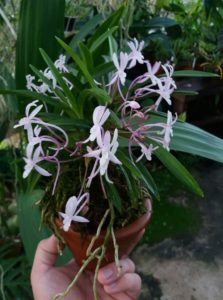 Neofinetiafalcata (Vanda) byJuan
Vanda (Neofinetia) falcata – It's a miniature Vandaceous orchid native to Japan, Korea and China. It's known as Furan or "wind orchid" in Japan. It has a long cultivation history in Japan where it was grown by the royalty or rich people many years ago. It's still highly prized today and very exceptional specimens may cost a real fortune. Fortunately, many varieties are accessible at a very affordable price. The night fragrance of these little jewels is out of this world good. It's very sweet and creamy, similar to gardenia and honeysuckle.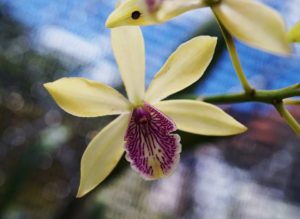 Guaricyclia Kyoguchi by Juan
Guaricyclia Kyoguchi – This Cattleya allied hybrid is not powerfully fragrant but I'll mention this one because it's the only orchid I have that smells of true musk. A real rarity among orchids. It smells like a soft clean floral musk in a paper blotter. Some time ago I made a research and I found that two musk molecules, 16-Hexadecanolide (Dihydro Ambrettolide) and Hexade-7-en-16-olide (Ambrettolide) were discovered in this orchid hybrid and in one of its parental species Encyclia aromatica. It inspired me to use a similar musk accord in Orquidea Absoluta.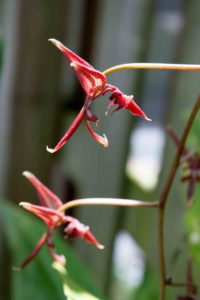 Gongora Dragon by Elise
What are your tools/aromatics for constructing an orchid accord (without giving away your secrets of course)?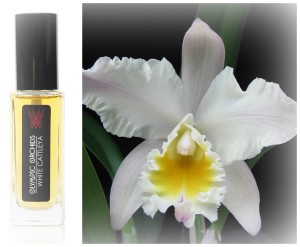 Ellen: When I start to construct an orchid scent, I like to research all of the GC analyses of the species or, if a hybrid, the species that would likely have contributed to the mix. If there are multiple analyses, I will look for commonalities, use whatever natural or synthetic materials would approximate the basic "skeleton" and improvise from there. Of course that skeleton has to be fleshed out as a wearable perfume, meaning it cannot just be the headspace of the flower scent. In the end, it involves a lot of tweaking until my nose is satisfied that it's a good approximation that will also make a good perfume. With practice, I've gotten a lot better at this process, and I now have more materials at my disposal than I did at the beginning. I think White Cattleya is a lot better than some of my earlier attempts.
Juan: In perfumery, the traditional orchid note is built using salicylates like benzyl and amyl salicylate as many orchids have high amounts of salicylates in their scent profiles. Salicylates are very useful in orchid formulas as they add diffusion and "air space" for other aromatics to perform. An orchid accord can be as simple or as complex as you'd like and it will depend on what the perfumer wants to achieve.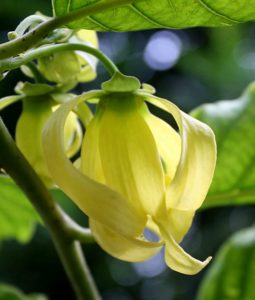 Ylang Ylang Elise Pearlstine
Besides the popular Hedione and Salicylates that will add diffusion, a number of other basic floral notes can be useful like Phenyl Ethyl Alcohol, Geraniol, Linalool and Muguet aromatics to name a few. Methyl Benzoate and small amounts of Methyl Salicylate will add a note of wintergreen, very common in the scent of many orchids. Some indole and traces of other animalic ingredients will add a deep carnal floral heart that is very prominent in many Cattleyas. Natural spice oils like clove, allspice, cinnamon as well flower absolutes like Ylang Ylang and Jasmine will add more complexity and naturalness. The creativity is up to the perfumer.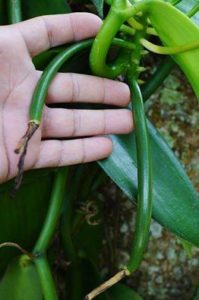 Vanilla Bean pods growing at Juan'sGarden
How does vanilla fit into an orchid perfume?
Ellen: Vanilla comes from the seed pod of an orchid, not the flower, but it's certainly reminiscent of elements of orchid flower scents, too. I have used it in all of my orchid fragrances because it's the perfect base note that goes with the other orchid elements, and it ends the evolution of the perfume on a comfortable note of closure. In the end, people want to enjoy wearing the perfume, not attract pollinators.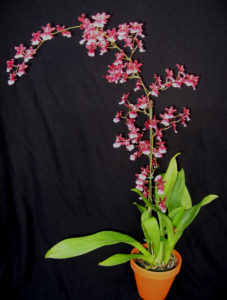 Oncidium Sharry Baby by Ellen Covey
Juan: Vanillin is the most important aromatic ingredient in Vanilla beans, which are the cured seedpods of Vanilla planifolia and Vanilla tahitensis orchids, so vanilla is relevant to orchids. Besides being present in the vanilla orchid seedpods, some orchids flower scents have high amounts of vanillin or vanillin related aromatics, like the flowers of Leptotes bicolor, a little orchid related to Cattleyas. I grow several fragrant orchids with a prominent sweet vanillin scent. One of these is the popular chocolate orchid (Oncidium Sharry Baby), the strong vanillin scent mixed with other specific volatiles give the impression of chocolate. Just a spike is enough to perfume an entire room like chocolate and vanilla. A Vanda hybrid that I grow, named Vanda Caribbean Scented Star 'Chocolate Butter' have a strong buttery vanilla and chocolate scent too. A touch of vanilla will sweeten and add roundness to floral accords.
Elise Pearlstine, Orchid Grower and Senior Contributor, Perfumer for Tambela Perfumes

Bulbophyllum dixonii Orchid by Ellen Covey
ALL THE PHOTOGRAPHS TAKEN BY ELLEN COVEY, JUAN PEREZ AND ELISE PEARLSTINE AND ARE COPYRIGHTED TO THE REPECTIVE AUTHOR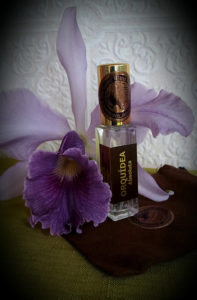 For our draw: In the USA Juan is offering a 7.5 ml travel size sprayer of Orquidea Absoluta Eau de Parfum.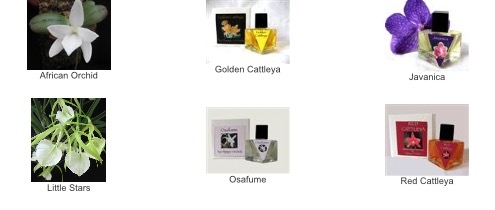 Wolrlwide: Ellen is offering a sampler of her Orchid Scents that Include Red Cattelya, Yellow Cattelya, White Cattelya, Little Stars, African Orchid, Javanica and Osofume
To be eligible you must be a registered reader. Please leave a comment with what you found interesting about our artisans and how they create an orchid perfume, something memorable from this workshop, which you hope to win and where you live. Draw closes 7/29/2016
We announce the winners only on site and our Facebook page, so like CaFleureBon and use our RSS option…or your dream prize will just be spilled perfume