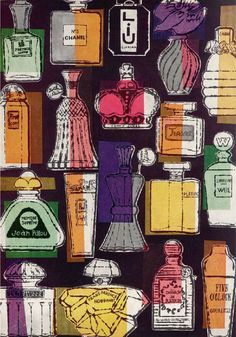 Andy Warhol Perfume Bottles Illustatiom for Haper's Bazaar 1956
For many of us, what fragrances we wore and when we wore them are part of our scent memories and correlate with different times of our lives. I wore mainstream men's colognes and fragrances that were readily available at the local department store or tried Designer Scents from online sites until I began studying and exploring natural perfumes, over five years ago. Amber by Mandy Aftel was my first natural fragrance and still is a favorite). I have always dreamed about a fragance that is truly "me" and is customized to my chemistry, my personality, my favorite notes…a signature scent that was mine alone.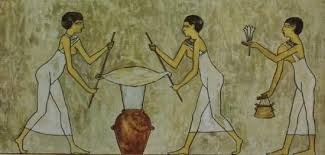 Ancient Egyptians Creating Perfume
According to our Editor in Chief Michelyn Camen, "We each have a unique scent print, as individual as our thumbprint, which is why what is heaven on your best friend may be a scrubber". She adds, "Perhaps the first bespoke fragrance was created for Queen Cleopatra, who had her own royal perfume factory in Egypt. What was formerly a luxury available only to Kings, Queens, Movie Stars and the very wealthy is now accessible to almost anyone".
In today's Perfumer's Workshop we have invited five talented perfumers to share how they work with a client to create a bespoke perfume:

Katie Holmes, Jamie Foxx, and rapper Won-G Bruno at Sue Phillips Scentarium in NYC
Sue Phillips of Scenterprises has made bespoke fragrances her specialty. After years working in the fashion and fragrance industry, including Tiffany & Co. Sue formed her own consulting company Scenterprises she consulted for major brands such as Burberry and Avon as well as for hotels and retail stores. Instead of working with individual preferences, these scents require getting to know the brand, its ethos and architecture. Her private clients include Jamie Foxx, Katie Holmes, and rapper Won-G Bruno who visit at the Scentarium to create unique personal scents.

Sue Phillips of Scenterprises Bespoke Perfumer
Ms. Phillips starts her bespoke fragrance process with her proprietary "Scent Personality Profile" quiz which gives her insight into the particular client. Personality, lifestyle, hobbies, art and culinary tastes, are important to her process. She also likes to learn the actual fragrances and/or fragrance families her client generally prefers, though she doesn't let this limit the creative options available when creating her client's custom scent. Through her many years of experience, she has found that this quiz is a great tool for working with her clients as well as an enjoyable and entertaining experience for them. Next, Sue collaborates with her client, discussing the construction of fragrances and taking them on a fragrance journey evaluating different materials and blends until they reach "the one". While working in person is preferable, Ms. Phillips also works with clients by phone and video chat and can send samples or formulations via mail. Whatever method she uses in her compositions, Sue keeps the interaction very personal and strives to ensure that the client will leave with a custom scent they love. All formulas are kept on file.

Dawn Spencer Hurwitz creating bespoke perfumes in her Essence Studio in Boulder Colorado .
Dawn Spencer Hurwitz, award winning perfumer of DSH Perfumes, is well known for her multifaceted and diverse perfumes. Dawn has also created bespoke perfumes for Kate Hudson, Goldie Hawn, Steven Tyler, and Cher. She recently created a collaborative custom fragrance for our Editor in Chief Michelyn Camen that is now a limited edition available to all… Reveries de Paris. While Ms. Spencer Hurwitz happily works with bespoke clients all over the world, she particularly loves working with her clients in person at her studio in . Dawn says "In fact, the most important aspect of creating a bespoke in person is being able build the initial sketches directly on the client's skin. I know exactly how each material is going to react, work, and dry down because we test it. It's the equivalent of going to a tailor and having them drape the fabric on you and cut the pattern to your body."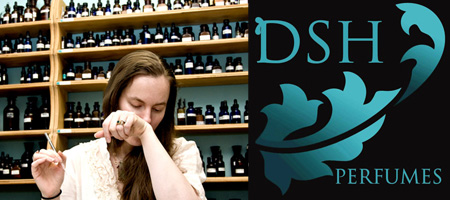 Dawn Spencer Hurwitz of DSH Perfumes
Usually Dawn starts with a questionnaire to get the process started. She learns about the notes and scents that her client likes, then introduces ingredients that might suit their aesthetic and if they are open to exploring new raw materials, she will take them out of their comfort zone that helps the client a facet of themselves they may not have explored. When working "virtually" with clients, samples of materials and blends are sent through the mail to help ascertain the client's tastes and reactions. She creates three variations (mods) for the client to try out and once they are happy, bottle the one that fits them best. Dawn uses the word "feel" when describing her creative process; getting a feel for your client is the best way to discover a concept through the process of talking and smelling together. She always tell her clients "the final ingredient is your skin; this perfume won't work the same on any other person." Explaining the difference between bespoke and commercial creations, Dawn tells us "a bespoke creation is meant to please only one person (maybe two, if you count a significant other…). It can be a personal narrative, a smell of a beloved past, or an aspirational fragrance. A commercial perfume is designed to speak to, and hopefully enchant many. The design concept and 'story' for a bespoke is brought to me by the client for interpretation. For one of my commercial perfumes, the concept is something that inspires me, and I want to work out how to interpret it."

Tanja Bochnig of April Aromatics studio in Berlin, Germany
Acclaimed natural perfumer Tanja Bochnig of April Aromatics, who won The Art and Olfaction award for Calling All Angels (2014 /Artisan), approaches bespoke perfumes a little differently. They are "healing perfumes". They are very personalized creations that are more than just "smelling good" perfumes. She has created perfumes for 5 star hotels, companies, and celebrities. The first thing Ms. Bochnig does when working with a bespoke client is to tune into their energy field. She does not need to see them personally, though it does help. When a person comes to her, she works intuitively, being guided by vibrational and other energies in order to create the perfume that person "needs". If the client cannot visit her Berlin studio, she usually communicates via email, asking questions such as: What qualities they are looking for in a perfume? What is their ideal perfume and what would they like to achieve while wearing it? What time of the day they wear their perfume most? What are their favorite scents and flowers, color, place to live, favorite food and season? And most importantly, what is their goal in life and what makes them happy. If they have smelled the April Aromatics line, she also asks which of her fragrances speak to them.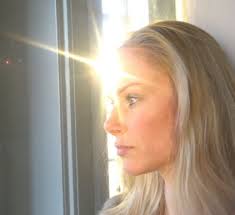 Tanja Bochnig
Sometimes a client comes in wanting a custom fragrance that smells like Chanel no.5 or Poison from Christian Dior. Tanja is very upfront with them, letting them know she cannot recreate such perfumes from the synthetic world through natural perfumery, nor does she particularly want to copy anything. She says "My creations are about capturing the soul of a person, or better that what "their" soul needs in order to grow. Often we do not like a certain scent or thing in life, but it is exactly what we need in order to grow. The people and situations that challenge us the most in life are our best teachers. And I feel it is the same way with natural, aromatic essences." After getting to know and reading the client, Tanja goes into her lab, which is her sanctuary, where she is able to completely connect and feel the perfume the person needs. It is important for her that the customer is open and really wants to receive what helps them to grow for their highest good. "That is what a healing perfume is all about" according to Tanja. She also works with crystals and adds certain precious stones to the blends that further enhance the perfume creation and the energy field for that specific customer. The time for creating the bespoke healing perfume varies, usually 1-2 months depending on how the alchemy of the perfume comes together.

JoAnne Bassett of JoAnne Basset Perfumes
The incredibly gifted Natural Perfumery Guild Professional perfumer JoAnne Bassett of JoAnne Bassett Perfumes has been creating bespoke perfumes for over 22 years and has been an instrument of change in her clients' lives by way of her fragrances. From her earlier aromatherapy Perfume Potions created with specific intentions in mind to her modern day custom couture bespoke parfums, Ms. Bassett has shared her talents and fragrances with clients worldwide. Knowing the beneficial effects natural perfume has on people, she goes through a very organic process with her bespoke clients, asking questions and relying on her sixth sense to ascertain what the client is in need of and tailors a beautifully scented perfume that is a joy to wear and can help bring about positive growth in her client's life. When she had her perfume boutique Le Bijou in La Jolla, California, JoAnne was able to meet with clients there to smell various raw materials and take them on an aromatic journey. Now she relies more heavily on her ability to sense the needs of her clients and the feedback they provide throughout the process via phone, email, or Skype. Her perfumes can range from energizing, enlightening, empowering, comforting, and more. JoAnne has great knowledge of natural essential oils, absolutes, tinctures and other essences s that go into her perfumes. She sources only the highest quality raw materials. Her high level of experience and her love of natural perfumery is what makes her bespoke fragrances so special.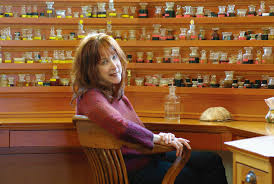 Mandy Aftel is one of the top seven bespoke perfumers in the world according to Forbes magazine
No article on this subject would be complete without including the "queen of bespoke perfumes", Mandy Aftel of Aftelier Perfumes, who was named one of the seven top bespoke perfumers in the world.
"I think there has been a decided increase in demand for bespoke perfumes. There is such a feeling of both intimacy and luxury when you have a perfume created just for you, and I think this is deeply satisfying. I want to create a portrait of my client in scent, but my method of doing a custom perfume does not involve a questionnaire or my asking any questions whatsoever about the client's background. I've come to realize through doing this for over 20 years that what people say about themselves is often not connected to how they want to smell. When I have people smell many, many essences and rank them according to their favorites, people's whole life story comes out in response to the essences, and they will continue to enjoy those evocations from their final perfume."
Michael Singels, Sr. Contributor & Natural Perfumery Editor
Thanks to the very generous perfumers who have shared with us a look at their art, we have an opportunity for four of our readers to embark on just such a journey of their own. Sue Phillips of Scenterprises, Dawn Spencer Hurwitz of DSH Perfumes, Tanja Bochnig of April Aromatics, and JoAnne Bassett of JoAnne Bassett Perfumes are providing an opportunity of a lifetime, a bespoke fragrance experience for four registered readers.
WORLDWIDE: Tanja is offering a 30ml 100% natural bespoke perfume that will include a gem stone or crystal, depending on the customers scent profile and will be enhanced with a certain color and a Bach flower remedy during production, all according to the notes in your comment as well as what comes out of the initial consultation and intuitive input that she gets while creating it. The timeline can be up to 1-2 months.
WORLDWIDE: Dawn is offering a bespoke 10 ml Voile de Parfum composed of both synthetic and natural ingredients based on the notes you share in your comments and a brief interview with the winner. The custom scent will be completed and sent to the winner by the end of November 2015
USA only: Sue will be providing a brief phone conversation consultation after the winner completes the Scent Personality Quiz and will create a custom scent for the winner based on their preferences. If you live in the New York City area, she can meet with you, by appointment only.
USA only: JoAnne will be offering a bespoke natural perfume in a 5 ml glass bottle with ivory satin bag, taking approximately 2 weeks to complete after an interview with the winner.
To be eligible, registered readers (you must do this or your entry will not count and use your registered name) leave a comment below with where you live, sharing with us what notes you would want in your bespoke fragrance, if you have a favorite fragrance family, or scent memory that might be used, and which of our wonderful perfumers you would most like to work with on your signature scent (or if you are name is chosen without that info it will be random). Draw ends 10/23/2015
We announce the winners on our site and on our Facebook page, so Like Cafleurebon and use our RSS option…or your dream prize will be just spilled perfume