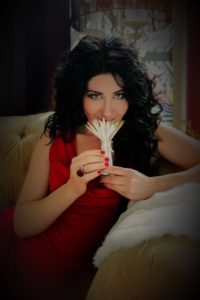 Christi Meshell of House of Matriarch
Perfumer Christi Meshell of House of Matriarch is well-known and well-loved in the fragrance community. She works with both an all-natural and mixed-media palette. While many bloggers have had the pleasure of working with Christi "creatively", I was honored to be the first when I invited a few Sr. Pefumers at that time (2011) to take part in The Natural Perfume Guild "The Thirteenth Sign" aka Ophiuchus, inspired by my discovery that "Oh"F* us", those of us born between November 29-and December 19 weren't a Sagittarius anymore.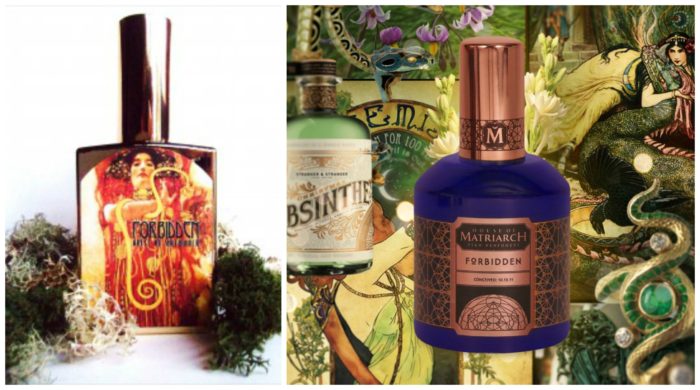 2011 Original bottle of Forbidden and 2017 flacon
Christi created her break-through fragrance Forbidden in 2011, a boozy tuberose with 'forbidden" absinthe that captivated many fragrance lovers including Donatella Versace. Former Natural Perfume Editor John Reasinger was instrumental in encouraging Christi to launch 2013's all natural The MAJ based on majmua attars of India. For our 7th year Anniversary:Project Talisman, Christi composed the mesmerizing magical smoky eye beauty that is Antimony, with 111 ingredients and commemorative cartouche. House of Matriarch was the first natural perfume collection to be stocked at Nordstrom.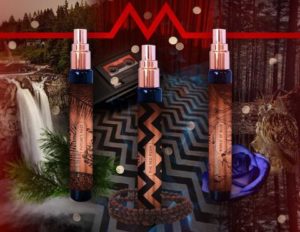 Recently Director David Lynch licensed the Wonderful and Strange Trio created for the 25th anniversary of Twin Peaks. She is a scent star!!! – –Michelyn Camen, Editor-in-Chief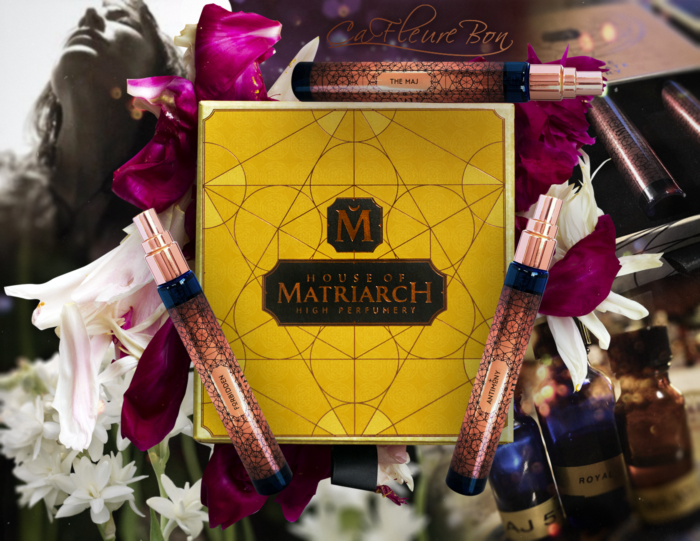 House of Matriarch CaFleureBon Legacy Collection Mood Board (Forbidden, The Maj and Antimony) with me pictured in the upper right side
So in keeping with Christi's creativity and loving spirit she wrote me, "Your inspiration has sparked so much creativity- when I was first starting out I got discouraged and almost gave up – your first review of my perfumes many years ago filled my sails with inspiration which kept me going. Last night I created twenty incredible gift sets to honor our years of collaboration. I'm calling it "House of Matriarch: A CaFleureBon Legacy." (Click this link to view) It features three perfumes that were inspired by YOU, Michelyn, as Editor-in-Chief and advocate of all perfumers, especially American. This set is a tangible manifesto of the effect you, your blog, your writers and your readers have had on my work and me personally over the past seven years.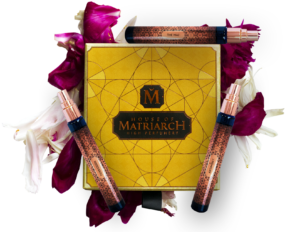 It's a limited edition trio of 1/2 ounce natural perfumes in our brand new beautiful collector's presentation gift box (ANTIMONY, FORBIDDEN and THE MAJ). A very special price as our thank you to CaFleureBon readers with the discount code ILOVECFB it's only $120 ($360 value). Best price that will ever be found anywhere – that is three perfumes for the price of one plus the incredible gift box. Such an offer has never been made."- Christi Meshell
In addition, to the code ILOVECFB for the CaFleureBon Legacy Ltd Edition, Christi is offering 20% off site wide! Use CFB20 for any fragrance, full size to samples at https://www.matriarch.biz/collections. The codes cannot be combined but you can order as much as you want; no extra shipping charge anywhere in the world through July 4, 2017…Independence Day!
What are your favorites… and thank you Christi!!