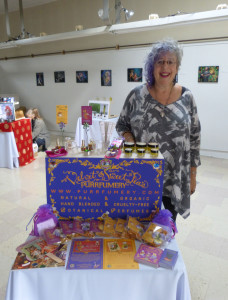 Laurie Stern of Velvet & Sweet Pea's Purrfumery at FRAGments 2014 Photo: Elise Pearlstine
I am a huge fan of Velvet & Sweet Peas Purrfumery. Indie perfumer Laurie Stern hand-crafts each of her perfumes; they are all natural, and cruelty-free. The fragrances are luxurious and sensuous, with a distinctly vintage vibe.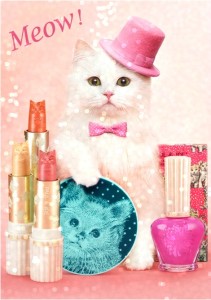 Paul & Joe Spring 2012 Cat Collection
Velvet & Sweet Pea's Purrfumery fragrances are lavish and decadent, and they always make me feel like putting on lipstick. I wear them year round, but I love them best in cool weather. Fleur de Caramel is no exception, and it's one of my favorites. It opens with a floral/neroli note, and a little frisson of tuberose.
Photo by Tim Walker for Vogue Caramelized by Michelyn
Jasmine dances in and out for a while, enhancing the flowery note, while keeping the tuberose from making a fool of herself. In fact, all of these Big White Flowery ladies are about to be completely shown down by the smoothest, silkiest caramel note you will ever experience.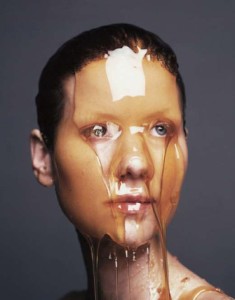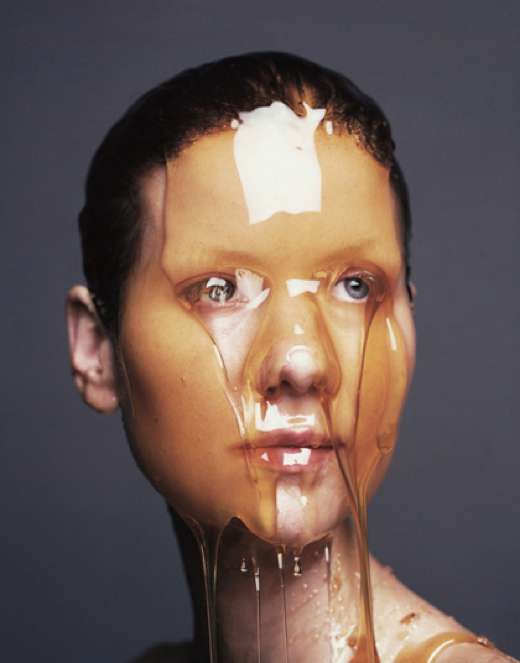 Marcel Van Der Vlugt Mask
The caramel slides in unobtrusively; you may even think that it's the tuberose trying to butter you up. But the warmth and richness is unmistakable and it will soon become apparent that this is caramel at its finest. The sweetness is warm and sultry; it never gets too sugary. There is a buttery, almost boozy quality to the caramel that melds perfectly in to Laurie's incomparably sumptuous base of sandalwood and Tahitian vanilla (Note to Uncle Serge; it is possible to make a glorious base without the use of prunes and cherry cough syrup)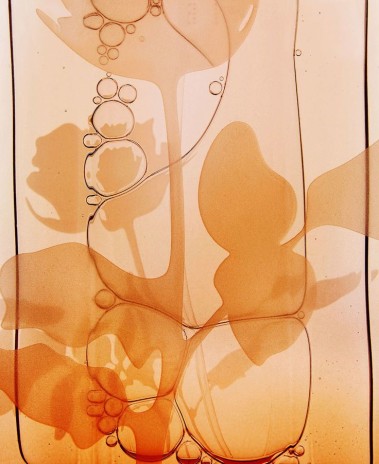 Photo Natasha V.com
Fleur de Caramel is a perfect gateway to both natural and gourmand fragrances. The caramel is discernible, but not in the least bit overwhelming. It plays very nicely with the floral notes, and brings back childhood memories of making pralines with my aunts, their various perfumes blending beautifully with the sweet buttery goodness permeating the kitchen. Those who love gourmands will not want to miss this, but it's also a great perfume for someone like me, who is always fearful of veering off into Little Debbie Snack Cake territory.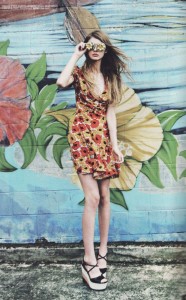 Frangipani Lula No 14 S/S 2012
One final observation to share with you; last night, I found myself surrounded by the most luscious tropical scent as I was taking my shower. I was sudsing up with Grandpa's Pine Tar soap (judge not!), which I knew could not possibly be the source of the fragrance, and almost all of the other gels and soaps I keep in the shower are rose-based. I couldn't imagine where the scent came from until I went over the notes of Fleur de Caramel and saw frangipani. Indeed, and such a gorgeous surprise 12 hours after I first applied the perfume. That little extra boost aside. I get about 6 hours of the complete fragrance, which is amazing for an all-natural perfume. The base remains even longer. The sillage is decent; you won't overpower anyone, but those standing near you will be glad they are. I highly recommend dabbing this on those places you'd like that special someone to linger over. This is a fragrance made for pleasing and being pleased!
Tammy Schuster, Contributor
Editor's Note: Laurie was one of 14 artisans featured in The Fragrance Designer's Primer and has won many awards, including a Gold from the San Francisco Artisan Fragrance Salon in 2013 for Fleur de Caramel (where Tama spoke… Tama you are always with us) and exhibited at the 3rd annual FRAGments Artisan Perfume Event and Collective. Please read our reviews of Bed of Roses (2010) here as well as Honey here. And on this last night of Hanukah, please take a moment to read our review of Jasmine Dawn to Dusk, which Einsof tied into the miracle of the holiday here
Thanks to Laurie we have a 6ml bottle ( $75) of her award winning Fleur de Carmel for a registered reader (you must do this pesky step) in the USA. To be eligible please leave a comment welcoming Tammy to the CaFleureBon team, what you enjoyed about her review and if you have a favorite Velvet & Sweet Pea's Purrfumery perfume. Draw closes 12/17/2015
We announce the winners on our site and on our Facebook page, so Like Cafleurebon and use our RSS option…or your dream prize wil be just spilled perfume