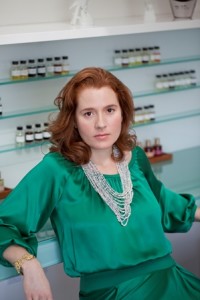 Alexandra Balahoutis of Strange Invisible Perfumes
L'Invisible is the state of an object that cannot be seen, and in describing perfume its most spiritual and intangible essence. Like stepping into a time machine, it allows us to travel to the farthest reaches of the mind and uncover what is hidden. Allegorical, unpredictable and existing on multi planes; that is my immediate reaction to Strange Invisible Perfumes'L'Invisible by Perfumer Alexandra Balahoutis. With the opening of the vial and its application to my wrist, the adventure had begun. It flowed like liquid amber seeking the surface of my skin as if returning to the most familiar place on earth.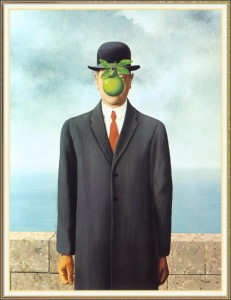 Renee Magritte The Son of Man
Life clinging to life, this fragrance opens with a crescendo of citrus notes evaporating spirits of lemon, bergamot and mandarin accentuated by a sparkling note of rose; I just love smelling roses in their natural state. L'Invisible lives wrist to nose for quite awhile as I explore its make-up and this process repeats itself. Almost immediately into the experience of this perfume, I began seeing visions of Rene Magritte's 1964 painting "The Son of Man." … an image of a gateway into the heavens as interpreted by the artist.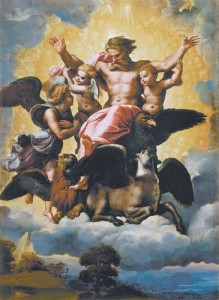 Raphael and Giulio Romano, The Vision of Ezekiel, 1516–1517
"The Son of Man" might seem like an unusual metaphor for L'Invisible as it is very unassuming from a surface point of view. However, when I peered into the implications behind both these works of art I found a multi-layer story unfolding. For me, it was both spiritual and of this earth. An immediate image was of Eziekel as he encountered the four gateways into the celestial body, painted by Renaisance masters.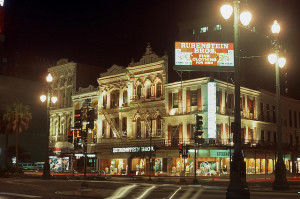 Rubenstein Bros
I am not sure what Alexandra Balahoutis' was attempting to express about her own journey through L'Invisible, but it carried me right through a thread of Aquarian Age imagery to the French Quarter of New Orleans. From there I traveled back to my youth in Louisiana and to family excursions visiting New Orleans. A very personal and random connection to this fragrance is of a Kelly Green Izod sweater that I couldn't bare to live without. It was purchased during one of the many trips to the Crescent City. L'Invisible allowed me to relive my youthful joy for fashion and for shopping for perfumes. Fragrance is a form of time travel and L'Invisible brought me back to joyous days spent at Rubinstein Bros. engulfed by the multitude of aromas of grand vintage fragrances that mingled oakmoss, vanilla and roses in the air.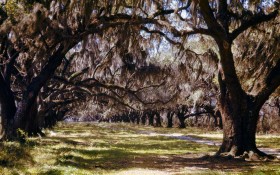 Spanish Moss New Orleans wallpaper
Ms. Balahoutis has a beautiful fragrance in the Strange Invisible Collection she named, Magazine Street which was inspired by New Orleans (Tama reviewed it magically here) . L'Invisible led me to Canal Street. It was a hot and muggy day in 1987 and I am riding the street car home to my aunt's home in the French Quarter knowing that love, warmth and creole delights are awaiting my arrival. Inahling L'Invisible, I can still smell the spanish moss hanging from the cypress trees along the trolley line, lending coolness to the air. I feel a cool breeze of mint carried by billowing clouds of powdery notes and rose petals. I feel the golden amber warmth of the setting sun, and a tiny bit of smokiness at the dry down. From Magritte to Canal Street, this fragrance has become a part of my spirit and my past, clinging to my skin and holding me in the present.
I know this is a shared scent and I would imagine worn mostly by women. For me, L'Invisible takes me deeper inside my own self, both corporeally and spiritually. L'Invisible is a window into my masculine mystique; it is a scent of power and of sweet humility.
Notes: Hydro distilled natural essences of Lemon, Bergamot, Mandarin, Vanilla, Ylang-Ylang, Rose, Amber, Oak Moss (a modern botanical chypre)
–Rodney F Hughes, Natural Perfume Contributor and Natural Perfumer for RH/ Therapeutate Perfumes (You can visit Rodney on FaceBook here)
Writer'a Note: One of the best articles about the beauty and artistry of Natural Perfumery I have read is "In Defense of Natural Perfumery as Olfactory Art" by Alexander Balahoutis published in.July 2103 by ÇaFleureBon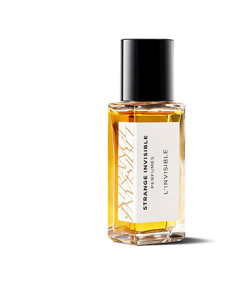 Thanks to the generosity of Strange Invisible Perfumes we have 15 ml eau de parfum of L'Invisible for one USA reader. To be eligible, let us know what you enjoyed about Rodney's L'Invisible Journey by September 18, 2014 and if you have a favorite Strange Invisible Perfume.
We announce the winners only on site and on our Facebook page, so Like Cafleurebon and use our RSS option…or your dream prize will be just spilled perfume