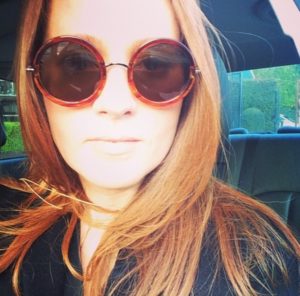 Alexandra Balahoutis of Strange Invisible perfumes via instagram
Released in 2009, Strange Invisible Perfumes Epic Gardenia shows off the perfuming prowess of founder and perfumer, Alexandra Balahoutis. Describing her inspiration to build the white floral replica,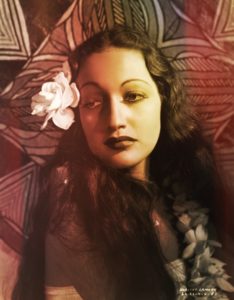 Dorothy Lamour was famous for wearing gardenias in her hair photo 1938
"Gardenia is a very iconic flower in perfumery. It's a white flower with a vividly colorful, textural scent. I wanted to formulate a natural gardenia fragrance that smelled modern and layered, yet very feminine, referencing past eras' glamorous picture of the tropics. "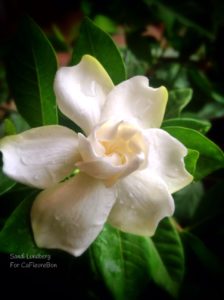 Gardenia photo by Associate Contributor Sandi Lundberg
Rarity of extraction, although there have been and are artisan macerations and other raw materials available, and not including the Tiare flower (the botanical in Monoi oil, which is a separate species)- for years, Gardenia aromas were feats of aromatic acrobatics which aimed to encapsulate the genus Gardenia jasminoides. While I may admit to wincing at the thought of formerly encountered Gardenia endeavors, often with an acrid overdose of what may or may not be dill or gorgeous white flower bases which, despite a perfumer's talented esthetic, is not even whispering 'Rubiaceae' (the genus of flowering plants in the coffee family, comprised of 140 'officially recognized' species.) Most lacking the depth and variety of aromas found within a gardenia and with no sense of climate or heat from which the scent derives.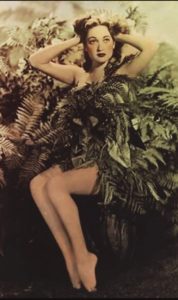 Dorothy Lamour 1939 via her fansite
However, Epic Gardenia succeeds in relating the tropics, with an initial wet velvet leaf 'welcome to sunny Tahiti' introduction. Scent molecules float thick and heavy, yet exponentially more perceptible after the monsoon like rain; waxy emerald green leaves exude a botanical musk, intertwining with impossibly white and scandalously inciting petals.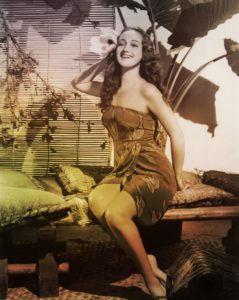 Dorothy Lamour 1937 apped MC
Because of the very nature of Epic Gardenia is a synergy of other botanicals, it is hard to not want to try to detect what this genuinely layered doppelgänger consists of, so I struggle to allow only aroma references to float through my now fragrant shrub-filled mind. There is a lactonic smoothness, sometimes offering a moment of coconut or banana (most likely inferred notes; with the first perception of Epic Gardenia, my mind has already moved south)- swirled within a white floral melange (perhaps jasmine, tuberose or ylang-ylang.)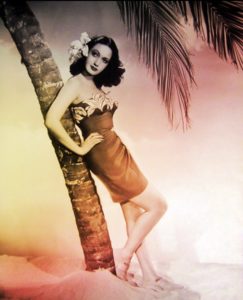 Dorothy Lamour Leaning on A Tree apped by Michelyn Getty
Led and lifted with a most optimistic citrus (bergamot and lemon mingling with ylang my mind suggests) which seems further spiked with something piquant, representing the littering of trees which offer sobriety to the sun seeking exotic botanicals of heated, humid tropical landscape. Ultimately this somewhat intrusive kind of 'there is no Santa Claus' guessing game ruins the magic and is easily abandoned for the lingering foliage musk, which draws and distracts me with the urgency and familiarity of the exotic island twilight, and my former Floridian home.
NOTES: Custom-distilled esprit de Cognac alcohol from non-GMO, pesticide-free grapes, A proprietary blend of ethically sourced essential oils*
*Certified Organic, Wildcrafted, Biodynamic, or Pesticide-free
Disclosure: I received my sample from Strange Invisible Perfumes, with much gratitude; Opinions my own
-Einsof, Natural Perfume Editor
Art Direction: Michelyn Camen, I love Epic Gardenia ever since I first bought it in 2010, and have always envisioned actress and singer Dorothy Lamour wearing it. Coincidently last week I stumbled on her album "On a Tropic Night" on youtube, (the soundtrack from The 1938 movie Tropic Holiday with Ray Milland). Required reading is "In Defense of Natural Perfumery as Olfactory Art, by Alexandra Balahoutis, written at my request for CaFleureBon. I have yet to read a more compelling article on perfumery-botanical or otherwise
Follow Strange Invisible Perfumes on FaceBook, and Instagram and follow us on Instagram @Cafleurebon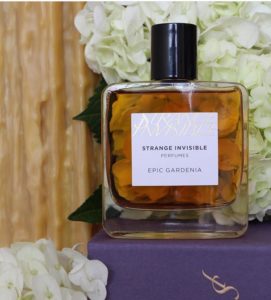 Strange Invisible Perfumes Epic Gardenia via instagram
Strange Invisible Perfumes embraces the Victorian tradition of offering a Gardenia as a message "you are lovely", which this is so thanks to the team at SIP we have a 50 ml of Epic Gardenia to a registered reader in the CON USA. To be eligible, leave a comment with what you enjoyed about Einsof's review of Epic Gardenia, where you live and if you have ever smelled a real Gardenia. If you have a favorite Strange Invisible Perfume we would love to know. Draw closely November 17, 2016
We announce the winners on our site and on our Facebook page, so Like Cafleurebon and use our RSS feed…or your dream prize will be just spilled perfume.