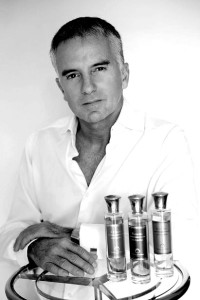 Mark Antoine Corticchiato
I'd wanted to try Parfum d'Empire's Wazamba for a while now. I've been slowly making my way through Marc Antoine's Corticchiato's brilliantly conceived and well-executed collection. His creative stories and scents conjure up the glories of past empires and strong emotions. They never disappoint. Ambre Russe is a boozed up amber fantasy and one of my favourite ambers. It has the spirit and tenacity of Rasputin refusing to leave this world. Cuir Ottoman was the first leather perfume that I took a shine to, that didn't scare me or make me wonder where the leather was hiding. I even like Aziyade with its spiced cumin note that makes most people run a mile. My penchant for these perfumes has made me want to discover more.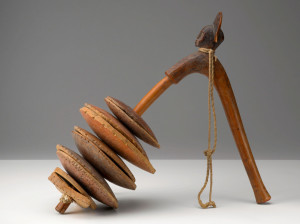 Wasamba Musical Instrument
Wazamba intrigued me from the start with its beautiful name. The word can be pronounced with force to invoke a rallying cry or whispered to evoke soft sensuality. According to the Parfums d'Empire story "Wazamba takes its name from a musical instrument, a type of sistrum used in West African rituals. Just as the deep, full sounds of percussion resonate during African initiation ceremonies, this mystical scent resonates with the intoxicating, resinous notes of myrrh, opoponax and incense."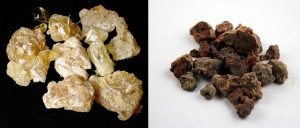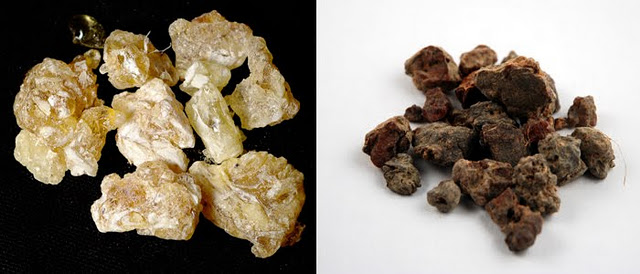 Frankincense and Myrrh
I am usually a fan of a good creative story for a perfume. And who isn't captured by resins and incense and the peace, calm and serenity they can bring? You may associate frankincense and myrrh with spirituality and of course the burning of incense in church is the link for many. I do have incense memories, although not of the holy kind. My mother burnt incense sticks when I was a child and this is one of my earliest scent memories. In a great article on frankincense and myrrh on this site, you can also read how these two resins have been used as healers throughout time. Furthermore medical research has found that burning frankincense has anti depressant properties.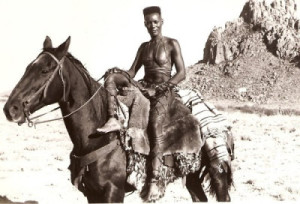 Grace Jones in Africa
Wazamba for me is a calming, soothing and comforting perfume and doesn't exhaust me as some incense perfumes can. Wazamba blows in on a light aldehydic breeze and deposits a fine ashy layer on my skin. It's dry and a bit dusty. The fruits, fir and resins play well together and feel like equal partners. A juicy apple comes through more strongly for me than plum and I love this aspect of the scent. It doesn't have the over ripe Lutenesque quality, but at times it does feels that it could be right at home in that collection when Serge favoured the oriental style. And there's something touching about the restraint of this scent, as it never tips over to a full-blown sweetness.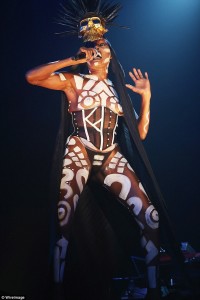 Grace Jones on Tour in Sydney 2015
I wouldn't say this is an overbearing incense or myrrh scent at all. In fact compared to more recent perfumes such as Copal Azur from Aedes Venustas, Wazamba now feels quite light in its intensity. Sometimes I sense a sour aspect to this scent and other times I don't detect it at all. This is one of those perfumes on my skin that is a bit of a shape shifter. If I pay attention I notice things changing. But other times I just want to embrace this scent, to let it unfurl and sing its song.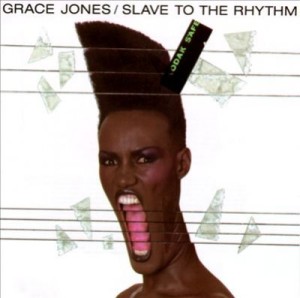 Wazamba is a warm and dry fragrance that hums to its own beat. There's always something lurking in here that's a little bit off kilter that keeps me interested. Wazamba doesn't quite take me to Africa, nor for me does it have spiritual connotations but I do find it compelling. I am undoubtedly a slave to its rhythm.
Disclosure: Sample received from Fragrances & Art
Guest Contributor: Megan Paki, Editor of Megan In Sainte Maxime
Editor's Note: Congratulations to Marc Antoine Corticchiato for his recent win of The French FiFi award :Parfum d'Empire's Tabac Tabou, for best niche fragrance