Samanfah Wilson on Berwick Street Night flowers © Damien Frost, courtesy of Merrell Publishers.
Heather Kaufman of San Fransico's Jolie Laide (a French expression which refers to an unconventional beauty literally means "pretty ugly" or "ugly pretty") uses this clever turn of phrase to describe the raw materials used in the line: "our perfume combines natural scents that are both luscious and odd, coming together in a way that allows each individual to explore their complexities within." A student of Mandy Aftel, Heather has both the technical education and fine nose for creating expressive natural perfumes with names and stories which would honor her mentor.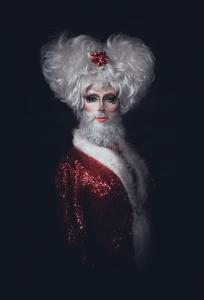 © Damien Frost, courtesy of Merrell Publishers.
Masculin Féminin is a floral tobacco with hints of fruit, ironically reminding me of drag kings, queens and cognac- all in for a night's show. Jasmine is the king of essential oils and it's here the feminine wiles of jasmine are stripped away, and his royal majesty is on display. White cognac adds shaded on beards and a tobacco note which seals the deal. Allowing one to explore their inner complexities, bottled, is Masculin Féminin, a gender melting homage to "hopeless romantic affairs" may have been the aroma of Annie Hindle, a popular New York City male impersonator or "drag king" circa 1867.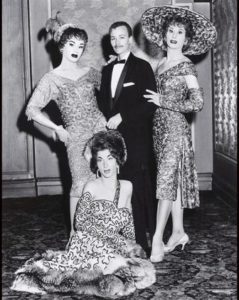 Gene Avery,Drag King Storme DeLarverie, Dore Orr and Tobi Marsh at the Jewel Box Revue
We're in a gentleman's club where the only women on display are the men. (Drag kings are more likely to join troupes such as Storme DeLarverie and the kings at Jewel Box Revue in the 50's and 60's and were alongside the drag queens who historically rioted at Stonewall.)
Maxi More © Damien Frost, courtesy of Merrell Publishers.
This clean sexy masculine note slowly starts to shift to something more neutral, a balance of what one might consider masculine and what is feminine as mate gives it's beautiful soapy note; a removal of artifice and gender lines and we see beneath the glories of the florals is a cup of tea innocent and unassuming. Roobios tea lifted by mandarin is a lasting impression and maintains through the dry down, although all fresh and flit by now is more proper and dusted, but the perfume never leans too far into either gender category, which leaves it, as its namesake, completely unisex… or perhaps this is the first pansexual perfume.
Notes: mate, roobios, jasmine sambac, white cognac, red mandarin
-Einsof, Natural Perfume Editor
(my sample was provided by Jolie Laide for review)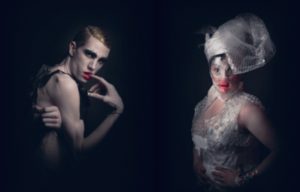 Night flowers © Damien Frosf Merrell Publishers.
Art Direction: Michelyn Camen
Editor's Note Some photos are from the recently published book (April 2016) by photographer Damien Frost of the Underground London Alternative Scene "Night Flowers From Avant-Drag to Extreme Couture"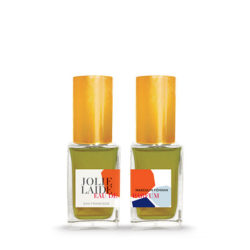 Thanks to Heather Kaufmann of Jolie Laide we have a draw for a registered reader USA, reader of 15 ml of Masculin Féminin To be eligible please leave a comment with what you enjoyed about Einsof's review, if you wear fragrances marketed to a different gender and if you are familiar with the photography of Damien Frost. Draw closes 7/7/2016
We announce the winners on our site and on our Facebook page, so Like Cafleurebon and use our RSS option…or your dream prize will be just spilled perfume