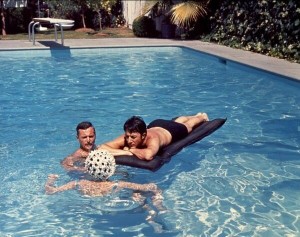 The Graduate Dustin Hoffman in the Pool with Mr and Mrs Robinson 1967 (Mike Nichols)
Summer is halfway gone, and the pools are packed with pale people flipping themselves like grilled chicken on a backyard barbeque, with everyone trying to get perfectly caramelized before September comes (and school, and work, and layered clothes). High summer scents are everywhere, from tropical cocoa butter lotion to the salty tang of ocean air. Our senses are in full bloom now, deliriously awash in possibility, while simultaneously drugged from humidity and relentless sunshine. But let's face it -Summer Is Sexy. You can't be around all those grilled chicken people without getting a little curious, right?
You are trying to seduce me Mrs Robinson..Aren't you? The Graduate Ann Bancroft and Dustin Hoffman the Leg scene
But you don't want to have Summer Lovin' Grilled Guy Candidate #1 suddenly bail out because you smell like the seaweed drying out at the surf line, right? You need something dark, mysterious and most of all – seductive to help the margarita medicine go down on the first date. Something that's equal parts Girl Next Door and MILF.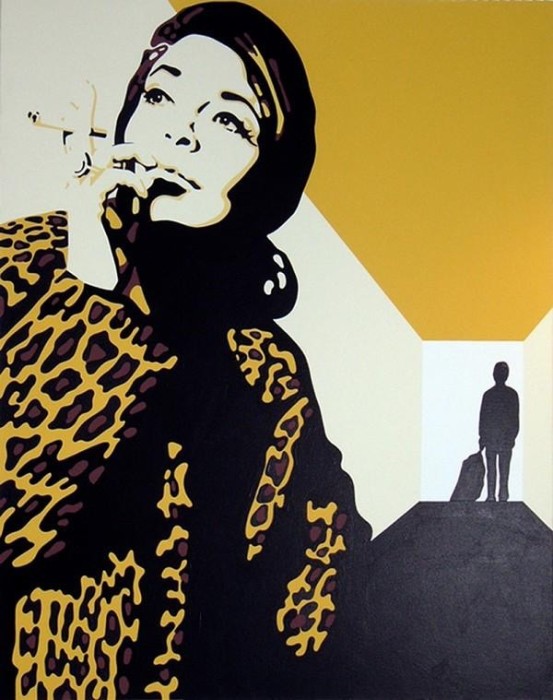 Stylized portrait of Mrs Robinson a Cougar 1960s style (original source Vanity Fair, photo Bob Willoughby)
For me, most tropical perfumes don't cut it. I'm a middle aged woman, and most fruity florals or bright citrus scents have a "bippity-boo" and forced feel to them on my skin. I want something darker and more exotic. I want to make my prey feel like Dustin Hoffman did in The Graduate, when Mrs. Robinson (Anne Bancroft) is smoking cigarettes and toying with him in her living room. I need a little spice, and a little sweet and a whole lot of "you're…you're trying to seduce me…..aren't you?"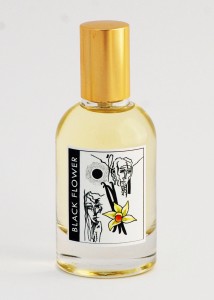 Black Flower Mexican Vanilla Perfume
So thank you Jeffery Dame of Dame Perfumery out of Scottsdale, Arizona for bringing us Black Flower Mexican Vanilla. Black Flower Mexican Vanilla is an EdP and part of Dame Perfumery's Artist Collection Series, with each bottle showcasing gorgeous hand-drawn labels courtesy of V. Dame Dame, (who is the father of founder and perfumer Jeffery Dame.)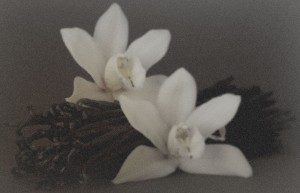 Smoky vanilla pods and flower
Black Flower Mexican Vanilla is based around a rich, warm, and pitch-perfect Mexican vanilla absolute, dusted with a slight shimmer of grapefruit and lemon on top that is deliriously fun to wear after a day at the beach. The vanilla isn't flat or flabby or too blunt here at all – it's dark, and smoky (like a real vanilla pod smells) and it LOVES hot weather.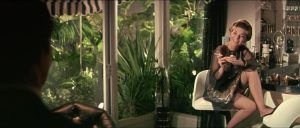 Still from the closing of The Graduate
There's just enough citrus in the opening here to keep things fresh from the get-go, and the lemon/grapefruit hit remains energizing and vibrant for several minutes before the heart in the scent develops. The sweetness continues on after the top citrus fades, and the lemon and grapefruit shifts into jasmine and gardenia flowing around caramel and nutmeg. The transition is almost sleight-of-hand seamless from top to heart – suddenly you're aware that the citrus zing in the opening has softened into silky damask florals, but which are still wrapped around the core warmth of caramel and vanilla. One of the best aspects of this scent is how articulately the theme of a filigreed sweetness is woven through it. It's as if you were visiting an artisanal chocolatier, and they presented you with a trio of caramels, each with its own real fruit, edible flowers or Indian spices delicately drawn on top.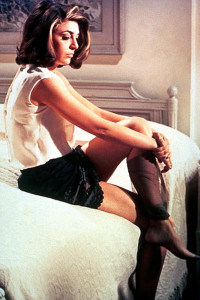 Mrs Robinson Cougar Chic
The individual notes are done with a subtlety and lightness, and all are elegantly toned throughout the development of the perfume – this is no thudding, monochromatic gourmand. It's a confident and sophisticated perfume, so much so that it nearly has a drape to it, the way finely-tailored outfits do. Black Mexican Vanilla carries an inner, sophisticated poise as much as it is about the sexy fun time later. There's enough complexity here so if guy watching can't keep you amused while waiting for your apps, you can enjoy this scent in the meantime. The sillage is perfect for first dates, also – very soft, and close to the skin. He'll have to lean in slightly to experience this one, but there's definitely enough radiance happening to cast you in an inviting glow while you get to know each other. The staying power is average – you won't have any problem with leftover scents walking home with you the next day if the evening seems headed in that direction. The drydown carries the theme of "something sweet wrapped in something not" vibe well, with a toasted tonka bean edged with a dry, dusty patchouli and mossy vetiver, but you should be well-acquainted by now with G.C. #1 and ready to move on to dessert. The deal should be sealed well before these herbal notes arrive. Think of the drydown as more of a fragile, lasting hint of the sand dunes and marsh grass you left behind hours earlier.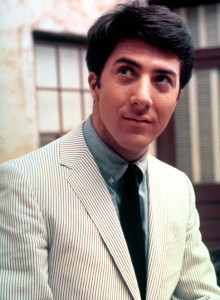 Dustin Hoffman "Ben" wearing a suit The Graduate
I should also say here that this scent can definitely be worn by a man as well – there's nothing overtly feminine or masculine happening as it glides along. Vanilla-based fragrances work as aphrodisiacs for both genders equally well, and if happened to show up at the restaurant rocking a light linen suit with this perfume on, he'd have an easy time of it I think, Mrs. Robinson. Notes: Vanilla absolute, Lemon, Grapefruit, Caramel, Nutmeg, Gardenia, Jasmine, Sandalwood, Patchouli, Vetiver, Musk, Tonka bean
Pam Barr, Contributor
Disclosure; I received my sample in the December 2014 Olfactif sampler
Art Direction: Michelyn Camen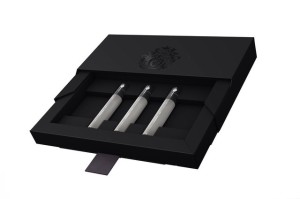 Thanks to Olfactif.com, we have a draw as follows for a registered US reader: You can choose the December Olfactif Sampler which included Lira, DSH Vanille and Black Flower, the upcoming August sampler of three 2.5 ml sprayers (yet to be announced) or $20 off ANY bottle of perfume at olfactof.com. To be eligible, leave a comment with your favorite "cougar" in a movie or TV Show, and what you enjoyed about Pam's review, as well as what you would like to win.. coo coo ca choo. Draw closes July 31, 2015
We announce the winner's only onsite and on our Facebook page, so Like CaFleureBon and use our RSS option…..or your dream prize will be just spilled perfume