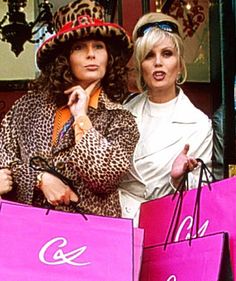 Edina and Patsy Absolutely Fabulous
Anyone who is as obsessed as I am with Absolutely Fabulous are in a darn near fever pitch for the release of the new movie (July 22) here in the next few weeks. There hasn't been a sitcom in the past 2 decades that has come anywhere near touching the pure comedic genius of the show (in my humble opinion at least, darlings). If one is familiar with the series, you will know that Eddie (Jennifer Sanders) is absolutely obsessed with Christian Lacroix to a point of almost religious fervor.
Sophia Grosjman is AB FAB
So, in the spirit of "my girls", I decided to revisit the Christian Lacroix namesake perfume from 1999 by the one and only, and fabulous, Sophia Grojsman (who just so happens to have received a Lifetime Achievement Award from the Fragrance Foundation earlier this month, CONGRATULATIONS, Sophia!). One thing that is for sure, if you are looking for a quality fragrance,I can tell you that anything with the name Christian Lacroix has never disappointed me. I've heard it said that his fragrances have never sold well, but, honestly, I could care less. Actually, that a sign of greatness in certain ways. I think that his namesake fragrance was absolutely ahead of its time in a vacuum time warp of the past. Upon teaming with Sophia with his namesake masterpiece, this is completely evident.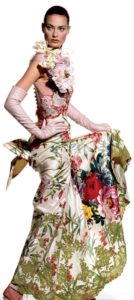 Christian Lacroix Gown Vogue 1990s
Lacroix has always been about classic elegance and modernity. With Christian Lacroix we get a glorious, glorious mixture of heavy Floral Oriental stylishness with wispy breezy undertones of fresh air reminiscent of a seashore. The fragrance is no way aquatic by any means, but the wonderful seashell bottle fits the perfume nonetheless. Speaking of the bottle, it's a masterpiece unto itself, the crystal is heavy and downright beautiful!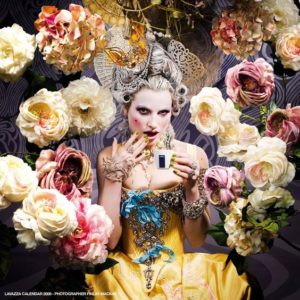 Christian Lacroix Haute floral Couture
The perfume opens with a spicy floral that mixes the best part of Oriental Lilies and Carnation with wee bit hint of Mandarin Orange. The citrusy aspects of the Mandarin are by no means front and center, the florals are the main attraction. It is so cleverly blended as to be one of the most interesting head notes of any perfume I have come across. There is also a hint of green (tarragon/cilantro like) that adds a certain dampness that is very subtle, yet still dense and heavy that reminds me of the little green algae filled nooks along the seashore. The dichotomy and interaction between these facets is absolutely lovely. As we move into the mid notes a distinct Magnolia begins to rise augmented by a beautiful powdery Heliotrope. I absolutely adore it. There is a hint of Jasmine (more of the night blooming variety) that comes out to play on occasion, but the main note to my nose remains the Heliotrope. And let me tell you, it is regal. Coming into the mix a fruity peach begins to show it's sweetness and acts to further wetten the perfume from becoming too floral…think of powdered peaches!! YES!! Marvelous!!!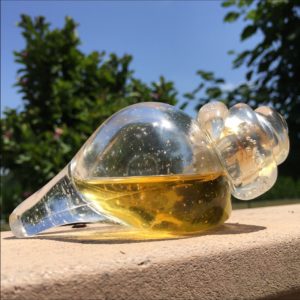 Christian Lacroix Absolutely Fabulous bottle photo Aaron for CaFleureBon
Moving into the base the first element I notice is a creamy Vanilla and Tonka mix that absolutely works wonders with the Peach note. It's not quite dessert like because there is more flowers involved as a lovely Ylang-Ylang starts to shine here. I also begin to notice Freesia at this stage, which I come to realize was always there, but cleverly working in and out in a way as to bring freshness without being overbearing…ahhh like a nice scented breeze. Yup, this all makes sense.
As we move into the final stages the spicy characteristics become more apparent. A very incense like Benzoin begins to mingle with the Vanilla and Tonka and at certain times Lily of the Valley comes in to sweeten things up a bit. Sandalwood also makes its presence known here, but acts more like a bystander whose presence is noticed and certainly a part of the picture, but far from being the forefront.
Greatest Moments in Absolutley Fabulous Series 1992-2012
To wrap it up, I can totally see Eddie wearing this. I can image Patsy (Joanna Lumley) commenting with breath reeking of the Chanel No. 5 she just drank asking Eddie what she's wearing and hearing the famous line, "Lacroix, sweetie."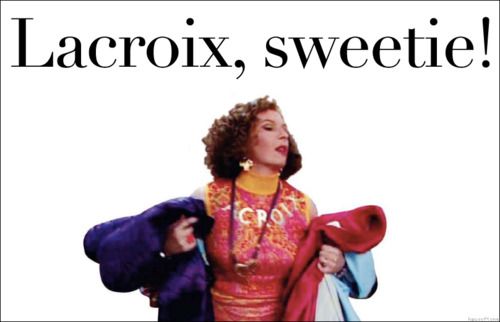 Unfortunately, this lovely fragrance has been discontinued for a number of years. I find that absolutely ridiculous given its elegance and beauty. It is occasionally on Ebay and is fetching widely varied prices but, can be purchased in mini sizes quite reasonably. However, I say, spring for the extra cash, the perfume and the bottle are worth having. Bigger is better, sweetheart. So, if you are feeling Absolutely Fabulous and want to experience a perfume made by literal icons of their respective industries, I suggest you get out there and get some, darling sweeties.
–Aaron Potterman, Contributor and Vintage Perfume Expert
Art Direction: Michelyn… more Patsy stylewise then Eddie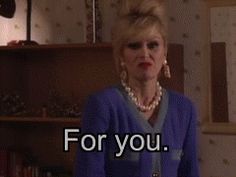 We have a draw for 2ml of Christian LaCroix Absolutely Fabulous for one US registered reader. To be eligible, please leave a comment if you are a fan of the BBC series Absolutely Fabulous, plan on seeing the movie and what you enjoyed about this review. Draw closes 6/28/2016
We announce the winners on our site and on our Facebook page, so Like Cafleurebon and use our RSS option…or your dream prize will be just spilled perfume