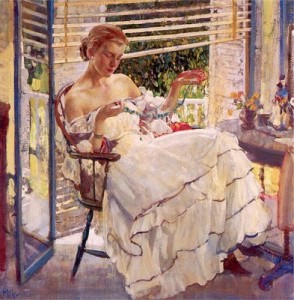 Girl with Jewels Emil Miller
I think there is no fragrance I've tried that is not connected to some image in my mind. My bottle of Chanel No. 5 reflects the faces of Marilyn Monroe and Audrey Tautou. When I think about Ralf Schwieger's Frederic Malle Lipstick Rose, I envision a woman wearing a black dress with pearls; I wear L'Artisan Parfumeur's La Chasse aux Papillons and feel the swoosh of a silk skirt swirling around my knees.
These connections are sometimes quite straightforward since they come from a fragrance's name, an advertisement, or a brief. The descriptions of idyllic places and the fragrance names become connected with the lovely smells of grass, flowers, and berries emanating from the bottles. The end result is so multisensory, that I start imagining a place where I would want to go.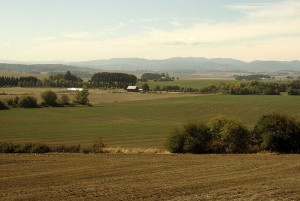 Willamette Valley, the place I always want to go.
As the Spring turns into Summer, the Sun warms my skin and turns it golden, our little garden blooms wildly, and I hear the sounds of nature – the humming of bees, and, if I get a moment of solitude, it seems that I can hear the apples growing on the apple tree branches.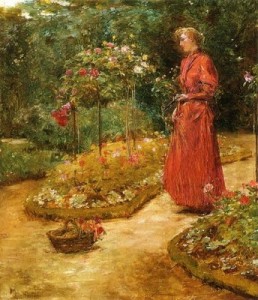 Woman Cutting Roses in a Garden Childe Hassam
All the sounds, smells of early summer evoke a primordial valley surrounded by a mysterious forest, where the land is fertile and there is tranquility. When I read William Butler Yeats – the words from his poem The Lake Isle of Innisfree remind me of the valley of my dreams: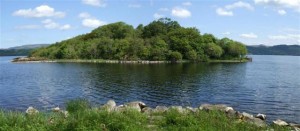 I will arise and go now, and go to Innisfree,
And a small cabin build there, of clay and wattles made;
Nine bean-rows will I have there, a hive for the honey-bee,
And live alone in the bee-loud glade.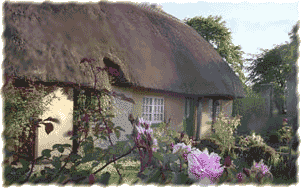 When I read it for the first time, the similarities struck me; the images of the poem and my imagination seems to come from the same place. I see a small cabin in an open space in a forest, a garden, and a lot of flowering plants with bees all around. Unfortunately, Yeats does not tell us anywhere in the poem what brings the bees to his dwelling and which flowers are scenting the air. I begin to ruminate.
Perhaps these bees are attracted by the smell of linden trees in bloom. As the day is bright, the roses smells strongly and while little kids play hide and seek , I imagine tuberose as well. No one can resist these games, not on a June day nor on a June night, when the linden blossoms smell the sweetest. As the evening approaches, the mood is sensual. As the night falls, all is serene.
And I shall have some peace there, for peace comes dropping slow,
Dropping from the veils of the morning to where the cricket sings;
There midnight's all a glimmer, and noon a purple glow,
And evening full of the linnet's wings.
Another day dawns and I envision a garden above the lake. It smells like green currant leaves. The light green, red, and dark berries on these currants are not quite ready yet, , but the blackberries are already ripe and they smell in the background. But the bees are mostly interested in the Queen of Flowers, the rose. The tea rose of this garden is natural and fresh. It gets stronger and more rosy in the sunshine, but on a cool morning its scent is hiding behind the greenery. You have guessed the name of the perfume by now, it is Diptyque L'Ombre dans L'Eau — A Shadow in the Water.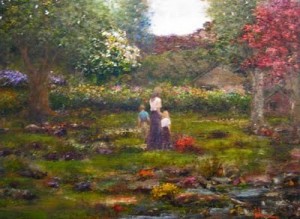 Walk By The Creek Troy Acker
But what does this have to do with a shadow? A shadow can be a welcome spot on a sunny day, but sometimes it drapes over you and chills you through and through. The peace of mind, the harmony within, the ability to close one's eyes and immediately see one's favorite images, and the inner connection to that peaceful valley within are not always at our fingertips. Sometimes we lose touch. Sometimes life makes it harder for us to get back in touch. But there is always something that makes it possible. For W.B. Yeats what made it possible was a sound. In his Autobiographies which he wrote in London, during a difficult time in his life, the sound of water from a fountain in a nearby shop transported him back to Innisfree. For us, fragrance aficionados, very often a smell makes possible reconnecting with what is most deep and important.
I will arise and go now, for always night and day
I hear lake water lapping with low sounds by the shore;
While I stand on the roadway, or on the pavements grey,
I hear it in the deep heart's core.
In my heart's core there is a valley which is surrounded by a forest, which smells of the linden trees, beautiful tea roses and the currants still not ready to be picked; time has stopped in anticipation.
–Olga Rowe, Contributor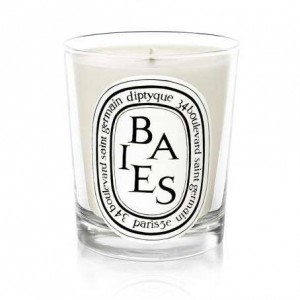 Thanks to Madeline Thies, (the manager of Diptyque boutique in San Francisco), one lucky CaFleurebon reader can win a special set containing L'Ombre dans L'Eau perfume, body care and a mini Baies candle .
To be eligible please leave a comment on a special place your mind takes you when life is difficult or you need a moment of escape. Draw closes Monday June 25, 2012.
We announce the winners only on site and on our Facebook page, so Like Cafleurebon and use our RSS option…or your dream prize will be just spilled perfume.