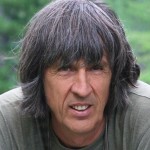 Michel, the world of fine fragrance seems to be in turmoil. There seems to be a lack of moral principles amongst not only the industry but many perfumers. What needs to be done?
MR: If the fragrance industry truly desires to get through the serious crisis it is facing, which is economic, ecological and ethical, it must be prepared to introduce new ethical principles on four levels:
1.  Supplying raw materials by preserving the biodiversity and developing fair trade and commerce with indigenous people involved in fragrance
2.  Recognition and acknowledgment of the true perfumers who are behind the brand and the establishment of "copyright" for the composer of perfume (as in all other arts)
3. Respect for consumers by providing clear and factual information pertaining to the quality and to the risks of the raw materials used in the compositions and the same time defending past and present -fragrant masterpieces against excessive regulations of IFRA
4. There must be a reduction of the number of "clone" perfumes launched each year, cluttering the market. Fine fragrance must concentrate and focus on true creative and qualitative creations with an authentic approach bringing real meaning and spiritual value to perfumery
Otherwise fragrance will no longer be Art; it will be without differentiation and will eventually become dull, banal and without significance, just another trivial trendy accessory among so many others.
You are a multi-sensorialist, and have embraced many of the Arts, such as dance and literature prior to becoming a perfumer . Which perfume launched your career?
MR: The perfume that truly started my commercial career was Noir Epices, it was created in 1998 from an olfactory illustration for in my first multi-sensorial ballet "Quintessence", which was based on a poem Sunstone by Octavio Paz for the 1996 Avignon Theater Festival. I wanted to give an odor to the theme of fire and to the Spices route; after seeing the success it got I decided to make it a very feminine and sensual perfume. It's a year later that Frédéric Malle came to visit my mother and I to obtain the right to release my father Edmond Roudnitska's, Le Parfum de Therese, he asked me to show him my creations.While smelling the very spicy perfume he immediately asked if I could supply him for his new brand 's Edition de Parfums which was still a project at the time.
There was no change added to my original, except a slight increase of vanilla.
– Michelyn Camen, Editor In Chief