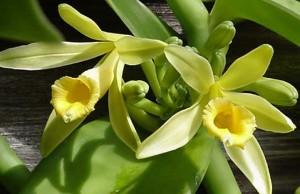 Vanilla is one of the notes in perfumery that vividly draws the battle lines between "love it" or "hate it". Even on either of those sides of the debate there are sub-divides. Those who hate the confectionary sweet vanilla but enjoy the greener less sweet vanilla orchid derived variety, and vice versa. As with many of the debates that circulate endlessly it always comes down to whether it smells good on me. Patricia de Nicolai has put out two very good examples of the different kind of vanilla fragrances described above, and they both smell good on me. Vanille Tonka sandwiches the more vanilla orchid accord with citrus on the top and incense on the bottom. Vanille Intense is a heady baker's vanilla fragrance which doubles up on the sweetness quotient with the presence of the maple-syrup aspect that immortelle brings to a fragrance. Mme. de Nicolai has now decided to continue her exploration of vanilla with her latest release, Kiss Me Tender.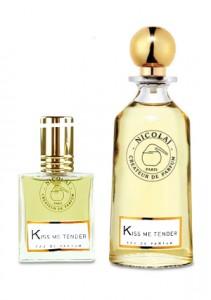 According to the press materials, and other writer's impressions, Kiss Me Tender is meant to be a heliotrope fragrance and meant to be almost a soliflore in that respect. It has taken me a while to write about Kiss Me Tender because every time I wore it I experienced something less like a soliflore and more like a streamlined modern vanilla composition. Perhaps in my role of perfume reviewer I'm just concentrating too hard on the threads that make up this particular tapestry but in the end Kiss Me Tender feels like the logical continuation of Mme. de Nicolai's vanilla exploration begun in Vanille Tonka and Vanille Intense.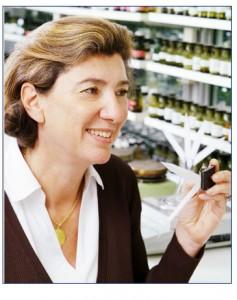 Kiss Me Tender develops as described as a very tenderly subtle fragrance. Because I wore this more than other fragrances I review I found the soft opening my favorite part of Kiss Me Tender. The initial moments of Kiss Me Tender is the green vanilla orchid sneaking up on me and evolving oh-so-slowly and it is joined by anise. One of my favorite fragrances of 2009 was Jo Malone Vanilla and Anise. The Jo Malone fragrance was kept light and lovely. Mme de Nicolai chose to intensify both the vanilla and the anise in Kiss Me Tender and it makes this fragrance softer and warmer that I would expect. Kiss Me Tender lingers languorously on this vanilla and anise accord and it is gorgeous. The only other component I really detect when I wear Kiss Me Tender is a distinctly sweet hay accord and it hearkens back a bit to the heart of Vanille Tonka when the vanilla and tonka are ascendant in the heart of that fragrance. Kiss Me Tender is much simpler than Vanille Tonka but I found it equally absorbing every time I wore it.
Kiss Me Tender has excellent longevity and slight sillage.
I know there are others out there who are experiencing heliotrope when they are wearing Kiss Me Tender. On my skin I experienced a vanilla fragrance that was amazingly good in its simplicity and will easily take its place next to the other two Parfums de Nicolai vanilla creations in my fragrance wardrobe.
Disclosure: This review was based on a sample provided by Luckyscent
–Mark Behnke, Managing Editor