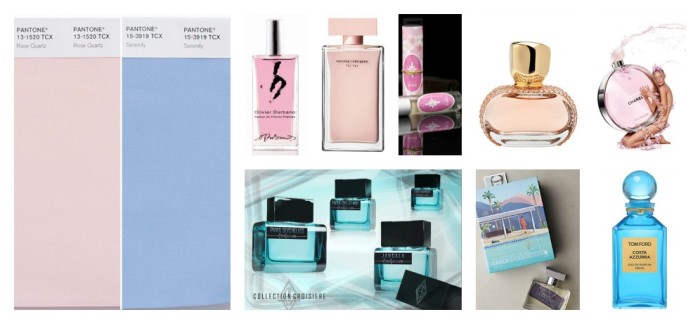 Pantone Swatches of Rose Quartz and Serenity: Top Row: Olivier Durbano Pink Quartz,Narciso Rodriguez for Her, Aroma M Geisha Pink, M. Micallef Rose Extreme, CHANEL Chance Eau Vive; Bottom, Pierre Guillame Collection Croisiere, Anthroplogie Fictions L.A She Called but He Was Unavailable (Josh Meyer) and Tom Ford Costa Azzura
I am always fascinated by PANTONE, the leading color authority's selection of Color of The Year and how it might translate into beauty, fashion and of course fragrance. According to the Company, these choices are "A symbolic color selection; a color snapshot of what we see taking place in our culture that serves as an expression of a mood and an attitude. For the first time Pantone introduces two shades, Rose Quartz and Serenity as the PANTONE Color of the Year 2016. Rose Quartz is a persuasive yet gentle tone that conveys compassion and a sense of composure. Serenity is weightless and airy, like the expanse of the blue sky above us, bringing feelings of respite and relaxation even in turbulent time".
Lofty and inspirational motivation but I don't see myself wearing pale blue or baby pink any time soon (except pink lipstick and both colors for nails ), and I am not a fan of Sephora.com's upcoming PANTONE + Sephora 2016 palettes. In terms of home décor and fashion ditto. Now to fragrance; my first thoughts are will these colors mean more neo-aquatics and airy scents as well as soft florals, citrus,certainly rose, peony, and lilac perfumes. Will they inspire perfumers?
According to Perfume and Flavorist magazine: Nathalie Lorson of Firmenich, was inspired by these gender equality colors to create a custom fragrance using rose Centifolia, musk and incense. "For me, creation is all about expressing and sharing emotions. I search to build upon initial concepts, and my creativity comes from comparing and contrasting different sources of inspiration, says Lorson.
Which fragrances do you think of for Rose Quartz and Serenity???
–Michelyn Camen, Editor in Chief