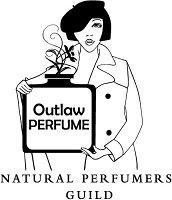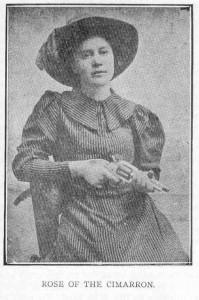 Sometimes the more I like a perfume the harder it is to write about. It's because I want to do it justice- to the perfumer, to the creative process, and to the creation itself. During this Natural Perfumer's Guild Outlaw Perfume Project I have felt a little intimidated by two perfumes; Mata Hari by Dawn Spencer Hurwitz, and now by Rose of Cimarron by Bellyflowers Perfumes. If I had to pick gold and silver winners they would be these two scent creations: first, Mata Hari for its complex masterful perfume structure, historical references, and for its overall beauty. I would pick Rose of Cimarron next for the lovely scent creation that it is, and for the historical link, again to a famous outlaw.
For historical reference please read Rose of Cimarron's story here;
http://www.rootsweb.ancestry.com/~okmurray/stories/rose_of_cimarron.htm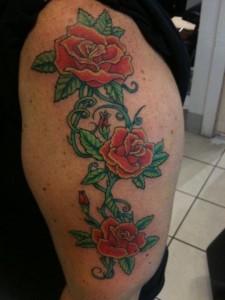 Rose of Cimarron features rose of course- greeting the nose along with the mysterious smokey pandanus flower immediately setting the stage for intrigue. Already drawn in by the pandanus the "wild rose" gives anything but a cultivated garden feel as most rose perfumes are want to do…. I am reminded somewhat of another rose perfume I love -Neil Morris's Rose Tattoo perfume which has a dusty, wild, long skirted bare footed tattooed heroine type feel.
(reviewed by Ida Meister for Ca Fleure Bon here:
http://www.cafleurebon.com/new-fragrance-neil-morris-fragrances-the-rose-tattoo-giveaway/ )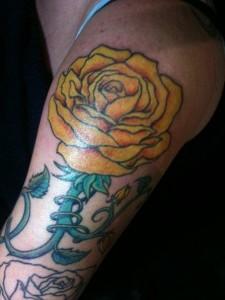 Bellyflower's Rose of Cimarron is has the all natural appeal that I love without losing any of the complexity of a "wanton woman". As perfumer Elise Pearlstine writes "Rose of Cimarron is inspired by a woman who wasn't afraid to love or afraid of danger. This perfume contains 'outlaw' ingredients such as rose, jasmine and ylang ylang in a soft yet wild heart. Although pink pepper isn't outlawed, yet, it's peppery nature matches well with the floral heart. A spicy, sexy drydown (with more outlaw notes) lingers quite a while."
The expertly crafted Rose of Cimarron's drydown consists of a botanical musk (ambrette seed) supported by patchouli, sandalwood, amyris, labdanum and blond tobacco. It is certainly spicy and wild.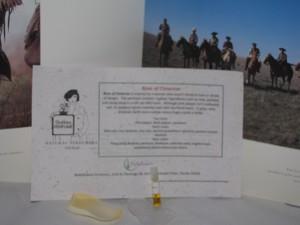 Top notes:
Pink pepper, black pepper, pandanus
Heart notes:
Wild rose, rose absolute, rose otto, jasmine grandiflorum absolute, jasmine sambac absolute
Base notes:
Ylang ylang absolute, patchouli, labdanum, ambrette seed, angelica root, sandalwood, blond tobacco and amyris
Natural or blended: 100% natural
Sillage: gentle
Longevity: average
Worth the risk to purchase unsniffed: Yes

Photo Credit:
http://www.rootsweb.ancestry.com/~okmurray/stories/rose_of_cimarron.htm
All tattoo pictures are the property of tattoo artist Daniel Paine, Martha's Vineyard.
http://www.facebook.com/profile.php?id=1013261822#!/profile.php?id=1156269416
–Monica "Skye" Miller, Natural Perfume & Senior Editor
For those new to the Natural Perfumer's Guild Outlaw Perfume project please read:
Elena Vosnaki's piece on Perfume Shrine on Friday November 12th.
The link is here: Outlaw Perfume: Revolutionizing the Industry One Step at Time